What's New : Latest updates in Zoho Workplace
Filter By Products

All Products
Mail
WorkDrive
Writer
Sheet
Connect
Cliq
Meeting
ShowTime
Show
2021
Feb
Jan
Major
Zoho Workplace partners with Sri Lanka's Dialog Enterprise
Dialog Enterprise, the corporate solutions arm of Dialog Axiata PLC, Sri Lanka's premier connectivity provider joins hands with Zoho to give its enterprise customers access to the Workplace suite of collaboration applications. We hope to reach and empower many Sri Lankan businesses through this exciting partnership!
Read official announcement.
Change
More WorkDrive features at the same cost
The Standard plan of Zoho Workplace now gets upgraded from 5GB WorkDrive storage per user to 10GB per user with access to more of WorkDrive's features without any change in the price.
Learn more.
Mail
Blogs
The year that was at Zoho Mail
It was indeed a busy year at Mail and Workplace. How would you like to take a recap, and play a fun game all at the same time?
Let's play.
Writer
New Feature
Writer introduces sections and advanced layouts
Zoho Writer adds another important feature to its arsenal, which is the ability to divide a document into sections that have their own set of properties like columns, page orientation, and more!
Tell me more.
Integrations
Blending project management and collaboration
Zoho Sprints integrates with Meeting and Show. You can now schedule a meeting in the context of the work item you are currently on. Your presentation will be dressed to impress with the option to add Sprint cards directly into your slides.
Know more.
WorkDrive
New Feature
WorkDrive introduces client users
External users who work with you and your team for a long period can be now added as Client users in your WorkDrive Team with limited roles and permissions.
Learn more.
WorkDrive
New Feature
Templates for documents and spreadsheets
WorkDrive allows you to create preset layouts in the form of templates for your Writer and Sheet files. You can also save existing files as templates.
Know more.
Sheet
Enhancement
Text options for better readability
Worried about the text on your spreadsheet looking crowded or poorly aligned? Zoho Sheet's new text rotation, indentation, and wrapping options help you display text exactly the way you want.
Learn more.
WorkDrive
Improvement
Resolve issues faster by collaborating with our Support
WorkDrive has introduced a "Share to Support" feature that allows you to share your files or folders with our expert Support staff to help analyze, or debug any issues you have. No worries about the security of your files— you get to see all the access stats, commenting and downloading are restricted by default, and the access will be automatically removed after 7 days.
WorkDrive
Enhancement
Follow for instant file updates
Don't want to miss anything happening around a file or a folder? Use the "Follow updates" feature to stay informed.
Learn more.
Connect
InApp Updates
Convert a checklist item into a task
Checklist items that require more tracking, and follow up can be instantly converted into tasks.
2020
2019
Dec
WorkDrive
New
Zoho WorkDrive replaces Zoho Docs in the Zoho Workplace bundle
Zoho Docs will no more be available for Zoho Workplace users and is replaced by Zoho WorkDrive. Workplace's Standard plan users will be mapped to WorkDrive's Basic edition and Workplace's Professional plan users will be mapped to WorkDrive's Starter edition.
Mail
Integrations
Intergromat, Blendr.io, and Workato integrations in Zoho Mail
We have added few more integrations for you in Zoho Mail. Now connect Zoho Mail to external apps such as Integromat, Blendr.io and Workato from the eWidget. 
Read more
Connect
Integrations
Integrate your Zoho Notebook account with Zoho Connect
Any note that you take on Zoho Connect can be synced with Zoho Notebook. Be it notes on posts, forums, manuals, tasks, events, and town hall questions, they are automatically synced with Zoho Notebook using this integration. 
Learn more
Updates
Zoho Workplace Dashboard moves out of beta
The Workplace Dashboard is now available to all the global customers. The Dashboard offers a unified view of the Workplace apps and helps you manage the day to day  notifications and activities. 
Nov
New
Zoho Workplace Dashboard Beta release
Access all your Workplace apps in one window using the Zoho Workplace Dashboard (Beta). You can customize your dashboard with widgets of your choice, rearrange them according to your preference and save a lot of time without navigating between tabs.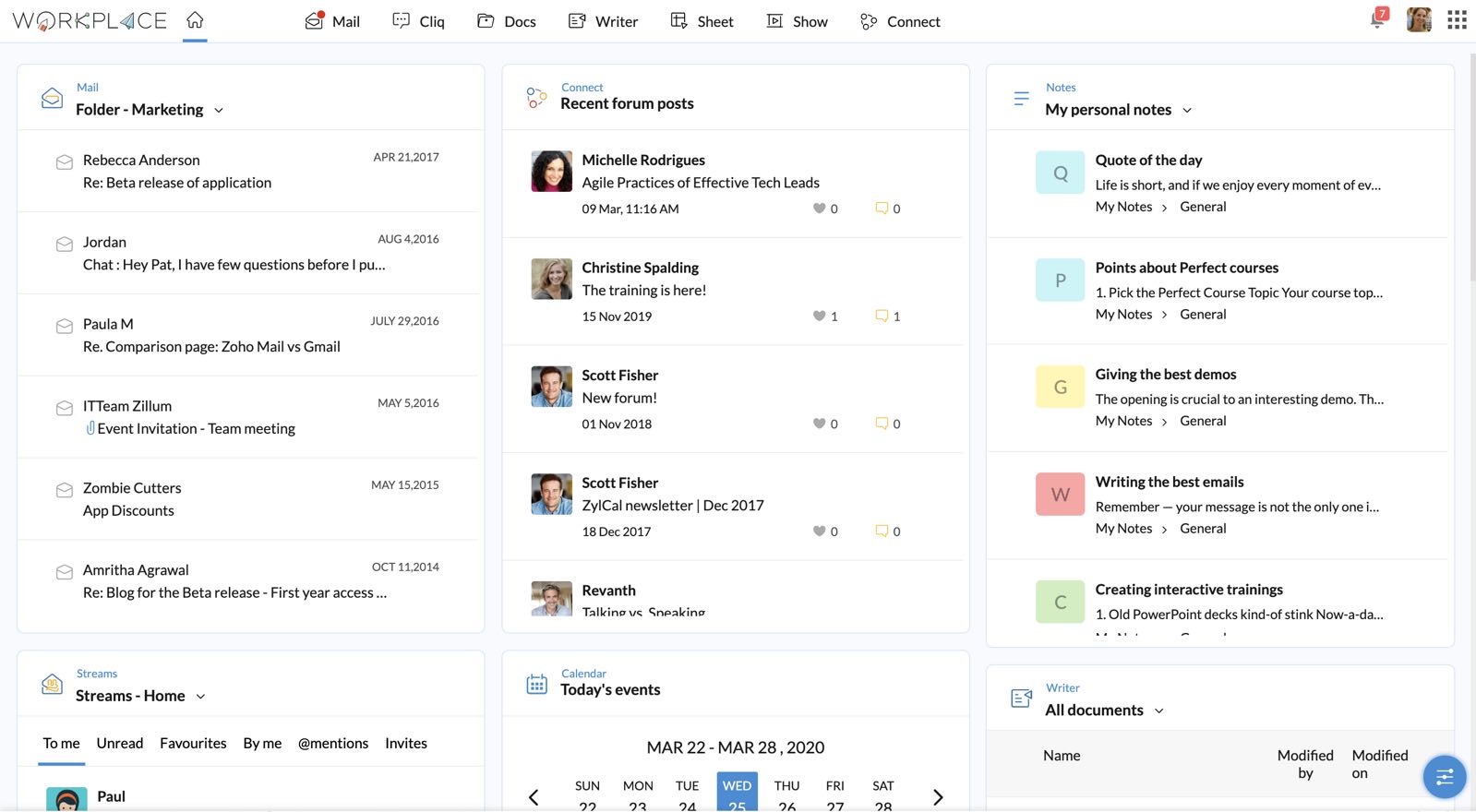 Learn more
Mail
Integrations
Start integrating Zoho Sign with Zoho Mail
This latest extension in Zoho Mail lets you add more authenticity to your emails. You can use digital signatures in your emails, or set up e-sign workflows to collect signatures and obtain approvals on paperwork from the eWidget in Zoho Mail.
Learn more