Recall Sent Email
Zoho Mail supports 'Recall' of sent email, even after the email has been sent. However, the recall option works in certain scenarios and conditions. 
Table of Contents
The recall option in Zoho Mail allows you to recall emails even after you have sent them. 
Note:
The email cannot be recalled in the following scenarios: 
If the recipient is not from within your organization.
If the email has already been shared or is part of a Shared folder.
If recall is attempted after 30 minutes from when the email is sent.
Emails fetched by POP/IMAP accounts cannot be recalled.
Steps to Recall emails
Login to Zoho Mail
Navigate to your Sent folder.
Click on the Mail Delivery Status (MDS) icon.

In the Mail delivery pop-up, click on the Recall this email button.

A confirmation pop up will appear. Click Proceed.
You will get a response message based on whether the recall was a success or not. If the recall is a success, the recipient will receive an email indicating that an email with the mentioned specifics was recalled. And once you recalled an email, a Recalled tag will be attached for reference.


Types of Recall Responses
If you are trying to recall an email that has multiple recipients, you will receive one of the following responses:
| | | |
| --- | --- | --- |
|         | Complete Success | The email has been recalled from the inbox of all the recipients. |
|         | Partial Success | The email has been recalled from the inbox of some of the recipients and not all. |
|    | Complete Failure | The email could not be recalled from the inbox of any of the recipients. |
The above-mentioned responses indicate the status of the email recall only for recipients from within your organization. For example, say you sent an email to three users, two from within your organization and one external user. All the recall statuses you receive will be applicable only for the two users who are from within your organization.
Feature availability 
The Recall email feature is exclusively available only for our paid Organization account users.
Free Organization account users can avail this feature once they have upgraded to a paid plan. The Upgrade option is available next to the Recall Email button.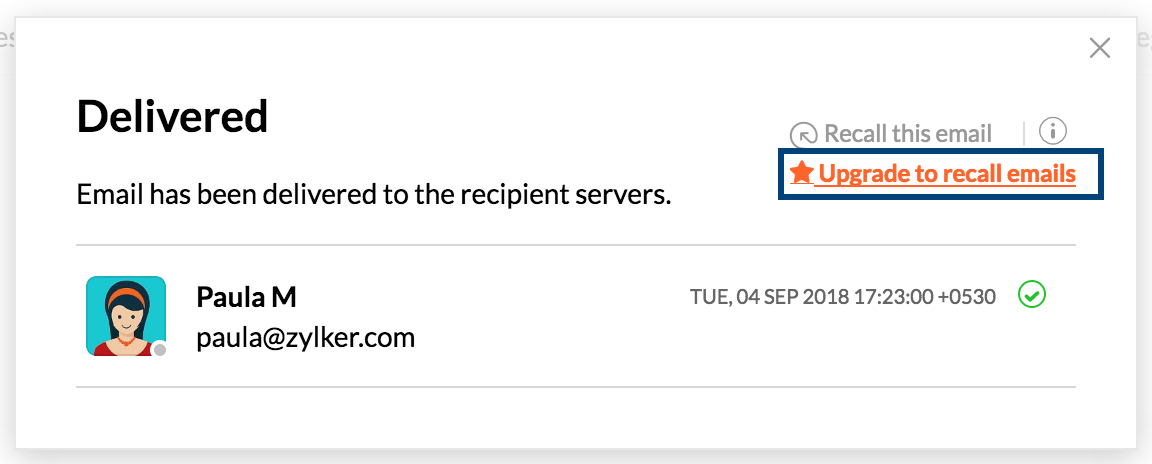 The email recall feature is not applicable to Personal account users.
Note:
The Recall email feature is available only in the webmail interface. A mail cannot be recalled using the Zoho Mail mobile application.