Zoho CRM Extension
Zoho CRM is a Customer Relationship Management software for all businesses and helps in reaching out to their prospects at the right moment and engaging them across every channel. You can view and access CRM info of a contact/ lead right from eWidget including creating or modifying potentials, and associating notes, tasks, and events to the contact or lead. Zoho CRM integration is enabled by default in Zoho Mail for all users who use both these services. Hence, no further configuration is required to access the Zoho CRM from the eWidget.
Using Zoho CRM in eWidget
Login to your Zoho Mail account
Click on the eWidget

icon on the right-hand side pane of your mailbox.
Select Zoho CRM from the app menu in eWidget to:

Add a CRM contact or lead from your mailbox.
Manage your Daily activities - Calls, events, tasks, etc.
View CRM info of the contacts and leads (including Lead score) already stored in the CRM database.
Send new emails or templates to them from Zoho Mail
Create or link potential to contacts, associate notes, tasks, events, calls, etc.

Add Contact or Lead from an Email
Select Zoho CRM from the app menu in eWidget.
You will be able to view the CRM information of the email addresses in the From or To/cc fields in an email, as you open it.
In case an email address is not in your CRM database, you will see options to add them as contact or lead.
Fill in the details in the appropriate fields given and click Save to add them as a contact or lead.

If there are multiple contacts in an email, click the email address drop-down menu to view the others listed. You can also use the drop-down menu as a search bar to quickly search and view the CRM information on other leads/contacts.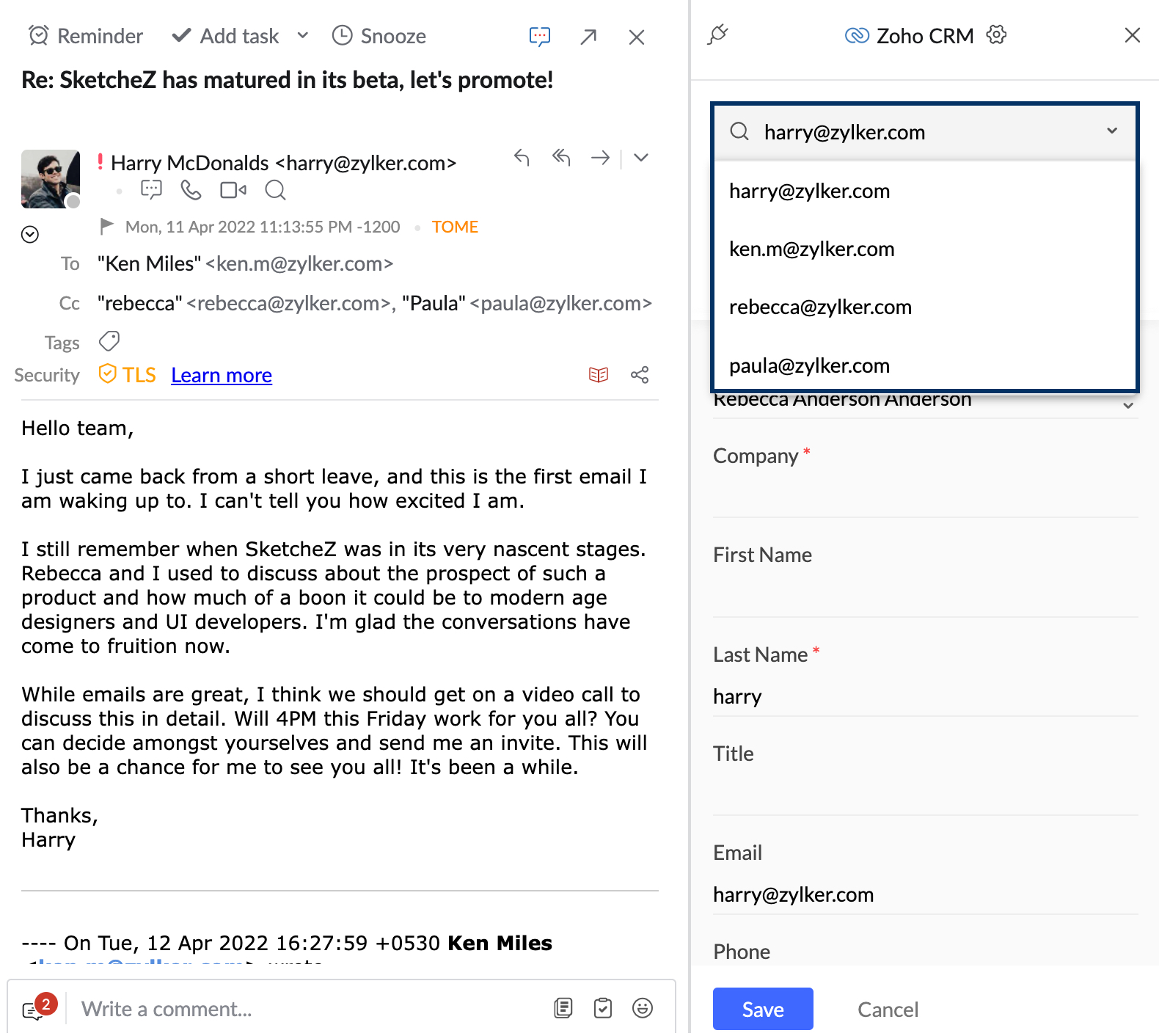 Daily Activities
Daily Activities section displays the CRM activities created/scheduled by you to perform that day. Once an email address is added as a contact or lead in your CRM database, you can associate tasks, meetings, and callbacks of that particular contact/lead from eWidget.
To add a meeting:
Select Zoho CRM in the eWidget app menu.
In the Daily Activities section, your scheduled tasks, meetings, and calls for the day are displayed.
In case you have an email open, the CRM Information of the email addresses in the From or To/cc fields are displayed.
Choose the Daily Activities tab
Click + Meetings button.
Add appropriate details like Title, location, date, duration, host, and description for the meeting and click Save.


The meeting will be associated with that particular Contact or Lead and synced in Zoho CRM.
Actions
Actions section lets you view and access the Leads, Contacts, and Templates in your CRM account from Zoho Mail.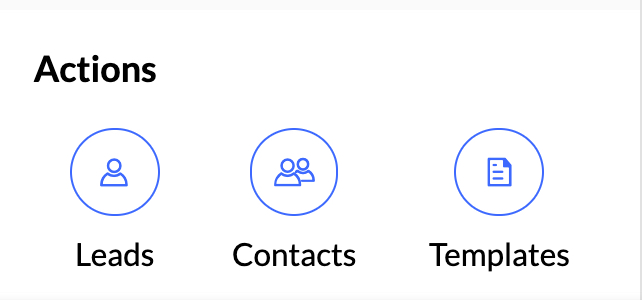 Send a New Email or an Email Template
You can send an email template to your existing contacts and leads using the Send Mail option from eWidget.
Login to your Zoho Mail Account
Navigate to the eWidget

icon on the bottom right corner of your mailbox and click on it.
Select Zoho CRM from the eWidget app menu.
In the Actions section, select Leads
Choose the desired Leads view from the dropdown.
Click on a lead to view the CRM info pertaining to that particular lead.
Click Send Email option.

Click Select Template and pick the relevant template to send them.

Choose when to send it by clicking Send Immediately or Schedule Later.
Click Send once done.
You can also select multiple leads or contacts from the listing and use Insert in Compose option to insert their email address and send a new email from Zoho Mail.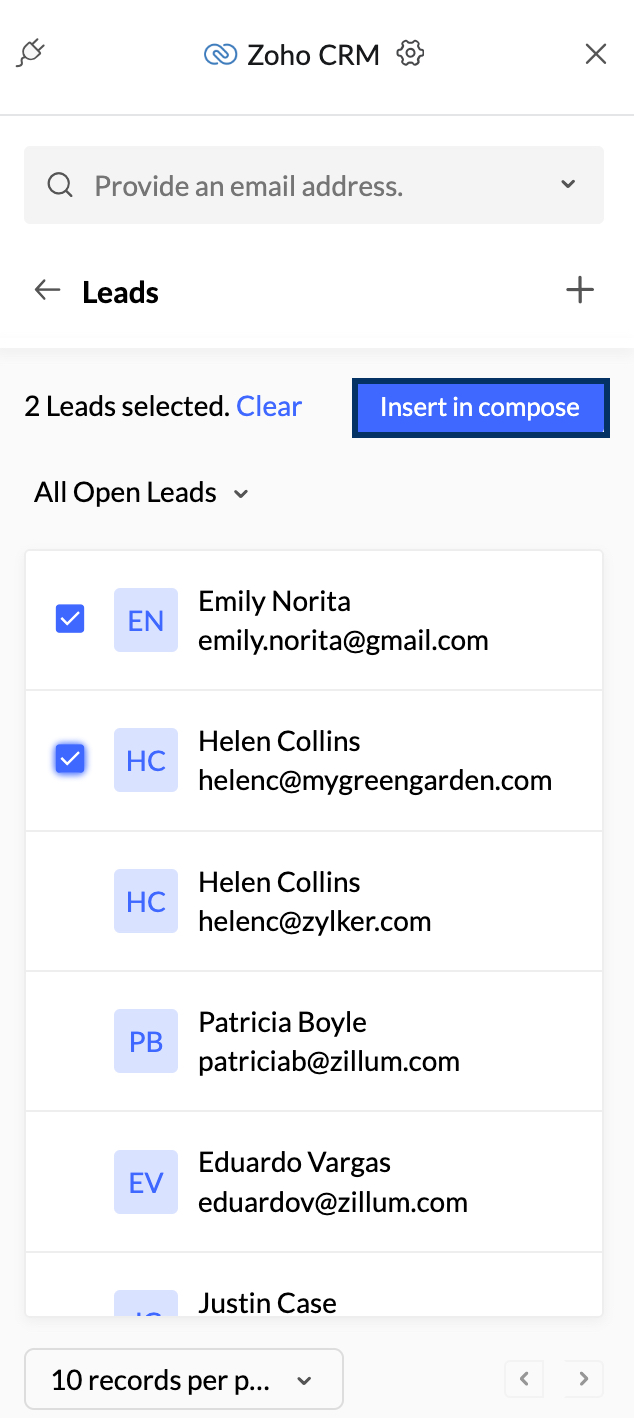 Note:
You can view the Lead score of a particular lead when you view their CRM info in eWidget. Please note that this will only be displayed if you have set up some parameters for calculating the Lead score in your Zoho CRM settings.
Associate emails
Using the CRM extension in Zoho Mail you can associate an email with any leads, contacts, or other entities in your CRM portal.
To associate an email with a lead:
Click to view an email with the CRM extension open in the eWidget.

Navigate to the Leads section at the bottom.
You can use the filter to choose All leads, All open leads, All locked leads etc.

From the Leads listing, choose the lead with which you want to associate the email.
Click the Yes, associate button in the Associate this email with this Lead? dialog box.

The email will be associated with the lead. You can follow the similar steps given above and choose the contact or other entities to associate emails.
You can also access the Zoho CRM integration in a new tab in Zoho Mail to get a contact/lead's CRM info by clicking on their email id and choosing View CRM info.