Zoho Cliq Integration
Zoho Mail's integration with Zoho Cliq helps you chat with your contacts directly from the Zoho Mail interface in different ways.
Table of Contents
This integration helps you stay connected with your colleagues without having to leave your mailbox. 
Smart Chat
You can access your Zoho Cliq Contacts, Chats and Channels from the Smart chat bar at the bottom of your Mailbox. Click on the Chats, Contacts or Channels icon on the left side of the bar for a quick search in the relevant tabs. For a more extensive and easy search, you can also click on the Smart chat bar or use Ctrl + Space command. This will display a pop-up window with a search bar and list of your contacts, direct/group chats, and Channels.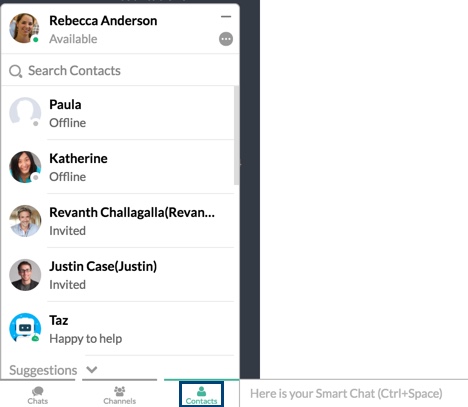 You can also start a chat with any of your contacts from the pop-up search window. @mention the contact you want to start a chat with and enter the message that needs to be sent. Press Enter to begin the chat.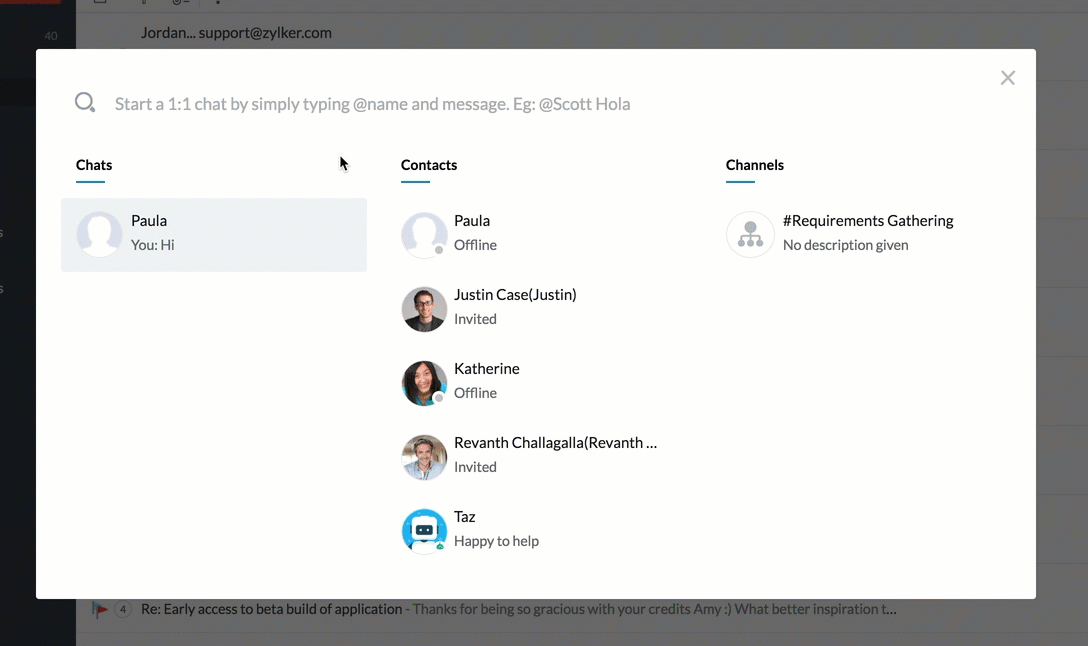 Streams Group Chat
You can start a chat for all the members of any Streams group from the Streams Group listing in the left pane. Right click on the group you want to start a chat for and choose Chat with this Group. A chat window with all the group members is launched. 
​​
Cliq integration in Contact Card
Contact card for any contact is displayed if you hover over the name of the user in a Streams post or click on the contact in an email. You can initiate a Chat, Video or Audio call with the contact directly from the Contact card. Click on the Start Chat, Start Audio Call or Start Video Call icons below the email address to do so.
Chatlet
The Chatlet option allows you to start a chat with the participants of any Streams post or email. To open a chat from an email, click on the Chat about this email icon displayed on the header of the email. Once you click the icon, a Start Chat pop-up appears with the title of the chat and participants. You can edit the title and remove/add the participants as per your requirement. 

​
 You can also click on the same icon present at the top right corner of any streams group post to start a chat with the involved group members.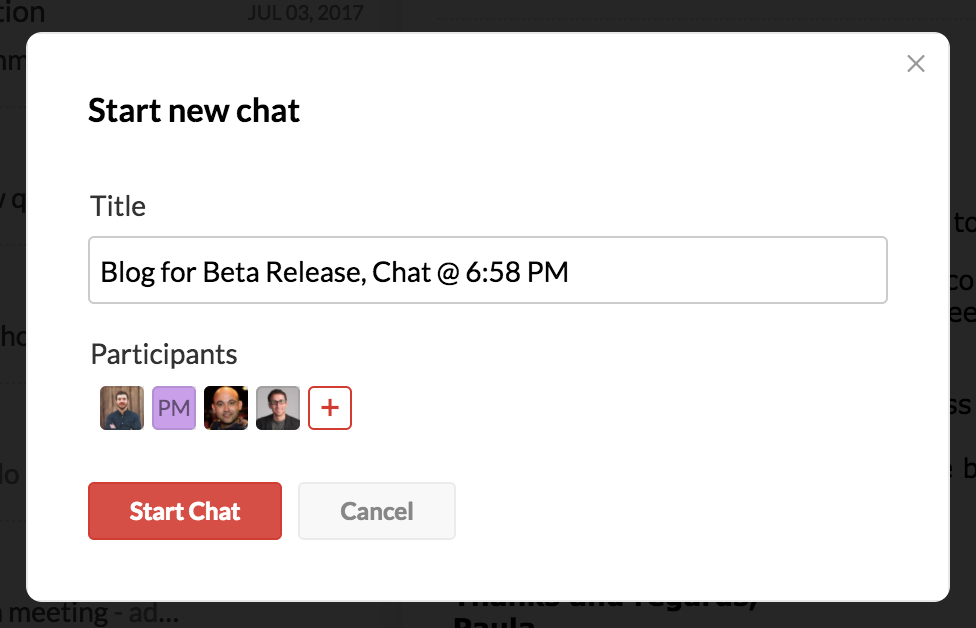 ​
Click Start Chat with the desired title and users. If there are existing chats for the email or post, the group chat names will be displayed as a drop-down when you click on the Chatlet icon. You can choose to continue in one of the previous chats or start a new chat based on your preference.
Note:
Chatlet is available exclusively for Organization Users only.