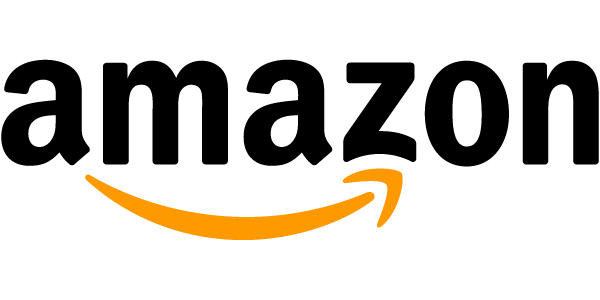 Overview of amazon integration
---
Why amazon?
One of the largest online retailers based in the US that is still expanding and reaching out to more countries.
They have an easy setup process, well laid out maintenance system, a reliable customer feedback mechanism and options for fulfilling the orders you get.
Reports state that in 2015, Amazon surpassed Walmart as the most valuable retailer in the United States by market capitalization.
---
Things to remember
Before setting up an integration, please ensure that your base currency in Zoho inventory and the one you use in your sales channel account are the same.
We support only amazon.com at the moment.
Enable Sales Tax/VAT(whichever is applicable to you - for US/UK editions only) before you integrate with amazon.
Items in amazon that have more than three attributes will not be a part of a sync as Zoho Inventory supports only up to three attributes.
---
Integrating with amazon
Before we set up the integration between Amazon and Zoho Inventory, we have to do a few things as indicated by the steps below:
Preparing your amazon account: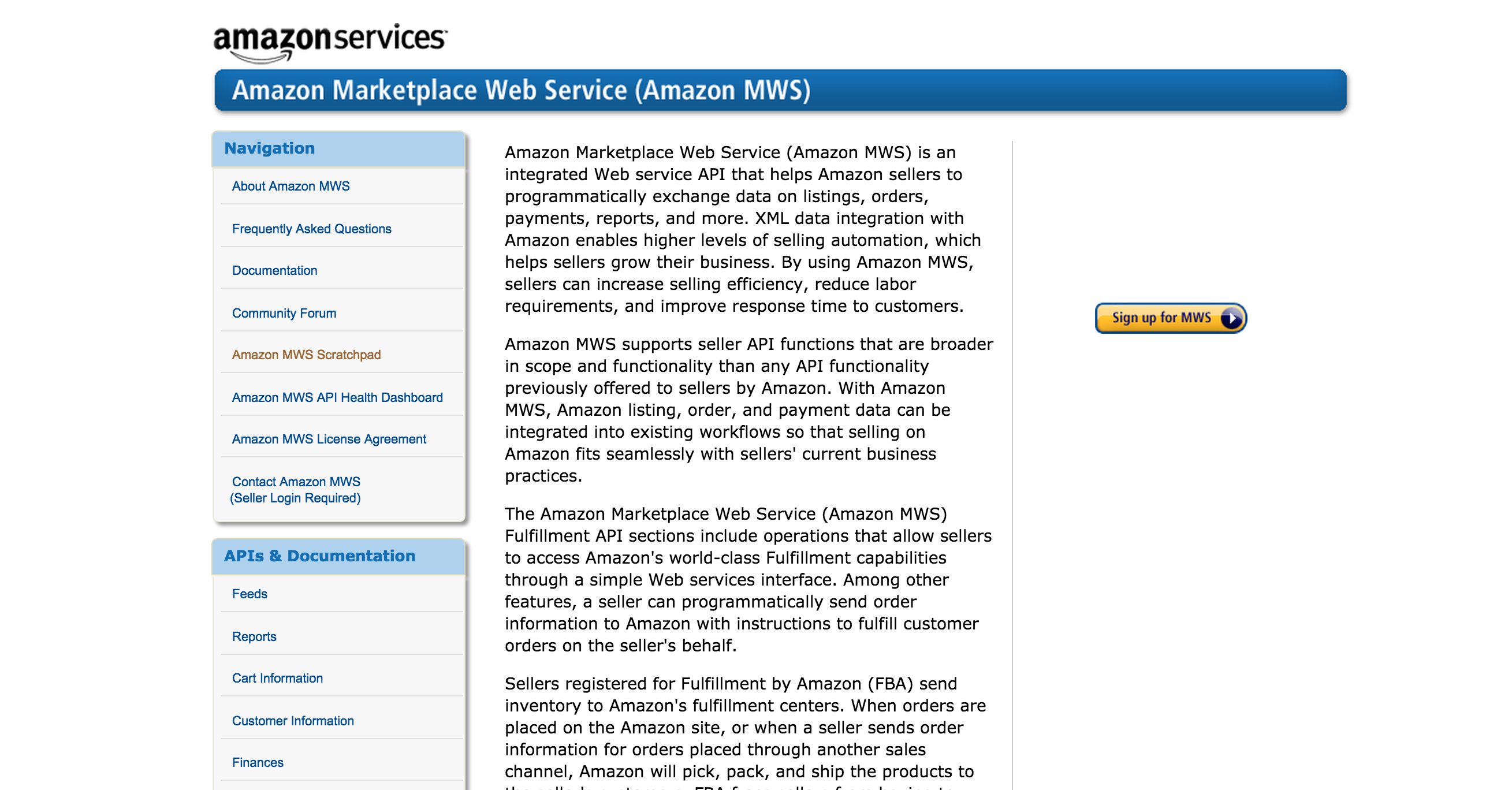 Click on the Sign up for MWS button.
Log into your Amazon seller account.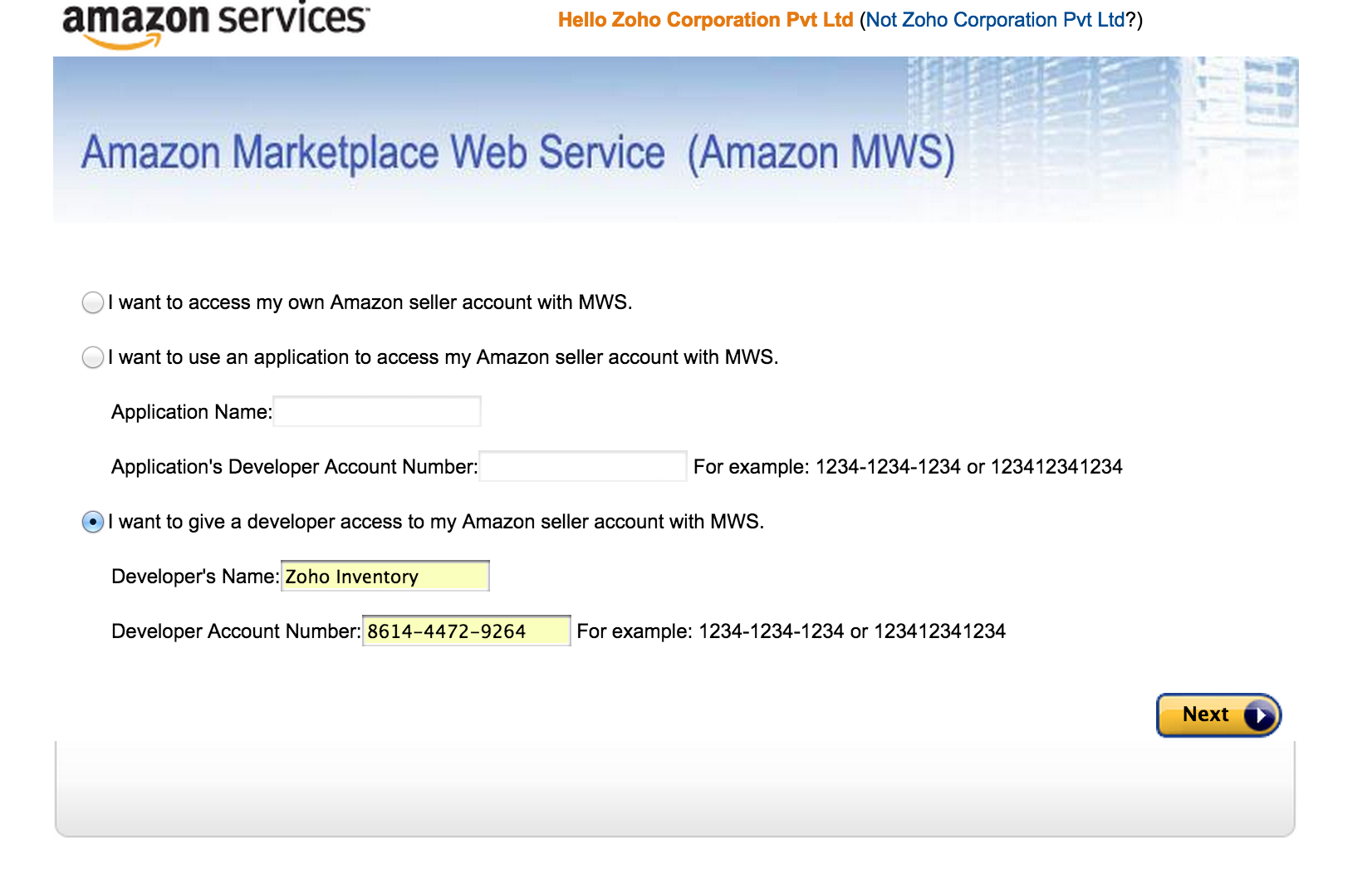 On the Amazon MWS registration page, click on the checkbox before the option I want to give a developer access to my Amazon seller account with MWS.
In the Developer's Name text box, type Zoho Inventory. (Note: This doesn't need to be the exact name; it is merely for your reference in the future.)
In the Developer Account Number text box, enter this number : 8614-4472-9264.
Click the Next button to proceed to the license agreement page.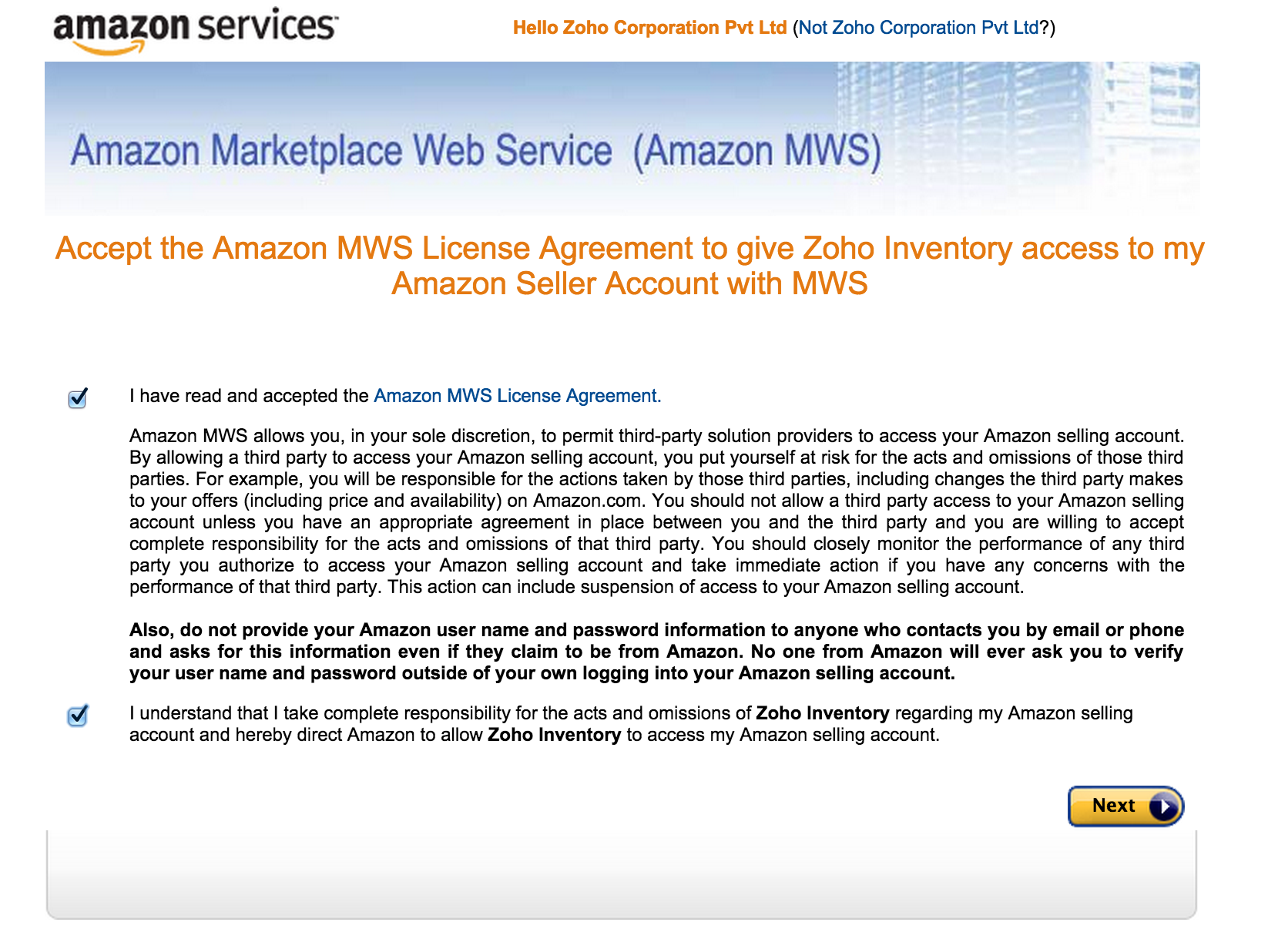 Accept the Amazon MWS License Agreements and click the Next button.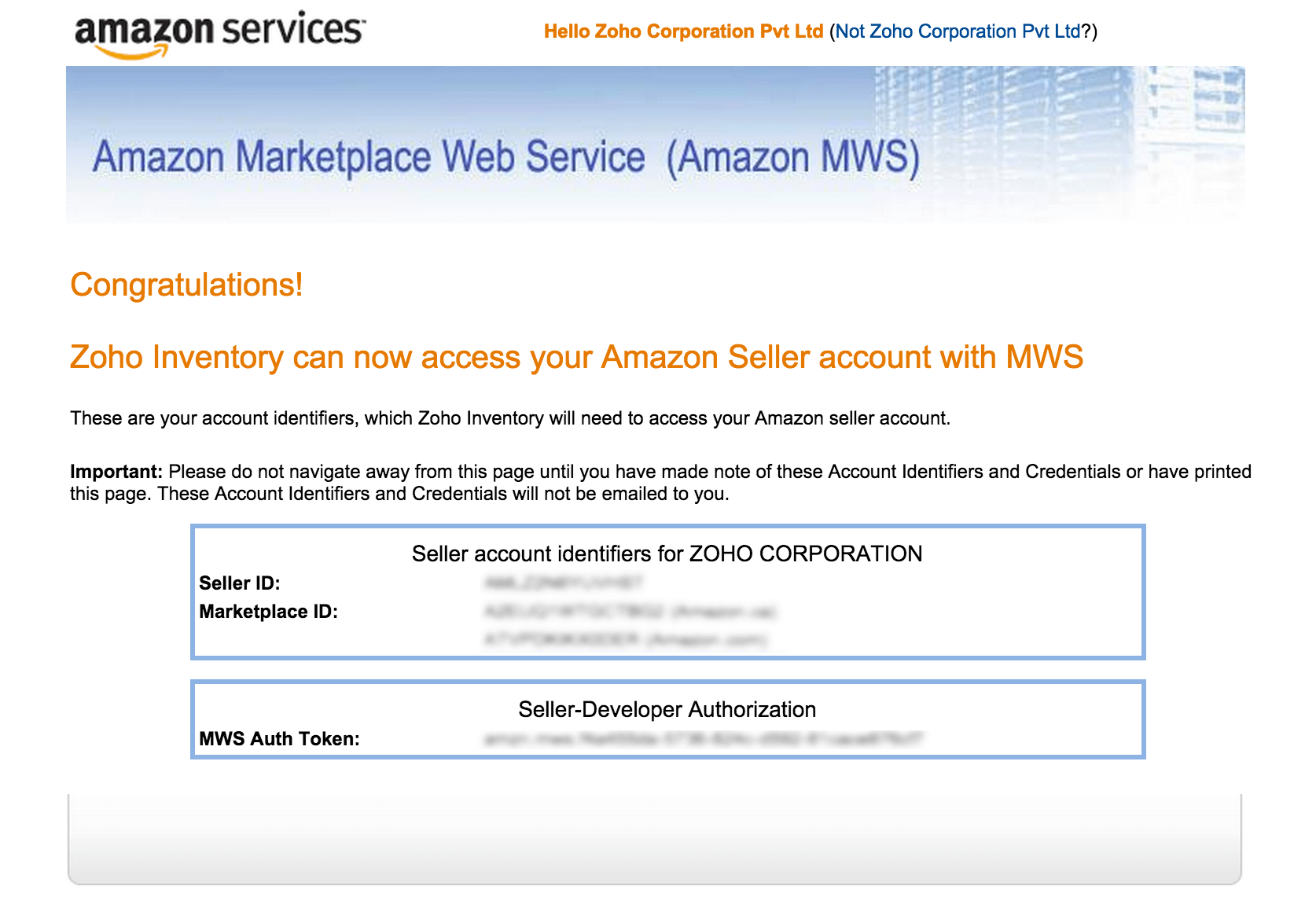 This will generate your account identifiers (Seller ID and MWSAuthtoken ID). These are necessary for establishing this integration.
Copy these account identifiers - Seller ID and MWSAuthtoken and store the safely for use.
Preparing your Zoho Inventory organization:
Navigate to Amazon under marketplaces inside Integrations.
Click the Setup Now button under the Amazon logo.
Paste the account identifiers(Seller ID and MWSAuthtoken ID) that you copied from amazon into their respective fields on the interface.
Click Connect button to proceed.
Your amazon account will be successfully integrated with Zoho Inventory after authentication.
---
Tuning the integration
On successfully integrating your amazon seller account with Zoho Inventory, you can now start tracking your inventory for every sale you make in amazon.
For additional control over your integration:

Navigate to Integrations.
Select the Marketplaces tab.
Click on the Show Details button under amazon.
A page with all details associated with the integration opens up. Lets take a look at the individual options below.
Sync - auto & manual sync
The details of the sales in amazon are reflected as sales orders here during a sync. We have an automated sync cycle in Zoho Inventory, which would automatically keep your organization up to date with your amazon account.
You can also manually update your organization at any point of time by clicking on the Sync Manually button and choosing one of the options(items or sales orders) in the drop down.(Note: Using the manual sync in one marketplace will sync all the others as well)
Sync History
You can also view the sync history by clicking on the Show Sync History option above individual modules under the Show Details page.
---
Workflow
Initial Sync
On setting up the integration between your Zoho Inventory account and amazon, all your existing data will be synced in 15 mins from successful authentication.
Sync cycle
The integration is kept alive by the sync process between Zoho Inventory and amazon.
At the moment, an auto sync happens once every 4 hours, and thus keeps your organization updated with the sales that happen online. However, you can change this sync time by clicking on the Change button below the Overall Sync History option in the sales channel's integration page. The possible options are:

30 minutes
1 hour
1 hour 30 minutes
2 hours
2 hours 30 minutes
3 hours
3 hours 30 minutes
4 hours
Items
Your current item stock on hand will be updated to amazon automatically whenever there is a change in your stock levels.
Any items that are present in your Amazon store but not in Zoho Inventory will automatically be created and added to your inventory. This way you can add new items to your Amazon account and your inventory is automatically kept in sync with your store.
Sales Orders
When you make a sale in amazon, a sales order is automatically generated for you inside Zoho Inventory.
Any new customers who make purchases from your amazon store will be automatically added to your contacts inside Zoho Inventory.
Order Sync
You can choose to sync only the Confirmed orders or both Confirmed and Fulfilled orders from your marketplace to Zoho Inventory. To do so:
Go to the Modules in Sync section.
Click the Change button under Orders.
Select your sync preferences from the drop-down.
Click Save to proceed.
Stock Sync
By default, any changes in the stock in Zoho Inventory is automatically updated on Amazon. This is indicated by the Active status. 
If you disable this automatic sync, then the stock changes in Zoho Inventory will no longer get reflected in your marketplace. This is indicated by the Inactive status.
Shipments
When you create shipments for the orders from amazon, the shipping ​information you have in Zoho Inventory will be automatically updated to your amazon account.
Payments
The payment status of the inbound sales order from amazon would be displayed as a comment under the sales order. As amazon supports only paid orders, the payment status under the sales order would be indicated by a comment as Paid.
---
Disable integration
You can disable a integration at any point of time. To do so:
Navigate to Integrations.
Select the Marketplaces tab.
Click on the Show Details button under amazon.
Choose the Disable integration option under Account Information.
Confirm the action by clicking on the OK button on the pop-up that follows.
On disabling the integration, your Amazon integration status will be moved to an Inactive state.
To reactivate the integration, simply click on Enable Integration button inside the Amazon Details page under Integrations.
---