Overview
About Zoho Creator
Zoho Creator is a cloud software to create custom applications on your own without any prior coding experience or IT expertise. Zoho Creator's drag-and-drop interface enables you to create custom business applications in days rather than weeks. You can collect data, automate business processes or workflows, analyze the data in reports, and collaborate with your application users.
Zoho Creator lets you concentrate on automating your business process without worrying about maintenance, hosting, and scalability. With our native mobile apps, you can access real-time data from anywhere, anytime and on any device.
The Zoho Creator user interface supports two different roles.
Application Creator or Application Owner - An individual who creates the application to meet his/her needs(Example: Project Manager who needs to keep track of the projects, creates 'Project Tracker' application).
Users - Individuals who access the application. Your application users can be your team members, customers, executives, employees, vendors, and partners.
Create the Application
It will be easy for you to create an application once you are familiar with the core components of Zoho Creator. They are:
Forms - Collect and store the data
Reports - View and analyze the data gathered through the Forms.
Pages - Customized HTML views.
A Zoho Creator application comprises of one or more Forms, Reports, and Pages. Given below are the basic steps involved in creating and accessing a Zoho Creator application.
Create Forms
Every business generates a large volume of data, and hence data collection is the starting point. You can collect data through Forms in Zoho Creator.
A Form is made up of one or more fields that allow the user to enter information. The Form Builder helps you create Forms easily with simple drag-and-drop of the required fields. By default, when you create a Form, Zoho Creator will create a table at the back-end to store the data submitted through the Form.
Form Builder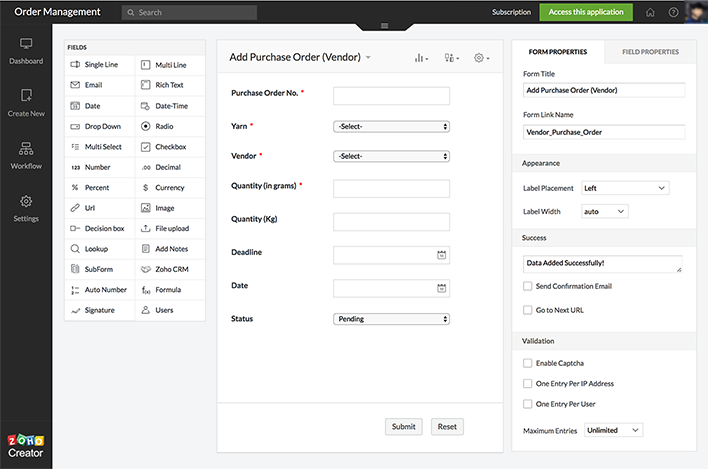 Create relationship between Forms
An Application is a collection of Forms that are closely associated with one another. Each Form is self-contained. It can function alone and need no other Form's aid to collect data.
The Lookup and the Subform field can be used to establish the relationship between Forms.
A Lookup field on one Form fetches data entered into a field that resides on another Form. One-to-one and Many-to-many relationships can be established using single-select and multi-select lookup fields. You can draw relationship between forms in the same application or different applications. Learn more.
A Subform field is used to created one-to-many relationships. You can add an existing Form as subform or directly create the required subform in your parent Form. Learn more.
Create Reports
Zoho Creator supports multiple report formats to display the data gathered through Forms. You can view data as a List, Calendar, Summary, Grid, Pivot table or graphically as Charts. Also, you can customize your report(using filters, grouping & sorting) and isolate the required data from the large repository. Learn more.
Report Settings Section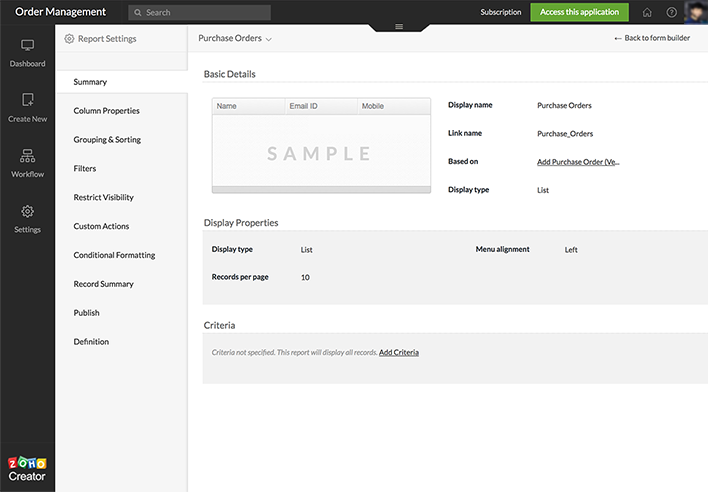 Create Pages
Pages are the customized HTML views that can be designed using a combination of HTML and application data. You can make great dashboards and Custom views, presenting dynamic Reports based on the user selected criteria. Learn more.
HTML Page Builder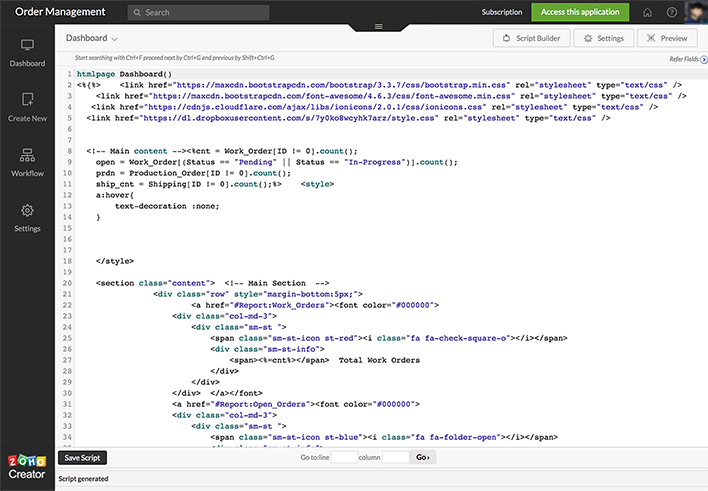 Add WorkFlow
You can add business workflows, automated tasks and custom actions to your Forms and Reports to make your application more powerful and robust. The script builder provides a drag-and-drop user interface for defining the workflows and tasks quickly, without any errors.
Drag and drop Script Builder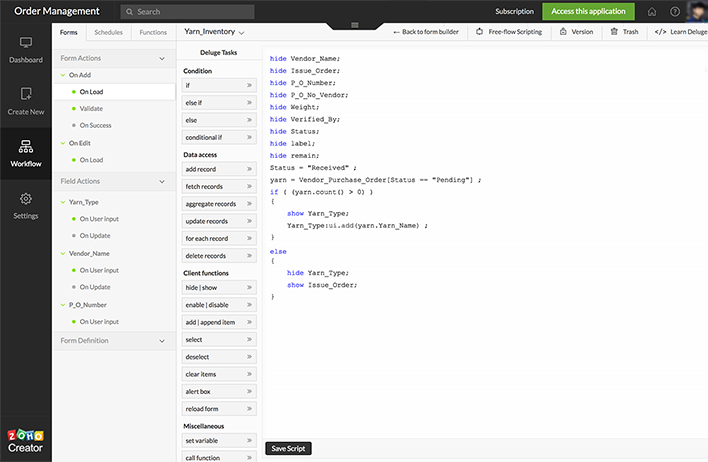 Share your application with Users/Groups
The Share page displays the layout of the application on the left side with the Forms and Reports arranged under each section. The application owner can share the entire application or only specific Forms and Reports, with particular users or user groups.
In the Application Settings tab, the owner of the application can configure the overall application(application name, date format, time zone, etc.), customize the layout and theme, and rearrange the components and sections in the application.
Application Settings - Share Tab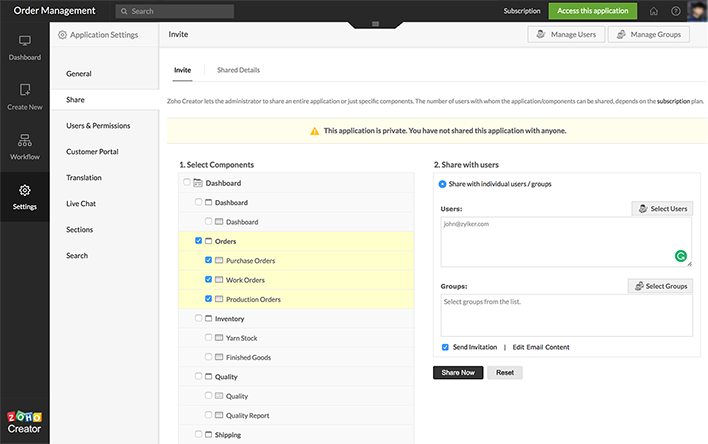 Access the Application
By default, an application created in Zoho Creator is private. The Share feature lets you share your application with your users. Shared users can access the Forms, Reports, and Pages in your application based on the access permissions provided by you. Given below are the screenshots of Form, Report, and Page while accessing the application.
Form
Access mode of the Purchase Order Form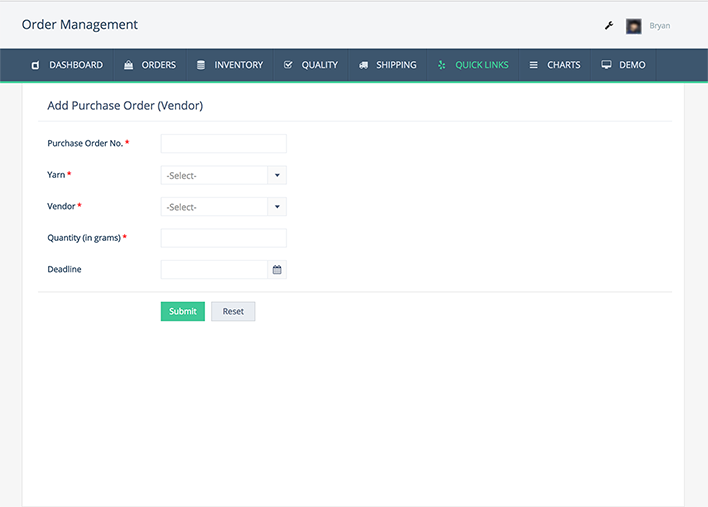 Report
Data displayed in a list Report format while accessing the application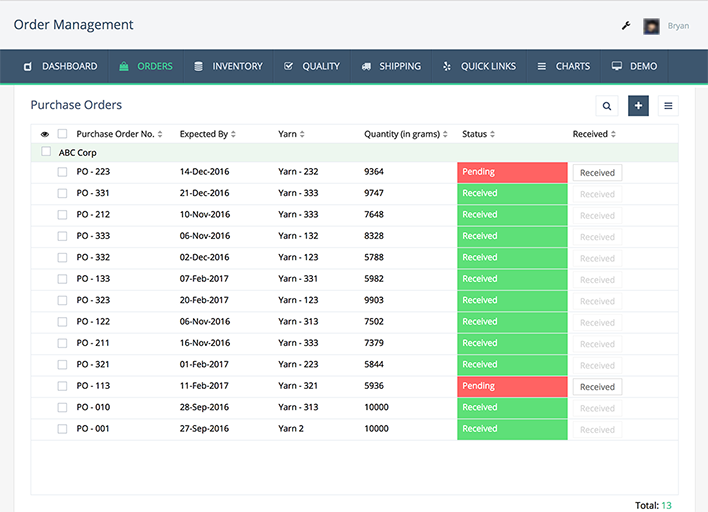 Page
Visualize the application data on one screen at a glance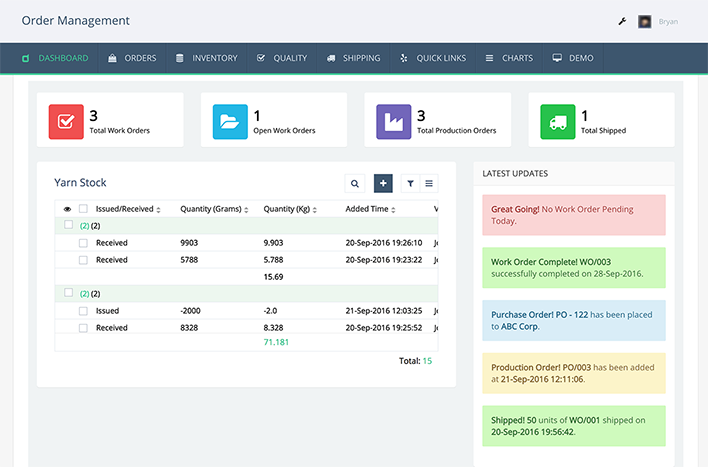 Create New Application | Forms | Reports | Pages | Workflow | Application Settings