What's New - Feature updates in Zoho TeamInbox
Filter By Category

All Category
Integrations
Enhancement
Features
Improvement
New Service
2022
Mar
Integrations
Zoho TeamInbox for Zoho CRM
With this powerful integration, you can now view Zoho TeamInbox email threads related to your Zoho CRM leads and contacts from within Zoho CRM. Install our Zoho TeamInbox extension for Zoho CRM from our marketplace. 
Learn more
Enhancement
Typing indicator in comment section
View who's typing in "Discussions" in real time when someone from your team enters text.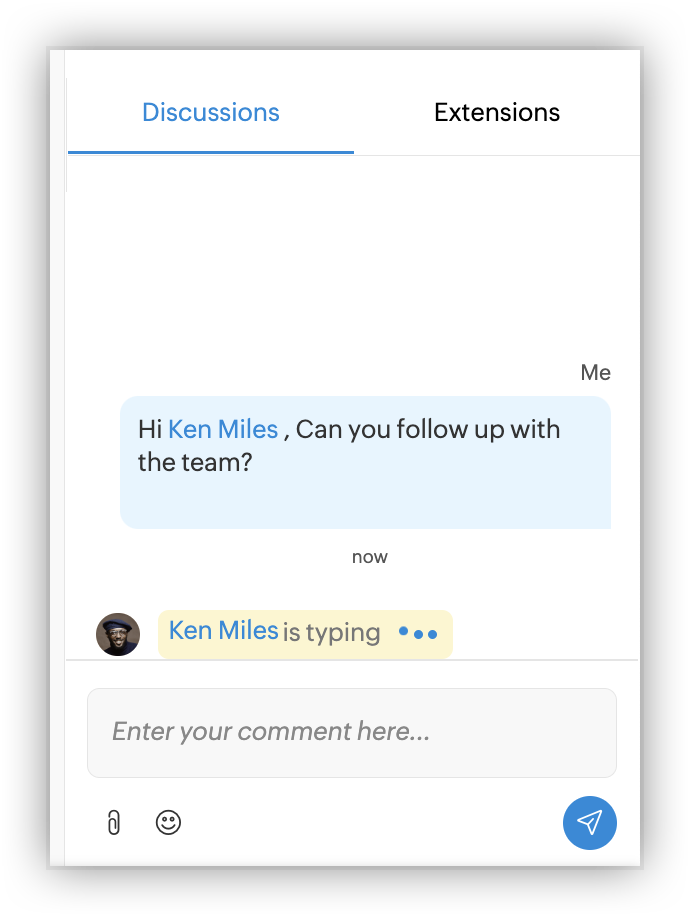 Feb
Features
Configure Personal Inbox
Personal Inbox is your private space within Zoho TeamInbox, where you can configure and connect your individual email account. With personal inbox, you can now manage all your individual emails and shared emails from a single interface. Save the hassle of having to switch applications and increase your productivity with intuitive inbox friendly features such as Snooze, Archive, Response Templates, Share Draft and so on. 
Learn more
Features
Connect emails via IMAP
In addition to POP, you can now connect your inbox with Zoho TeamInbox via IMAP.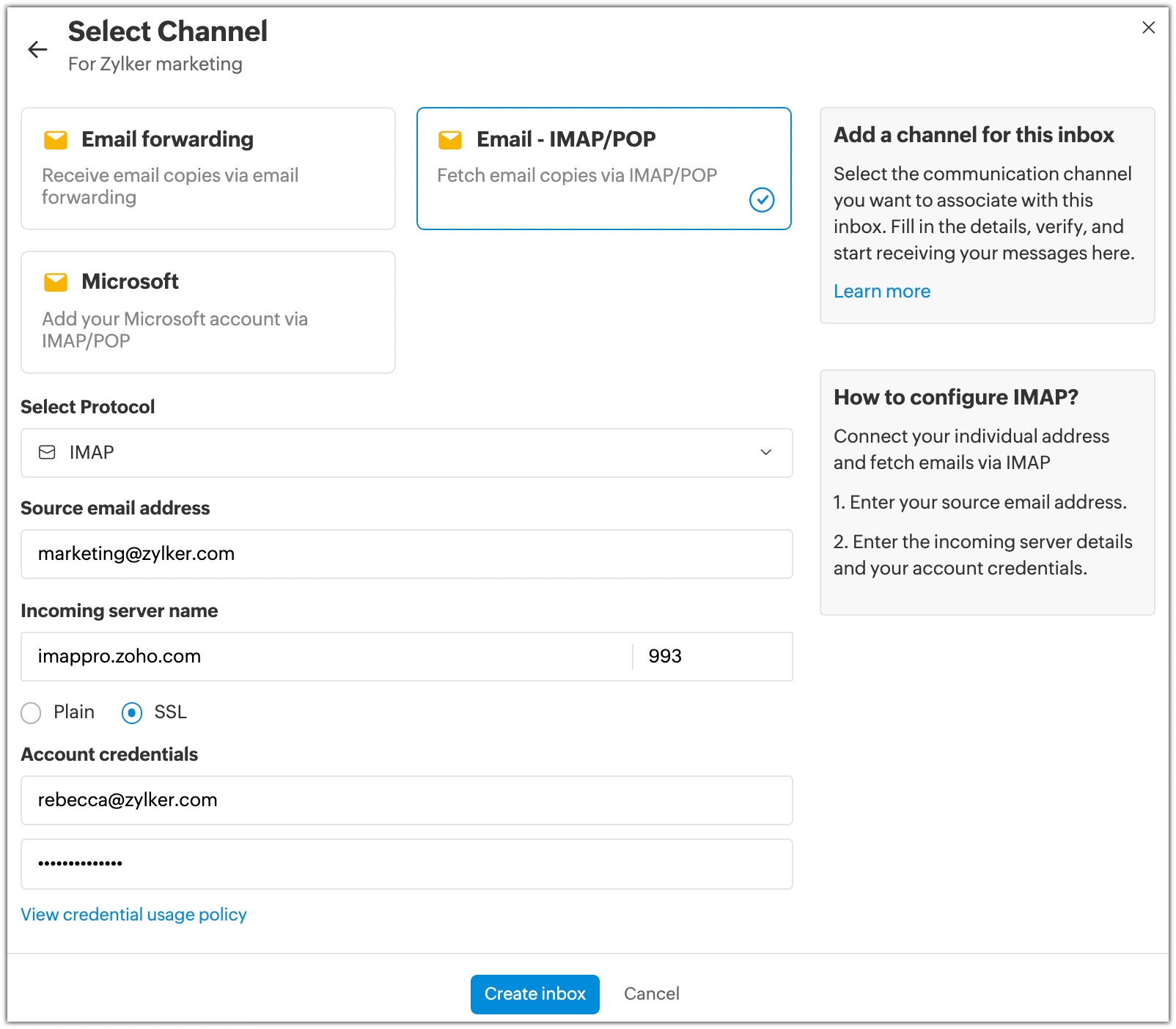 Improvement
Settings - New appearance
Experience the revamped and fresh look of your Settings Page in Zoho TeamInbox. Manage your 'Personal' and 'Organization' settings effortlessly.
Learn more
You can now export emails from your shared inboxes in Zoho TeamInbox as a ZIP of EML files.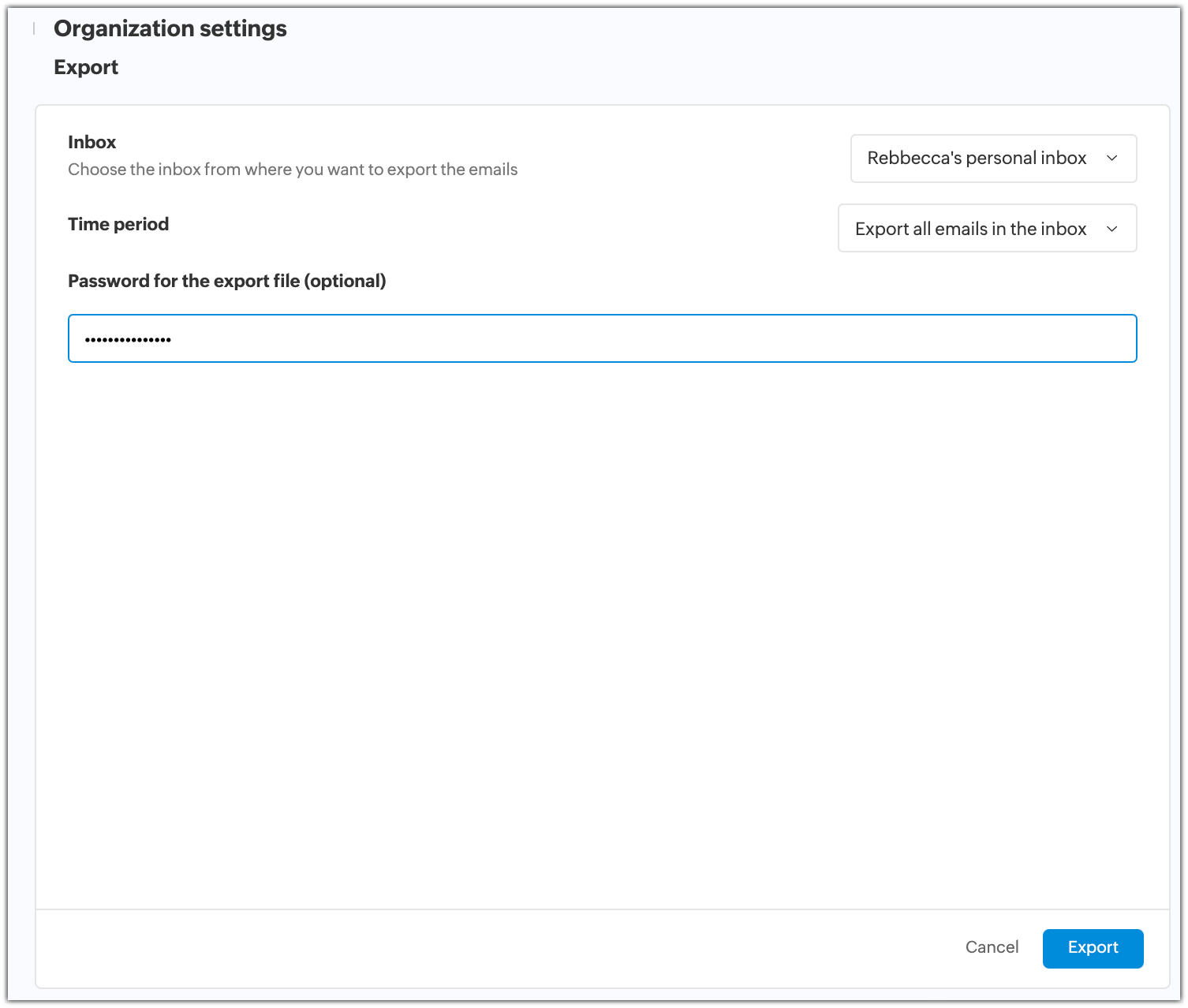 Learn more
2021
Oct
Features
Migrate emails from Zoho Mail
If your email is hosted on Zoho Mail, you can now migrate all your emails to Zoho TeamInbox easily. The organization admin or moderator can initiate migration from under the Organization Settings. Enter the source email address and the destination inbox for migrating emails, and you're all set.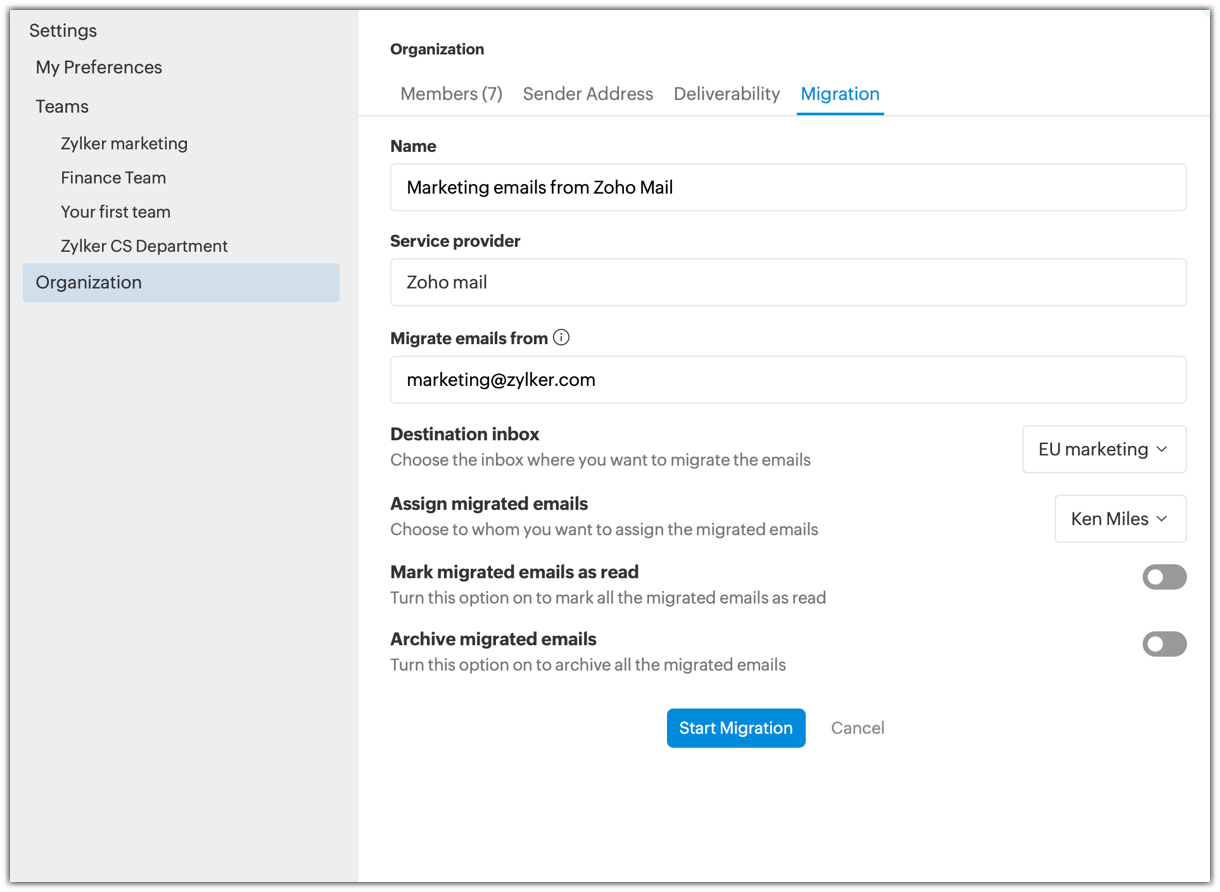 Enhancement
Auto respond from rules
Automate replies based on conditions using rules. Create a response template, set up condition, and choose to send out the response when your condition is met.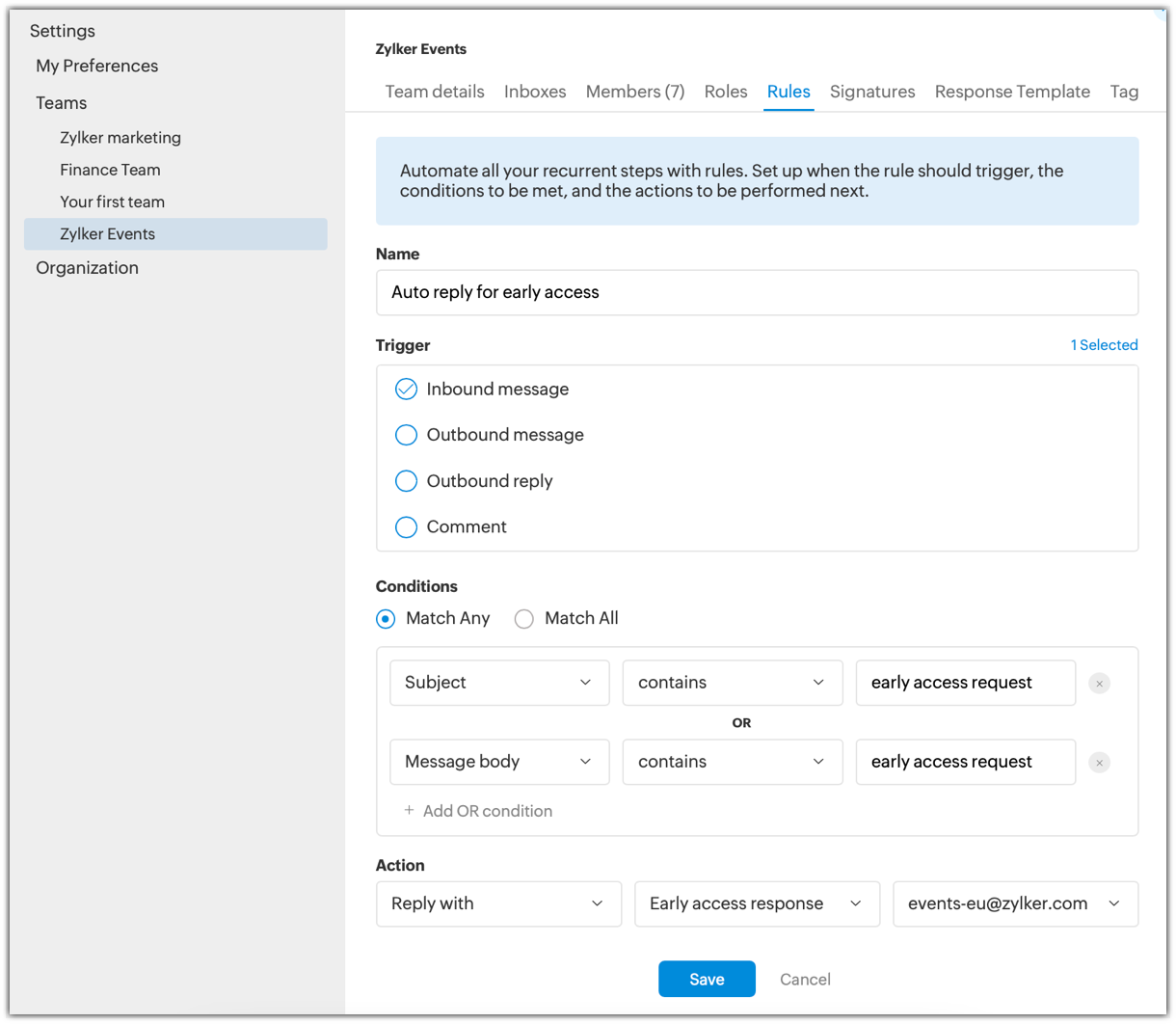 Enhancement
Get reminded to attach files
If you've mentioned about attached files in your email content but have forgotten to attach them, you will receive a system prompt reminding you to attach the relevant files.

Sep
Features
Request read receipt
While composing emails you can choose to 'Ask read receipts' from your recipients. When they receive the email, they will also receive your 'Read Receipt' request, if the email service and client support the feature. Upon accepting the request, you will receive a notification of when the email was read.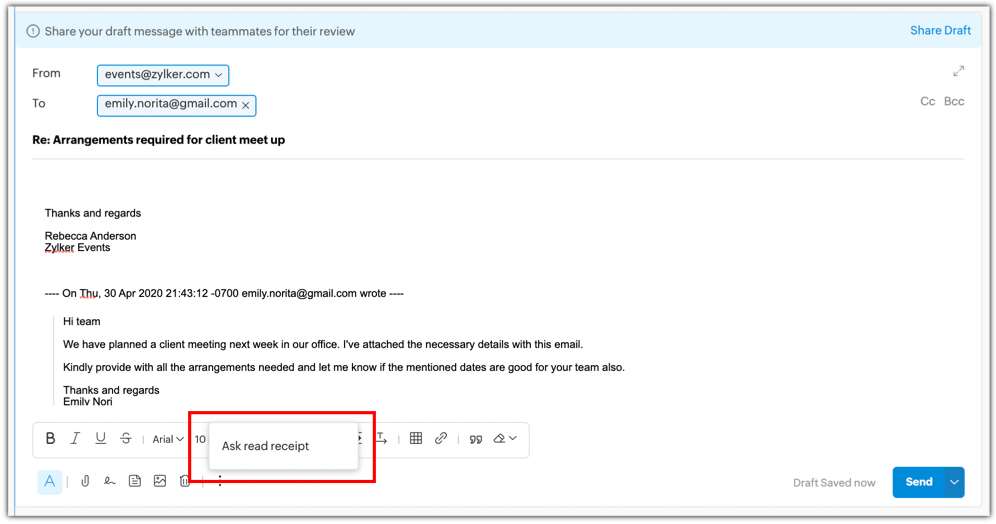 Features
Personal sender address
Send out emails from your individual sender addresses and not just from your group addresses. Add your addresses and select them while composing emails.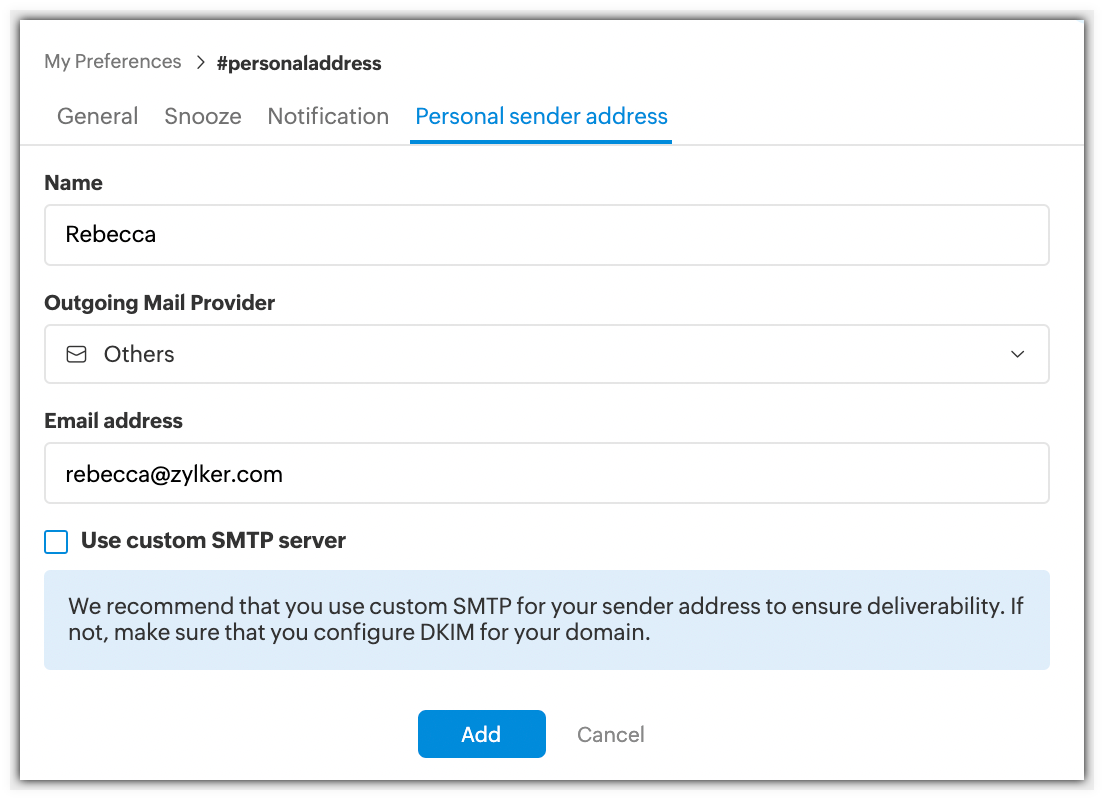 Enhancement
Open email in new window
You can now choose to open your email content in a separate window. Right click on the thread from the listing and select 'Open in window'.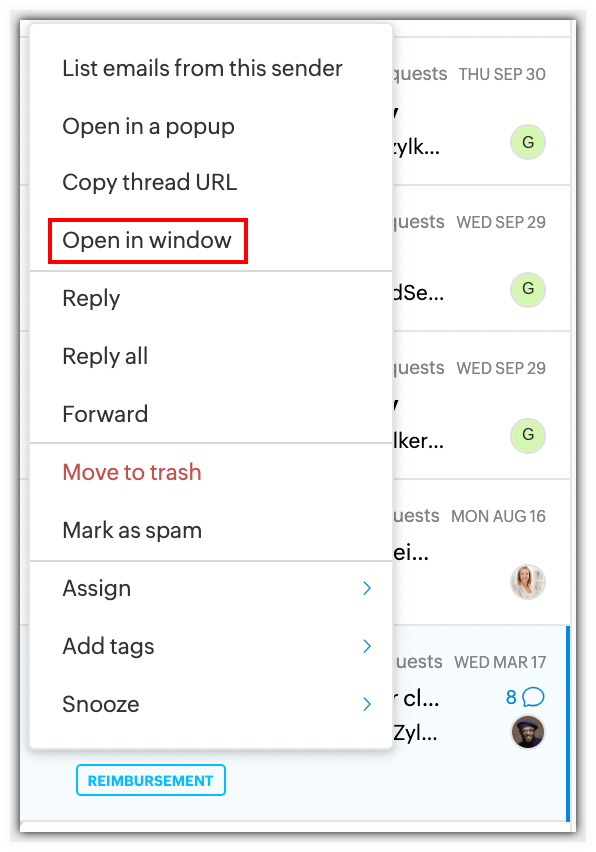 Improvement
Product updates inside application
View what's new with Zoho TeamInbox from your interface. Click the Announcement icon at the bottom right corner and stay updated about our new features and enhancements.
Aug
Enhancement
Quick Settings
You can now access settings right from the top bar. All your interface setting options are handy here.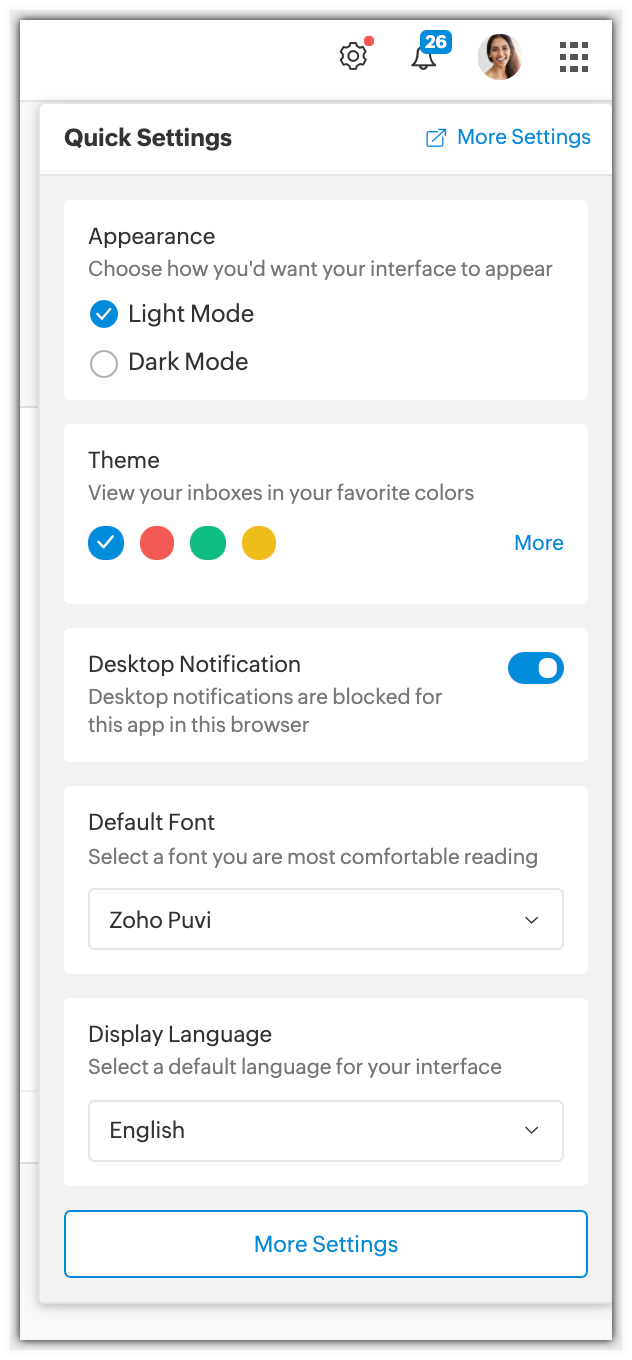 View the list of members who are yet to read a thread. Find the More menu in your email preview and select the Conversation info option to view the unread info of the thread.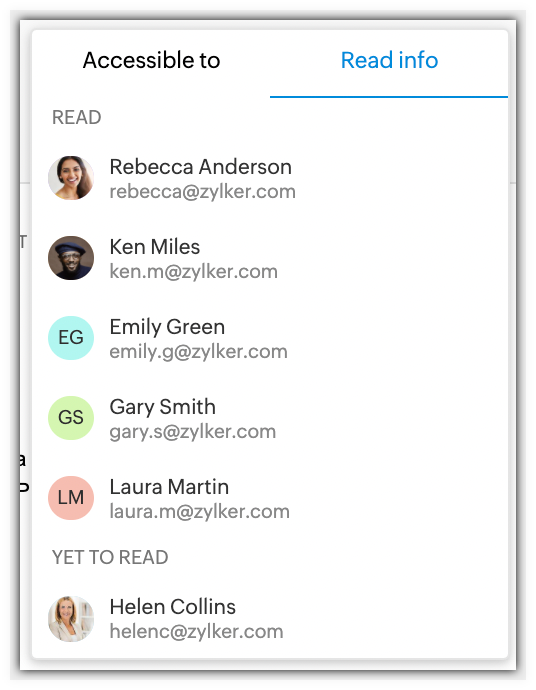 Improvement
Domain and sender address authentication alert
Zoho TeamInbox mandates you to authenticate your domain and sender addresses. If you have not authenticated, you will be reminded to do so in your right pane.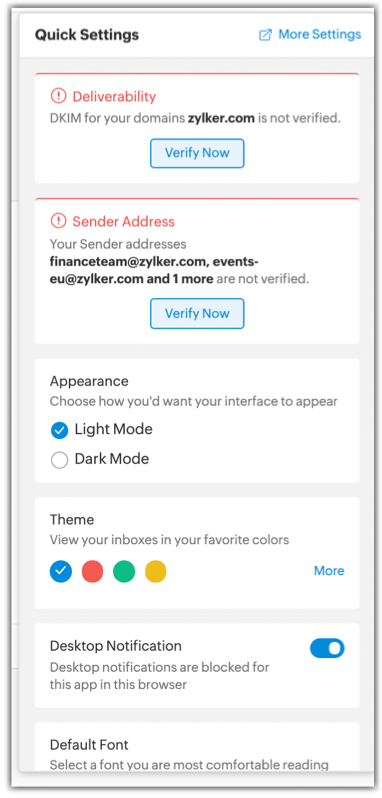 Jul
Measure team and individual performance with insightful reports and metrics on Zoho TeamInbox. View detailed reports for a specific inbox or a specific member.
Learn more
Features
Notification preferences
Get alerts on what's happening in Zoho TeamInbox to your registered email address or as a push notification to your mobile or via Zoho Cliq. Choose the events you want to be notified about. 
Learn more
Enhancement
Mobile number variable in signatures
You can now also include user mobile number as a variable in your team signatures.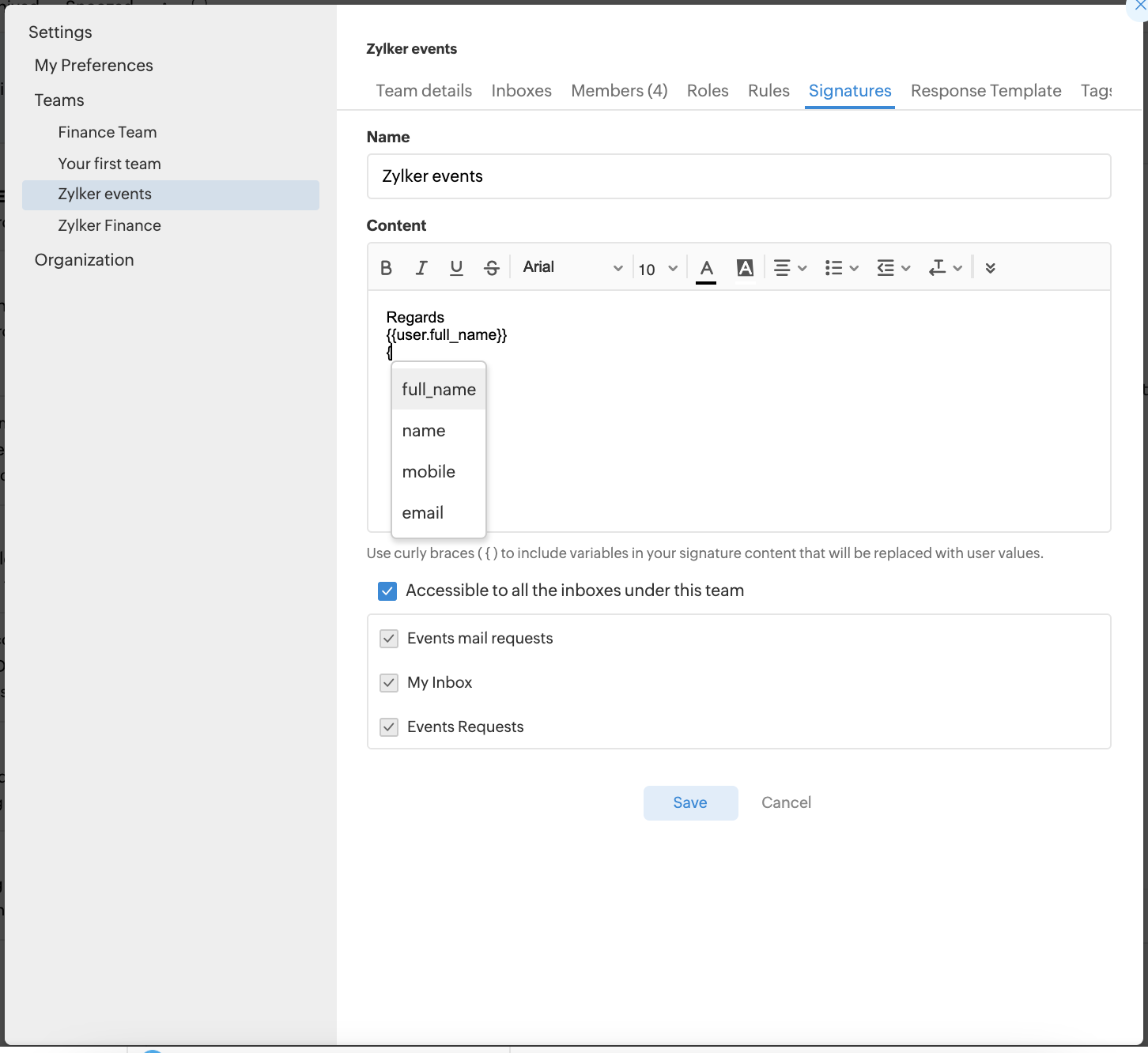 Jun
Enhancement
Keyboard shortcuts
Perform actions in Zoho TeamInbox with the help of keyboard shortcuts. Use Shift + / to to view the list of shortcuts you can use.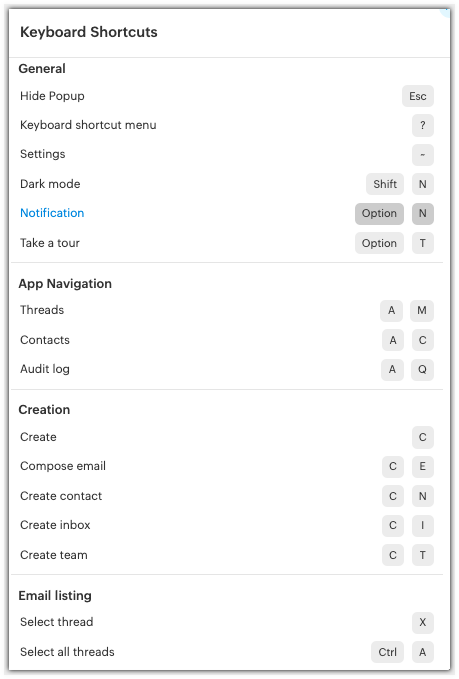 Enhancement
Quick actions on tag click
In the email preview, click on the tag that it is applied with and view all other conversations that are applied with the same tag. You can also choose to edit or remove it.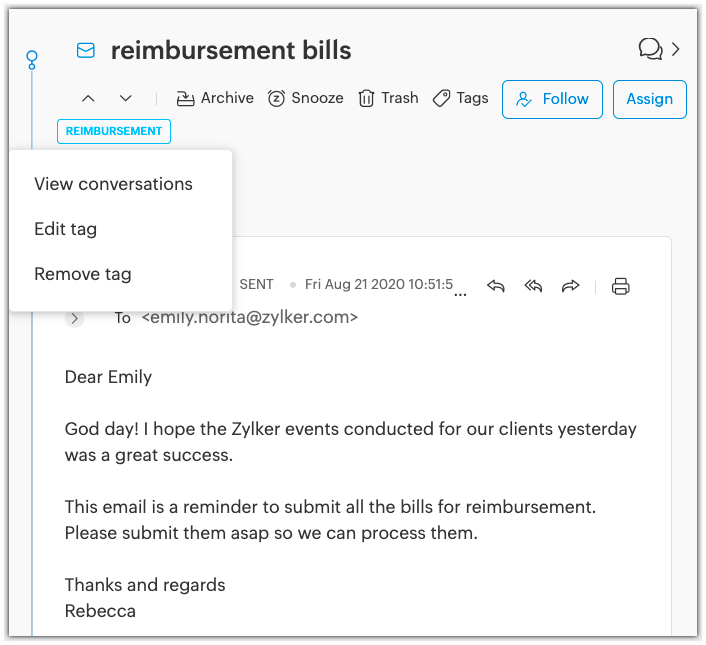 Enhancement
Pop up compose window while making a reply
When you are making a reply in a thread, you can now make the editor full screen by click the pop-up icon in its top right corner.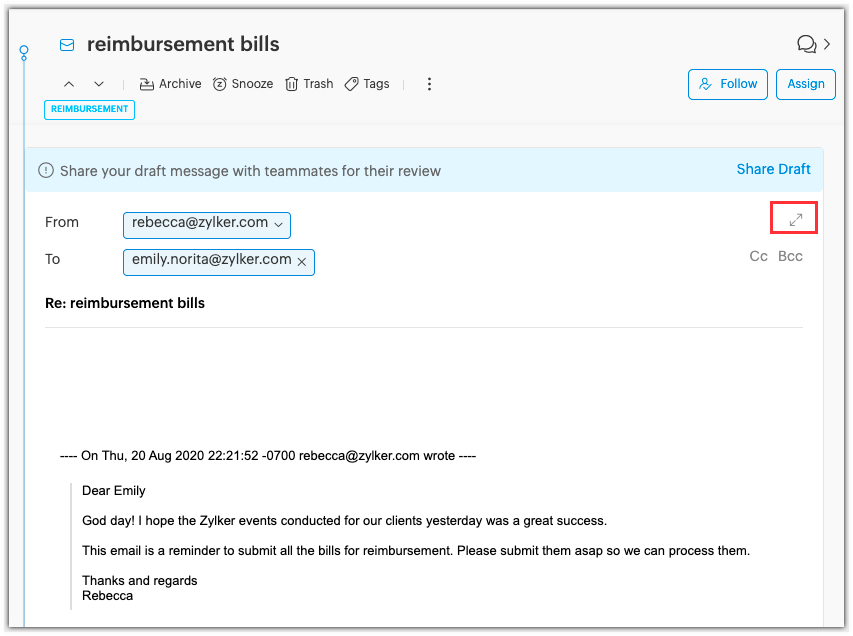 May
Enhancement
Quick menu on the email listing
You can now right click on a thread and do actions on it like replying, assigning, snoozing, tagging and a lot more without opening the thread.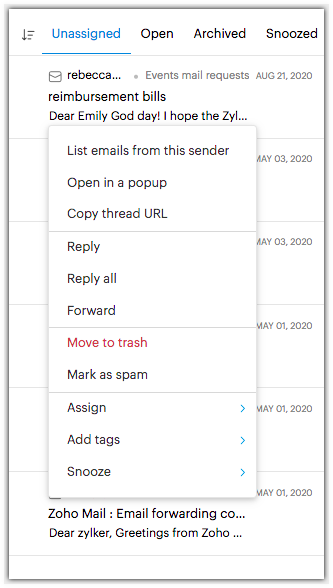 Apr
Improvement
New inbox creation flow
We've made it much more easier for our users to create inboxes with our new creation flow. Create and manage inboxes without hassle.
Learn More
Features
Associate multiple sender addresses
You can now create and associate any number of sender addresses with your inboxes to use them while sending out emails.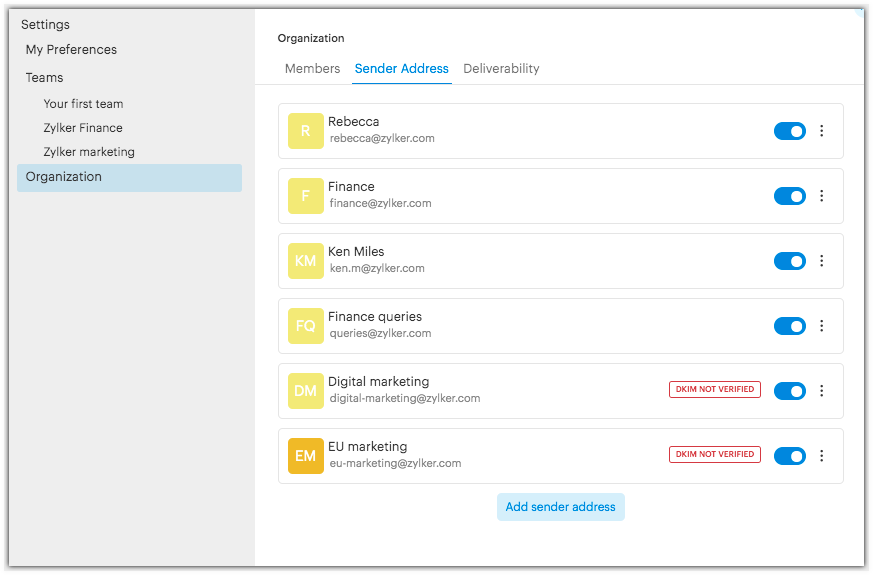 Learn More
Mar
Enhancement
Print email content
You can now print your email content. Find the Print icon on the top-right corner of the email.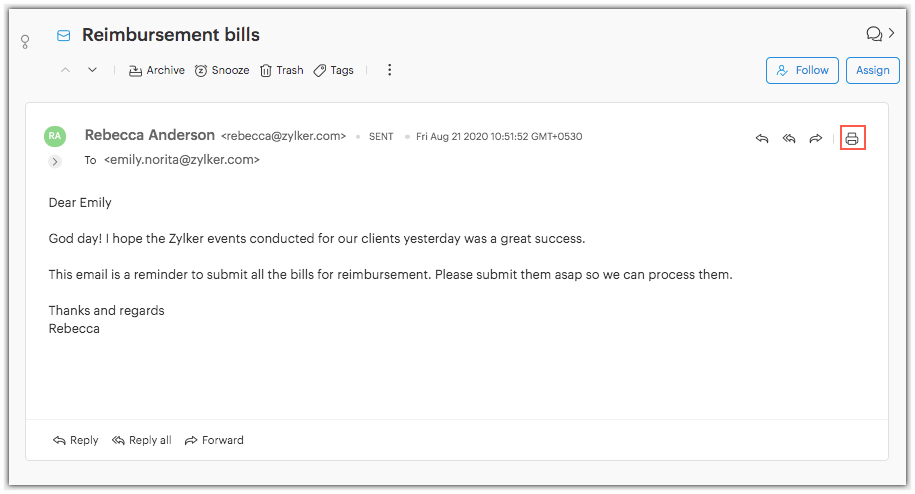 Enhancement
Add thread followers via rules
One more action added to rules. You can now set up rules to add followers to threads that meet your condition.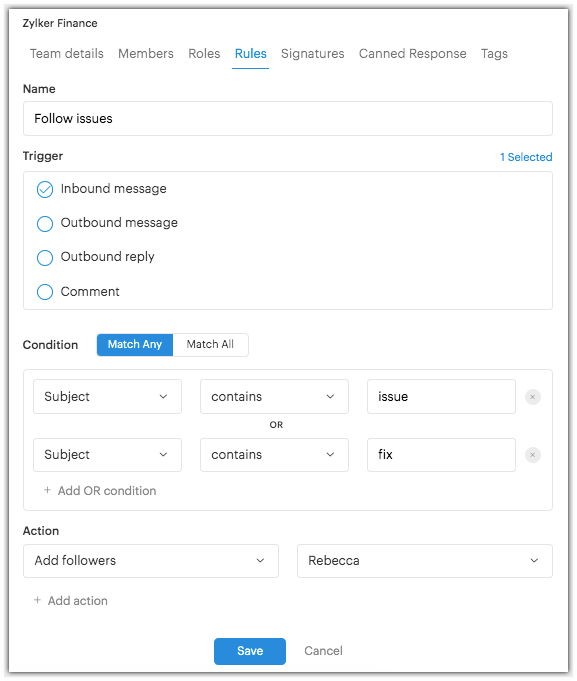 Feb
Enhancement
Share draft with specific members
You can now choose teammates you want to share your drafts with. Only these members will be able to edit your draft content. You can also revoke their access anytime.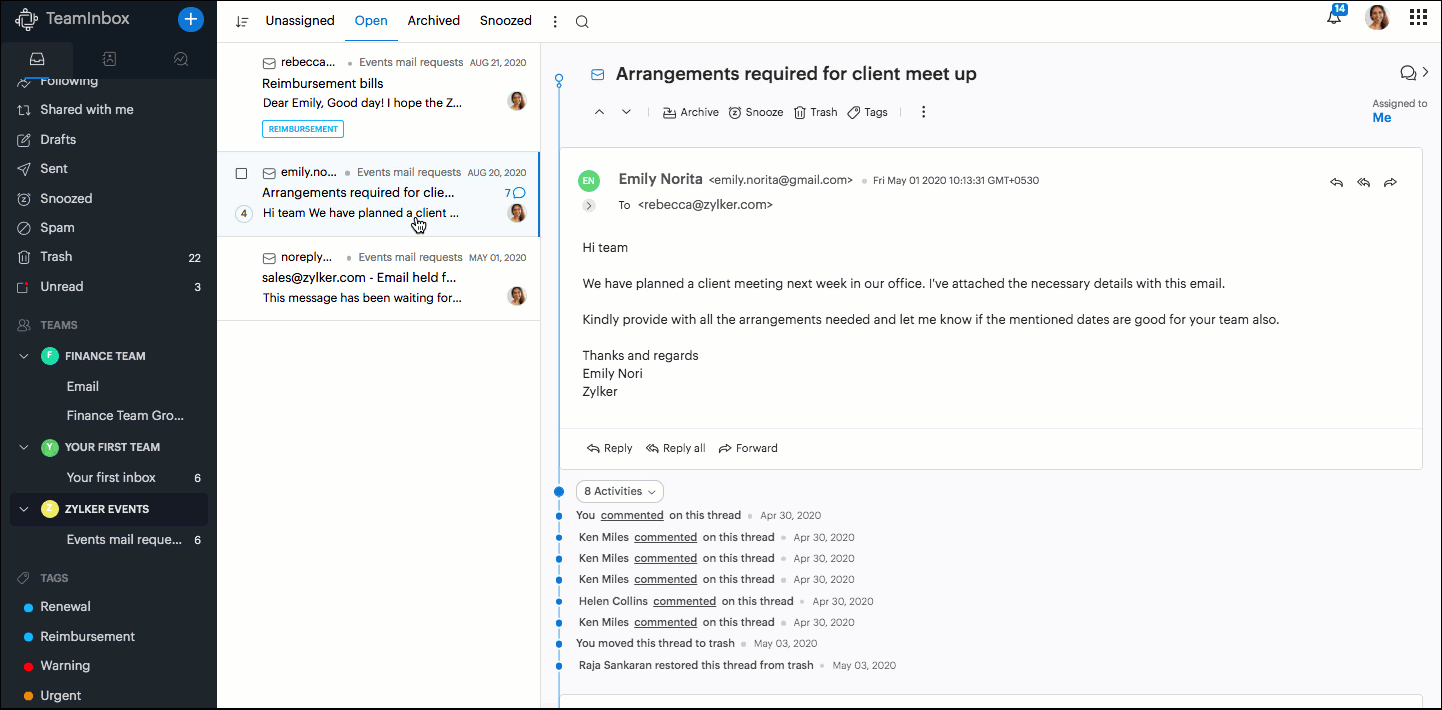 Enhancement
Your UI in your language
Under 'My Preferences' in settings, select the language you want to view your UI in. This will be the default language for you.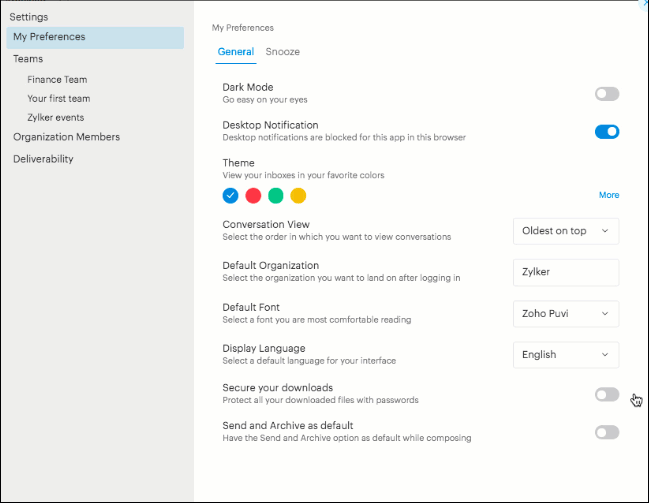 Jan
Enhancement
Sort your canned responses better
Under your team settings you can now sort all your canned responses alphabetically or based on the time of creation.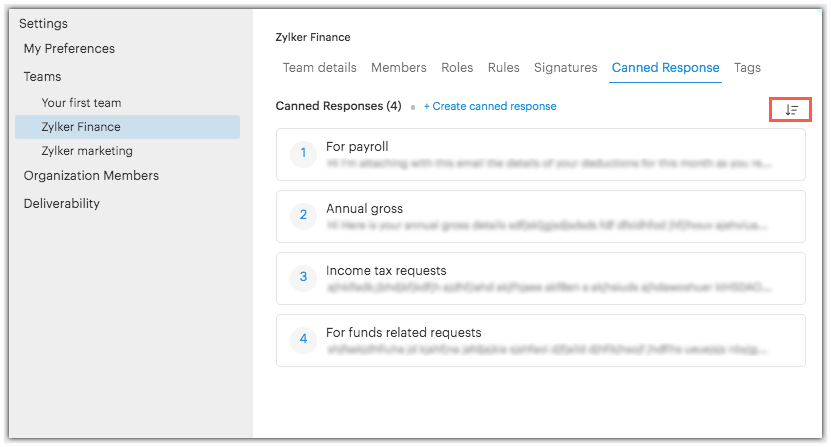 Enhancement
The all new and elegant on-boarding
Our on-boarding steps have become easier now. Get started quickly without any hassle.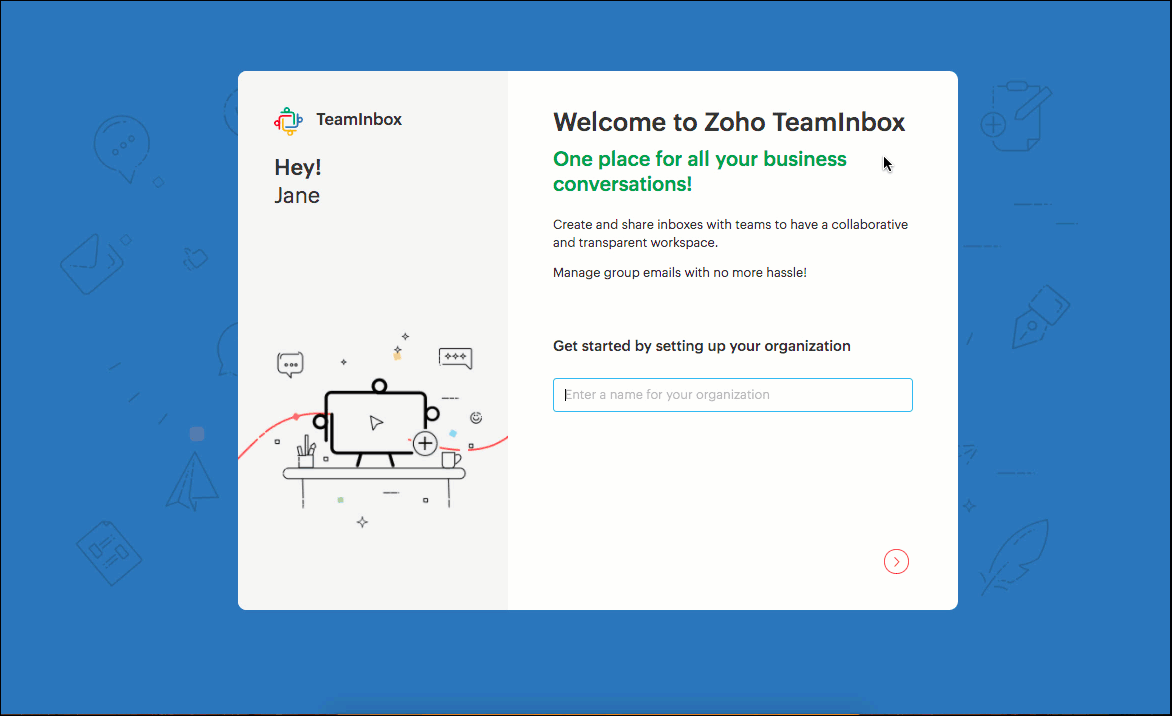 2020
Dec
Enhancement
Oauth verification for source email addresses
While creating POP based inbox or using custom SMTP for email forwarding inbox for your Outlook and Office 365 accounts, you can now verify the source in just one click via Oauth. This option is available while editing an existing inbox as well.
Enhancement
Copy thread URL
A unique URL is generated for every thread and comment. You can now copy them by clicking the more icon next to the entity.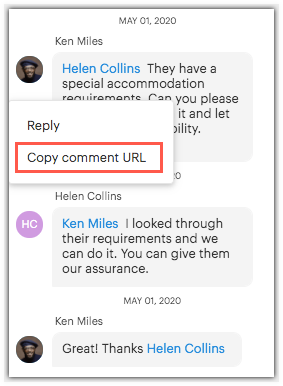 Enhancement
Multi select threads to perform bulk activities
Select multiple threads and choose to archive, assign, snooze, trash, delete permanently and mark as read, all at once.
Enhancement
Make 'Send and Archive' button default in the Compose window
Under 'My preferences' in settings, turn on the option to have the Send and Archive button as the default option while composing emails.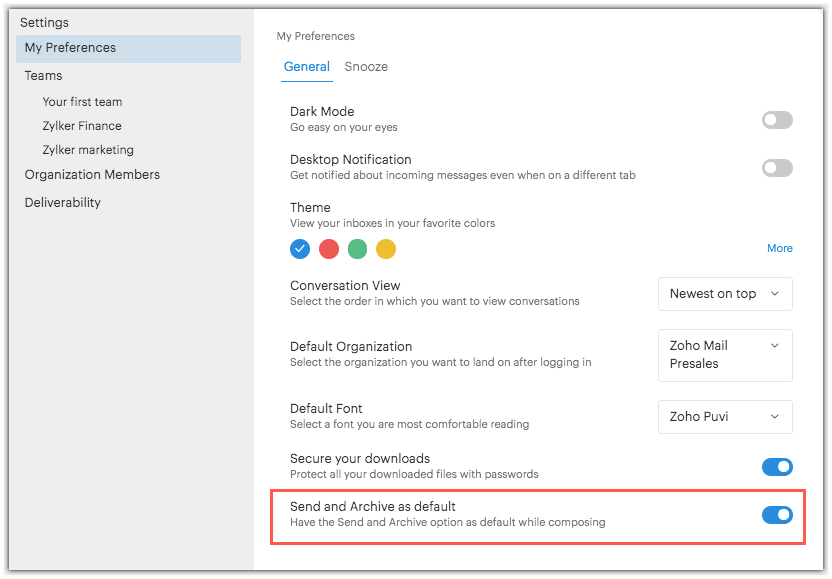 Enhancement
Set up custom time preferences for snoozing threads
Under setting create multiple time preferences that you can use while snoozing threads.
Nov
Enhancement
Rename and reorder attachments
Drag and drop files into the attachment uploader, rename and reorder them while composing.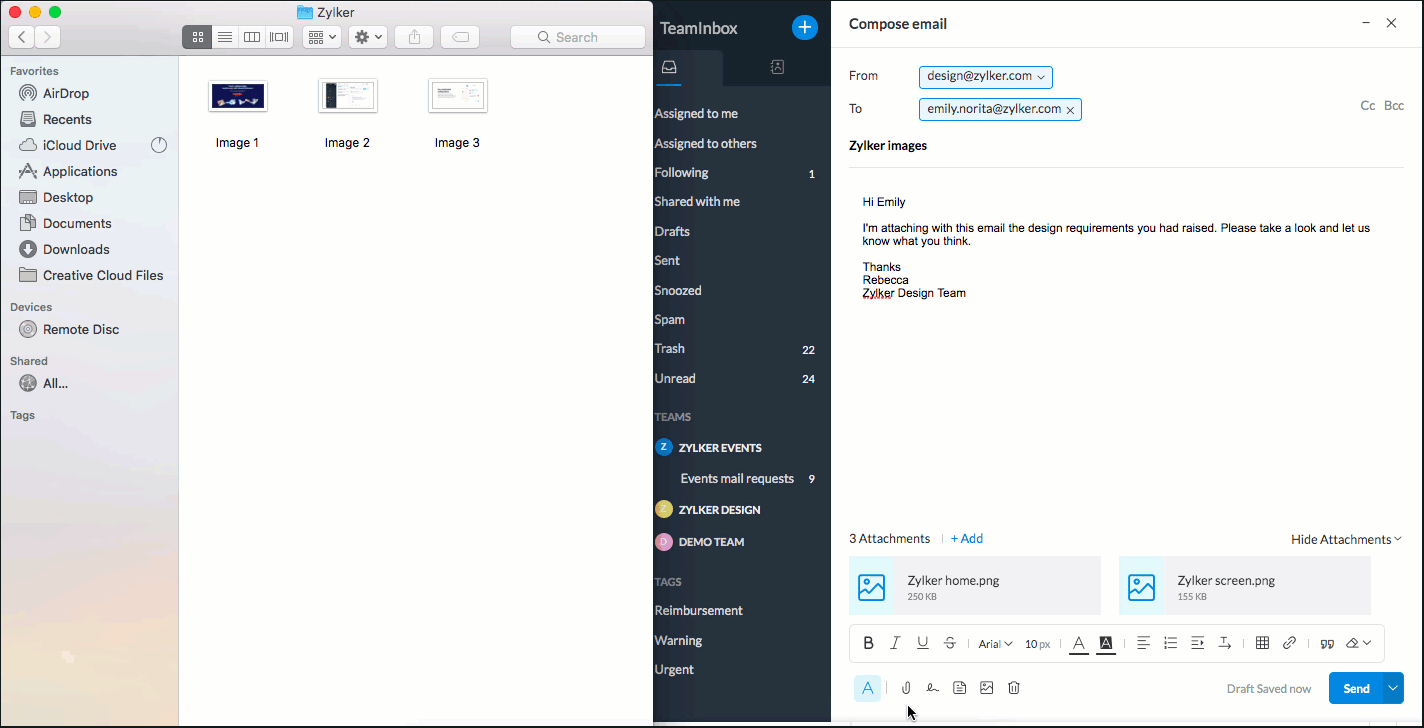 Enhancement
Quick search for tags while applying them to threads
A search bar appears in the drop down when there are too many tags to scroll and pick. Just type in the name and select the tag.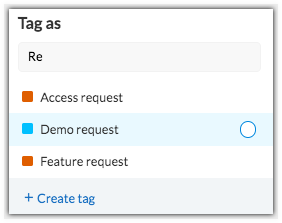 Oct
Enhancement
Custom time option for snoozing threads
Choose your own date and time to set the snooze period for your thread.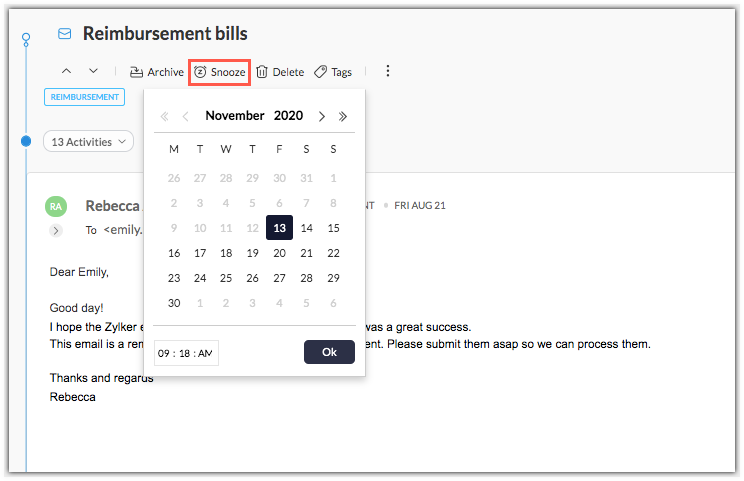 Enhancement
Drag and drop email addresses between To and CC fields
In case you've entered an email address in the To field instead of in the CC field, just drag and drop in the CC field. This works vice versa also.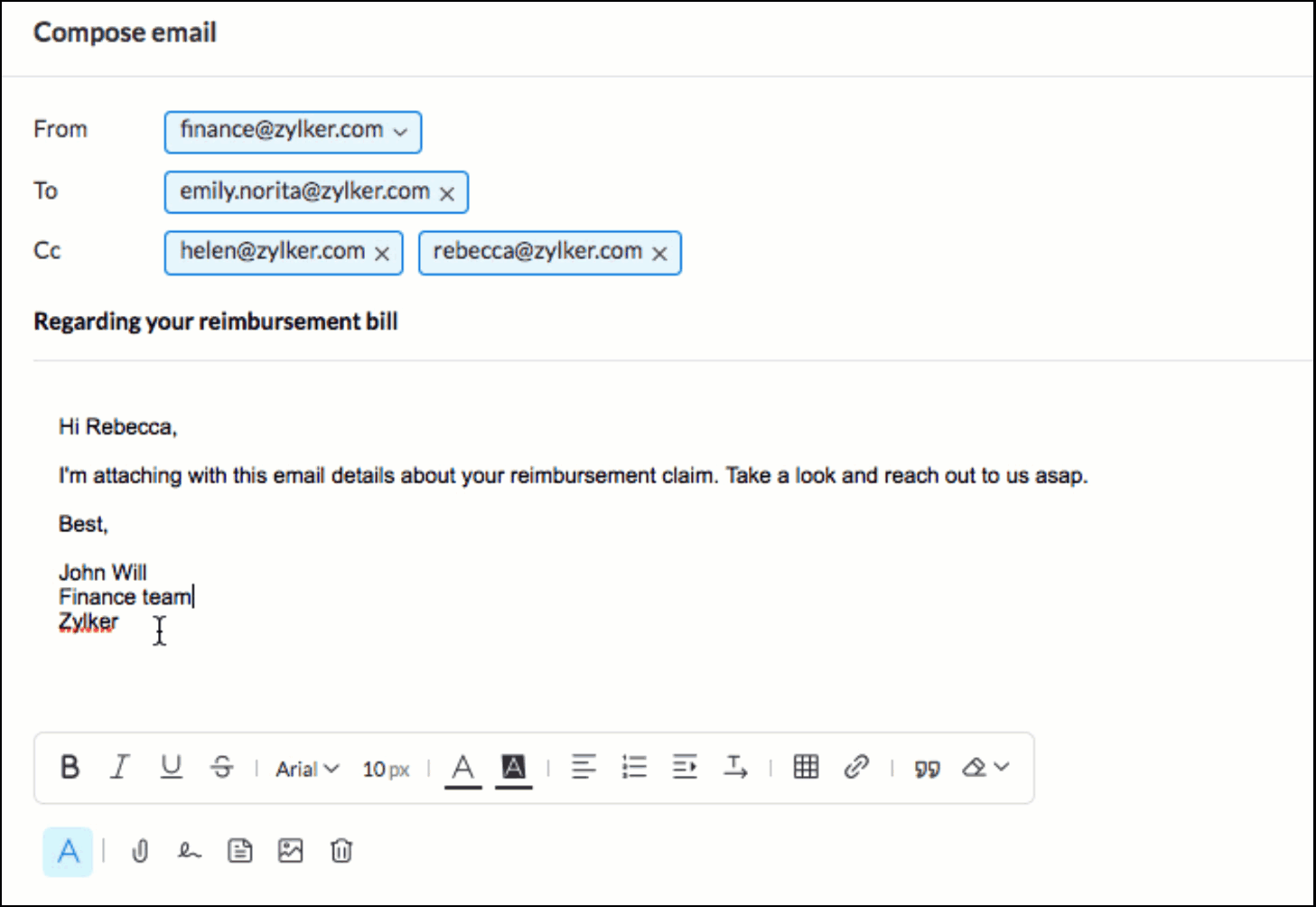 Sep
Features
Forward email threads
In every thread you will now find an option to Forward them to people outside Zoho TeamInbox organization.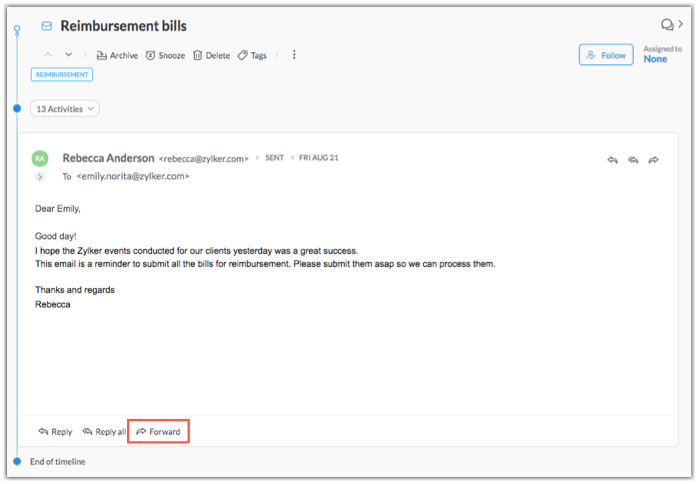 Features
Create Canned responses
Create response templates for frequent queries and let your team use them while composing emails.
Learn more
Features
Mark emails as spam
An option to mark emails as spam and a separate view for spams have been included.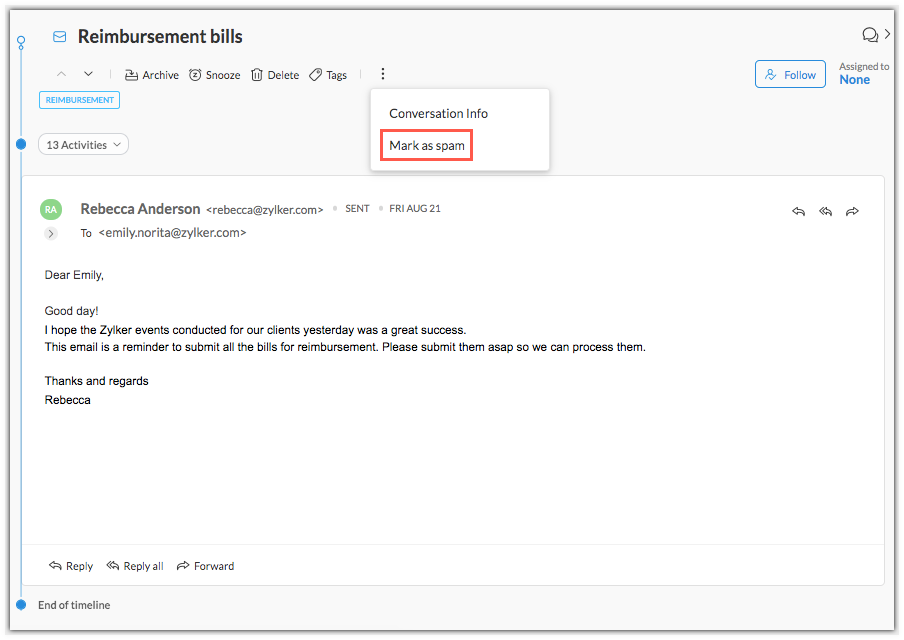 Features
Secure downloads with passwords
Protect your files with passwords while downloading the email attachments. Enable this option from User Preferences under Settings.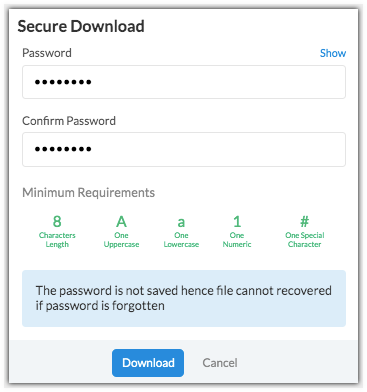 Enhancement
Insert HTML code in Signature editor
Design your own signature, insert the HTML code in the editor and share it with your team.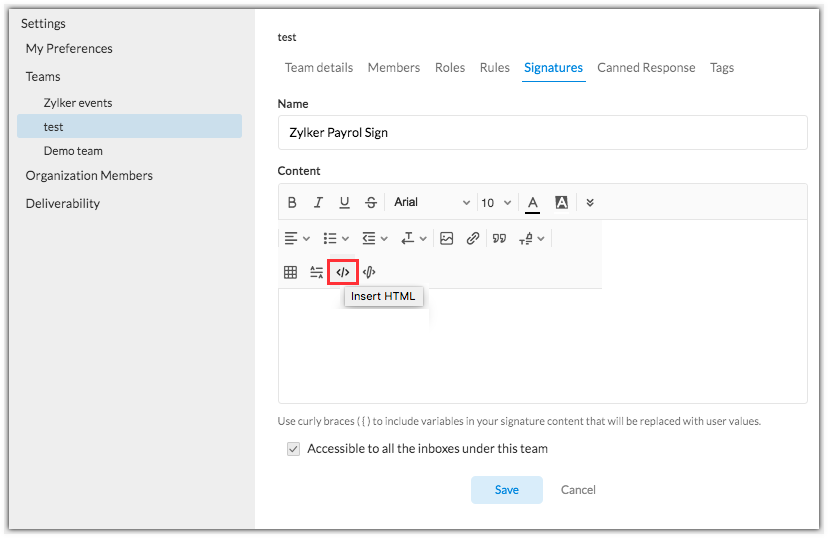 Aug