Create slides that make your ideas resonate.
Your ideas take the front seat.
Show provides a clean and clutter-free interface design, letting your stories take the center stage. Concentrate on creating compelling content for your presentations with zero distractions.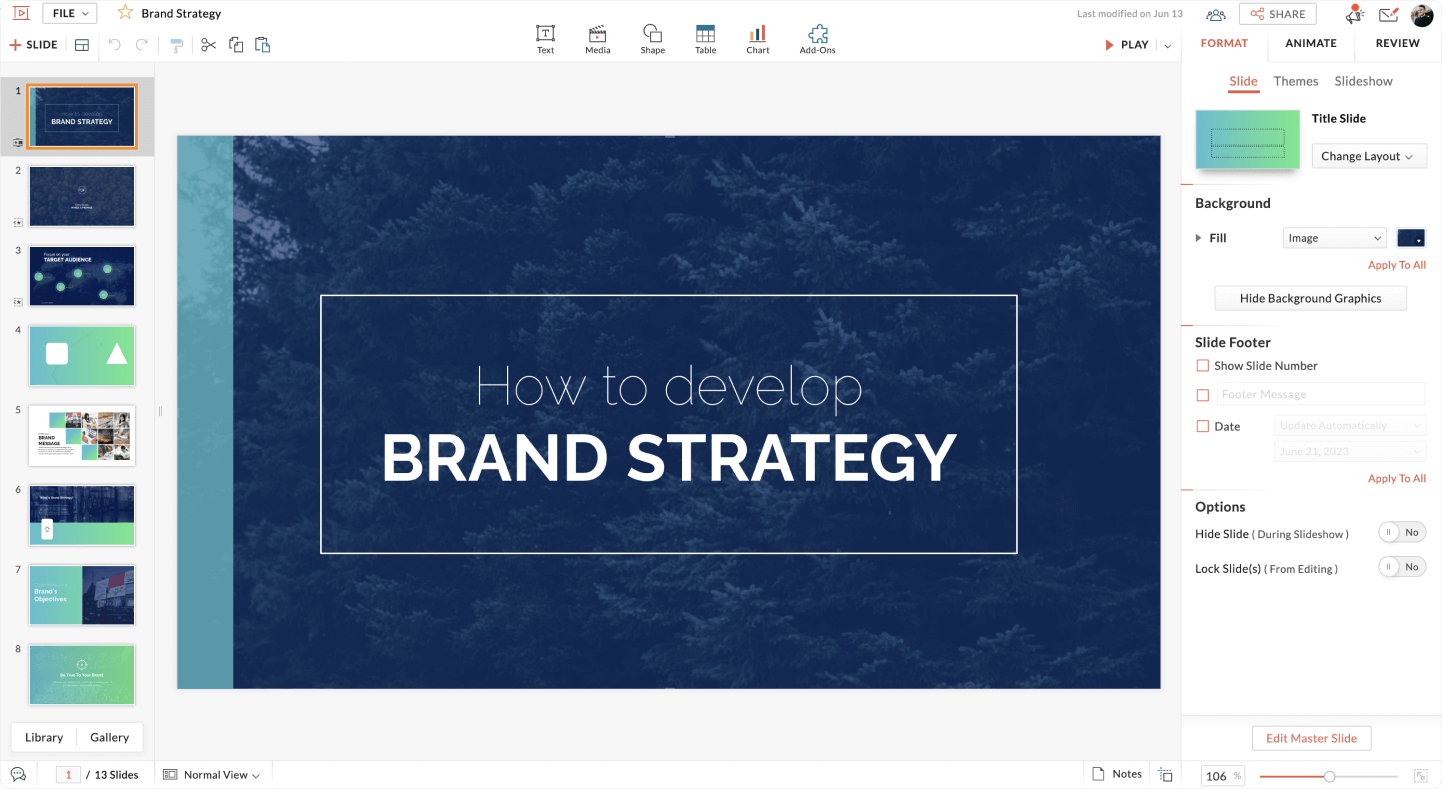 Get a head start.
Pick a theme to give your presentations an appealing look instantly. You can select from a range of 20+ themes, 100+ fonts and customize your own template using the master layout.


One stop for all your needs.
Organize and enhance data visually with Show's extensive range of tools including formatted text box, shapes, charts, and tables, all of these packed under a single roof. You can also add visuals like videos, images, and tweets to your slides.
Bring in your PowerPoint files.
Import PowerPoint files without any formatting issues and work on them online. Add slides and enhance your presentation further with Show's advanced formatting options to create memorable stories.

Design visually stunning presentations.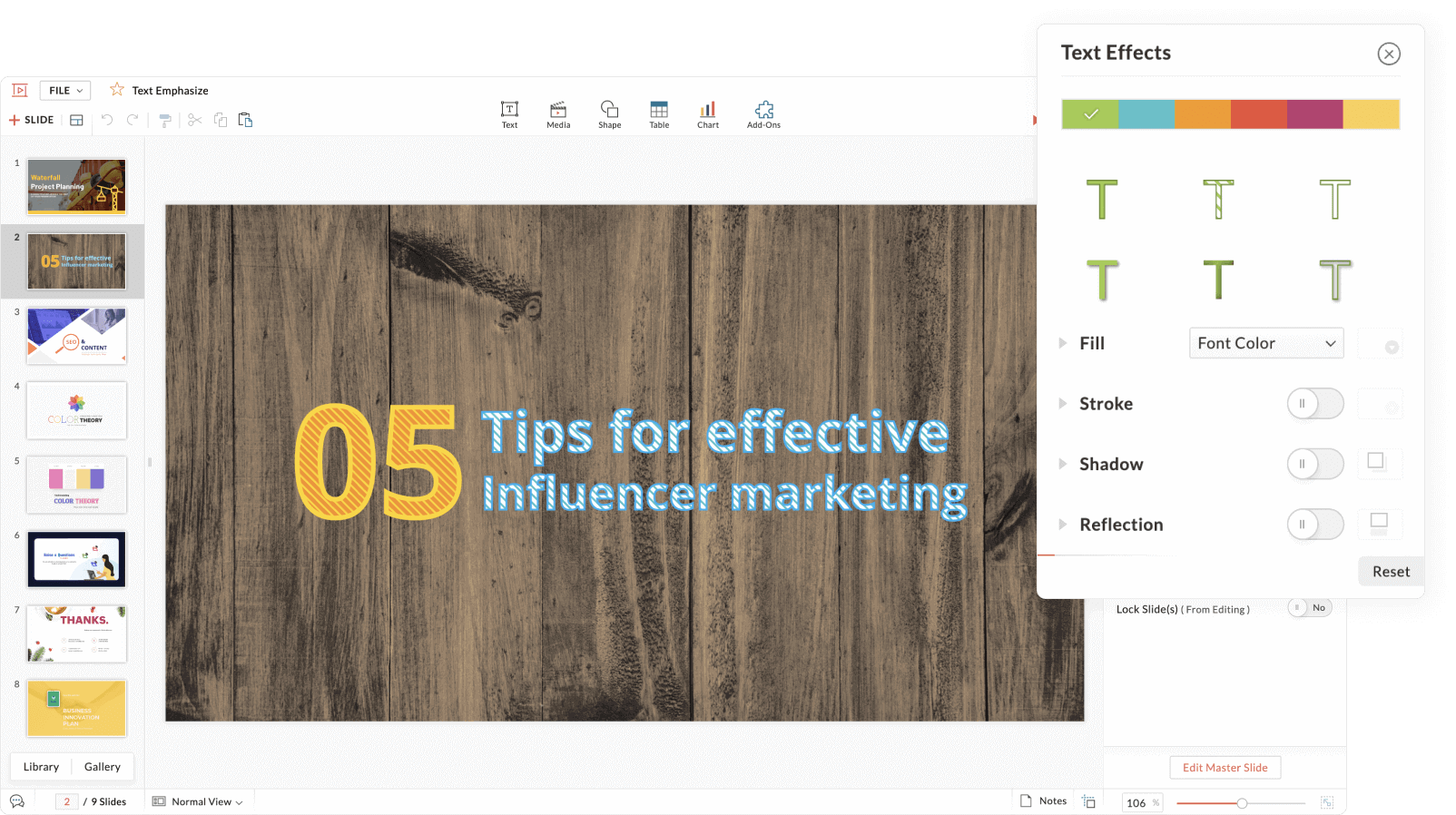 Emphasize

Content

.
Bring more attention to your content by adding strokes to text, fill titles or key points with solid colors and patterns or add reflections and make information stand out.

Alter shapes

to your imagination.
Shape up your ideas with edit points. Don't settle for basic shapes: play around with shapes and create something exciting.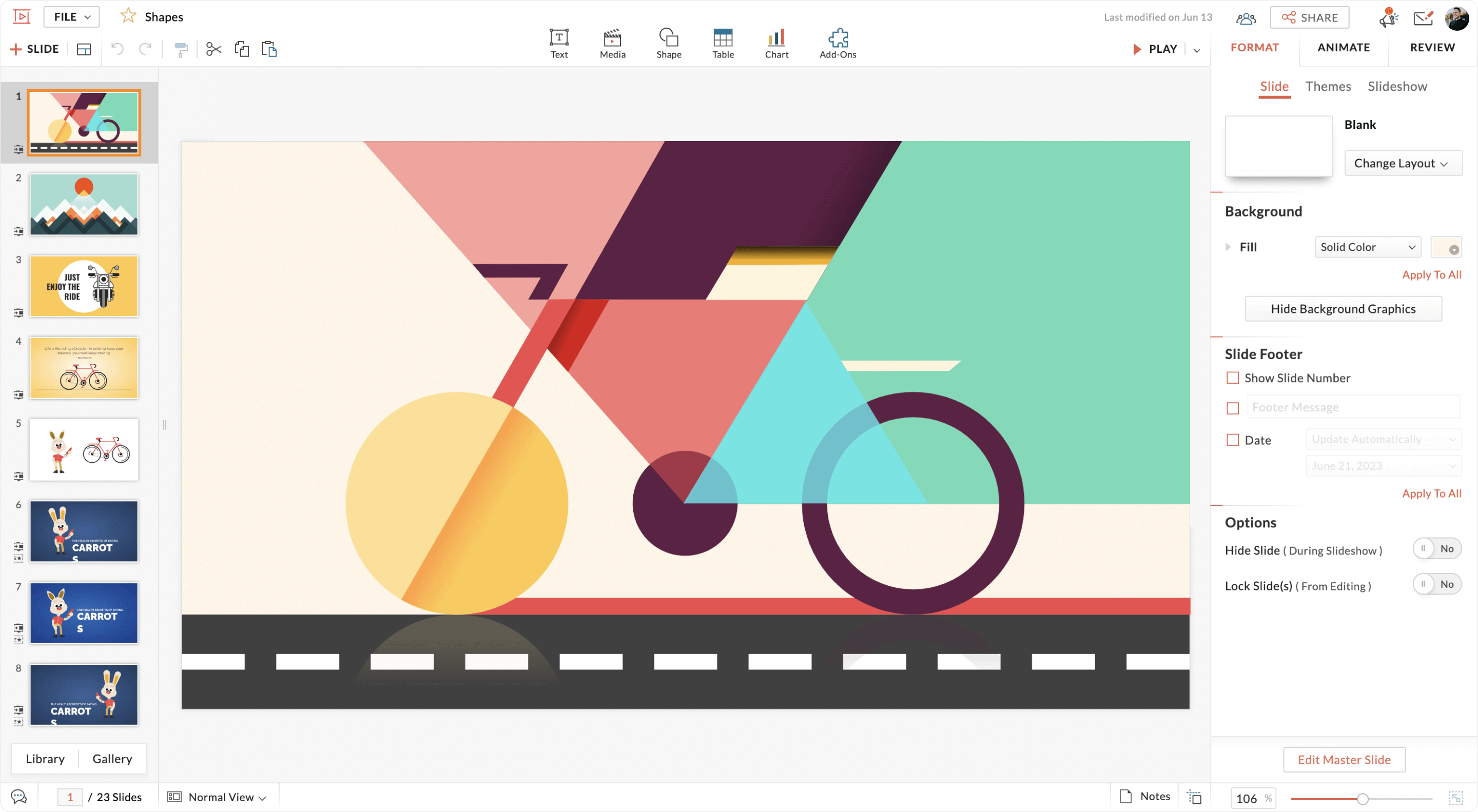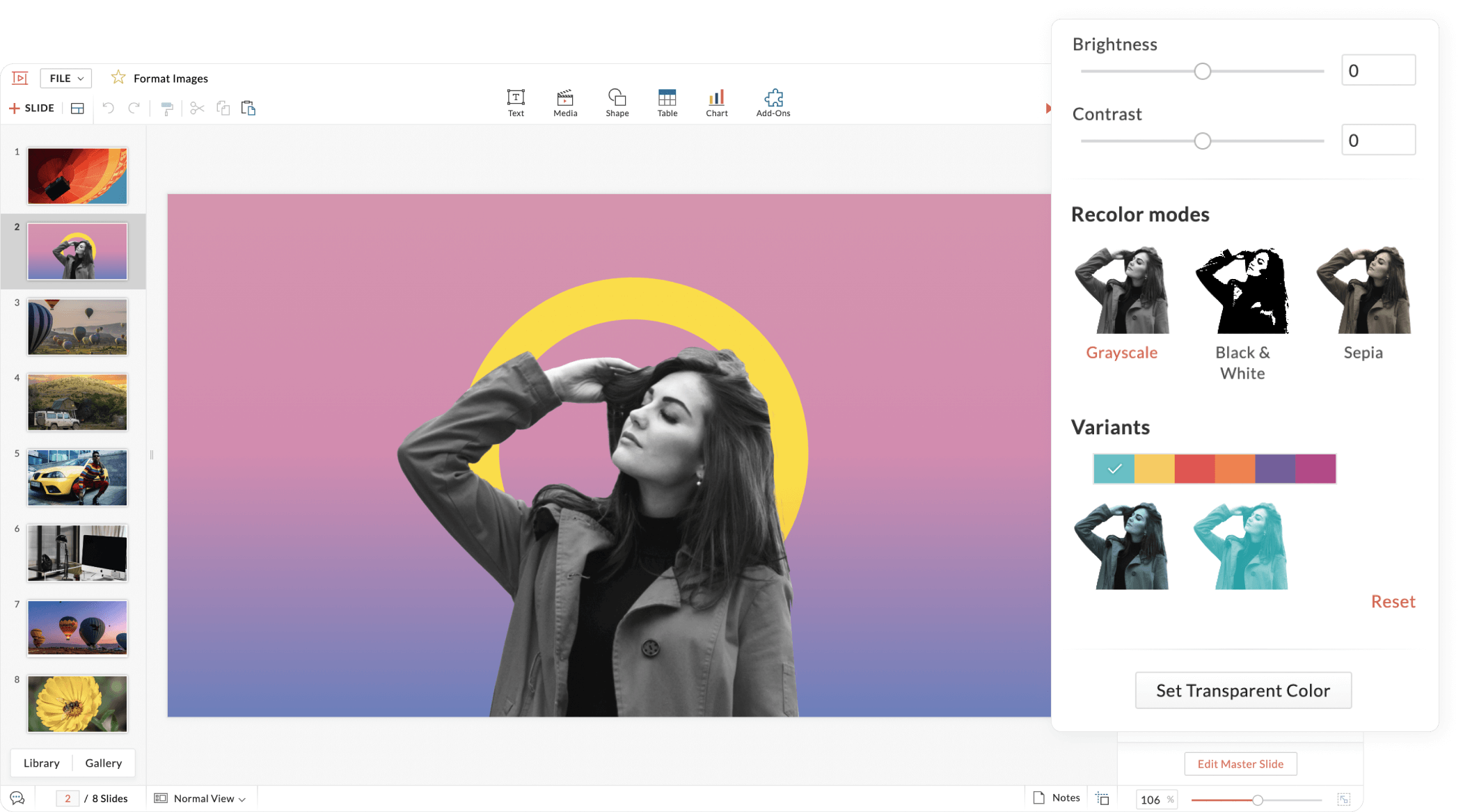 Polish images to

perfection

.
Format images to make them reflect your ideas. Use the filter option to add a tinge of color. Crop out unnecessary elements to bring out the best or reduce the opacity to blend them with the background.

Reinforce your data with

charts

.
Complement your data with visually appealing charts. Choose a pre-defined layout that complements your data, style every element to get the desired look, and animate parts of your charts to bring information to notice.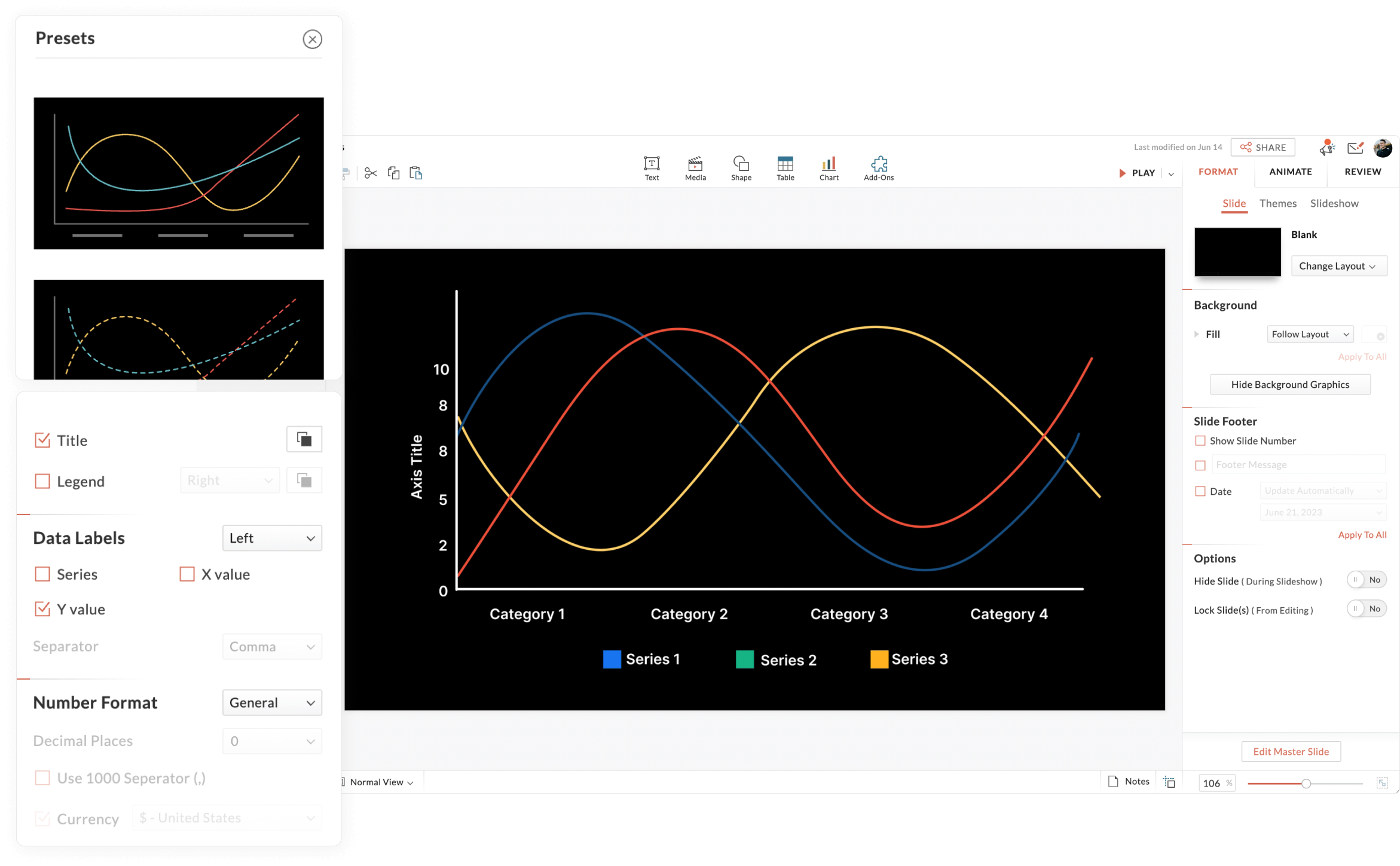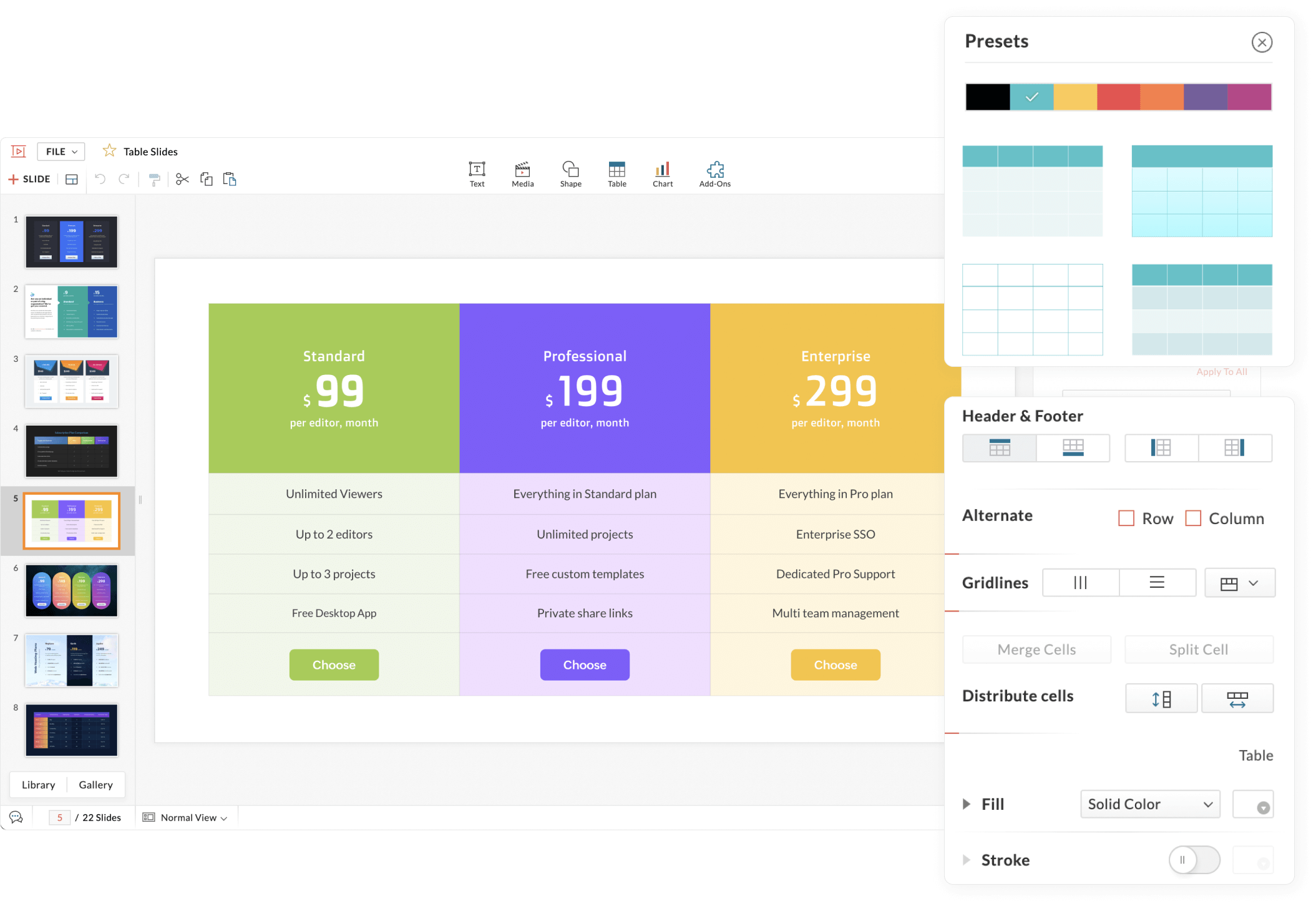 Organize data,

better

.
Categorize and arrange data in a way that captivates your audience's attention. Format every cell within a table, fill them with color, gradient, or an image.

Enthral your audience with

audio and videos

.
Whether it's an investors pitch, a quarterly report, or an internal HR presentation, using audio and video has its benefits. Convey data using videos, explain complicated sections using a voice-over, and use background music and sound effects to set the mood for your viewers.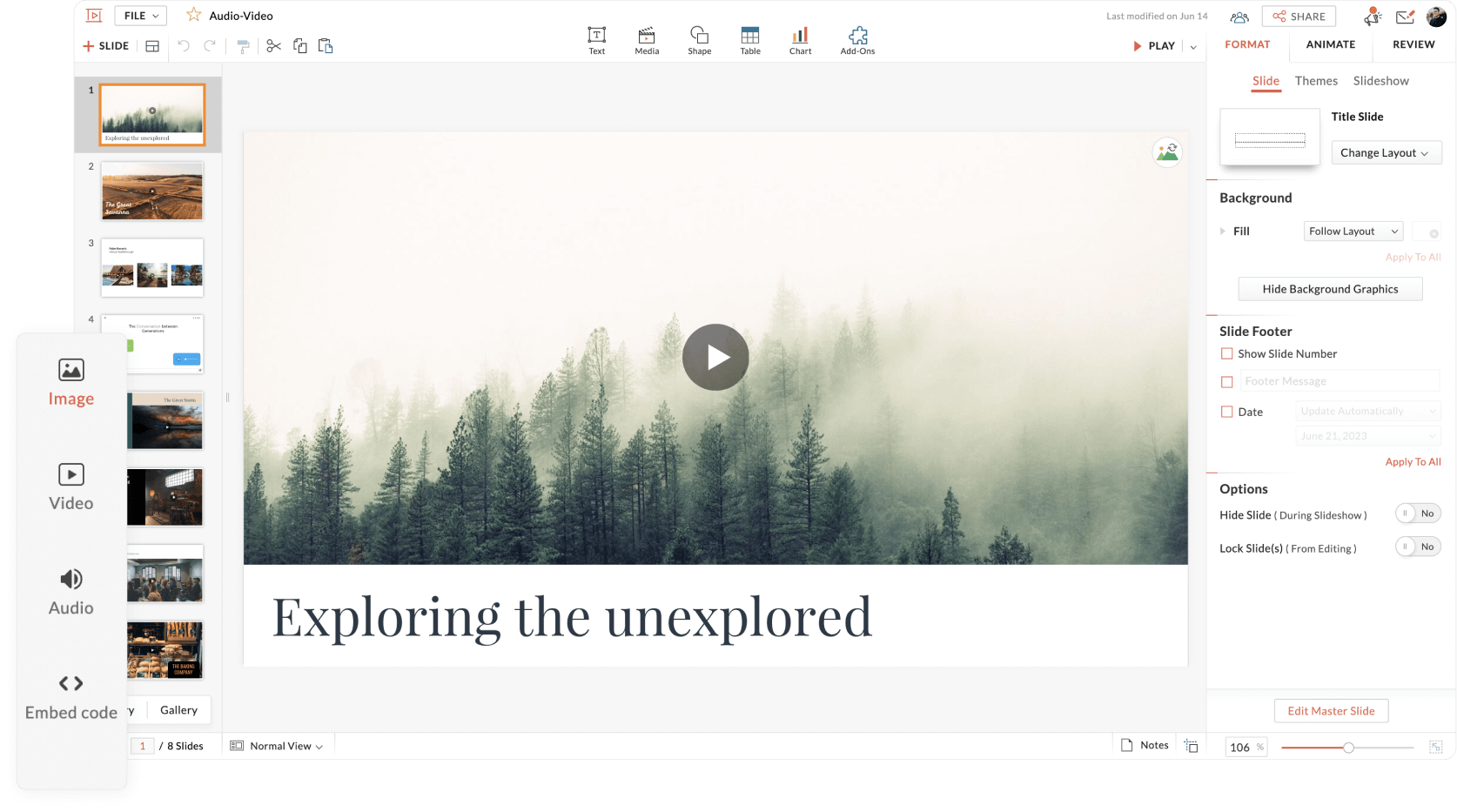 Create stories using

animations

.
Set the stage, add a dashing entrance for your main characters, animate data to bring key points to focus, and use path animations to build realistic stories around your slides.

Share and collaborate on slides together.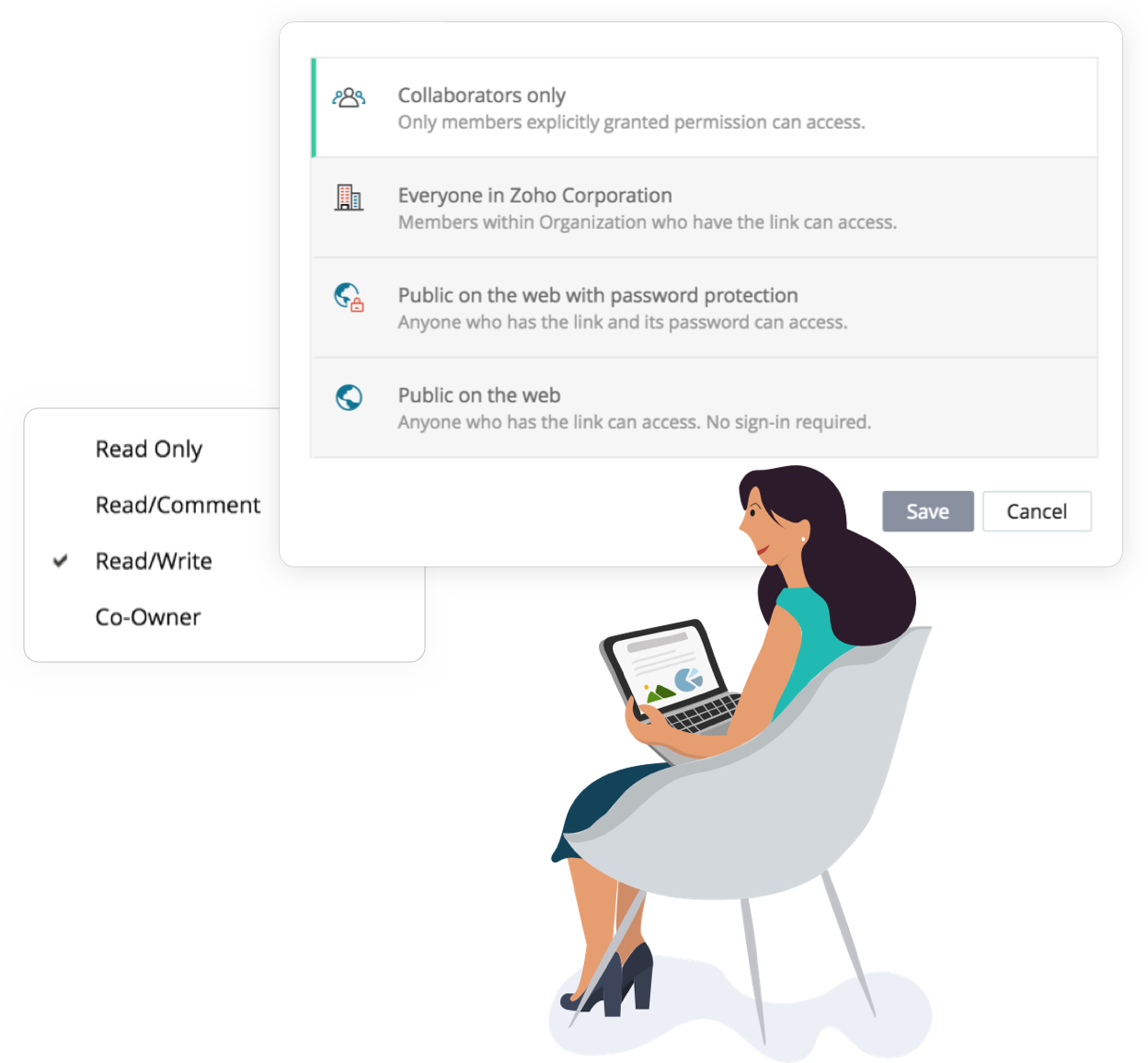 Invite your

team on board

.
Share slides internally with your team and work with them in real time. Collaborators can view, edit, or comment on slides based on the access given to them. You can also share the slides externally to a prospect or a business associate.

Changes reflect

instantly

.
Work together with your team together on the same presentation simultaneously. View edits made by collaborators' reflect on slides instantly.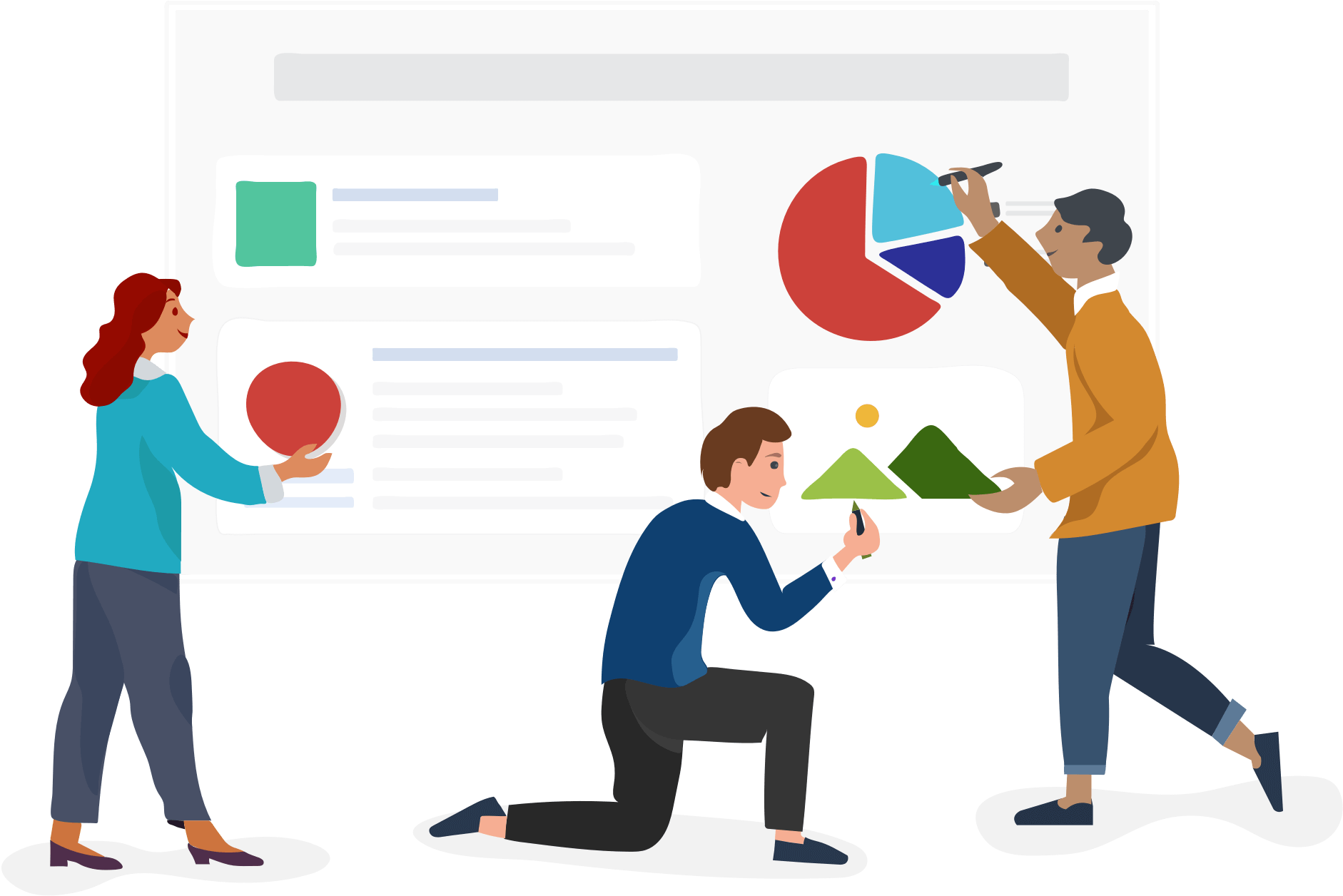 Comment and review

on slides.
Start a thread and share your opinion around slides. You can add comments to slides or any element within slide, be it a text, image, or a chart. Reply to comments and resolve the thread at the end of a discussion.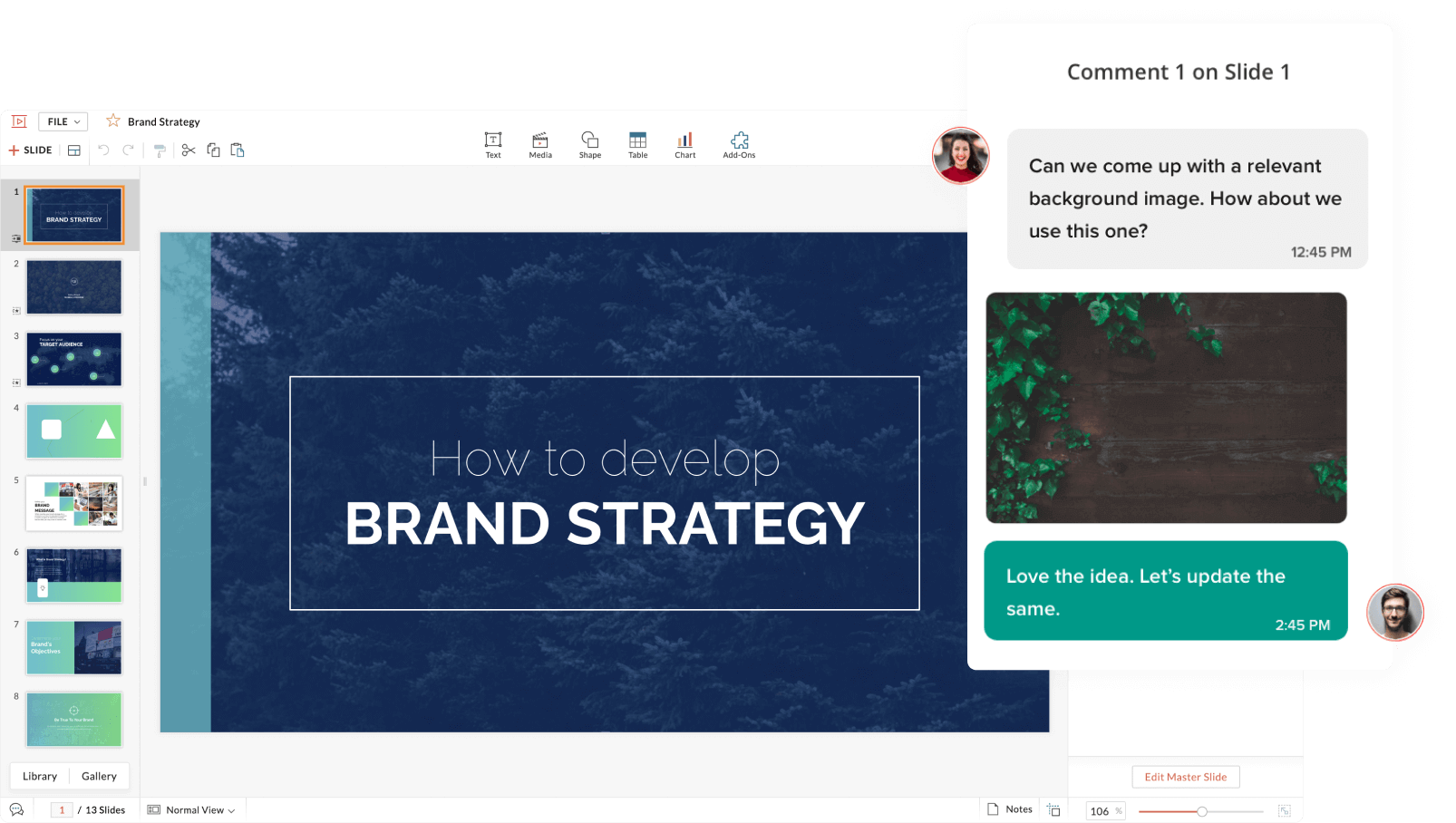 Deliver presentations in style.
Broadcast

your presentations.
Put forth an idea or pitch your idea to a group of investors who are spread across the globe. You can broadcast your presentations online, while your viewers follow them on their browser.
Deliver presentations your own way.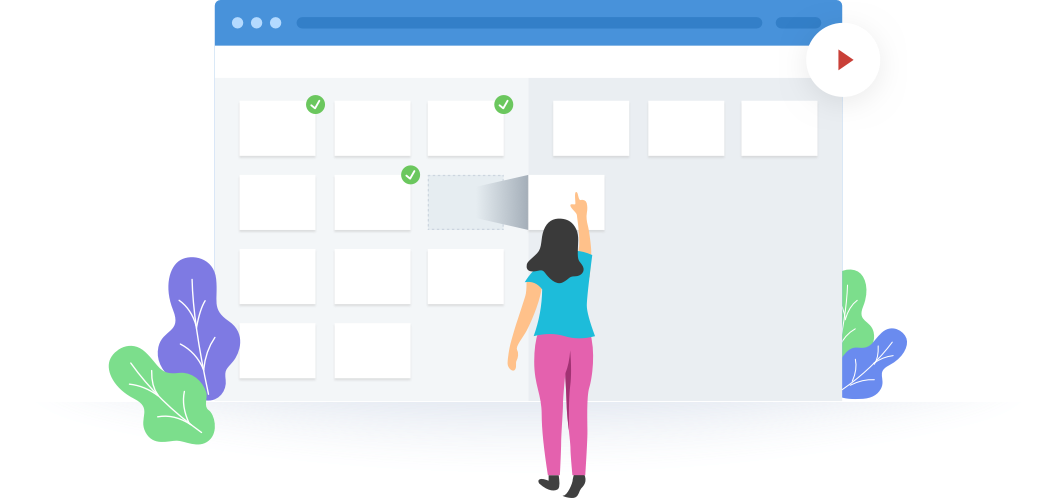 Custom Slideshow
Pick out slides from an original presentation and recombine them to create a new, personalized show.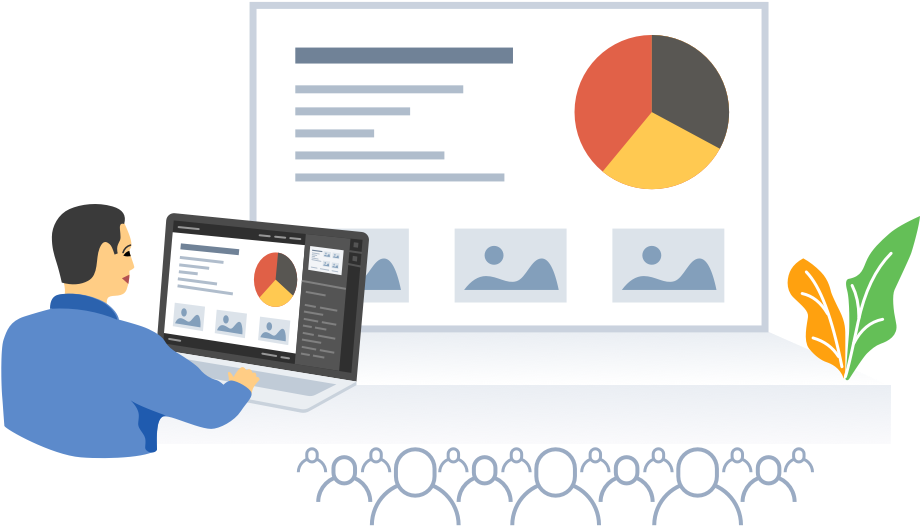 Presenter View
Deliver slides from your comfort zone. A separate window for the speaker provides additional information like slide notes, timing, and a glimpse of the next slide, without showing it all to the audience.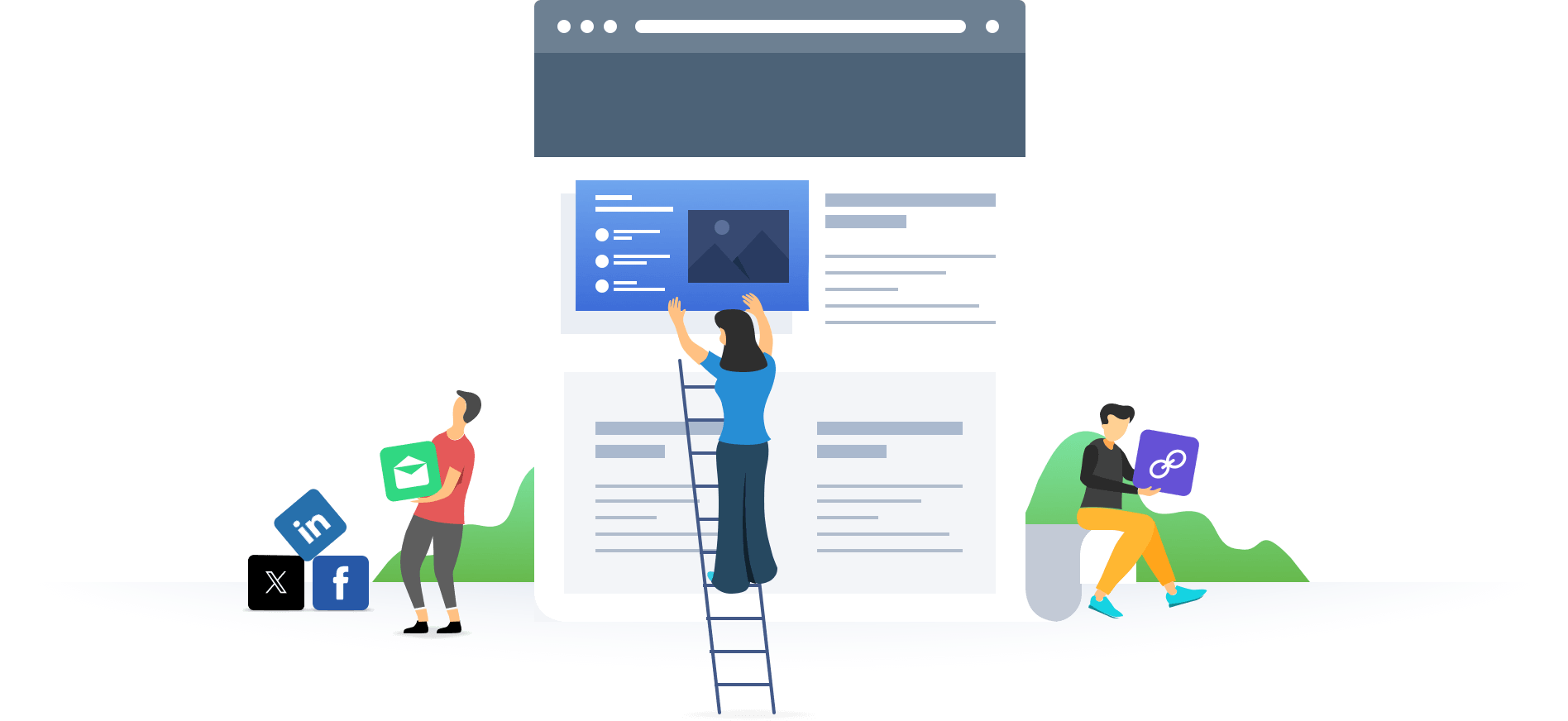 Reach a wider

audience

.
Showcase your ideas with the entire world. Publish slides online and share the link across social media. You can also embed your presentations on your website or blog to attract more view.
Bring the show to Apple TV.
No more messy cables or blurry displays, simply walk in and start presenting with the Zoho Show app for Apple TV. Connect your iPhone or iPad to the TV and control the session at your convenience.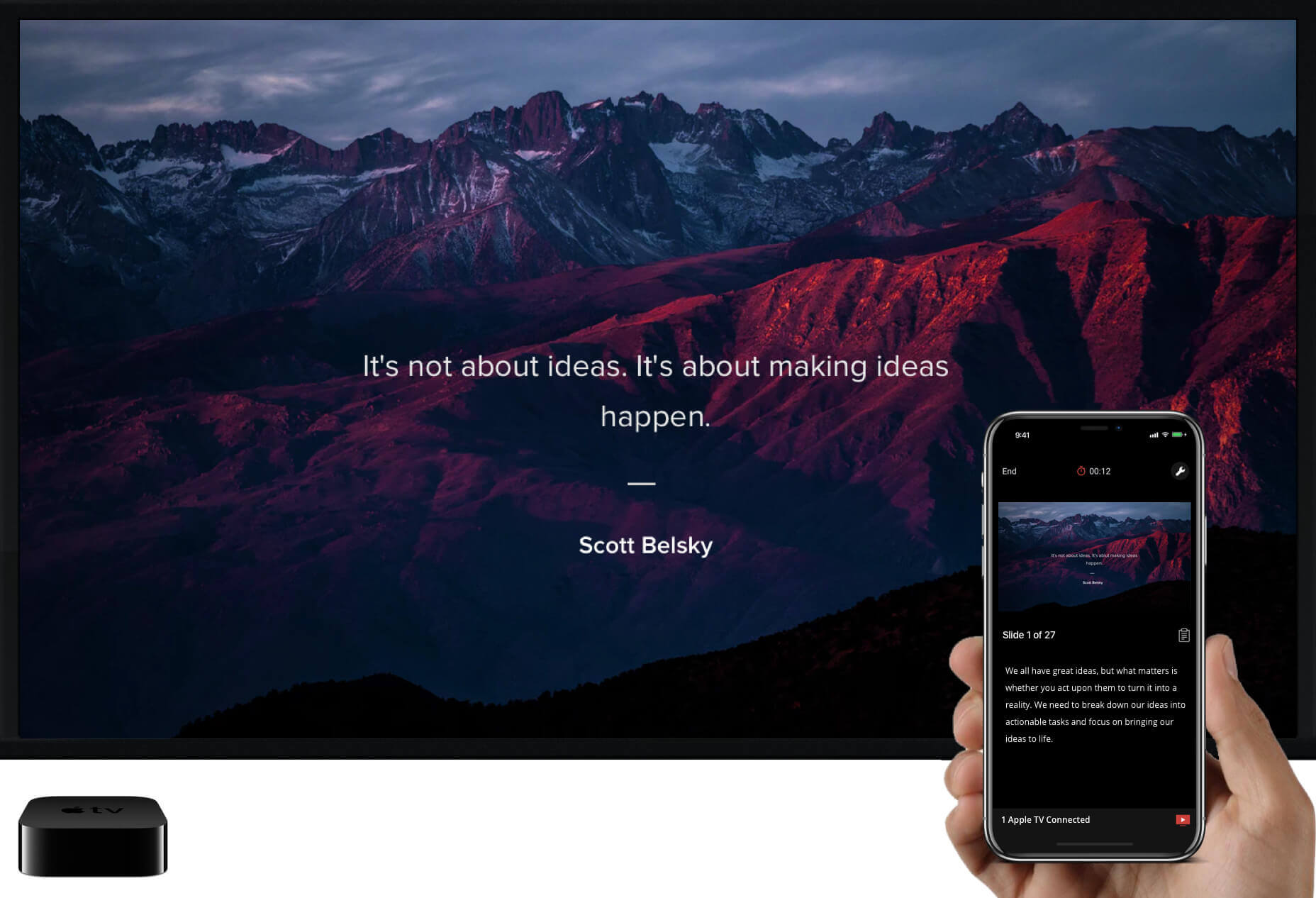 Deliver slides using Android TV.
While meeting room displays have gone smart, so why shouldn't your presentations? With the Show App for Android TV, stream presentations and deliver your talks right on your TV.
Deliver using Chromecast.
Turn your mobile phone into a smart remote when you cast your device to a TV using Chromecast. The Show app lets you navigate through slides, highlight important information, and refer to notes.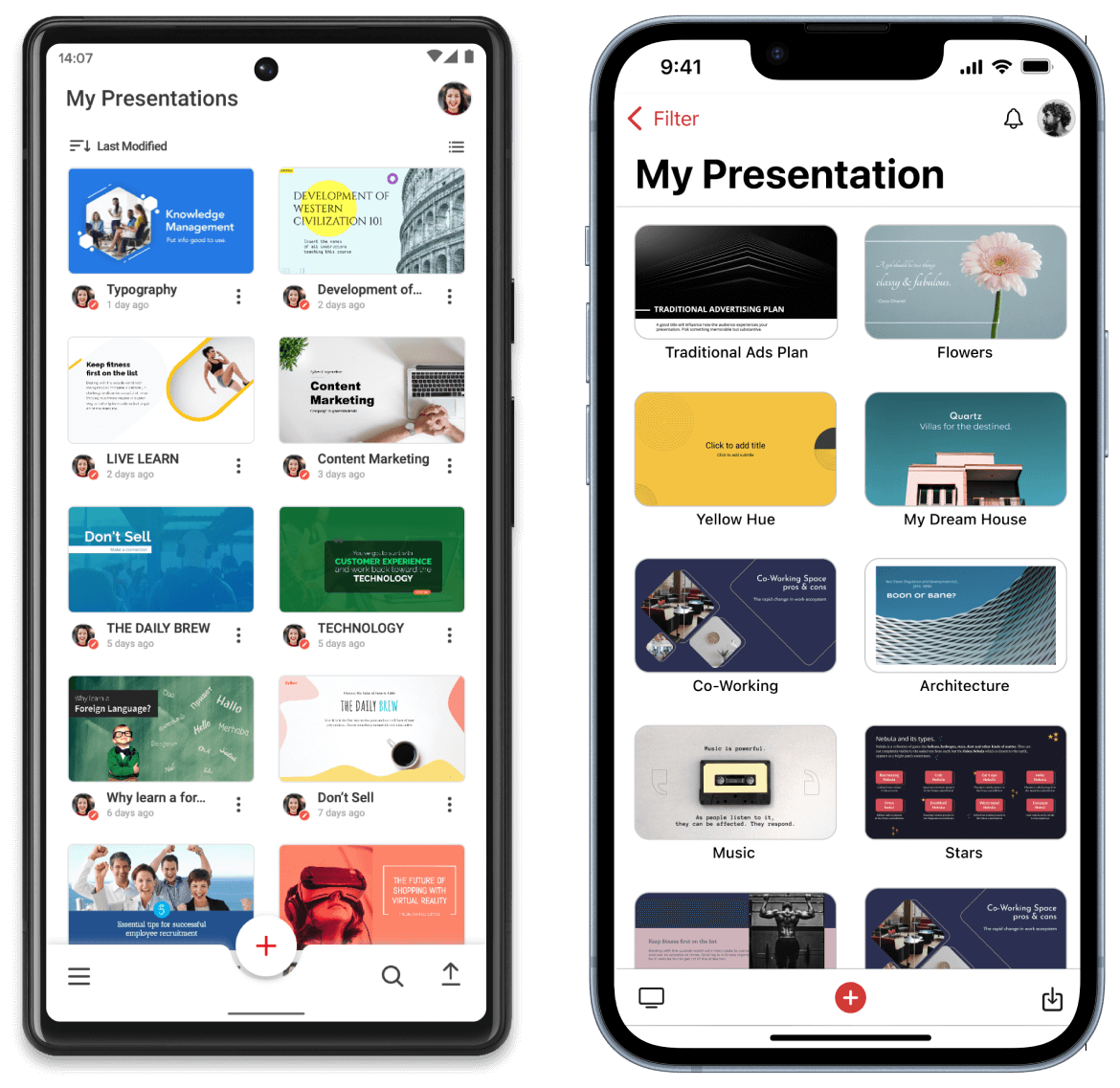 Carry your presentations wherever you go.
Access your presentations on your smartphone or tablet using the Show app for Android and iOS devices. You can import slides from your device or any cloud storage service and run slideshows with ease. You can also use the highlighter tool to quickly illustrate ideas, right from your device.