Advantages of automating your business workflows
Improve business efficiency and productivity
Reduce human errors
Reduce costs
Simplify repetitive tasks
Transparent process
Collaborate better within your organization
Improved customer satisfaction
Save time to focus on decisions that matter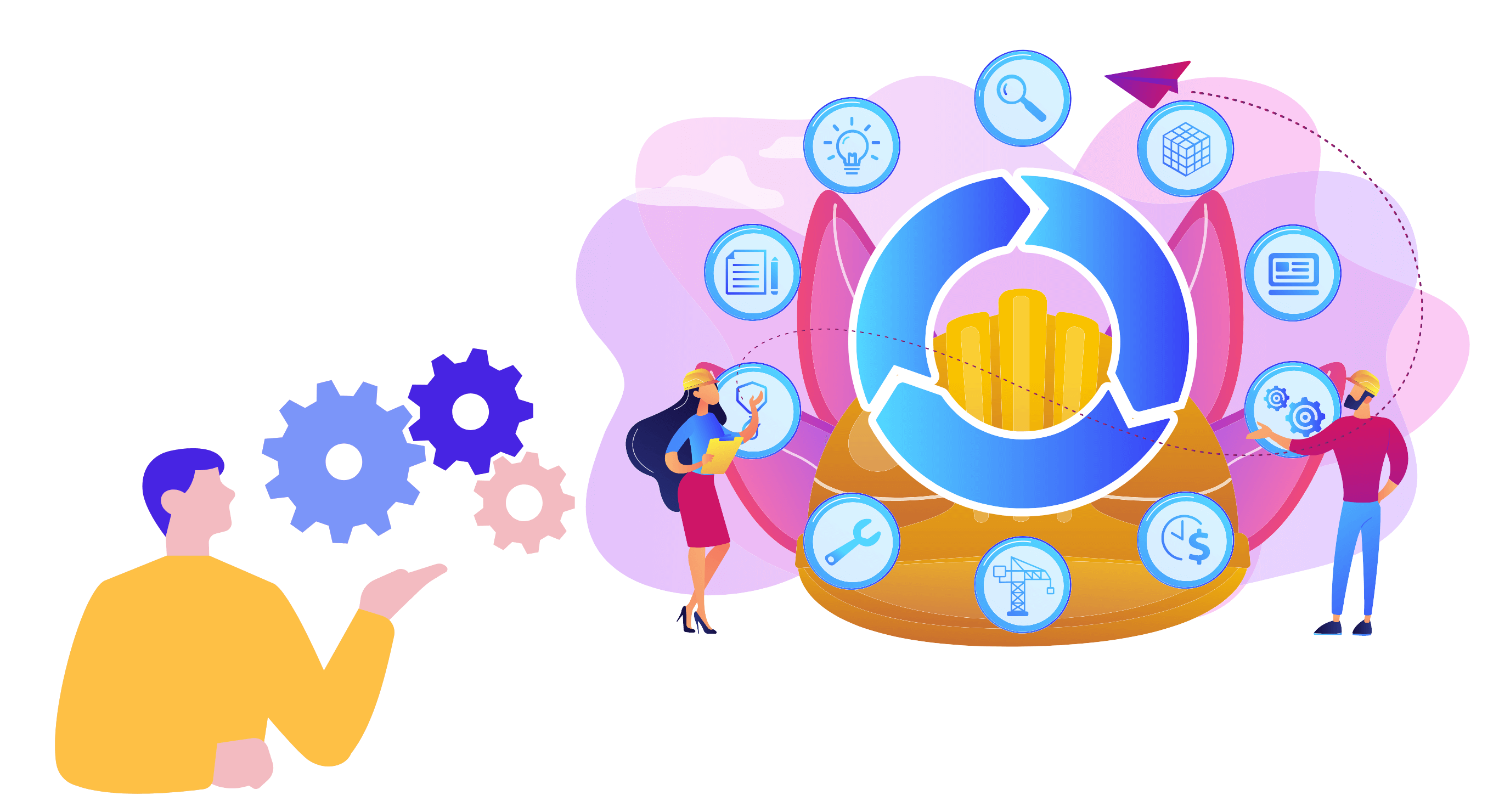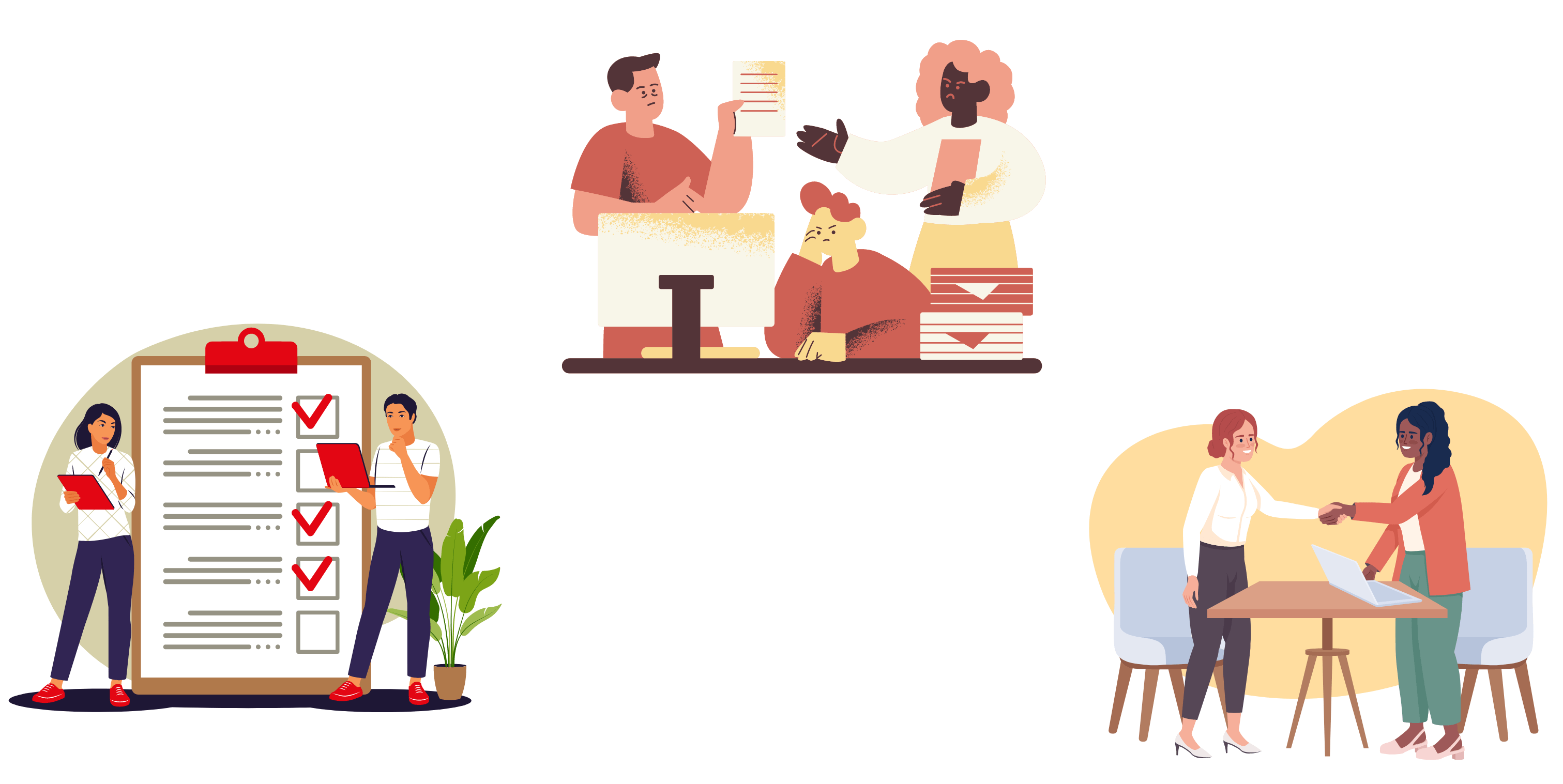 Without Automation
Consider a simple business process of on-boarding an employee to your organization:
Candidate completes paperwork > Deliver Documents to the HR, HR Manager > Document Review & Approval > Employee on-boarded
First, the HR has to schedule a meeting with the candidate in person for giving the paperwork to be completed by the candidate.
Once the candidate finishes the paperwork, the papers need to carefully handed over to the different levels within the management for review and approval which can delay the process or lead to misplaced papers.
The individuals involved with the approval of paperwork need to be followed up via email, phone or in person to check the progress with the review.
The entire process can take from hours to days due to the delays caused by manual work.
With Automation
Candidates fill a form sent to their email > Form entry sent for approval to different levels > Employee onboarded
Candidates can directly fill the on-boarding form on your website at the comfort of their home without requiring any scheduled meeting.
When candidate submits the form, an email is sent to the approver to review the document. The document is automatically sent to the different levels of hierarchy one after the other for approval.
Once, all the approval levels are cleared, an email is sent to the candidate, confirming the employment.
This is a transparent, fast, error free automation to simplify the employee on-boarding process in any organization.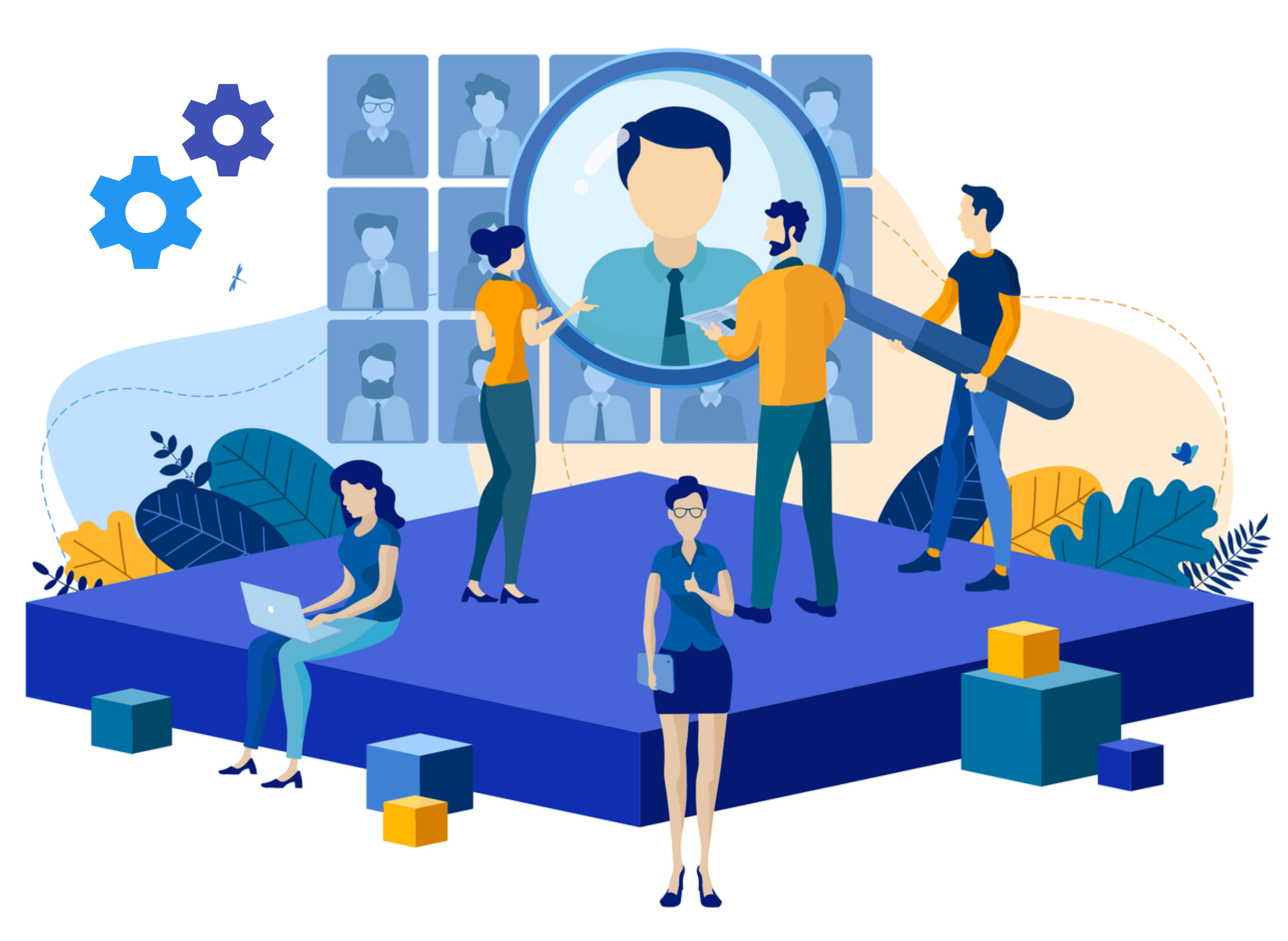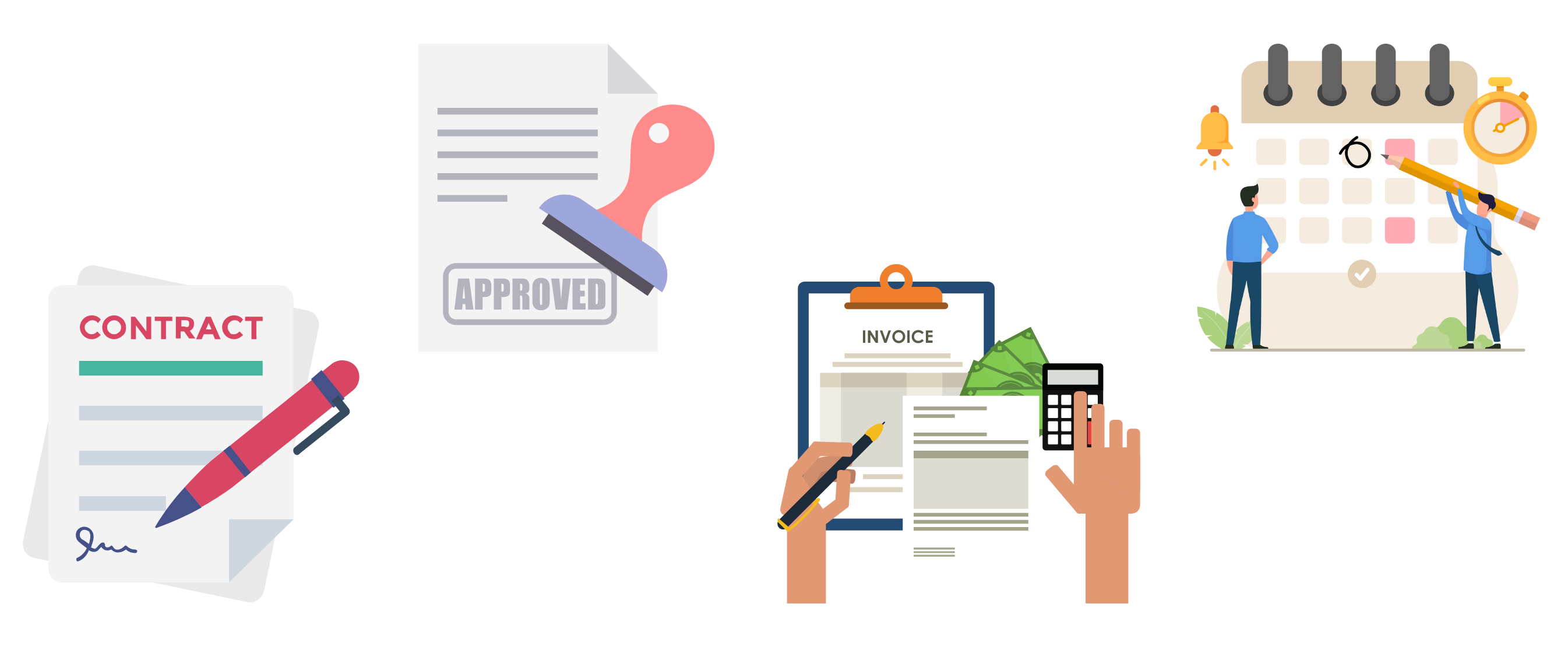 Business workflows that can be automated
Getting Documents, Contracts, Expense Reports signed
Responding to customer requests, and inquiries
Assigning tasks to different departments
Generating Invoices and sending emails
Scheduling events and meetings
Approval processes
Recruitment
While these tasks are universal and can be applied to various organizations and departments, the type of work that a specific department does determines which workflows should be automated for that department. For example, the approval process can be used in the HR department to approve leaves while a different sort of approval process will be required in the Finance department to approve expense reports.
Which businesses can use Workflow Automation?
Almost every department within any organization can benefit from a workflow automation process to streamline the repetitive, time-consuming tasks. Departments like Sales, IT, Human Resources, Marketing, Legal, Healthcare, Customer Support and more can automate their task management and improve productivity in a snap.

Let's take a look at how Zoho Forms can help with process automation in various industries and departments.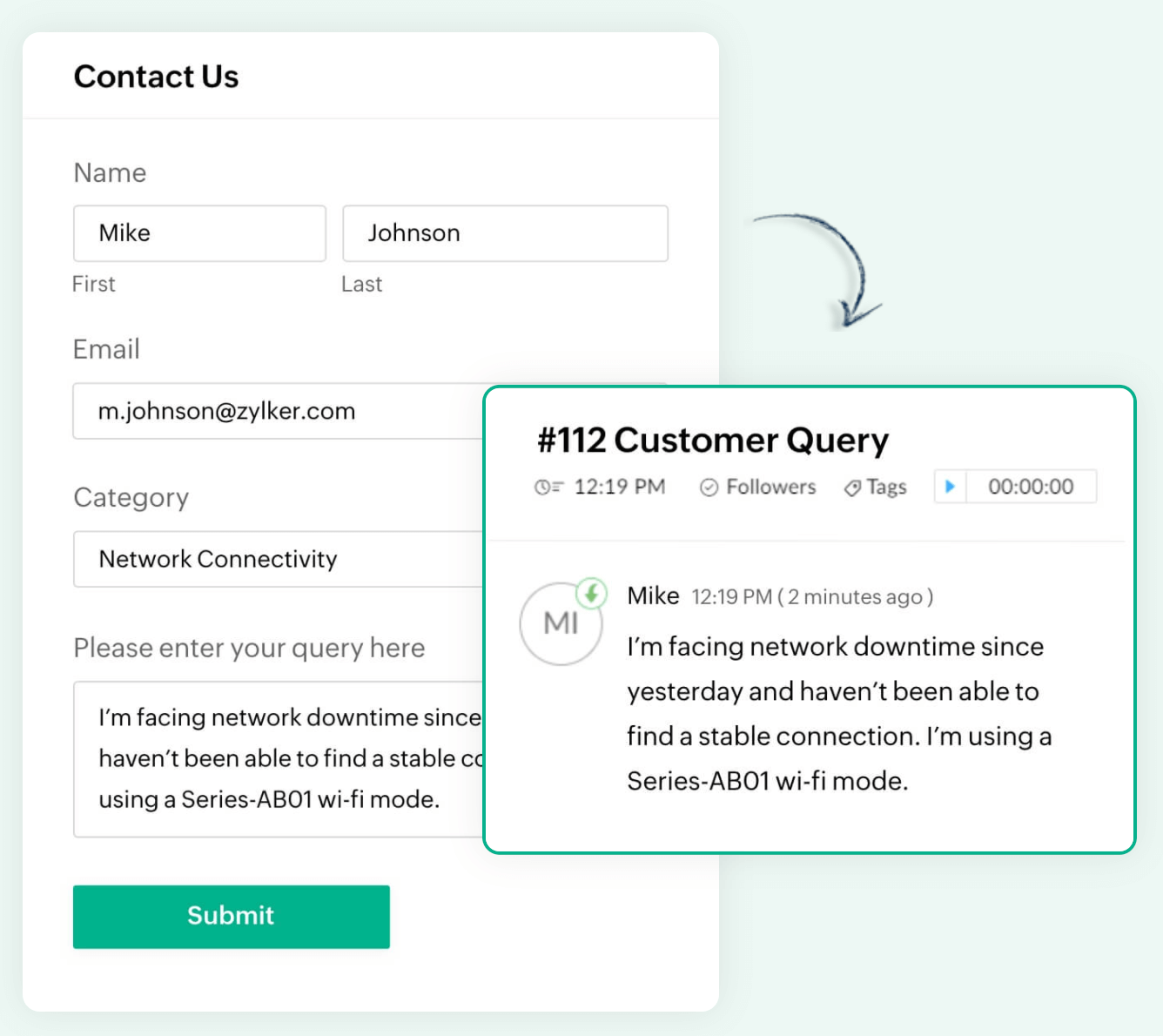 IT industry
Zoho Forms helps you automate processes ranging from problem resolution to task management within the IT department.
The IT department deals with a lot of internal issues, bugs, and customer support requests, and dealing with them manually can be a nightmare. You can automate the handling of issues and tickets with Zoho Forms - Zoho Desk integration.
Say, you have a Complaint Form where an employee or a customer can log issues. Integrating this form with Zoho Desk will automatically push the form entries as tickets in Zoho Desk that makes your job much simpler!
Managing various tasks and their assignment within your teams and keeping all the team members in the loop on task updates can be time-consuming if done manually or via emails. Use the Zoho Forms - Zoho Projects integration to automate the creation of tasks in your Zoho Projects account and save the time spent on the manual task creation.
For example, you can simply create a form with the necessary fields to obtain the task details, and a new task will be automatically created in your project with each form entry.
Tasks can be assigned with due dates, task owners, priority, and more.
Employees' long leaves that require approval from multiple departments, such as the Product Management and HR Management, can be automated using our multi-level approval system.
Legal Department
Workflow automation can effectively reduce errors, improve efficiency, and save time in the legal industry and in the legal department within an enterprise. The processes involved in legal procedures are all time-consuming, from creating Non Disclosure Agreements to obtaining signatures from the relevant parties, and automating these processes will streamline the job.
For example, you can create a form to collect the necessary information from an individual, and when the form is submitted, our Document Merge feature will automatically create a contract document merged with the form responses. You can further get the documents signed by the relevant people.
You can even integrate your form with Zoho Sign to get the approval of multiple collaborators on a single document in an orderly manner and handle your documents in a better way. With this automated process, your documents will be approved with legally binding signatures in a matter of seconds.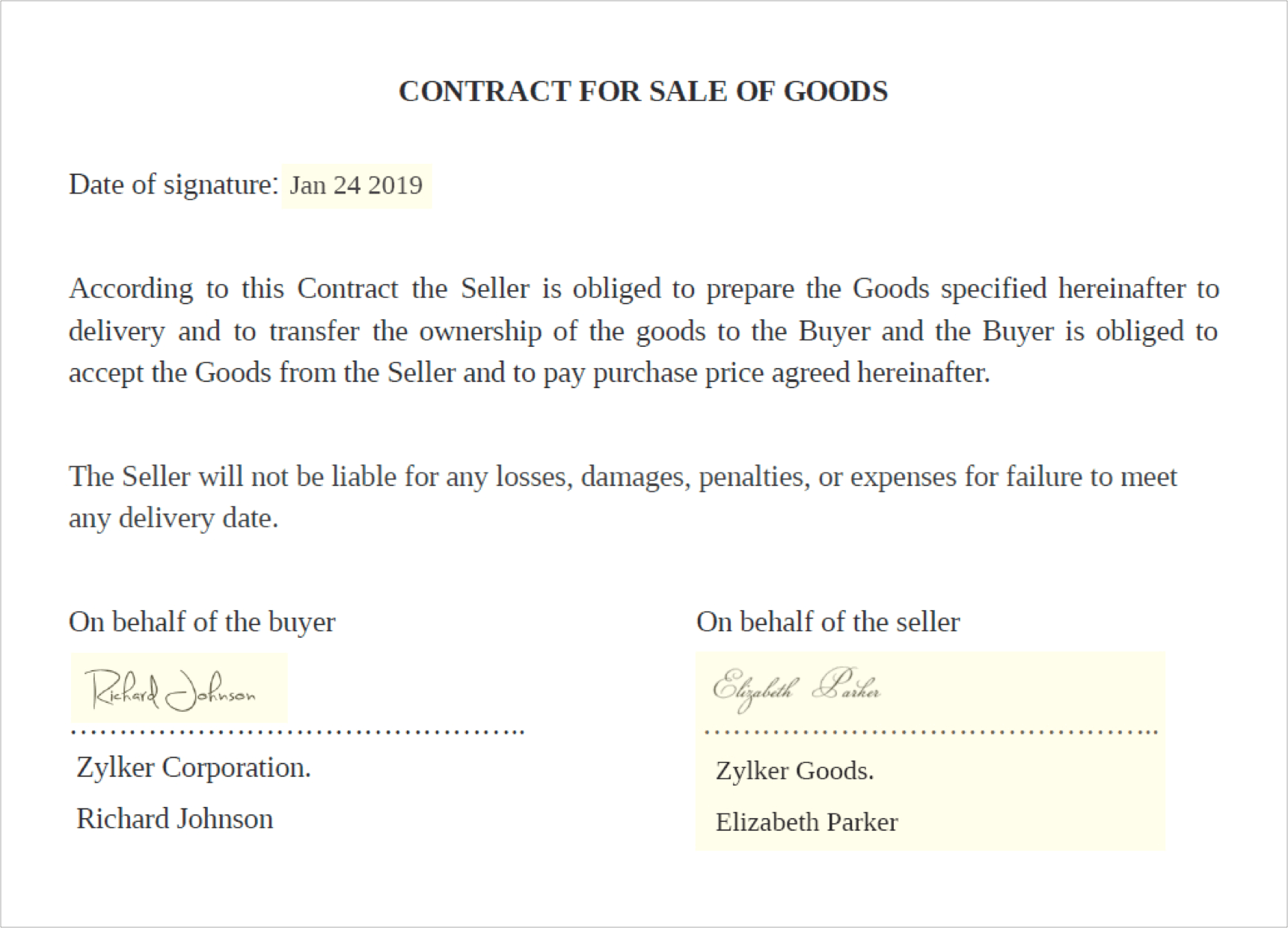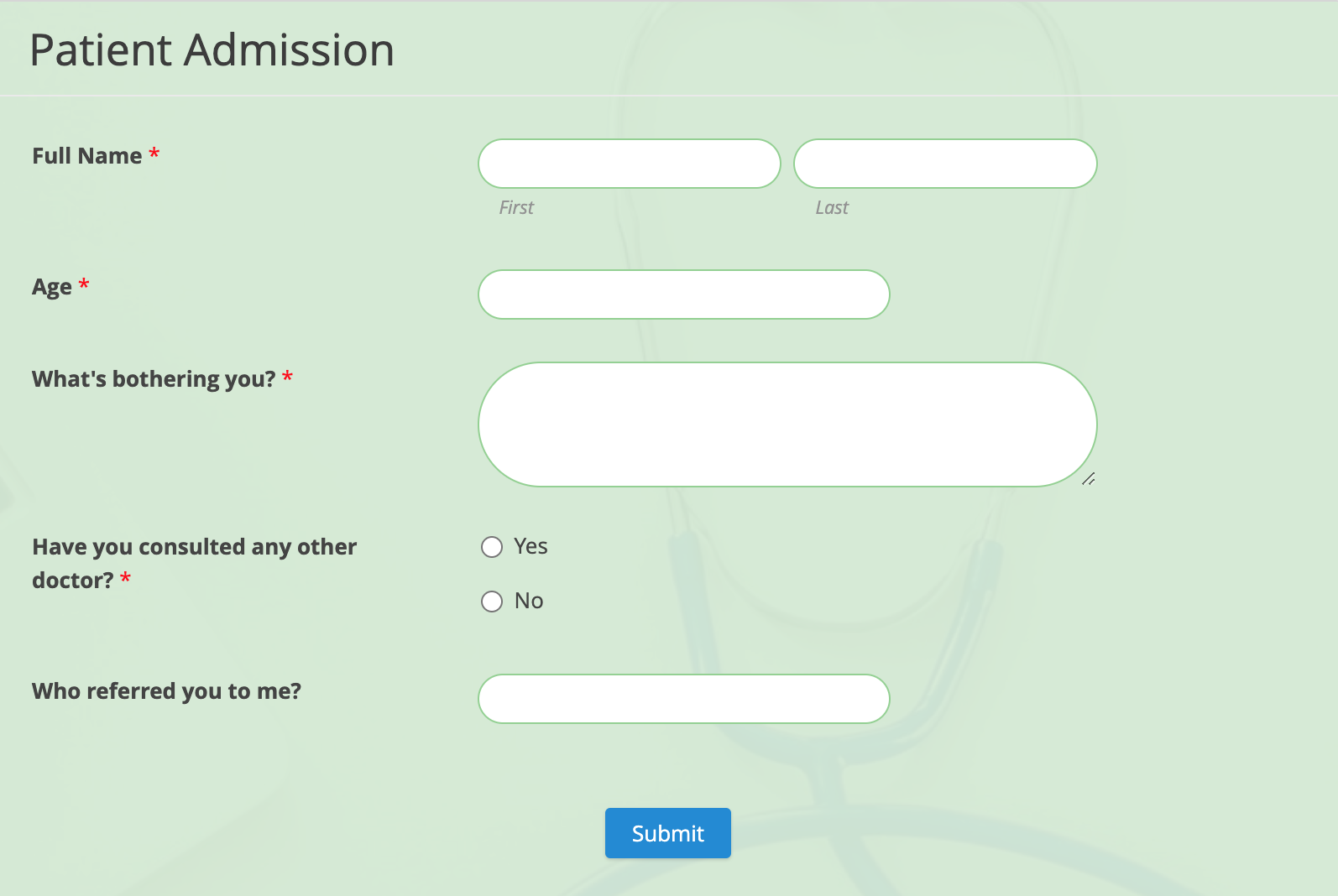 Healthcare Industry
Focusing on direct patient care is critical in the healthcare industry, and the automation of time-consuming paper work such as new patient registration, obtaining patient medical history, patient admission, getting consent signatures, discharge, payments, invoice generation, and maintaining patient health reports is necessary, to improve responsiveness and reliability.
With our fully customizable form builder, you can automate all of the paper work by building HIPAA compliant forms so your healthcare forms are secure.
Marketing and Sales department
Sales and Marketing teams require some level of automation to ensure that the potential leads are captured and nurtured. Place a Contact Form on your website and capture the leads into your Zoho CRM account with Zoho Forms - Zoho CRM integration.
Track where your leads are coming from with our advanced UTM Tracking feature and identify your visitors each time they visit your website by integrating your form with Zoho SalesIQ.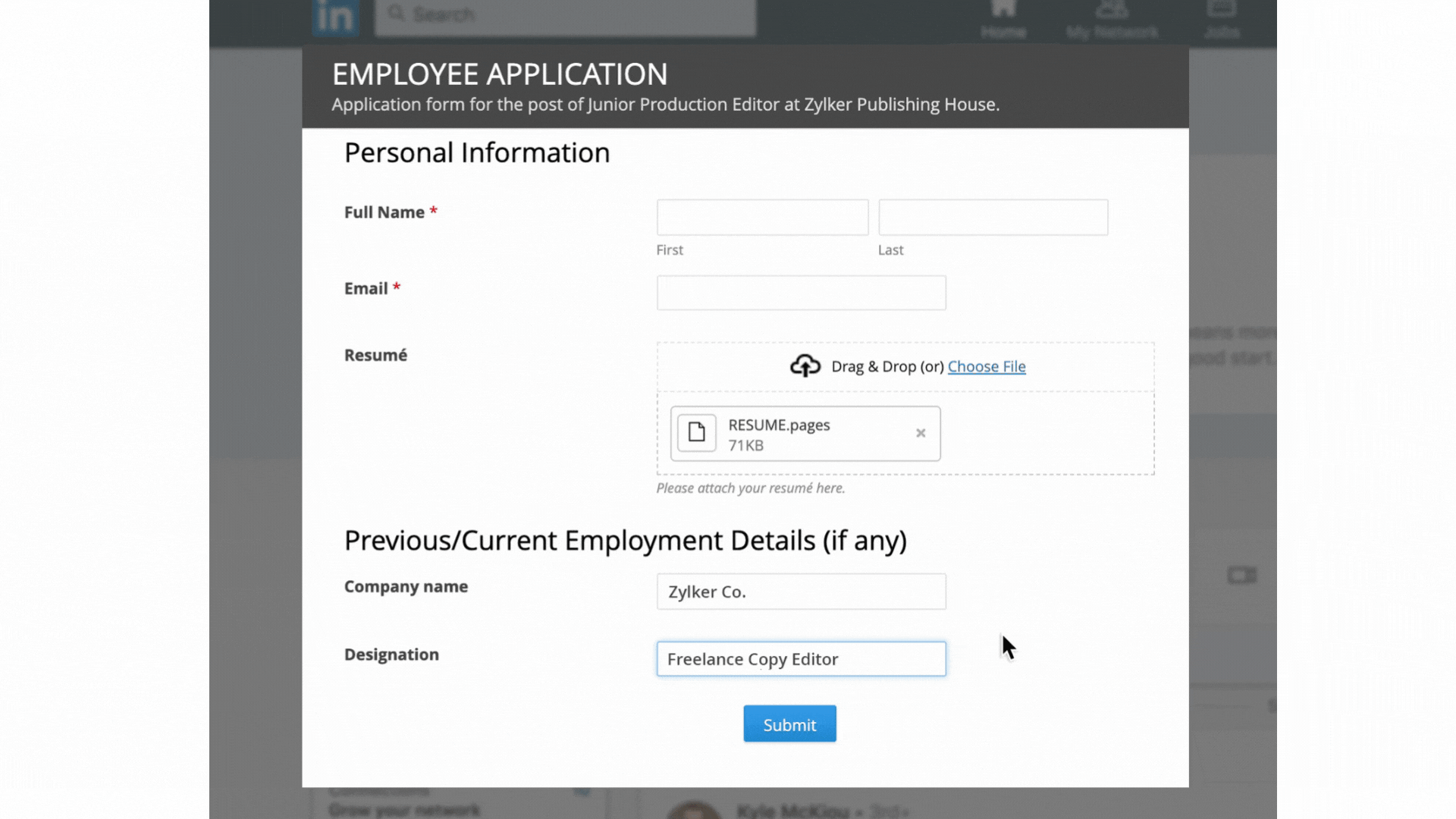 Human Resources department
Collect resumes and applications with our functional form buildng software that illustrates a simple front-end solution for your recruitment and HR needs. Automate the collection and storage of candidate details coming in for recruitment, using the Zoho Forms–Zoho Recruit integration and extend your reach across multiple recruitment sourcing channels. Use Zoho Forms to post recruitment and application forms on custom career websites, popular job boards, and various social sites. With this integration, you can automatically push the candidate details collected via your form as contacts into Zoho Recruit's modules with each form entry. This saves the time spent on manual data entry into Zoho Recruit from a large volume of resumes that come in on a regular basis and simplifies the hiring process. Map attachments such as resumes, photos to be used as applicant headshots, CVs, contact cards, and certificates to be automatically saved within the Zoho Recruit database. Use this to compare candidates, and simplify the hiring process. Learn more about how Zoho Recruit can help your HR department.
Steps to automate your workflows
Identify the tasks that need to be automated. Find the repetitive tasks that are time-consuming, expensive, inefficient, or prone to human error to streamline them.
Map the workflow out using a flowchart to get a clear picture of the automation process that needs to be in place.
Choose the workflow automation software from the various automation tools available such as Zapier, Automate.io, integrately, GSuite, Zoho Flow, Zoho CRM, etc. Zoho Forms can readily be integrated with these automation services.
Check out the direct integrations that Zoho Forms provides to get your data collection and automation quickly up and running.
Test your automation workflow for any issues and launch it.