Why is good customer support system important for your brand?
Customer support is the service provided by a business to help its customers with any questions, concerns, or problems they may have with the company's products or services. If you do not have a proper customer support handling system in place, you may experience several issues that can negatively impact your business:
Slow response times: Without automation, support requests can quickly pile up, leading to slower response times and frustrated customers.
Inconsistent service: Without automation, it can be challenging to ensure consistent service across your support team with different team members having varying approaches to customer service.
Lack of visibility: Manual processes can make it challenging to track support requests and monitor your support team's performance.
Missed opportunities: Without automation, it can be easy to miss opportunities to upsell or cross-sell to customers who reach out for support.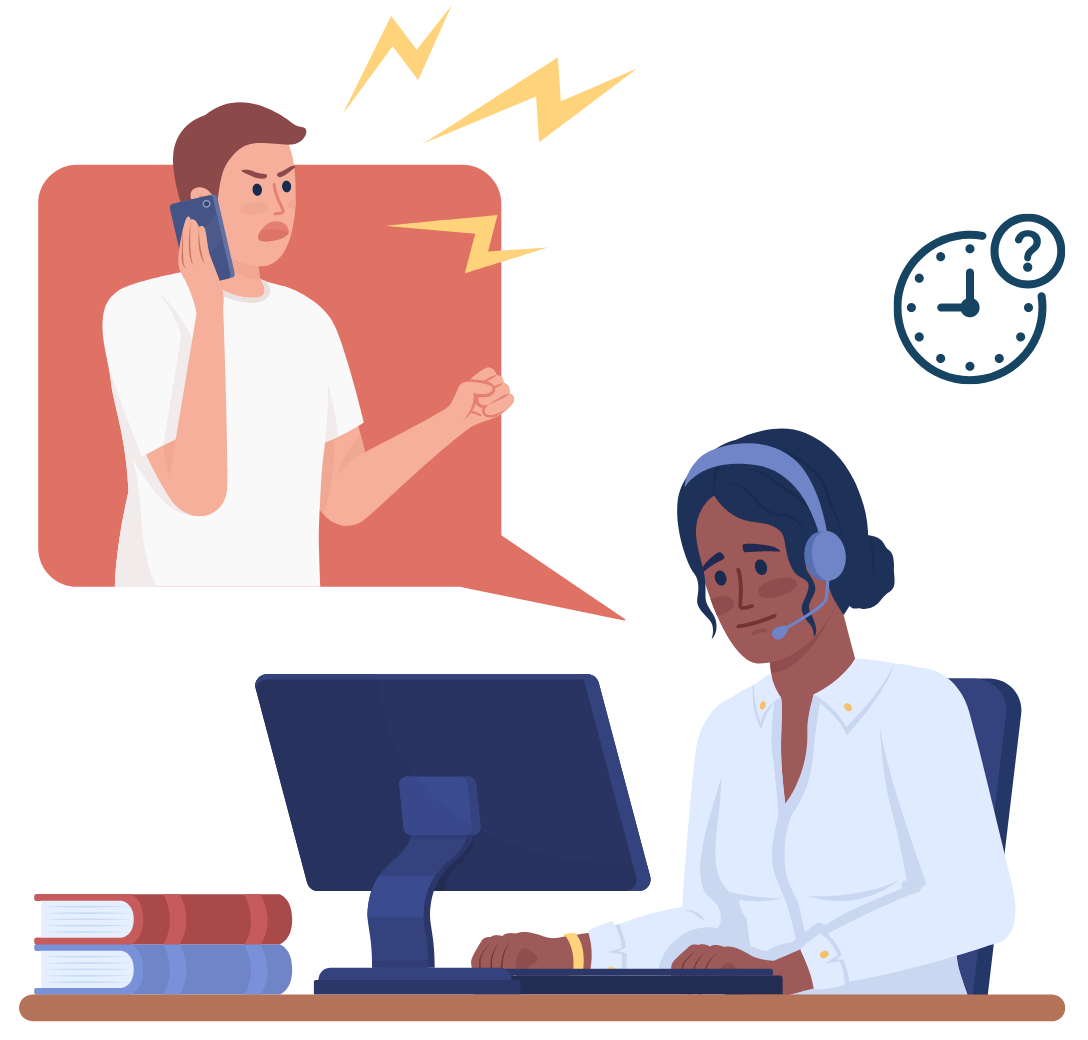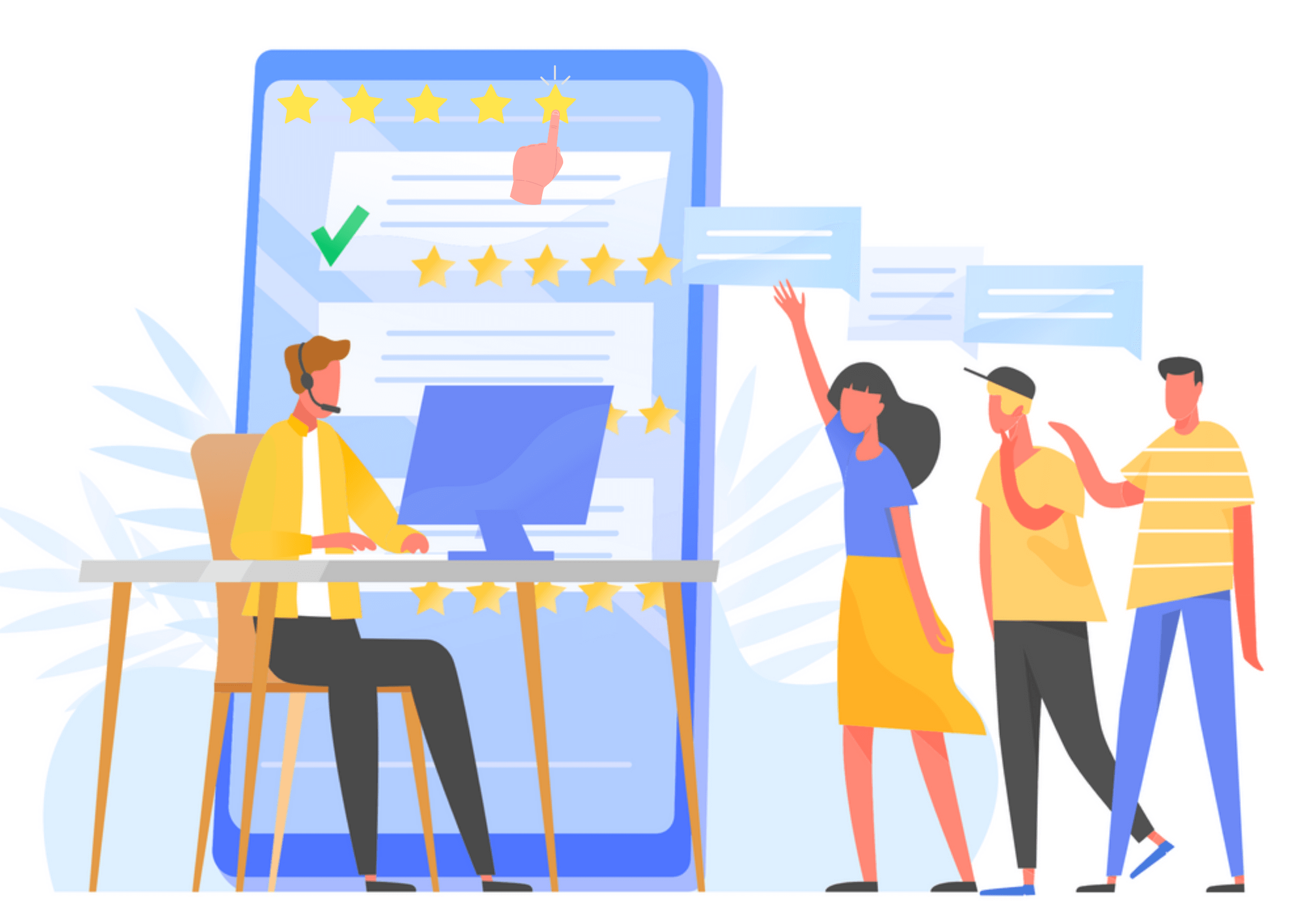 How does customer support automation help your business?
A good customer service system is a crucial aspect of any business that helps to retain customers by resolving their issues in a timely and efficient manner.
When customers feel heard and valued, they are more likely to remain loyal to your brand and continue doing business with you.
It elicits a positive brand reputation, leading to positive word-of-mouth referrals and increased brand awareness.
When customers have a choice between similar products or services, they are more likely to choose the one with better customer support.
It can help streamline your support processes, allowing you to handle more customer inquiries and issues with fewer resources.
It can also be customized to provide personalized responses to customers based on their specific needs and preferences.
It helps you identify common issues and trends that can help improve your products and services.
How to automate your customer support workflows?
Identify your customer support workflows
Start by identifying the various workflows involved in your customer service processes, such as ticket creation, ticket assignment, ticket escalation, ticket resolution, and so on. For example, ticket creation involves capturing customer inquiries or complaints and creating a ticket to track and manage them. This typically includes collecting customer details such as name, email address, and phone number, along with a description of the issue or question. The ticket assignment process involves assigning the issue to an agent or team with the necessary skills and experience to handle it. Once a ticket has been resolved, it's important to collect feedback from the customer on their experience with the support process. The customer feedback process typically involves sending a questionnaire to the customer to gather their feedback and improve the quality of support.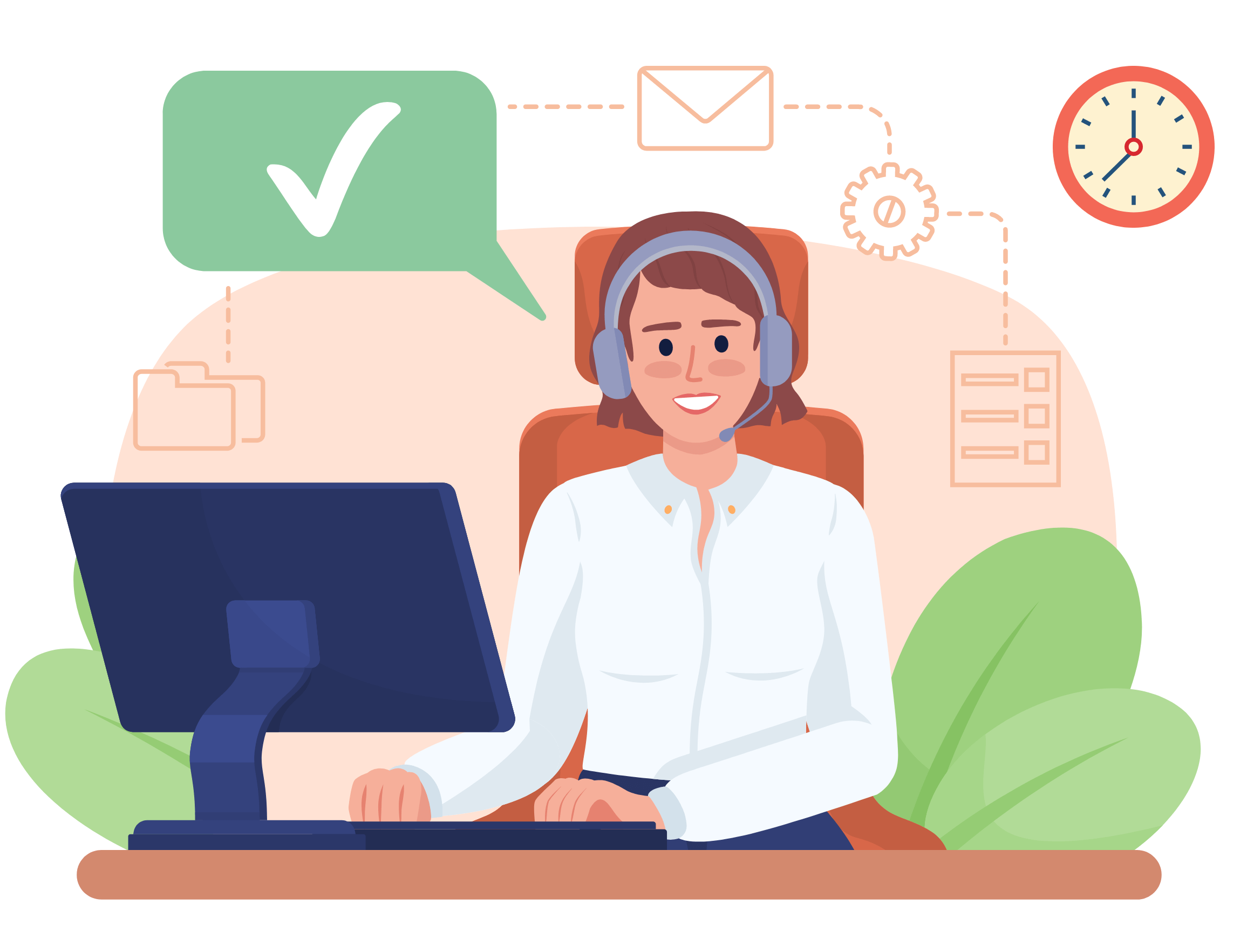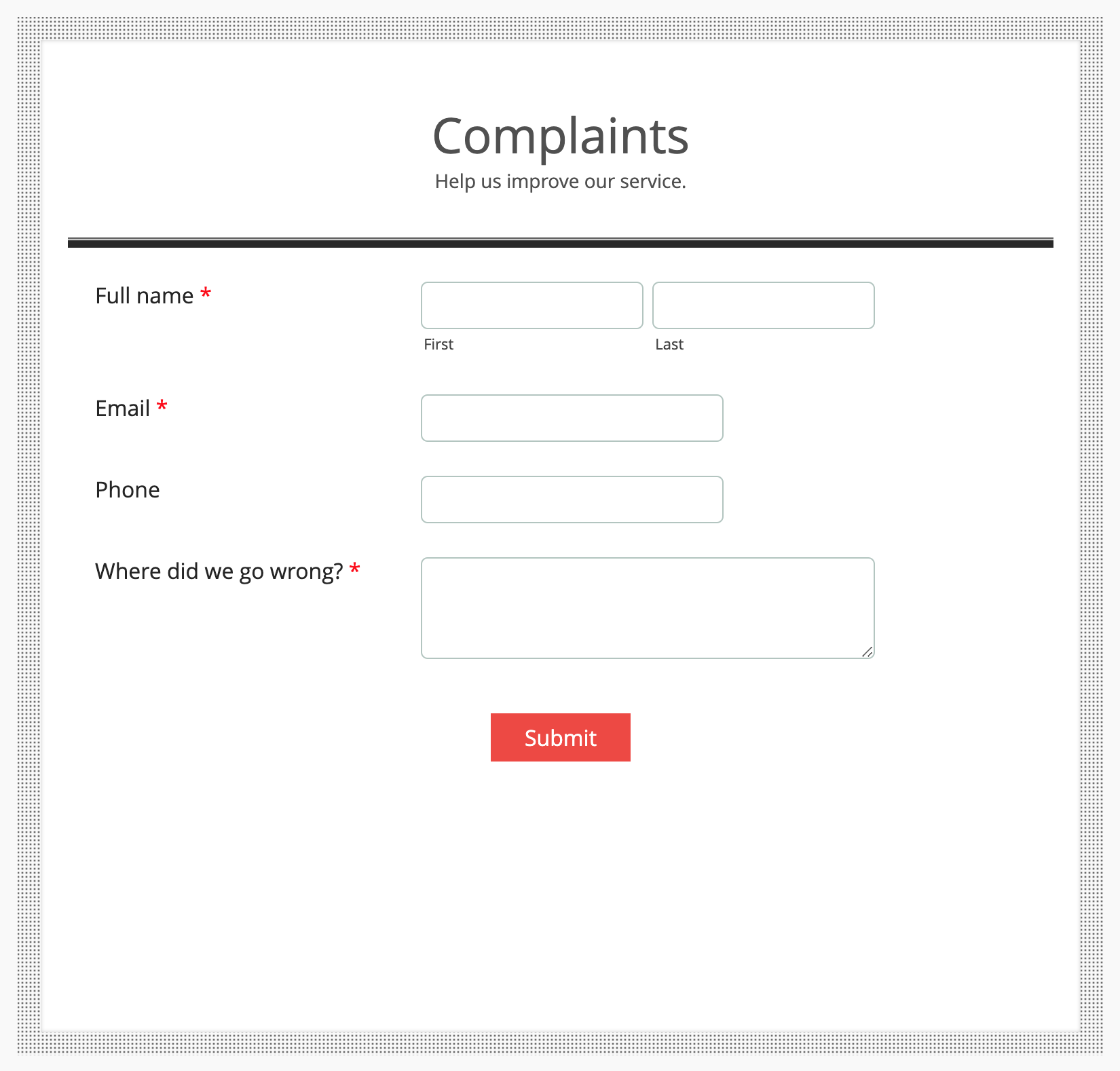 Create a suitable form
Once you have identified your customer support workflows, create a form in your Zoho Forms account that capture the necessary information for the necessary workflows. For example, if you want a ticket creation form, you could create a form that captures the customer's name, email, issue description, severity level, relevant attachments, and any custom fields based on your business needs.
By creating forms that capture the necessary information a customer support workflow, you can ensure that your support team has all the relevant details to resolve customer issues quickly and efficiently.
Integrate your customer query form with Zoho Desk
When you receive multiple customer queries and support requests in your organization, creating support tickets in the help desk manually can become tedious and take a good deal of time, which can otherwise be utilized in helping out your customers. If your organization uses Zoho Desk to manage support tickets, use the integration of Zoho Forms with Zoho Desk to automatically push the form entries as support tickets into your desk portal. You can add description and attach files, images uploaded by customers to the tickets created using this integration.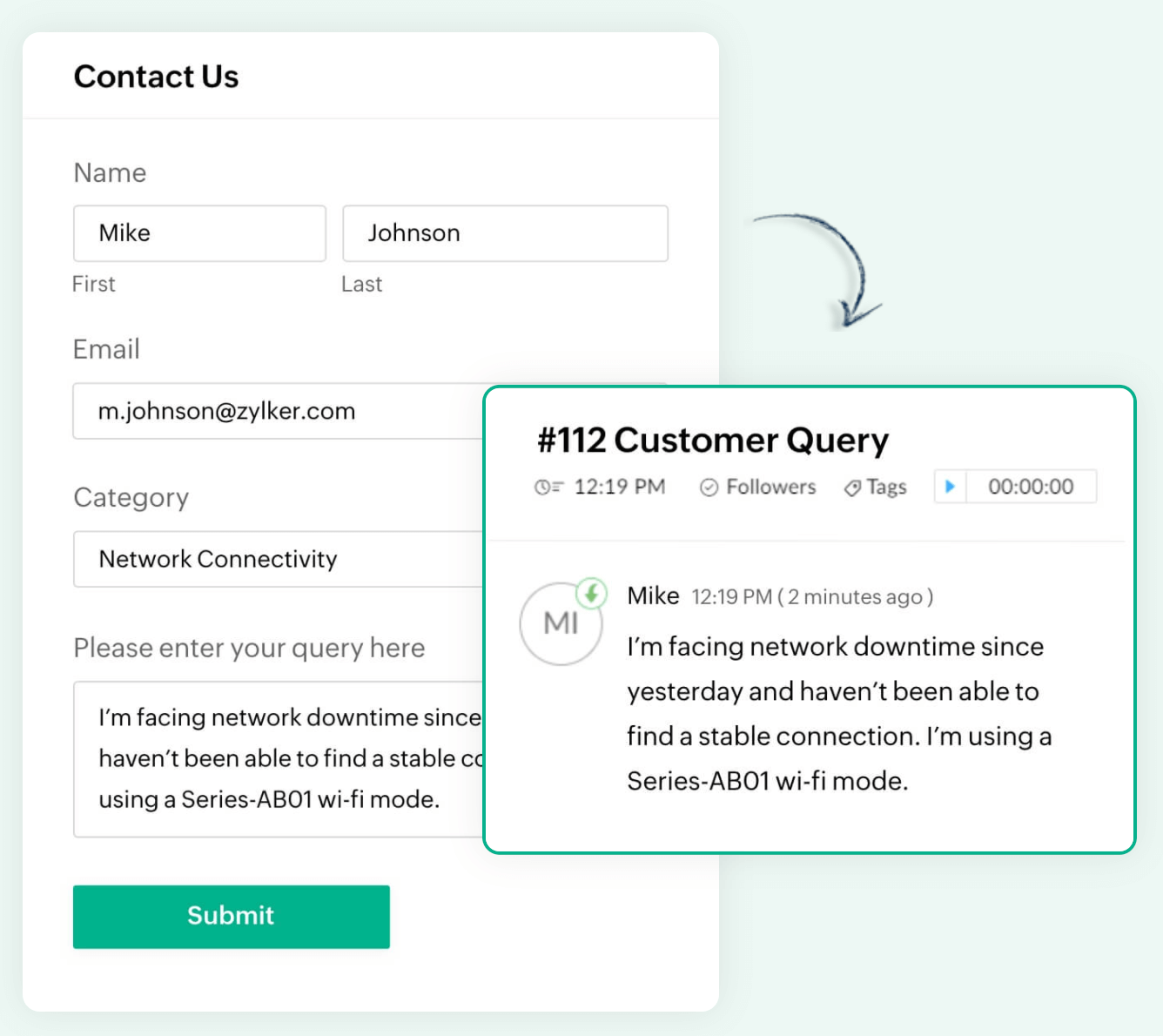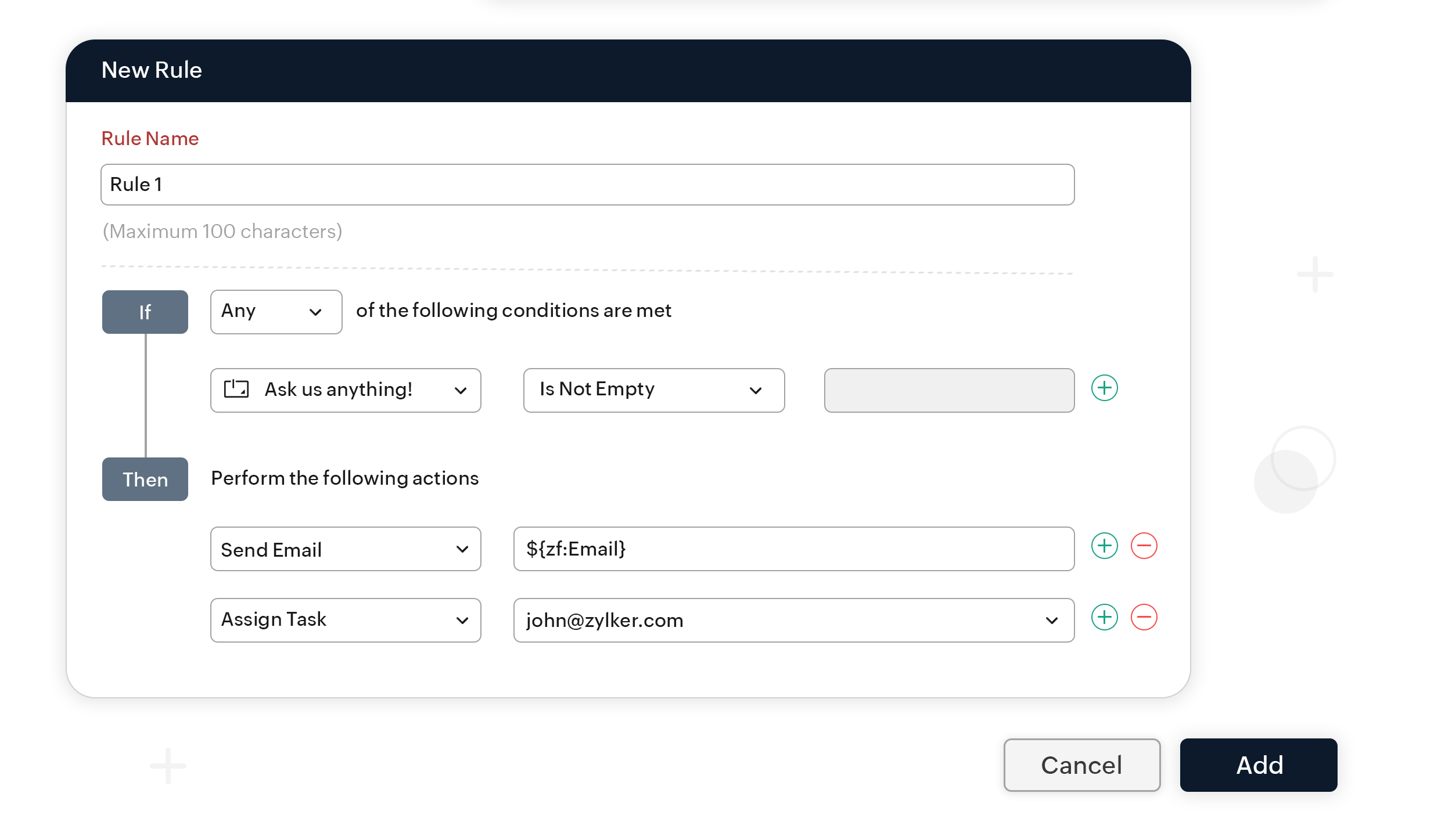 Auto-assign tasks to support agents based on customer issues
For instance, if you want potential leads to ask queries or raise issues regarding your product, configure Form Rules to send an email as well as assign task to the relevant person in your organization to respond to the enquiry based on the complexity or priority of the customer issue. You can set up different email templates for different types of requests or assign them to specific team members
Automate your customer service workflows today!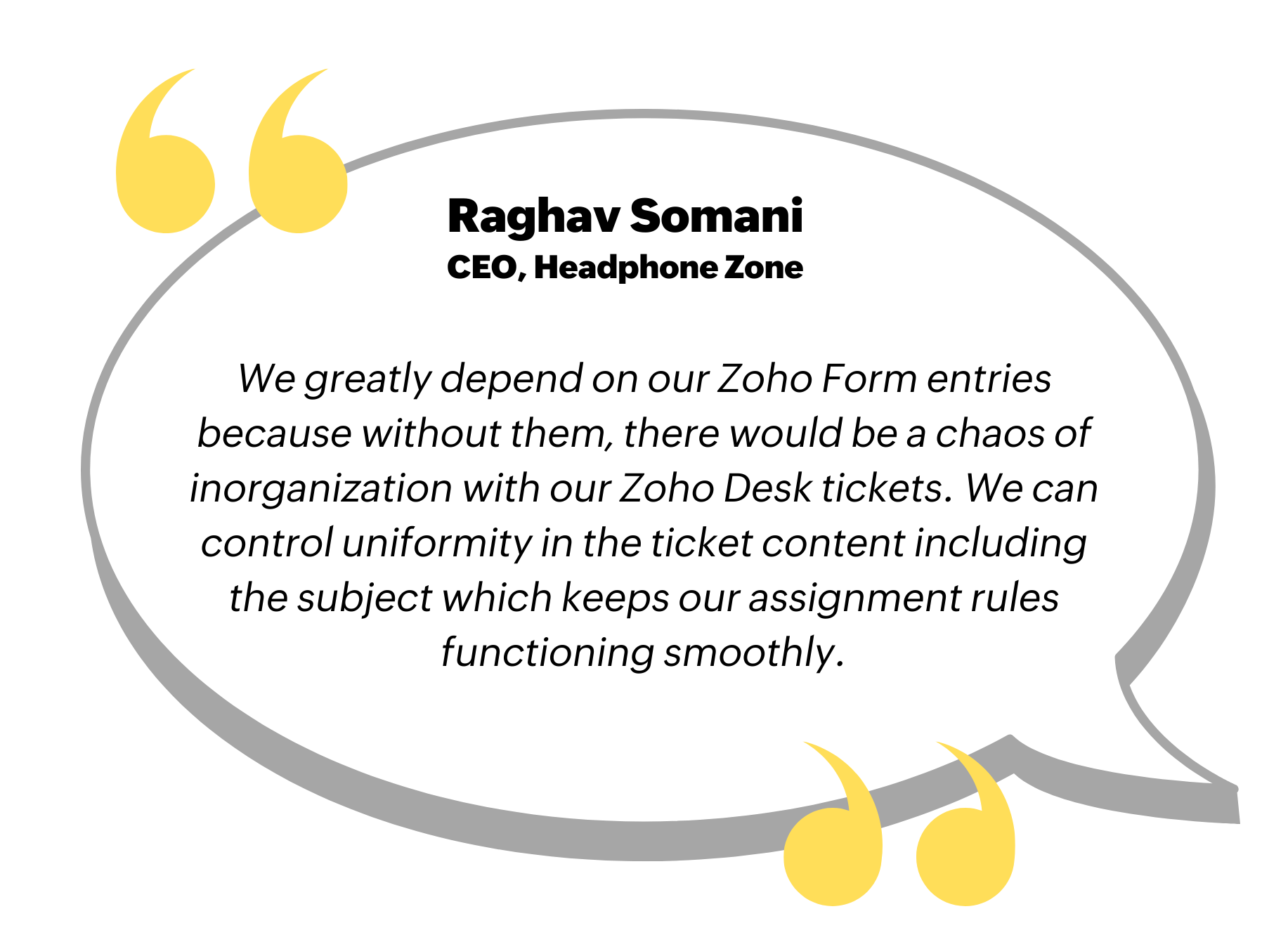 Sign Up Now!