Email Campaigns
How to set up your Zoho Campaigns account from Zoho Survey
There's a new way to get in touch with your contacts to request them to take the surveys you create. All it takes is a simple sign-up with Zoho Campaigns.
To proceed to setting up the campaign click on Send Survey button

Step 1: Create your campaign
Type your campaign name
Select the survey to add to your campaign
Type out your campaign email subject
Enter sender's details such as name, email address and reply to address
Click Next

Step 2: Create an email template. Add a dash of color to your emails.
To create text, add images or tables to your template drag and drop widgets from the widgets bar on to the page (Visit Zoho campaigns help for more information on how to create)
To use a background for the template, select colors and patterns from the Template background column. You can work out a color combination for an inner and outer background for your template
To save the template you've created , click on Save to Library
To preview the email template you have created, click preview
To select a background template click Close
On the pop-up that appears, click Cancel to be taken to the templates page or to Save the current design, Click Ok.
On the templates page:
You can select survey templates or Other templates


Survey templates contain Design templates and Smart templates.
Hover over the screen shots and you can preview each template by clicking on Preview or select a template by clicking Choose.

Other templates contains Basic, Designed and Smart templates apart from a template library. The template library is where you can store templates for future use.
Once you have selected the template, you can add Mail Merge Tags to your content.
Under predefined tags , select Survey Link Tags which will present to you two tag options.
Survey URL – you add this tag by linking it just as you would add a link in your email message. This takes users to your survey page
Survey name – Where you can copy and paste the tag in relevant areas in your content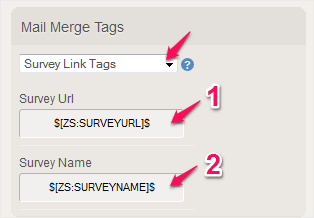 Copy the tags and add them as a link in any part of your email template content.
For e.g. To add the survey URL tag to the email title, follow these steps:
1. Copy the survey URL tag
2. Select the title
3. Click the link button and paste the tag in the Enter Web URL box
4. Click OK
For further information on merge tags visit this page - https://www.zoho.com/campaigns/help/merge-tags.html

Click Close and then OK to move to the next step
In the page that appears, click " Next" which will take you to step 3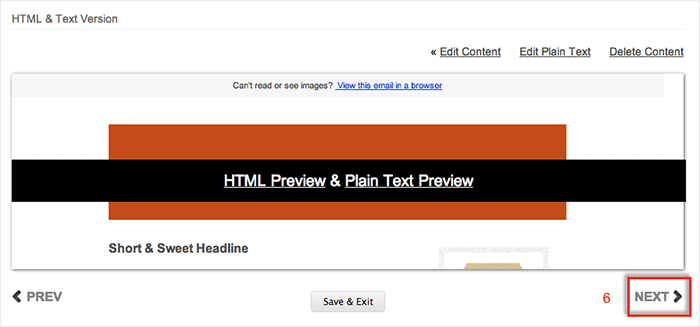 Step 3: Choose your recipients
Select the mailing list to whom you want to send your survey
To sort lists - select from the sort by drop down list
To select a list or lists - click on the check box next to the mailing lists.
To send to all lists - Check the box against " Select all mailing lists"
Once you are done, click Proceed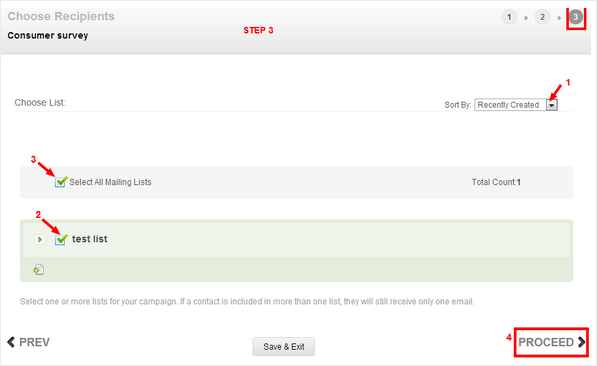 You can also create a new list for your campaign. The procedure involves giving your list a name and adding recipients to the list. Once created, the list will appear under the Choose list section which you can then select for your campaign.
Add email addresses
Give the list a name
Click Save
Select the list to add to your campaign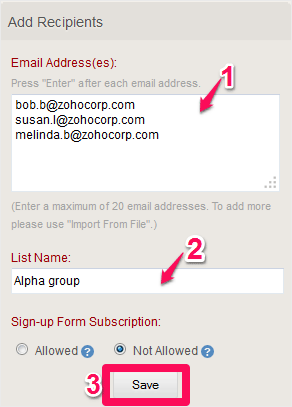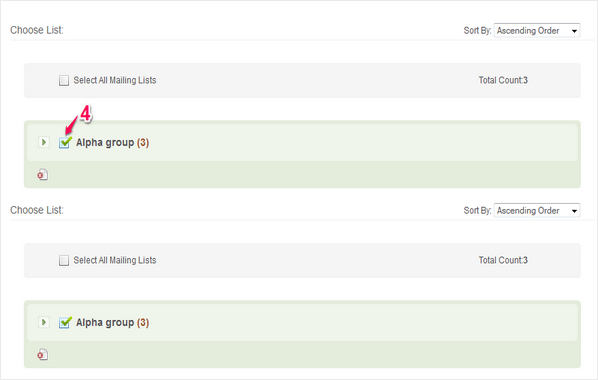 Step 4: Send For Review
The page that appears contains all the information regarding the campaign you have just created.
Click on Send for Review. With this step, your campaign is verified and authenticated by the compliance team at Zoho to ensure that mails sent are legitimate.


Step 5: Verified Notification
You will receive an email notification on your registered email account when your campaign is verified.
Step 6: Send Campaign
The final step is to send your campaign immediately or schedule to be sent later.
Open the home page of your Zoho Campaigns to select the verified campaign to be sent
Click Send immediately to send your campaign or schedule to be sent later

For more information on Zoho Campaigns visit https://www.zoho.com/campaigns/help/
To view individual responses:
Once a campaign is launched you can always access the survey reports of each individual in the email list.
Login to Zoho Campaigns
On the email campaigns tab, Select from a list of Sent Campaigns
Select Survey Reports
From the list of recipients, click on view report against corresponding e-mail addresses to view individual responses.

How to configure your MailChimp account with Zoho Survey
When you want to distribute the link to your survey using mail chimp
Click on the send survey under Mail Chimp
Click on the Authenticate Mailchimp to login with your mail chimp account. Once you've entered the page, there are 3 steps to complete for survey distribution


To integrate Mailchimp with Zoho Survey, login with your Mail chimp username and password


Step 1 : Select your recipients

The lists created in your MailChimp account will be shown on the page. Select a list (click on the radio button) to send an email.
Click next to move to step 2


Step 2 : Fill out your Campaign info

Note: All fields marked with a star are mandatory fields

Once the details are filled out, click Next to go to step 3. To edit the previous step click the back button


Step 3: Create a design for your email

Design your email template and add content to it using the Drag and drop widgets in the elements bar. To give your email a heading , drag and drop the H1 heading widget to the area on the page where you would place your heading. Type out your heading (i.e., we need your feedback) and Click enter.


Once you have designed the email template, Click Submit and you will be prompted to login to your MailChimp account


On the MailChimp website

Under campaigns, Select the campaign to be sent from your list of campaigns
Check all the details and scroll to the bottom of the page to Send.
Click Send Now (or Schedule for later)