Translation
Overview
Zoho Creator provides multilanguage support to collaboratively work online across organizational, geographical, and language barriers. Organizations can now add the preferred language in which they want users to access their application and create custom translations for each component within the application like Form, Reports and Pages. They can choose to provide access to the application in the user's preferred language or browser local language or the login users language, This feature greatly helps organizations to reach and engage a large of number of users worldwide who speak different languages – especially non-English speakers.  
Note
This feature is available only for new accounts created after April 2014. We are currently working on migrating the old accounts to support this feature. Please contact support@zohocreator.com for any clarifications.
Adding a language
To add a new language:
Navigate on Settings page.

Select Translation to access the Translation page.

Click on

 Add Language button. The Add Language pop-up appears.
Select the required language from the drop-down list.
Enable/Disable auto-translate. Enabling automatically translates all the text in your application components. Disabling allows you to translate same.
Click on the Add button. The new language is listed under Supported Languages table, with status. 
Specify the language in which users wil access the application.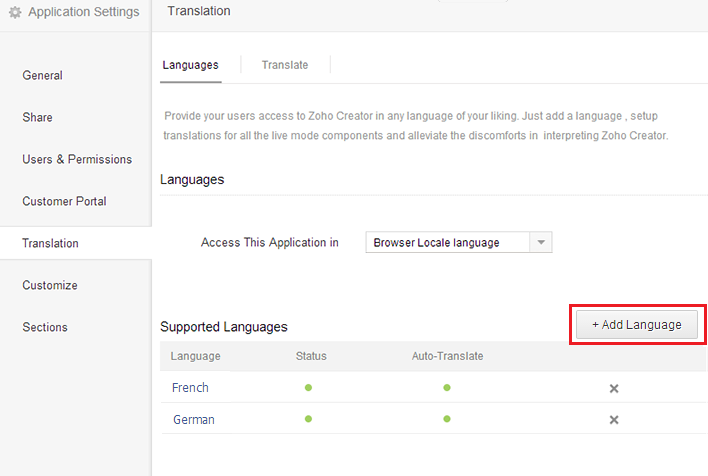 To create translations for the new language: 
Click on Translate. The section appears. 
Select the language to be translated from the 

Language drop-down. 

Select the component to be translated from the Setup Component drop-down. For example, selecting the component "Forms" from the list, will display all the forms in the application, in the Create Translation table displayed below.
Specify the translation equivalent of the parent word in the Create Translations table.
Click on Update to update the changes. 
Configuring the language in which users will access the application
Zoho Creator provides the following options to specify the language in which users will access your application.  Click on Translation and select the required option from the Access this application in drop-down. The screenshot below shows the Translation page displaying the 3 standard options "Browser Locale Language", "Login User's language" and "User's Choice" along with a few pre-configured languages.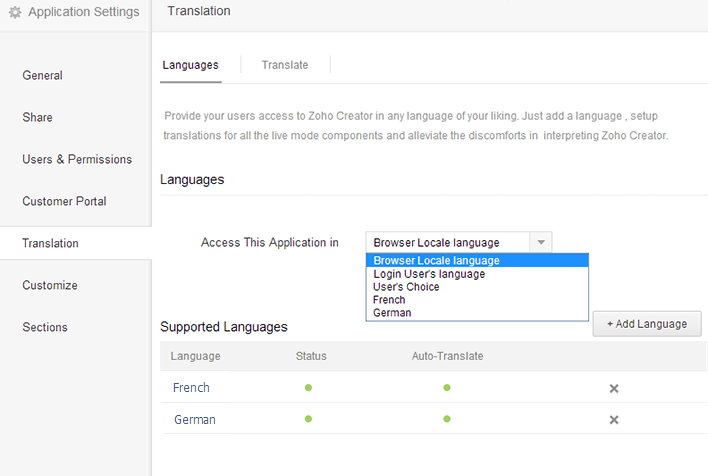 Language Options
Browser locale language - Selecting this option will enable users to access Zoho Creator in the language configured in their browser language settings. Which means that the application is presented to the user in the laugauge detected on the individual's browser.
Login users language - Selecting this option will enable logged in users to access Zoho Creator in the language specified in their account settings page. 
User's Choice - Selecting this option will enable users to access Zoho Creator in their preferred language, which they can select from the list of configured languages.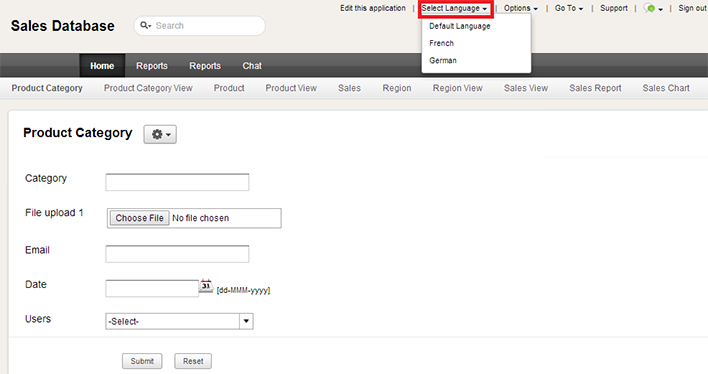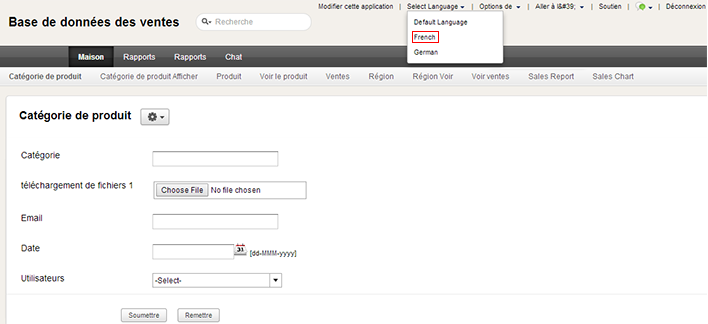 Supported Languages
Zoho Creator provides translations for the following languages listed in this table. If your language is not supported, you can request translation support by sending an email to support@zohocreator.com.
Albanian
Latin
Arabic
Latvian
Azerbaijani
Lithuanian
Basque
Macedonian
Belarusian
Malay
Bengali
Maltese
Bulgarian
Marathi
Catalan
Norwegian
Chinese
Persian
Chinese_Traditional
Polish
Croatian
Portuguese
Czech
Romanian
Danish
Russian
Dutch
Slovak
English
Slovenian
Esperanto
Spanish
Estonian
Swahili
Filipino
Swedish
Finnish
Tamil
French
Telugu
Galician
Thai
Georgian
Turkish
German
Urdu
Gujarati
Vietnamese
Greek
Welsh
Hebrew
Yiddish
Hindi
Hungarian
Icelandic
Irish
Italian
Japanese
Kannada
Khmer
Korean