User Management
(Applicable only for organization administrators)

To make use of Zoho Vault in your organization, you need to invite your users to join Zoho Vault. This can be done from the "Admin" >> "User Management" part of Zoho Vault GUI. Upon clicking the "Admin" tab for the first time, you will be prompted to carry out a mandatory configuration related to 'Initiate Sharing'. Just click that and proceed.

After completing this, click the "Add User" button in the GUI. Users of your organization, who already have an account with Zoho will be listed in the GUI. You can select the required users and move users to right. Click "Save". An invitation mail will be sent to them to join Zoho Vault.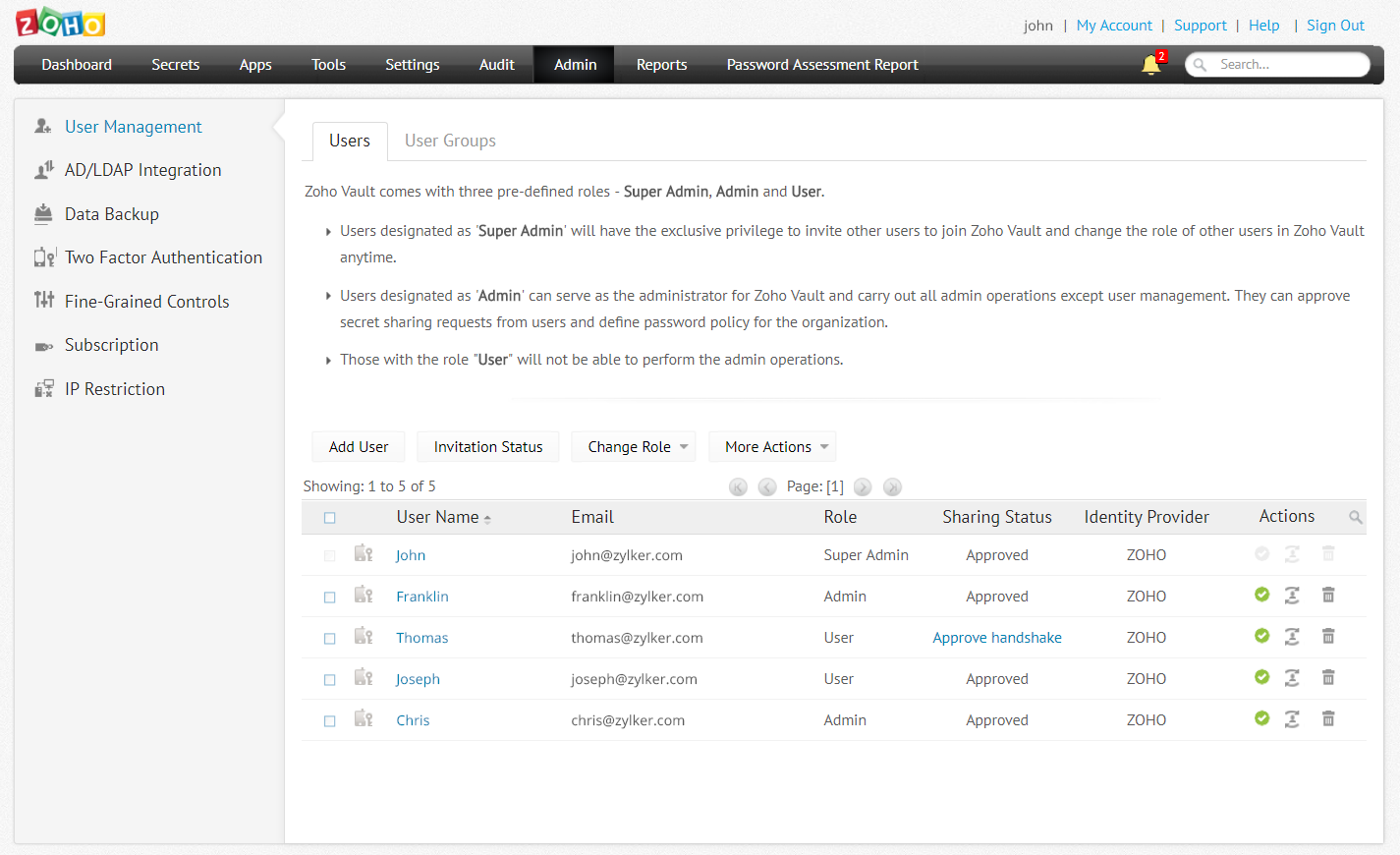 If you want to invite someone new, you can send them an email invite to register with Zoho first and then to Zoho Vault.

Roles
Zoho Vault comes with three pre-defined roles - Super Admin, Admin and User.
Roles
Capabilities
Super Admin                                        

Exclusive privilege to invite other users to join Zoho Vault, change the role of other users and acquire secrets from users           
Approve secrets sharing requests from other users
Define password policies
View reports
Delete organization
Fine-grained controls

Admin

Approve secrets sharing requests from users
Define password policies
View reports
Fine-grained controls

Users

Cannot perform any admin operations
Note:
Those who have the roles 'Super-Admin' and 'Admin' at Zoho accounts level are automatically designated as "Super Admin" in Zoho Vault. Super-admin can change the role of 'User' and 'Admin' in Zoho Vault anytime. If you want to have more super-admins or change the role of some other user in Zoho Vault as 'Super-Admin', it can be done only at Zoho accounts level by accessing the control panel of Zoho Business.
Assigning Roles
You can also assign roles to your users - either administrator or a user. Users designated as 'Admin' can serve as the administrator for Zoho Vault and carry out all admin operations except user management. They can approve secret sharing requests from users and define password policy for the organization. Those with the role "User" will not be able to perform the admin operations.
User Groups
(Available in Professional and Enterprise Editions)
You can group the users of your organization to carry out various operations in bulk like sharing secrets or chambers to user groups. You can add or remove users to/from a group anytime. When you add a new user to a user group, the user will inherit all the shares and permissions already granted to that group.
Super-admins of Zoho Vault can add user groups from Admin >> User Management >> User Groups tab. To view the members of an existing group, click the 'Edit' icon against the required user group.