Gain visibility with informative reports
If you are an administrator making business critical decisions, you need to have complete visibility of the password management process in your enterprise. Often you might be plagued with questions such as -
What passwords can the user access?
How many secrets has the user shared and with whom?
How many users have changed their passphrase in the last month?
How many users have access to this secret?
Zoho Vault provides intuitive reports in easy-to-understand tables and graphs which show up-to-date snapshots about the status and summaries of various activities related to password management. Super-admins/ administrators can run these reports and figure out which password management policies need to be addressed at the moment.
Zoho Vault provides two reports at present - User Access Report and Secrets Access Report. Click the 'Reports' tab and select your preferred report to proceed.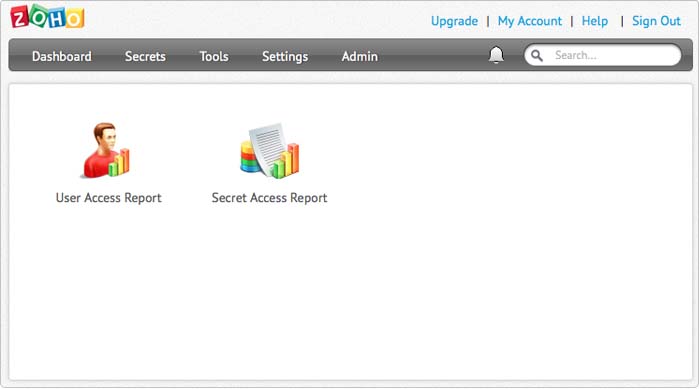 User Access Report:
Assume that you want a list of all passwords owned by someone. You also need the list of passwords accessed by them during a specific time period. In such cases the user access report helps you find information on 'who' has access to 'what' secrets at the moment.
You can either choose to view the access details of all users or select specific users from the drop-down list. Choosing "All Users" option gives you a brief summary of number of users and a graphical representation of the number of user roles in the organization. The list of users, along with their respective secrets and description, is provided at the bottom of the page. Clicking on specific users gives you a graphical representation of the secrets owned/shared to the user along with a snapshot of the secret access level.
This report will come in handy when someone leaves the organization. You take a report of all the secrets access by that user and carry out reset operation.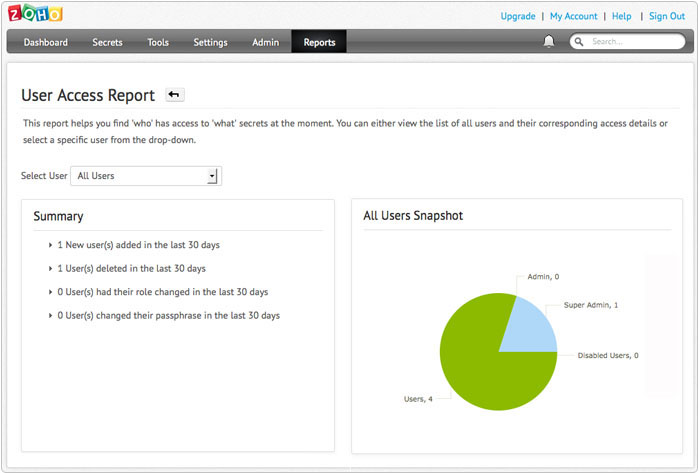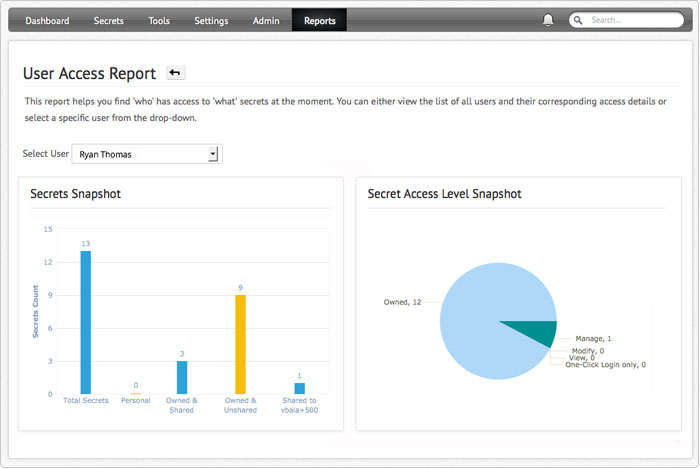 Secret Access Report:
Consider a situation where you want to know the owner of a password and the list of users who can access that password. In this case, the Secret Access Report helps you identify 'who' all have access to a particular secret at the moment.
You can choose to view access details about all secrets or choose a specific secret from the drop-down. Choosing "All Secrets" option gives you snapshots of their accessibility level and the chambers they belong to. A list of all shared secrets along with their access level is provided at the bottom of the page. Selecting specific secrets from the drop-down gives you a snapshot of the summary and its access level.