Zoho Sheet
Zoho Survey's integration with Zoho Sheet helps push your responses from your survey into a spreadsheet as and when your respondents submit their responses. You can map the survey responses into a new spreadsheet or to a new sheet in an existing spreadsheet.
How do I...
How do I integrate my survey with Zoho Sheet?
Click Integrate in the Zoho Sheet section of the Integrations tab. Make sure you have an account in Zoho Survey and Zoho Docs so you can configure the sync settings. 
Choose an integration option: 

Select Create a new spreadsheet and type in a name for the spreadsheet. The name of the survey will be displayed by default. You can either use the name of the survey or type in a new one.
Select Choose an existing spreadsheet to push responses into an existing spreadsheet. Then enter a keyword in the Search bar to find the spreadsheet that you're looking for.
Select a survey to use.
Click Save.
How do I view the responses on a spreadsheet?
Click View Sheet after integrating your survey with Zoho Sheet.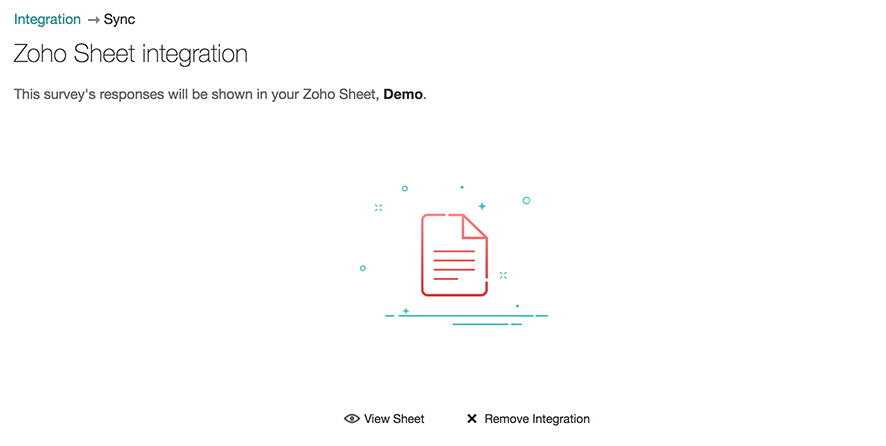 Log on to your Zoho Docs account and find the spreadsheet with the record of responses. If you change the alignment or order of questions in your survey, the changes won't be reflected on the sheet. If you add or delete a row/column in the sheet, the alignment of collected responses will also vary.
How do I remove the integration with Zoho Sheet?
Click Edit in the Zoho Sheet section on the the Integrations tab.
Click Remove Integration.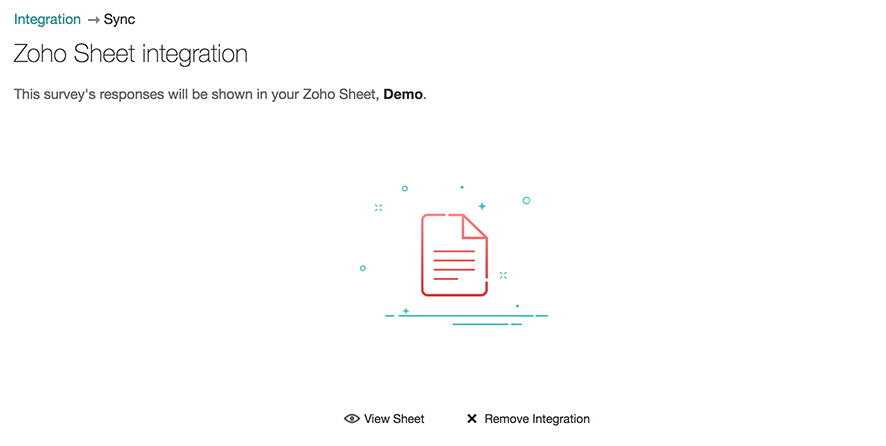 Click Remove.