​
How to change the Operator's Role?
In the Settings > Operators section, hover over the operator you wish to edit and click on the pencil icon to edit. Or click the operator's name and from their page.
​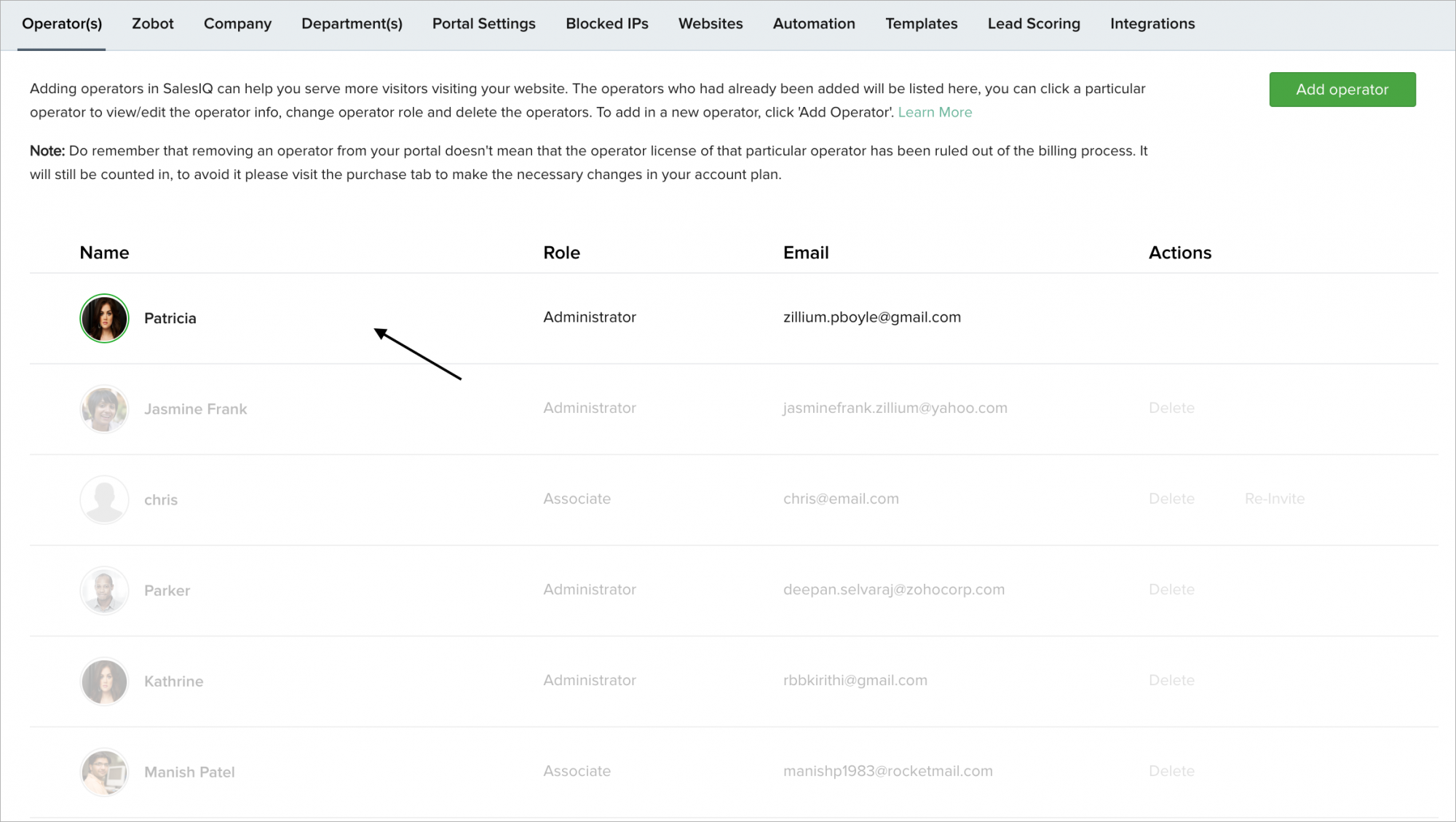 2.Click Edit at the top right corner.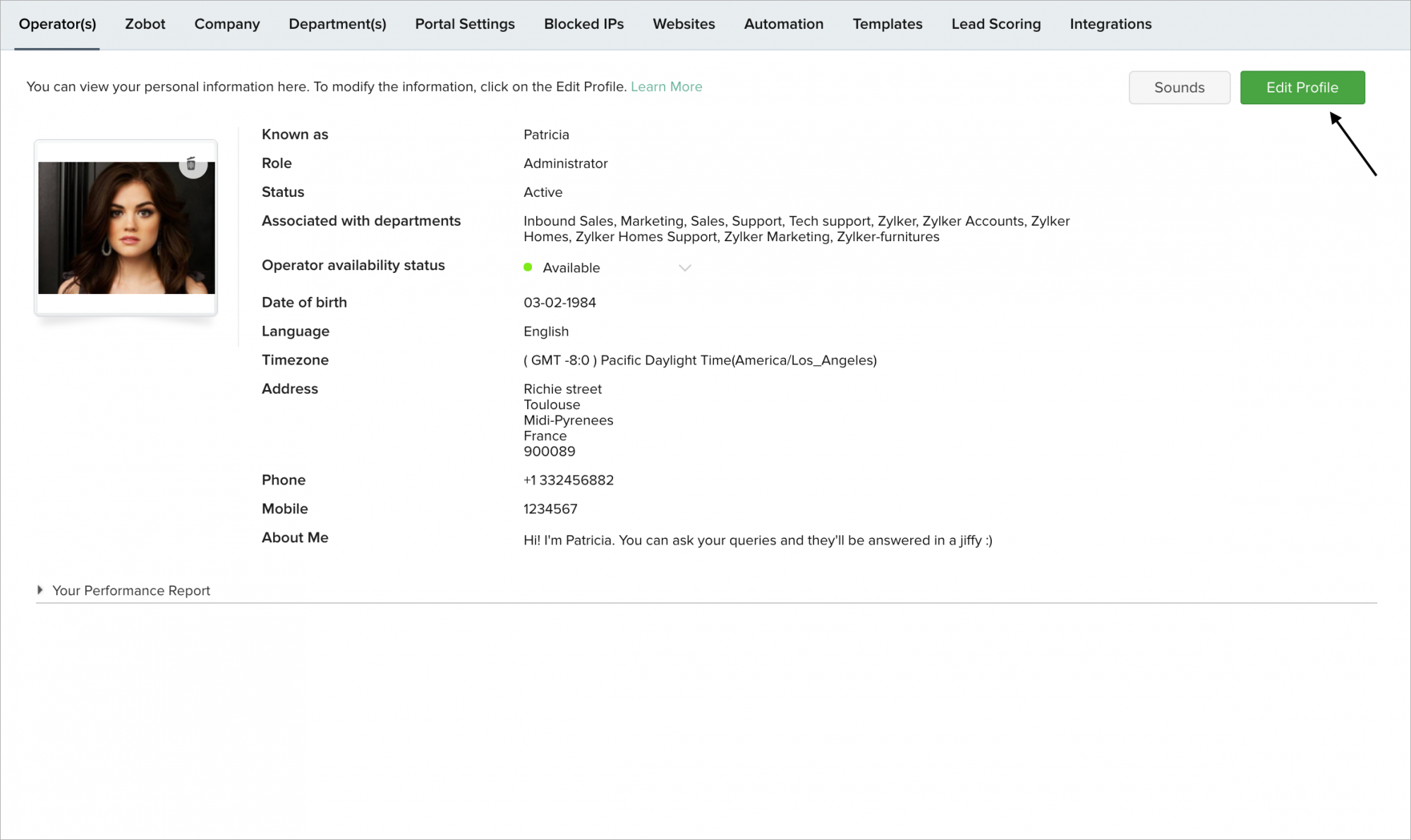 3.Select your required Role from the list.
4.Click on the Update to save your changes.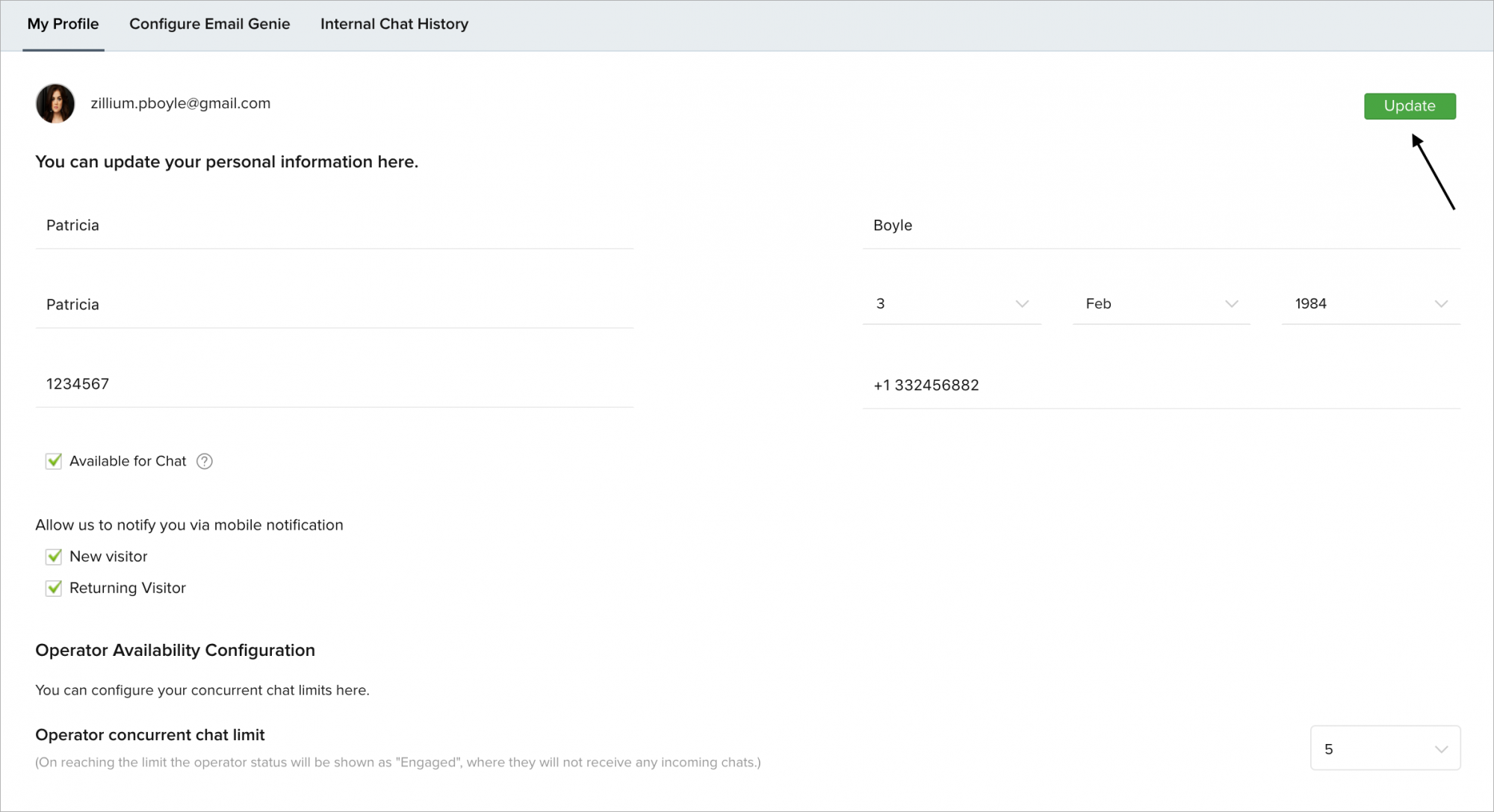 Operator roles and permissions:
Features
Administrator  
Supervisor
Associate    
Making changes to Zoho SalesIQ
✔
 
 
View operators' profiles
✔
✔ (co-supervisors/associates)
✔ (co-associates)
Access information
✔
✔
✔
Edit configurations
✔
 
 
View data inside your operation
✔
✔
✔
Connect and chat with customers
✔
✔
✔
Deliver solutions
✔
✔
✔
Edit/Delete data
✔
 
 
Monitor chats of other operators
✔
✔
 
Add/Remove new members
✔
 
 
Approve IP blocking
✔
 
 
View performance reports
✔
✔
 
Changing operator roles
✔
 
 
Set operator concurrent chat limits
✔
 
 
Operator chat window configuration
✔
 
 
Share URL
✔
✔
✔
Send files to visitors
✔
✔
✔
Email the visitor information
✔
 
 
Visitor chat transcript
✔
✔
✔
Operator availability configuration
✔
✔
✔
Purchase Zoho SalesIQ
✔ (Portal owner)
 
 
Edit/Modify company details
✔
 
 
Customize filters to prioritize visitors
✔
✔
✔
Create custom views in Visitor History
✔
✔
✔
View list of operators in the company
✔
✔
✔
View all departments
✔
 
 
View associated departments
✔
✔
✔
Block IPs
✔
✔
✔
Change owner
✔
 
 
Assign chats to operators
✔
 
 
Associate operators to departments
✔
 
 
Add a new website
✔
✔
 
Create Canned responses
✔
✔
✔
Create Articles
✔
✔
✔
Add new departments
✔
 
 
Intelligent Triggers
✔
 
 
Visitor Routing
✔
 
 
Chat Routing
✔
 
 
Email Schedules
✔
 
 
Enable/Disable Integrations
✔
 
 
Framing trigger and routing rules
✔
 
 
        Settings Tab Access
Operators
✔
✔
✔
Company
✔
✔
 
Departments
✔
✔
✔
Portal Settings
✔
 
 
Blocked IPs
✔
✔
✔
Websites
✔
✔
 
Automation
✔
✔(Only Chat Monitor)
 
Templates
✔
✔
✔
Lead Scoring
✔
 
 
Integrations
✔
 
 
View Zoho SalesIQ Integrations
✔
✔
 
Zobot
✔
✔
 
       Modules Accessible
Visitors Online
✔
✔
✔
Visitor History
✔
✔
✔
Chat History
✔
✔
✔
Feedback
✔
✔
✔
Reports
✔
✔
 
My Profile
✔.
✔
✔
Settings
✔
✔
✔
Purchase
✔ (Portal Owner)
 
 
​
​
​