Projects
You can create projects and collaborate with your team. Projects can be created newly or created from existing project templates. You can also create groups and classify projects based on your business need. And you can control the project access and privileges for other project users by making it private or public.
Create projects
Get started with projects and collaborate with your team. Click Projects and then click New Project on the right side to create a New Project.

In New Project, specify the other project details and get started. And the new project is grouped in Recent Projects.
Project templates
You can create a new project or choose an existing project template. In Choose a Template, you can select any of the existing templates based on which you can publish your real time project details. All the Milestones, task lists, tasks and other information from the chosen project template will be shifted to the newly created project. And the start time of the project activities (milestones, task list and tasks) will be shifted based on the Project Start Date of the new project.
Note:
If you create a project from an existing project template, the Project Start Date option is enabled.
For Example: In a project template, Task A has Start After as 2 days and a Duration of 5 days, then by selecting a new Project Start Date as Jan 15 2013, the Start Date of Task A will be shifted to Jan 17 2013 and the End Date will now be Jan 22 2013. The newly selected Project Start Date will automatically shift all your milestones, tasks, subtasks, forums and documents in the selected project template.
Project groups
You can create groups, to classify the various projects.
If required, in Group Name, click the Plus icon to create a new project group. You can create a new group, only if you are the Admin.
Note:
Currently, we do not support sub projects in our project management.
Creating public and private Projects
You can choose to make your project go public or private. Private projects, can be accessed only by the selected project users, whereas public projects can be viewed and followed by all the portal users. In public projects, users will have only read access but they can view and follow projects, and add comments. However, if you are the Admin, you will have all the access privileges even for public projects.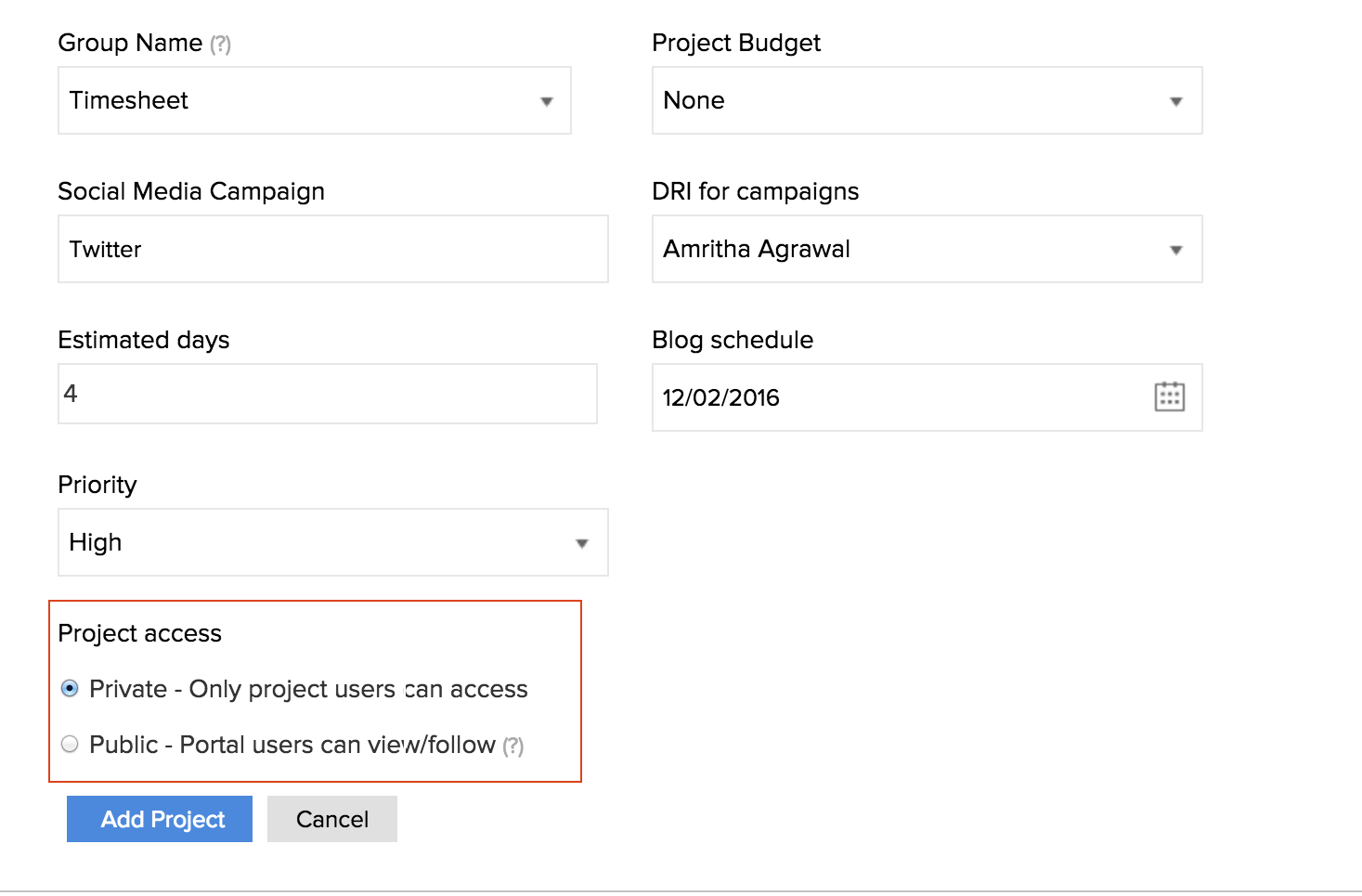 While creating projects, in Project access, choose Private, if you want the project to be accessed only by the project users in the selected project. If you choose Public, the project will be followed and viewed by all the portal users. The public projects are highlighted with a distinct icon in the Projects list page.
Related Topics