Export Timesheets
You can export your timesheets in the desired format as an .xls or a .csv file with the billing status for the selected time period. Furthermore you can export user based timesheets for employee payroll or bill client for payments.
You can export timesheet from My Timesheet or from any selected project. In Projects, select the required project, and then click Timesheet. Click Other actions at the top right corner, next to Filters and choose Export Timesheet.

Select the project user, choose the date range to export, specify the billing and approval status and choose the desired format (xls / csv) to export the timesheet data.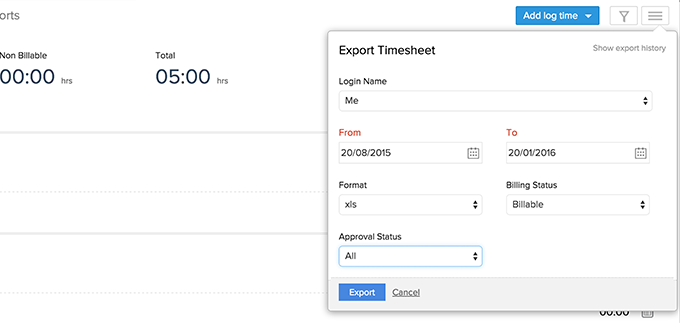 Note:
You can also export timesheets as pdf using the Export to pdf option. And you can also choose Create Invoice to create an invoice.
Related Topics