Online Group Chat
Zoho Projects lets you create online group chat anytime enabling your team to collaborate instantly. It can be done by creating a chat topic, inviting project users for discussion, sharing your thoughts and getting quick feedback that lets you generate timely solutions. Initiation of a chat elevates the efficiency of teamwork. Conversations can be archived and retrieved in the future for reference.
Benefits of Chat Rooms
Stay away from the cluster of emails that deluge your inbox
Generate quick conversations and collaborate effectively
Share feedback and generate quick solutions
Save your chat transcripts for future reference

Facilitate team communication and enhance knowledge sharing among groups

Create Private or Public Chat
Create topics, discuss and make decisions faster with the inbuilt chat rooms in Zoho Projects. Start interacting with your colleagues on different topics. You can create private or public chat based on your business requirement. Creating an interesting chat topic can build team conversations. So, never forget to give it an interesting title.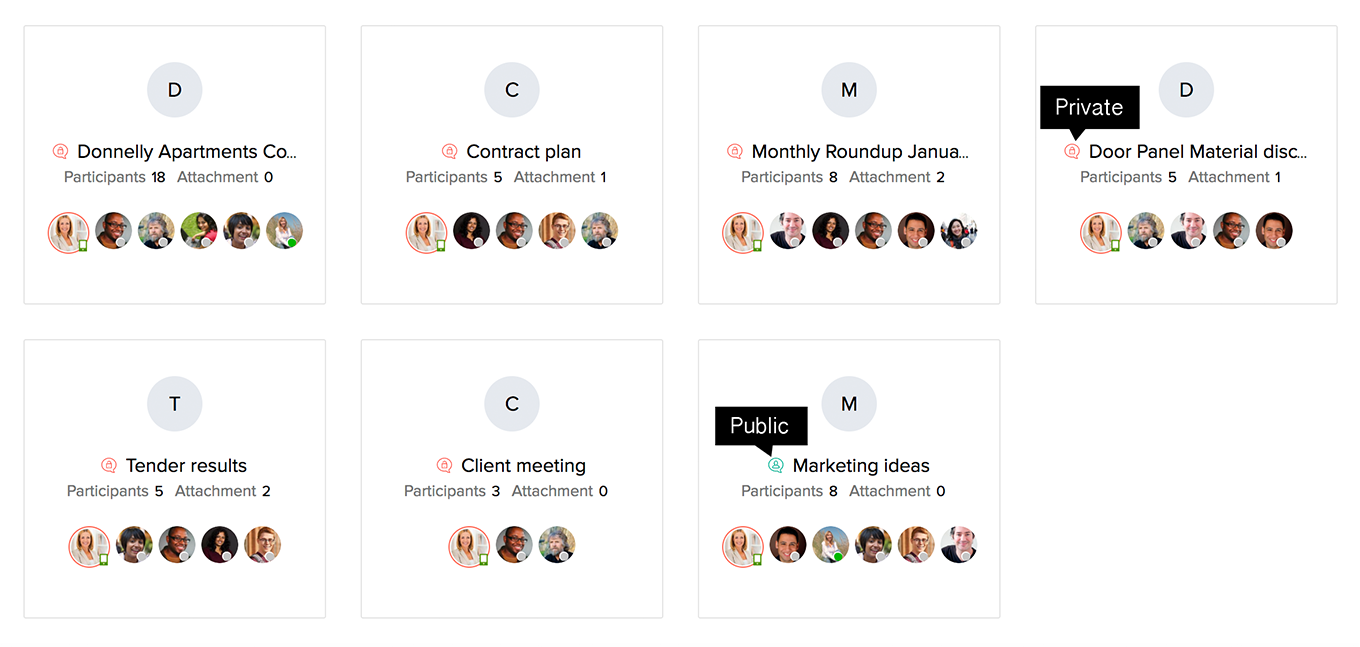 Brooklyn working for the project 'Marketing in 2017' and her team are asked to come up with innovative ideas for advertising their product in the target market. How can she develop ideas? Self-generated ideas are great but when it's a team effort, you'll get various ideas. Now, she creates a private chat room in Zoho Projects and names it as 'Advertising ideas?". The benefit of private chat is where you can involve only the selected members from your team and discuss topics. Now, her chat room has a deluge of ideas which she can target for this year. 
Now create your own topic and invite members to share their ideas.
Create New Chat Topic
Navigate to Projects and select your project.
Click Chat from the left menu.
Click New Chat Topic in the upper-right corner.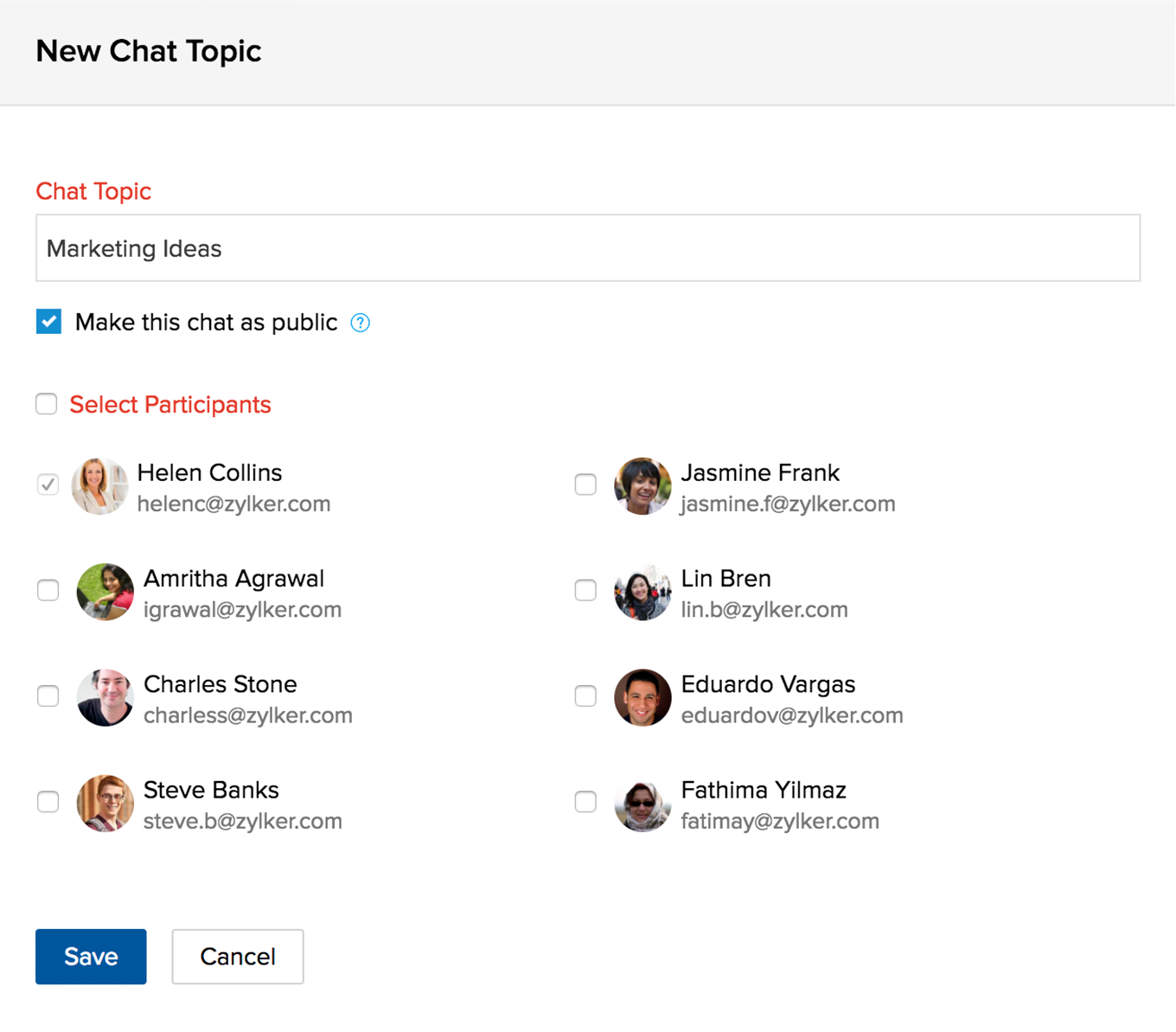 Note:
You can create new chat topics from two views: Grid and List view.
Edit / Archive Chat Topic
You can edit only the chat topic created by you and not by others. In Chat, click the chat topic to open and then hover over the name of the chat topic in the right panel, to enable the
and  
 . You can archive the chat topic created by you and also download the chat if required.
Note:
You can filter all the chat rooms by clicking the other actions in the upper-right corner. 
For each project, there is a default chat room created with an asterisk

*

Public chat rooms are displayed with green status and private chat rooms with red status
Invite Participants
Chat is a platform where you share opinions with your teammates and welcome new ideas for the upcoming tasks etc. You need a group of people to discuss on the topic, so adding participants to your chat group brings in active conversation. You can invite users from your project to your chat group and converse about the next project goals, tasks, and milestones to be reached. This way, you can collaborate effectively to get work done on time.
You can add participants to an existing chat topic.
Select and click open the required chat.
Click  in the upper-right corner, and then click the Add Participants box to display other participants and choose the required participants.
Click Submit to add the participants.

The participants view, list all the participants of a particular chat session.
Note:
Green indicates the member is online, while Gray indicates the member is offline. Orange indicates that the member is idle.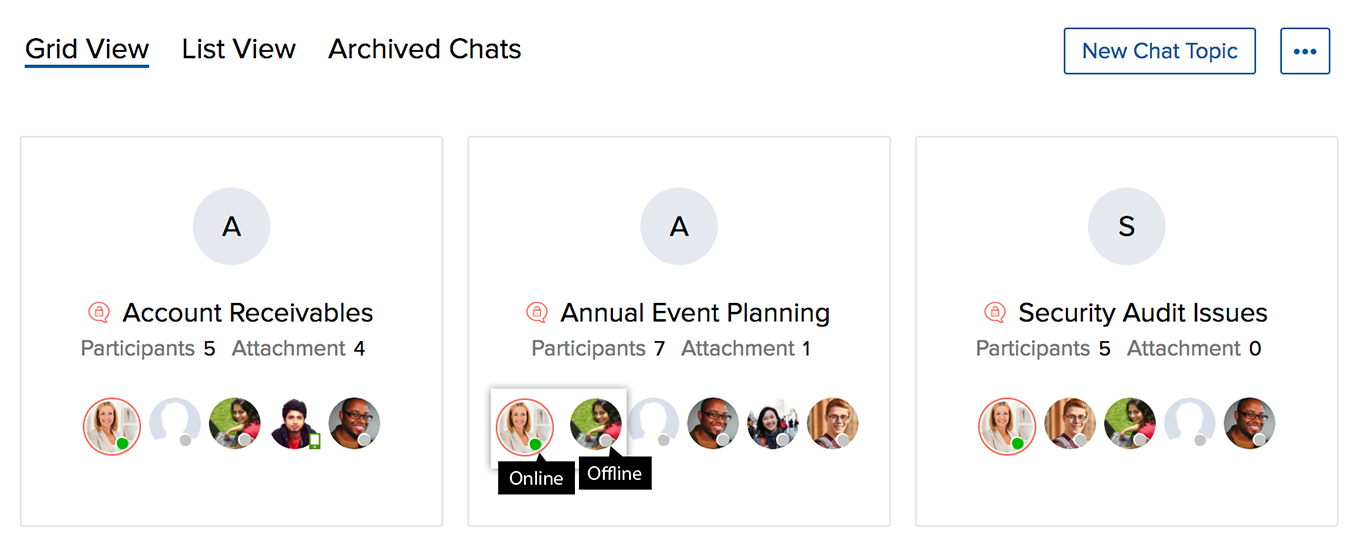 Attach Files in a Chat
While chatting with a member or a group you may wish to attach files like images, documents etc. Click Chat and then select to open the required chat room. Click Attachment and start uploading your files. You can view all the files attached by your team members for a particular chat session in Attachments. And, you can take live screenshots and attach it to your chat conversations. Just click 
 and capture your screens to share it on-the-go.