Activate Android Mobile App for Users
In order to use the application from you Android, you need to first purchase the Mobile Edition for your Zoho Projects account and is available for all paid plans of Zoho Projects.
Note :
The Portal Owner is the one who can purchase the Android Mobile Edition for your project portal.
How to activate Android App for your portal?
1 : Log in to your projects account from your desktop. Click Upgrade / Billing tab in My Home. Scroll down to the bottom to find Android Add on tab.

2 : Now click Purchase iPhone Addon License link and this displays the purchase wizard. Now select the No of iPhone licenses and it is $3 per user/ month. If you purchase 3 licenses the total cost to be paid is $9 and click Submit button.
3 : This redirects to Android User Activation wizard. Here select 3 users from your team to grant access and click Submit button. This activates mobile access for those 3 project users.
4 : If you wish to buy additional licenses, then click Purchase Android Addon License link and this displays your existing license details. Here select the extra licenses to be purchased and the page reload to shows you the actual cost. Now click Submit redirects to iPhone User Activation page to grant access for your team.
For Example: If you had already purchased mobile licenses for 3 users and wish to purchase additional licenses for 3 more users then the total amount to be paid is $9 + $9 (for extra 3 licenses) and this adds upto $18 for 6 users.
Note: You can activate any number of users based on your project needs.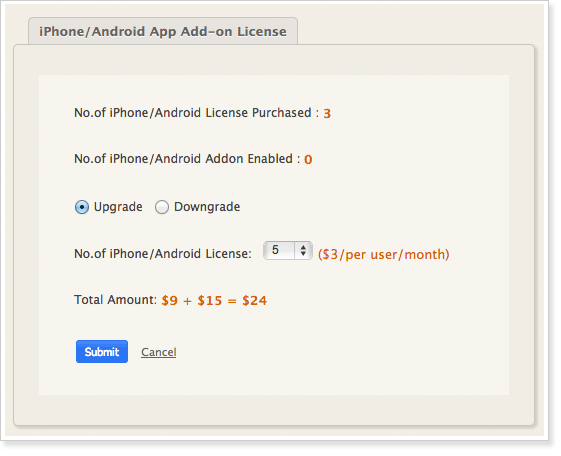 Note: When you install Zoho Projects, by default 15 days free trial is automatically enabled for your portal.