Zoho Desk Integration
When you integrate Zoho Forms with Zoho Desk, you can add tickets directly to your Zoho Desk account each time someone submits your form.
Table of contents:
Overview
By integrating Zoho Forms with Zoho Desk, you can convert form submissions to support tickets in your desk portal when someone submits a form. Zoho Forms for Zoho Desk lets you collect queries from any medium through responsive forms and consolidate them under one portal in Zoho Desk, where your support team can collaborate and assist customers. ​
Setup
The integration setup involves mapping Zoho Forms' fields to the relevant fields in Zoho Desk portal. 
To integrate Forms with your Desk portal,
After building your form, click the Integrate tab on your form builder.
Click Zoho Desk and then Integrate.
Choose a desk portal to integrate your form and select a department.
Map the mandatory fields in Zoho Desk to the relevant fields in Zoho Forms.
To add more fields, click Add Fields.
Once the field mapping is done, you can draft a description by including the data from your form. This description will appear as a message in Zoho Desk. 
You can also send form attachments to Zoho Desk by enabling the option under the Attachment section.
Once you are done with the setup, click Integrate to save your settings.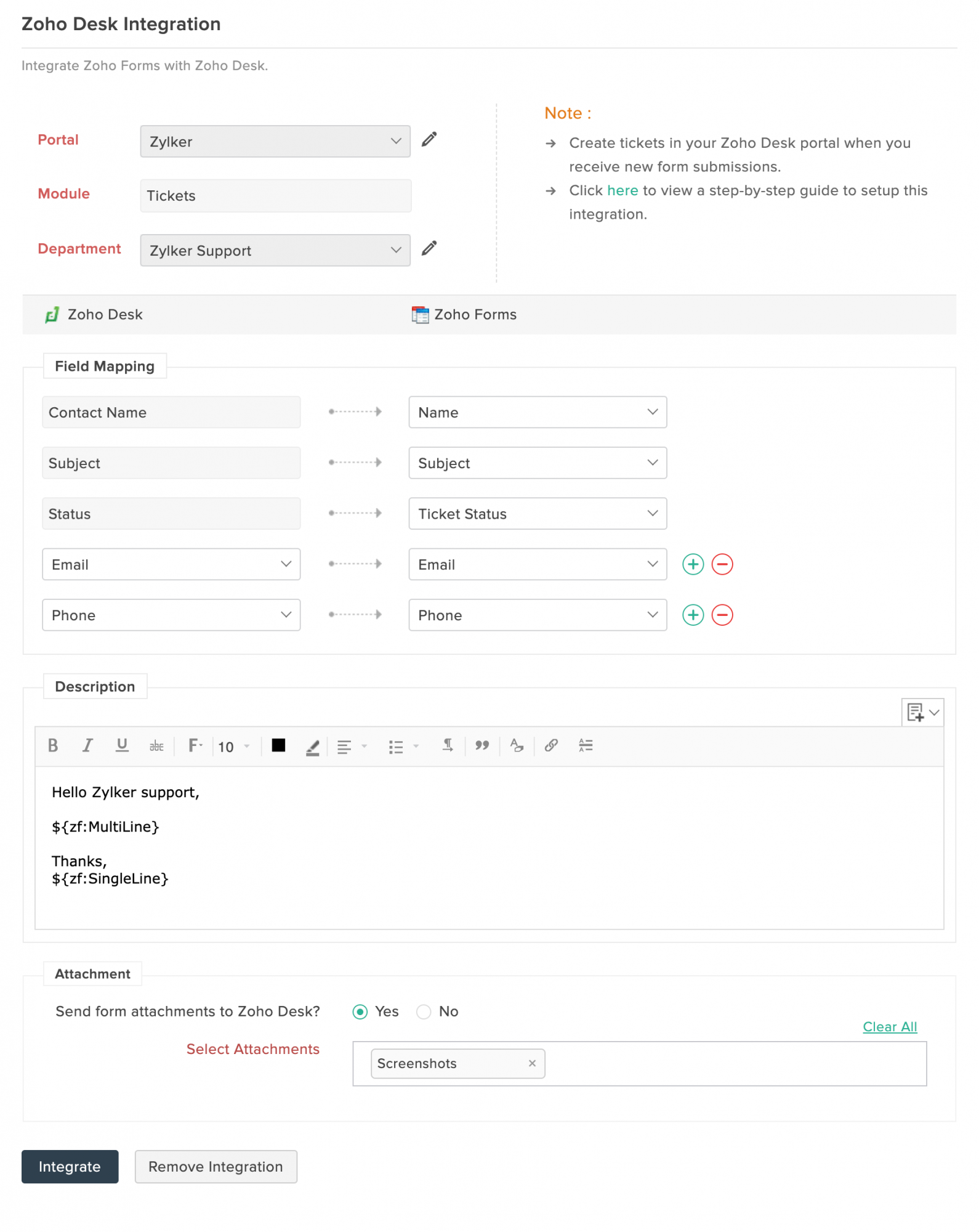 Supported Field Types
These are the Zoho Forms fields that can be mapped with the respective fields in Zoho Desk. 
S. No
Desk Field
Supported Form Fields
1
Single Line
Single Line, Multi Line, Name, Address, Phone, Email, Website, Unique ID, Dropdown, Radio, Multiple Choice, Checkbox, Matrix Choice, Image Choices, Number, Decimal, Currency, Slider, Rating, Formula, Date, Time, Date-Time, Referrer Name, IP Address, Terms & Conditions, Added Email ID, Submitter's Location, Submitter's Latitude, Submitter's Longitude
2
Multi Line
Single Line, Multi Line, Name, Address, Phone, Email, Website, Unique ID, Dropdown, Radio, Multiple Choice, Checkbox, Matrix Choice, Image Choices, Number, Decimal, Currency, Slider, Rating, Formula, Date, Time, Date-Time, Terms & Conditions,  Submitter's Location, Submitter's Latitude, Submitter's Longitude
3
Email
Email, Added Email ID
4
Phone
Single Line, Phone
5
Pick List
Single Line, Dropdown, Radio, Matrix Choice, Name - Salutation
6
Multi Select
Multiple Choice, Checkbox, Matrix Choice, Image Choices
7
Date
Date, 

Single Line

8
Date-Time
Date-Time, Single Line
9
Decimal
Decimal, Number, Formula, Submitter's Latitude, Submitter's Longitude
10
Percent
Decimal, Number, Formula, Submitter's Latitude, Submitter's Longitude
11
Currency
Currency, Number
12
Integer
Number, Slider, Rating
13
Checkbox
Decision Box
14
URL
Website