Summary Report
Table of Contents
Overview
A summary report displays each record in detail, as shown in the screen-shot below. The records are arranged in rows and columns.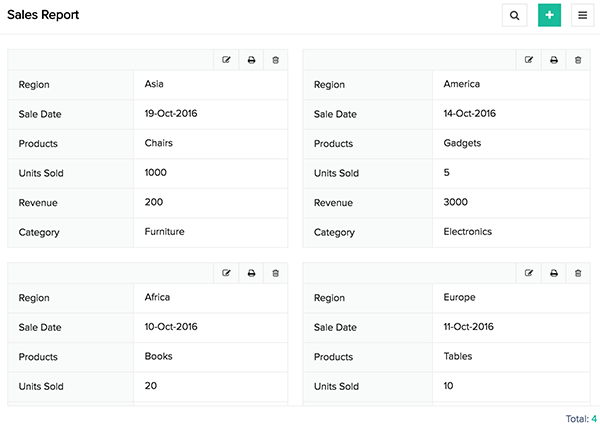 Creating a Summary report
Select the Create New -> Report option. The dialog to create the new report will be displayed.
Select the Report Type as Summary.
Specify the Report name . The Report name is the name displayed in the report header and the view link name is the name displayed in the URL while accessing the report. For example, if the report name is Summary report, the view link name will be http://creator.zoho.com/zchelp/summary-report/#View:Summary_report. The link name is also used internally in Deluge Script.
Select the Form based on which this new report is to be created.
Place this report under: If you have created sections under which the existing forms/reports are to be displayed in Live Mode, all the existing sections will be displayed here. Select the section under which the new report will be displayed. If no sections are created, the report will be placed under "Home". Refer the topic, Layouts for more information.
Click Create to create the report. The new report named Summary report is created as shown in the screen-shot below.

You can make the required configurations to this report using the options displayed on the left-side tree. Each option is explained in separate topics as listed below:
Adding, Editing and Deleting Records
The application owner can Add, Edit and Delete records from a summary report. Shared users can Add, Edit or Delete records in the report only if access permission is provided by the application owner.
To add a new record, click on the +(Add) icon on the top left. The Add Record dialog will be displayed to add a new record to the form.

To Edit an existing record click on the Edit icon displayed in the record header. The Edit Record dialog displays the record with its current values. Modify the required values and click on the Update button.

To delete an existing record, click on the Delete option placed in the record header. Zoho Creator will display a confirmation dialog before actually deleting the record. Click OK to delete the record or Cancel to come back to the report.
Managing a summary report
Once created it is easy to manage a summary report while it is displayed on your screen.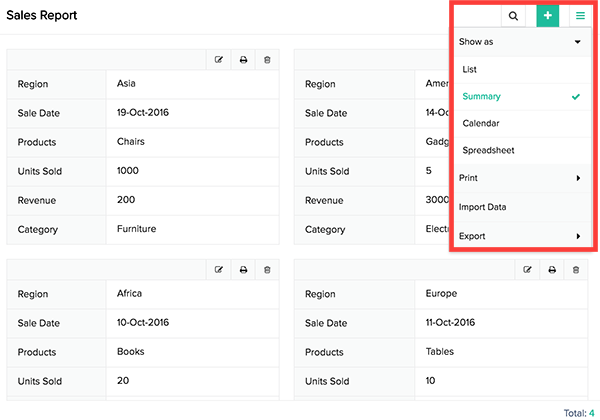 The app owner/user can,
Change the display format of the report
Export data in different formats
Show/hide columns in the report
Create personalized reports by saving the changes made to the report as a new reports.
Print data.
In addition to the above actions, the app owner can perform the following actions:
Import data to the report
Get the report permalink
Embed the report in his website/blog.
All this can be done right from the summary report that is displayed on the screen. The app owner need not go back to the Report tab to make these changes. To modify other type of reports or to use the other features like setting criteria etc., you need to make the changes from the Report tab. Shared users can create personalized reports by saving the changes made to their report as a new reports . Read How