Overview
The "Users" field type displays the list of the application users. It is useful for applications like Support Manager, where a particular request raised by a customer needs to be assigned to an agent who is present as a user in the application. The image below displays the "Add Request" form with the "Users" field named as "Agent"
Note
This feature is available only for new accounts created after April 2014. We are currently working on migrating the old accounts to support this feature. Please contact support@zohocreator.com for any clarifications.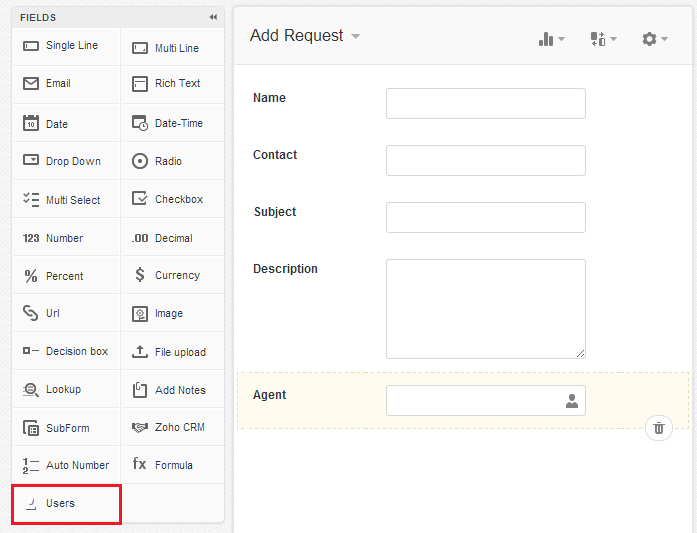 When the form is accessed by a user, he can choose the agent to whom he wants to assign a particular customer request. This is shown in the image below.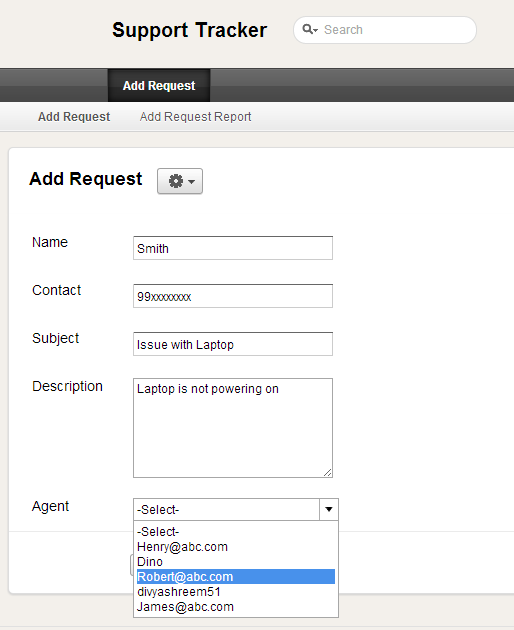 Configuring a Users field
To configure the "Users" field, drag and drop the field on the form or simply double click on the field. Once the field is placed in the form, the field name can be changed from the field properties.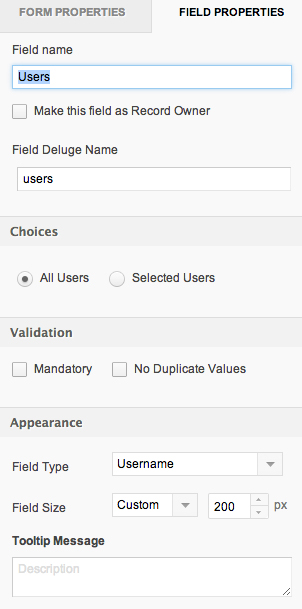 Make this field as Record Owner - This feature, when checked, assigns the selected user in this field as the record owner. Only users who are assigned a higher role than the record owner can view this record. Suppose there are three assigned roles - CEO, Manager and employee. If the Manager is selected as the record owner, then only the CEO can view this record and the employee cannot.
You have the option to display all the users of the application or only the ones you want to display. To display the list of all the users, select "All Users" and to display only selected users, select "Selected Users" and choose from the list of available users.
The Users field will display the names of the users or the email id of the users based on what you have selected in the field type in the field properties. "Username" displays the Username of the user and "Email Id" displays the Email Ids of the users.
Set a small, medium, big or a custom field size based on your requirement. Custom allows you to choose a particular size for the field from a list of options.
Script Settings at the bottom, allows you to set the field deluge name, that can be used while writing scripts for the application.