Status and Workflow for bugs
Configure the status for bugs like Open, Closed, Assigned, Resolved, Verified, Reopen, In Progress and so on. You can configure status and workflow for bugs based on your project requirement.
Add a new status
You can create a new status and workflow for the bugs based on your project preference. In Projects, click Bugs and choose Bugs Settings. And in Customization choose Status & Workflow.
Click the Plus icon at the top right corner to add a new Status & Workflow. Specify the status name, type and the workflow for the status.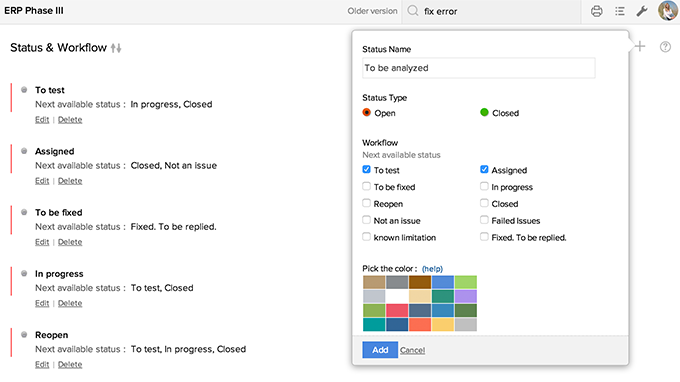 Modify a status
You might sometimes want to change the status workflow for a bug or simply change the status name of an existing status. In Status & Workflow, click Edit to edit the required status.
Reorder status
In Zoho Projects, you can reorder the various bug status based on requirement. In Status & Workflow, click Reorder Status to reorder the status.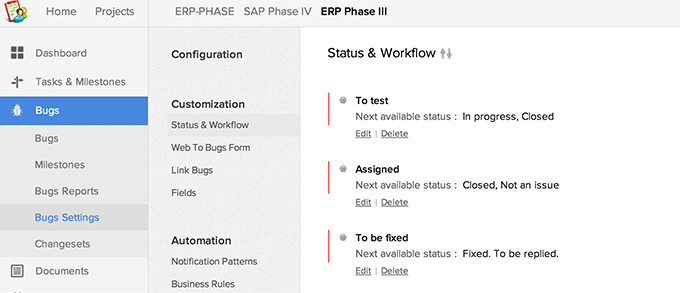 Drag and drop the status as required and then click Save Order to save the new status order.
Delete status
You can delete any existing status of bugs, if required. However, you must move the bugs to other appropriate status before deleting a status.
In Status & Workflow, click Delete to delete the selected status. A prompt message to move the total number of bugs from the current status to any other available status is displayed.

Select the desired status to move the bugs before deleting and delete the status.

Related Topics