Zoho Books - Zapier Integration
What is Zapier? How does the integration help?
Zapier is a web-based service, which helps you automate processes between two different apps.
For example, here's a scenario. You wish to add a new contact in Zoho Books, whenever a new customer is added in your Magento account, but you're already juggling a lot of things.
With the Zoho Books - Zapier integration, you can create a Zap between Magento and Zoho Books. All you have to do is set up the trigger and the action, and Zapier does the rest for you. This will happen everytime a new customer is added in Magento.
This is just one of the endless scenarios made possible by the integration, so that you can focus on other pressing tasks.
Here's a quick list of the things you will be learning in this document:
Getting started with Zoho Books on Zapier
From the list of apps provided, choose Zoho Books as your trigger or action app.
Choose the required trigger/action and hit Yes,continue.
Click on +Connect a new account and it will direct you to a screen where you will have to enter the Auth Token.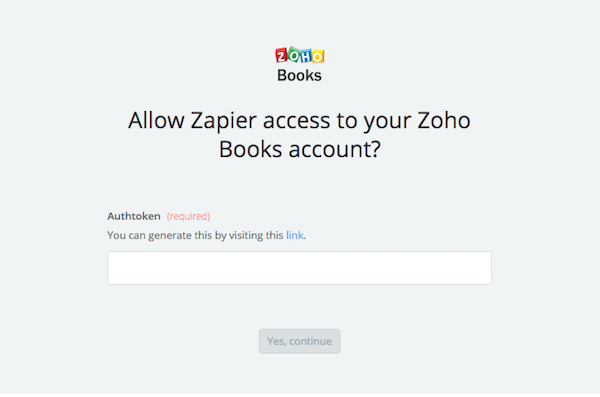 You can generate an auth token by clicking on the link provided in the same screen.
Enter the auth token provided and you will be connected to your existing Zoho Books account.

Click on Yes,continue to complete the setup.
When you integrate with Zapier, an API will be called and the corresponding organization details will be shared with Zapier. The API corresponding to the Zap you've created will be called as well.
Supported triggers for Zoho Books
New Contact - Triggers when a new contact is created

New Sales Invoice - Triggers when a new invoice is created

New Item - Triggers when a new item is created

New Expense - Triggers when a new expense is created

New Estimate - Triggers when a new estimate is created
Supported actions
Create:
Create Contact - Creates a new customer

Create Sales Invoice - Creates a new Invoice

Create Item - Creates a new item

Create Estimate - Creates a new estimate
Search:
Find Invoice - Finds an existing invoice
Scenarios
Here are a few scenarios wherein the integration comes in handy:
Scenario 1:
Bob is the Customer success manager at Spectre Corporation, a web design company. He wants to add new customers from his Zoho Books account, as subscribers to his MailChimp account, so that he can send them promotional emails about the latest offers. To do this he should create a Zap with the following trigger and action:
Trigger - New contact (Zoho Books)
Action - Add/Update subscriber (MailChimp)
Scenario 2:
Regina is the Head of Logistics at Blossom Flowers, a small and blooming startup that sells printed clothing. She wants to add a new row to her Google sheet, whenever a new item is added in her Zoho Books account. So she should create a Zap with the trigger and action as follows:
Trigger - New item (Zoho Books)
Action - Create spreadsheet row (Google Sheets)
Now you are fully prepared to Make a Zap!
Deleting a Zap
When you feel that you don't need a Zap anymore, you can delete it by following these simple steps:
In the Dashboard of your Zapier account, you can find the list of all your Zaps as shown below: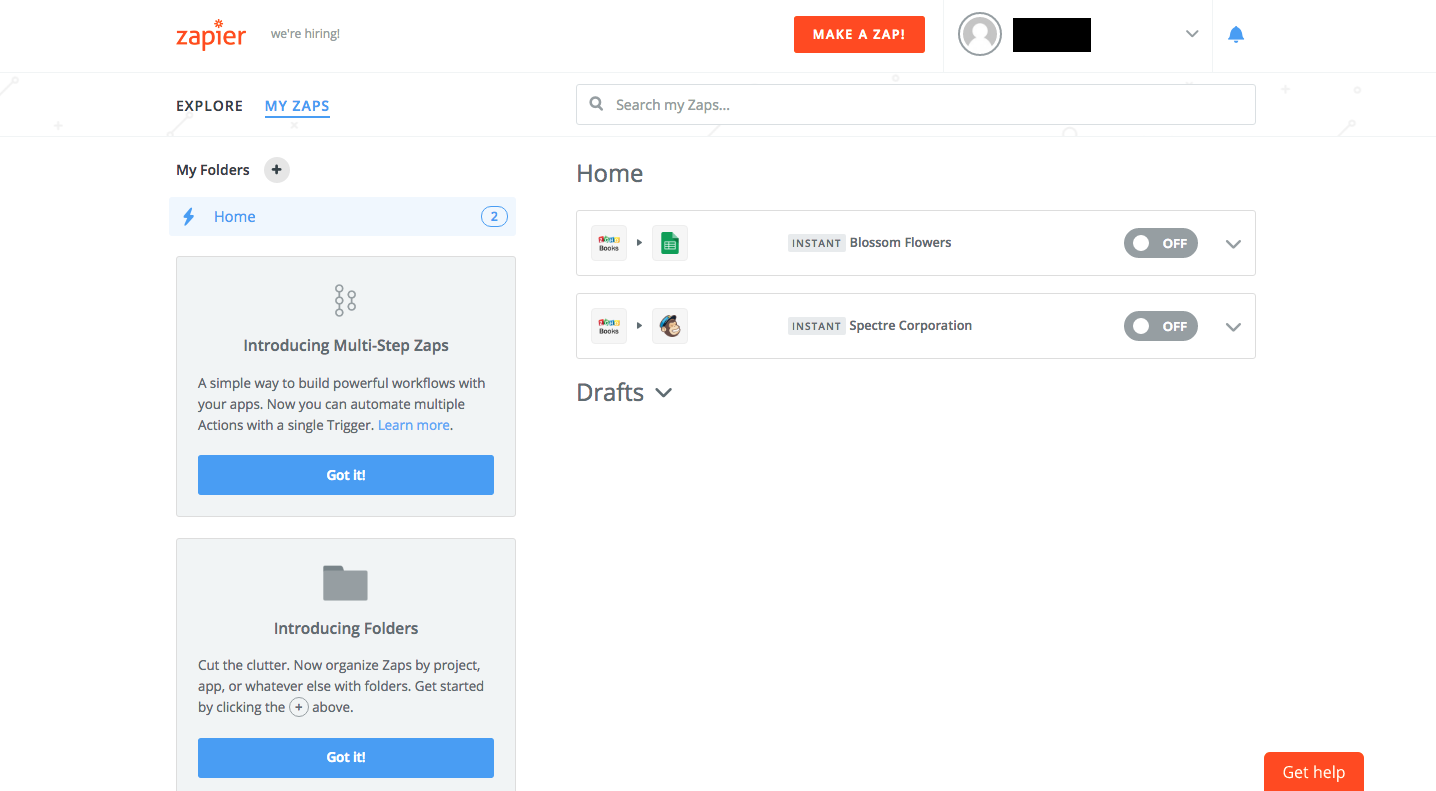 Click on the drop-down button on the Zap you wish to delete.
Feel like you are ready? Get started with these pre-defined Zaps!