Bills
What is a bill?
When your vendor supplies goods/services to you on credit, you're sent an invoice that details the amount of money you owe him. You can record this as a bill in Zoho Books and track it until it's paid.
Creating a bill
To create a bill in Zoho Books:
Go to the Purchases tab on the home page. Scroll down to Bills.
Click the '+' or + New button.
Enter the required information such as the bill number and vendor towards whom the bill is payable.
Click Save as Draft or Save as Open.
Alternatively,
Go to the Contacts tab and select the vendor to whom money is owed.
Click on New Transaction -> Bill.
Enter the required details and click Save as Draft or Save as Open to create the bill.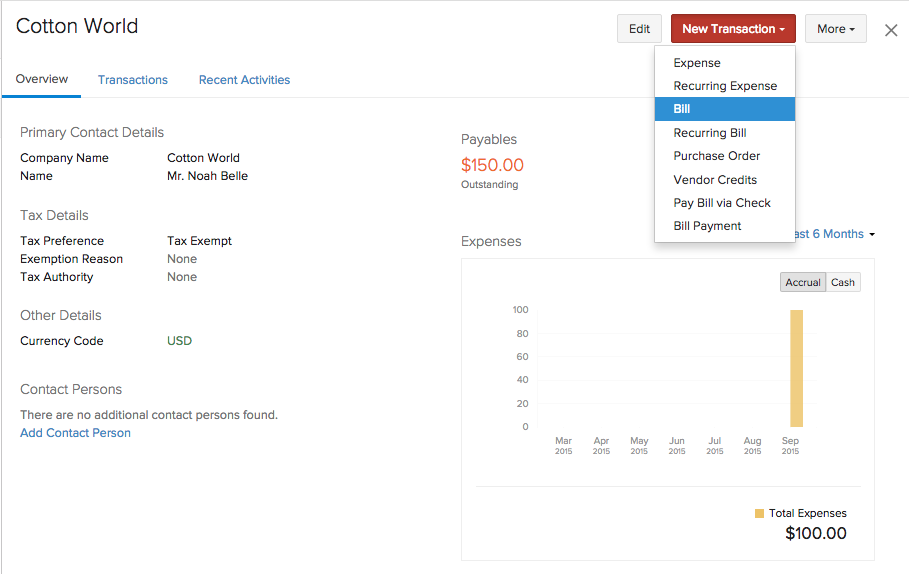 From Purchase Order
A purchase order that is in the open status can be converted to a bill by opening it and selecting the option Convert to bill. All the details such as the vendor name and items list will be autofilled.
Recurring Bill
A recurring bill represents money owed to a vendor on a periodic basis, and recording it can be automated in Zoho Books. An example of such a bill would be the monthly charges you owe your internet vendor.
To create and automate a recurring bill,
Go to the Purchases tab on the home page of Zoho Books, and scroll down to Recurring Bills.
Click on the '+' icon.
Provide the required information such as vendor name and recurring frequency and hit Save.
You can also make an existing bill recurring by clicking on it and selecting More -> Make recurring. Enter the required information and hit Save.
Bill Payments
Recording from bill
You can record a bill payment by opening the bill and selecting the option Record Payment. You're required to fill in the details of the payment, such as the amount and date etc. Once you save the payment, the status of the bill changes to Paid or Partially paid accordingly.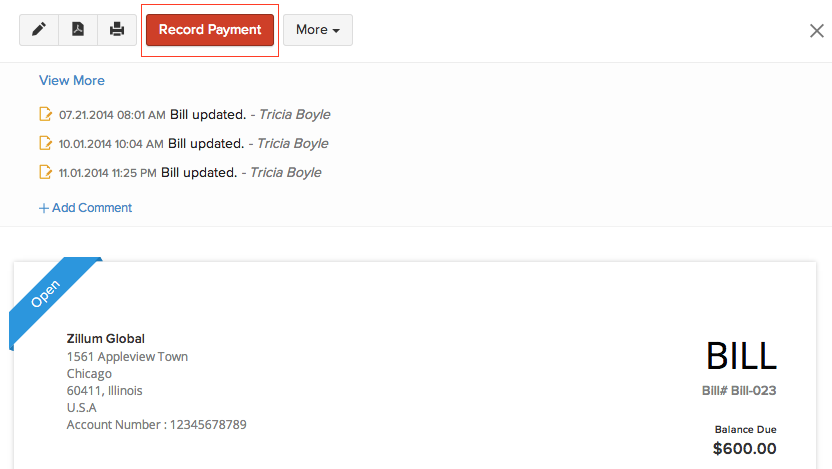 Applying vendor credits
You can create and apply a credit you've received from a particular vendor on a bill that is in his/her name. The credit amount you're owed is subtracted from the bill amount accordingly.
Learn how to do this.
Associate customers to bills
You can associate customers to line items in the bill and mark them as billable by clicking on the
icon. If an item is marked as billable, the next time you create an invoice for that customer the number of unbilled bills will be displayed and you can choose to add them to your invoice.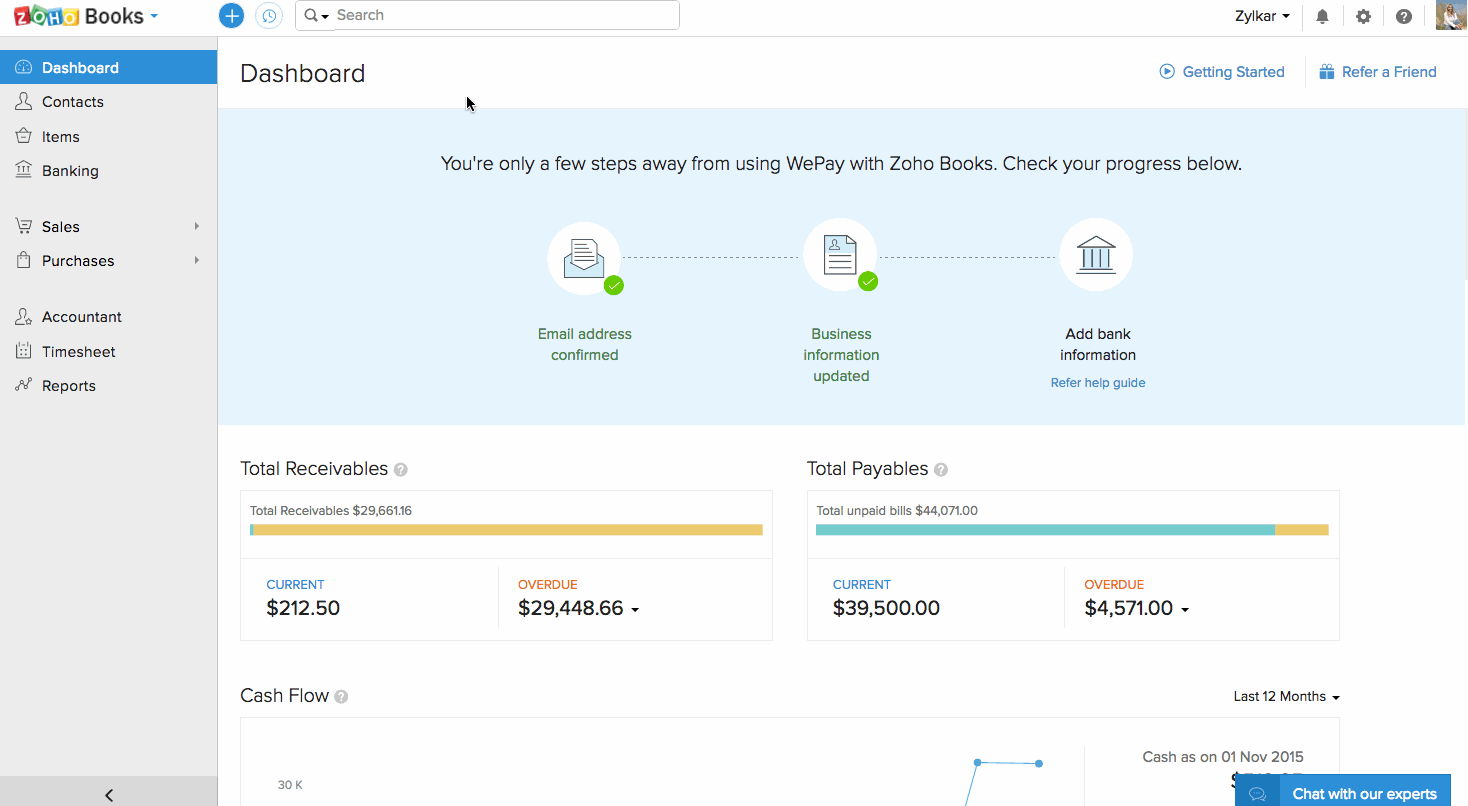 Bill Status
The status of your bills can be viewed from the Bills tab drop down as shown below,
Draft - The bills that you've saved as draft will be in the Draft status. Bills in draft status will not have any impact in accounts, inventory or reports.
Open - The bills that you've saved as open and are yet to be paid will be in Open status.
Overdue - The due date for these bills has passed and payment needs to be made promptly, probably with an overdue penalty if levied by the vendor.
Partially Paid - A portion of these bills have been paid and the remaining amount is outstanding.
Paid - These bills has been completely paid.
Unpaid - All your outstanding bills, whether Open, Overdue or Partially Paid.
Void - These bills have been made redundant.
Other Options
Void - You can void a bill by opening it and selecting More - Void. The note will be rendered invalid. This action can be reverted by selecting the void bill, clicking the More - Convert to Draft.
Delete - You can delete a bill by opening it and selecting More - Delete.
Edit - You can edit a bill by opening it and clicking on the pencil icon in the top left corner
Print - You can print a copy of a bill by opening it and clicking on the print icon in the top left corner.
PDF - Download the bill in portable form by simply opening it and selecting the* PDF* icon in the top left corner.
Payments Made
The payments you make on your bills in Zoho Books can be viewed under the Payments Made tab.You can also view the payments you've made by going to the Bills tab. Open a Paid bill and scroll down to view the payment details. These can also be edited or deleted from here. Clicking on the payment number # directly opens the receipt in the Payments Made tab.

Note: Payments can also be made via checks. You need to associate atleast one bank account to enable receiving payments through checks. Click here to know more about checks in Zoho Books.
Once you make an online payment or manually record one in Zoho Books, the corresponding receipt will be displayed in the Payments Made tab. Learn more
---
Make online payments through ACH
Zoho Books offers ACH payments via Forte, a payment gateway that specializes in ACH payments. ACH is a secure payment transfer system that connects all US financial institutions. This facility will allow you to make vendor payments directly from your bank account.
The following are the requirements for making ACH payments,
You must be a US based merchant.

You need a payment gateway that supports ACH payment.
To use ACH facility, you will first need to setup Forte as the default payment gateway on Zoho Books.
Setting up a bank account for ACH Payments
Step 1:
Go to the Bills tab. Select the bill for which a payment needs to be recorded. Click on the Record Payment drop-down and select Pay via ACH.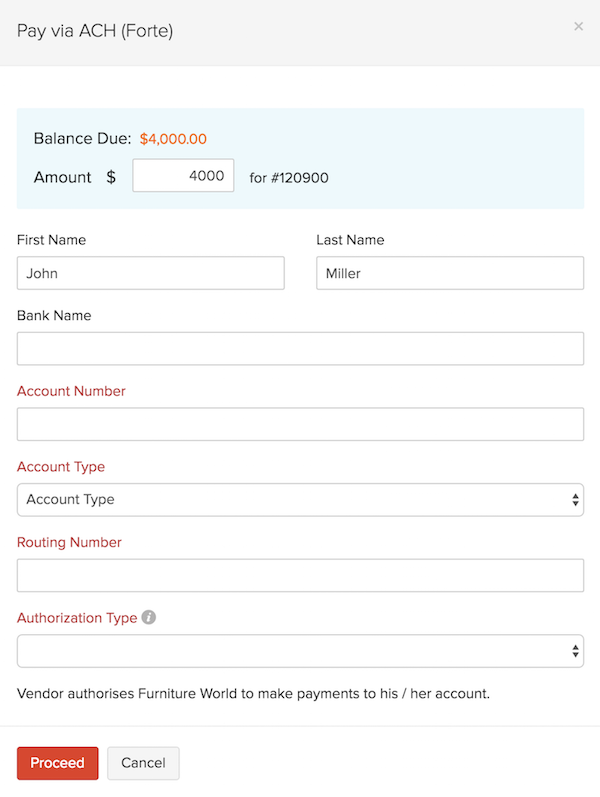 Step 2:
You will be asked to enter the Bank Account Details. Enter your bank account details. Account number, Account type and Routing number are mandatory fields to configure the bank account.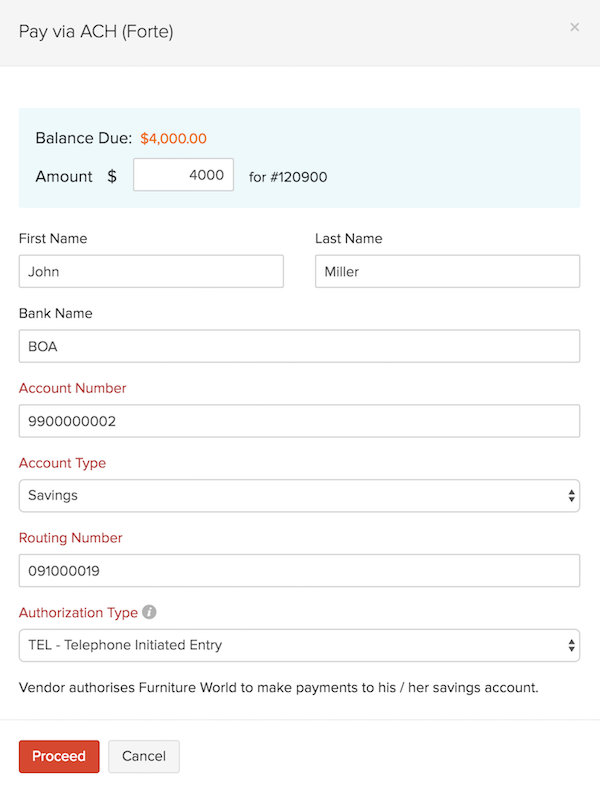 Choose the Authorization type and click Proceed.
Note:
You can add the bank account details of a vendor from the Contacts section. Click on a vendor and, in the contact details page, select Add Bank Account from the More drop-down.
You can check the status of the payment in the Payments Made section under the bill. If the payment was unsuccessful, the payment will be deleted and the status of the bill will be changed to Open.

Custom Views
Custom Filters are specific views to list your bills, based on your criteria.
For example, out of all your bills in Zoho Books, you might want to view those bills that are greater than $2000.
With Custom Views, you can simply create this filter. All you have to do is set criteria and later use it to classify data.
You can find an example GIF image to understand how custom views work.
To create a Custom View:
Go to the Bills module.
Under the All Bills drop down, present at the top left, select + New Custom View.
In the following page, give an appropriate Name to your view, define Criteria, Column Preference (i.e. columns which you want to see in the filtered results).
Click Save.
Your new custom field will now be listed under Created By Me, in the dropdown.
Note: Custom views can be created for both Bills and Recurring Bills.
---