Plans for Zoho Books
After you sign up for Zoho Books, you can start using the product in your 14-day trial period. After your trial is over (or even during your trial), you can subscribe to any one of the paid plans to continue using Zoho Books. Plans can be selected on a Monthly or Yearly basis.
In this page…
Plans
We have three subscription plans for Zoho Books.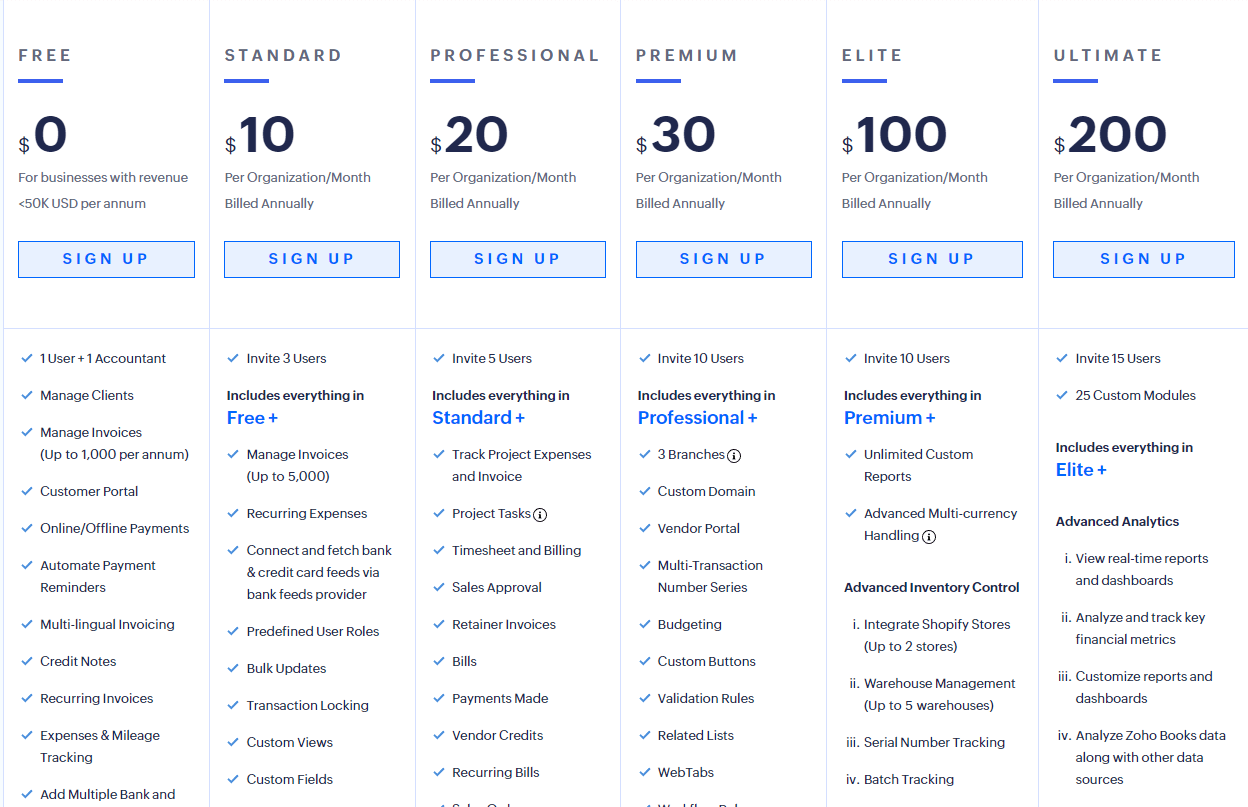 Basic
The Basic plan meets the basic accounting needs of a small business. You can add upto 50 customers or vendors (active and inactive) and have 2 users for an organization.
Standard
The Standard plan is built and designed for small to medium sized businesses with additional features of customization. You can add up to 500 customers or vendors (active and inactive) and have 3 users for an organization.
Professional
The Professional plan offers end-to-end accounting with automation and customization features. It is designed to cater to the needs of large businesses. You can add unlimited customers or vendors and have 10 users for an organization.
More users can be purchased for all plans as add-ons in Zoho Books.
---
Pricing
To know more about the pricing for each plan, visit our Pricing page.
You will come across the following terminology in the pricing page:
Contacts
Customers or vendors that you're going to add in your Zoho Books organization.
Users
Users who have access to your Zoho Books organization. The admin can assign different roles to users.
Automated Workflow
A set of rules you add in Zoho Books by which different processes can be automated.
Document AutoScan
You can auto-scan a receipt to while recording an expense. Details such as the expense date and amount will be automatically captured in the bill from where they can save it.
Note
During the trial period, you'll have access to the Professional plan of Zoho Books.
---
Next >
Upgrade Your Account
---
Related