Payment History
All the payments that you make for your subscription can be viewed in the Payment History section.
To view all your transactions:
Go to Settings on the top right corner of the page.
Select Manage Subscription under Organization.
You'll be redirected to Zoho Store. Click Your Store Details in the top right corner of the page.
Select Transaction History.

You'll be able to view all your transactions along with the Date, Plan Type and Amount Paid. You can download a PDF of the transaction by clicking the icon next to it.

You can filter your transactions based on the purchases, upgrades, renewals and the downgrades of your subscription. To do so, click the All drop-down below transaction history and select the filter to be applied.
To filter your transactions for a certain period, click Filter by Period and select the time period of your choice.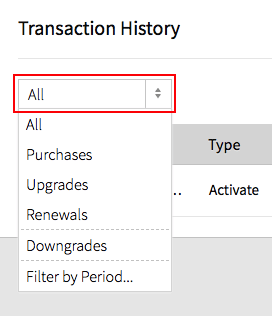 The search bar in the top right corner allows you to search and view transactions based on the Product/Transaction ID. Enter the the ID and click search to view the matching records.
---
Related