VAT in Purchases
VAT is included in both the sales and purchase transactions of your business. There are different methods in which VAT is calculated on purchases, according to the region and the VAT treatment of your vendors. In Zoho Books, the VAT treatment of your contact is taken into account and the VAT associated with the item is automatically populated.
Purchases Within the UK
For creating a purchase (Bills, Expenses, Purchase Order) transaction that is within the United Kingdom,
Select the vendor whose VAT treatment is for the United Kingdom.
Add the item for which you are creating the purchase transaction and select the VAT amount.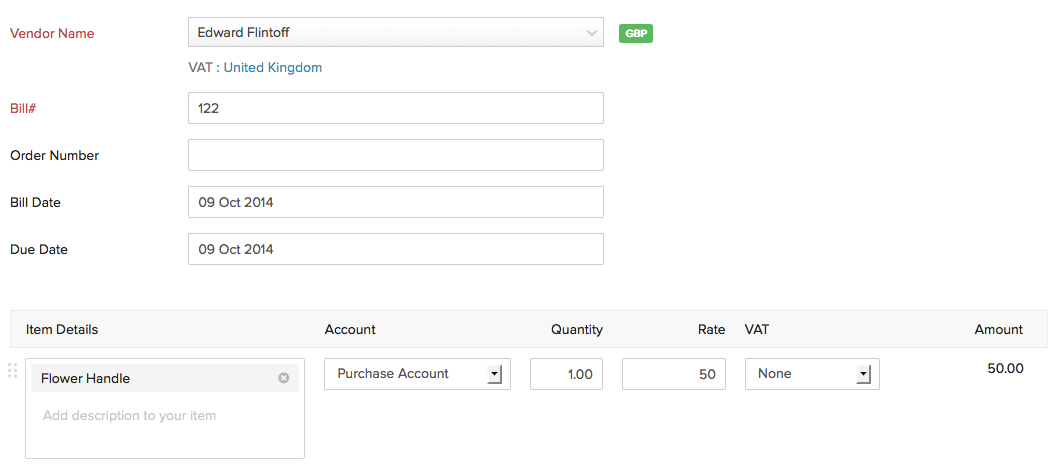 Purchases from Outside UK
For purchases that are from outside the UK, labels will denote whether its goods or services.
If only a service is being rendered, then the VAT associated with the service will be handled as Reverse Charge.

If you are purchasing a service in the same purchase order where goods are being purchased, then the service will be associated to the goods and will be labelled as Service Associated to Goods
VAT for goods and services associated with the goods are called Import VAT. This import VAT comes under Input VAT.
While creating a purchase transaction for a vendor who is from outside the UK, the VAT field cannot be edited. Thus, the import VAT cannot be added for the transaction on the bill, expense or purchase order created.
To record the import VAT, you can create a bill separately by manually calculating the VAT applicable for the goods or services purchased.
Create your bill with the VAT treatment as Overseas.
Click the More dropdown in the top right corner.
Click Record Import VAT.
Enter the Entry Number, Date, Paid Through account, etc,.
Click Save.
Purchases from EU-VAT Registered Vendors [NI Protocol]
If you're a business located in Northern Ireland and you purchase goods from a vendor who is located in the EU, then Acquisition VAT will be applied on the transaction and EU VAT rules will be followed.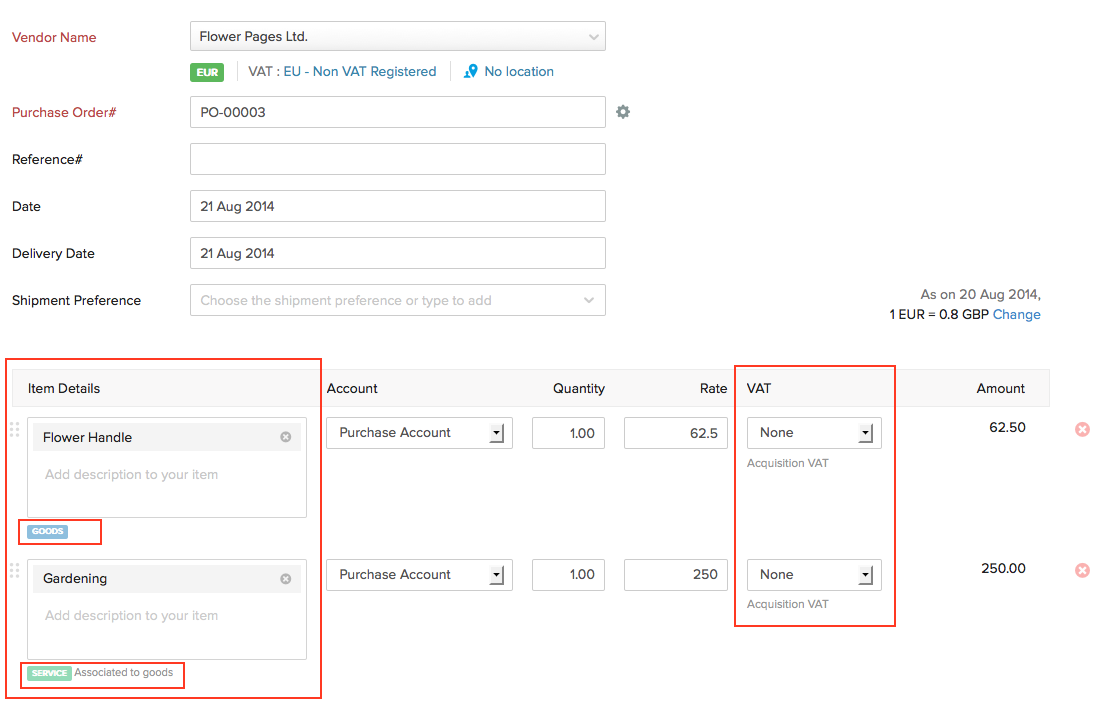 To do this you'll have to enable the NI protocol from settings. Here's how:
Go to Settings> VAT> VAT Settings.
Mark the Enable trading of goods between Northern Ireland and the European Union (NI Protocol) checkbox.
Click Save.
Once the Northern Ireland Protocol is enabled, you will have to select EU-VAT registered [NI Protocol] as the VAT treatment in the transactions.