Users
You can collaborate with your employees and accountants in Zoho Books by inviting them as users and providing role based access. Since Zoho Books is an online application, multiple users can access it and work from any location.
---
Adding Users
Zoho Books allows you to add unlimited users. To do this, follow the steps below
Navigate to Settings > More Settings > Users . Click on the Invite User button provided on the top right hand side of the Users page.

Enter Email address and Name of the user.

Choose a Role. Head to Adding Custom Roles section to know more about roles.

Click Send button to send the email invitation.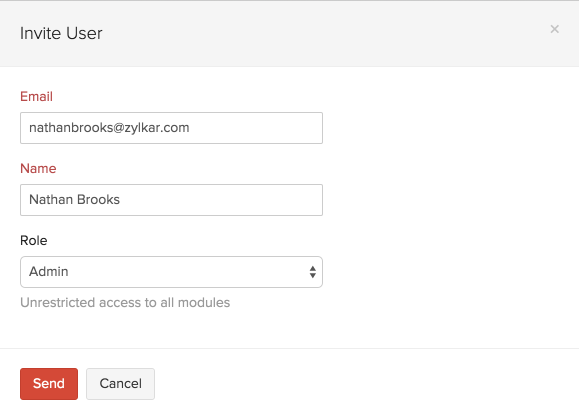 The user needs to click on the Join Account link provided in the email to gain access to the organization he is invited to.

The user can be a part of this organization by clicking on the Sign up today link provided.

In case the user is already registered with Zoho Books he can login straight away to the account using his credentials.
---
Deleting Users
To delete a user follow these steps.
Go to Settings > Users. Hover over the user you wish to delete. Click on the trash icon provided on the far right corner of the row.
A pop up window will appear to confirm if you wish to delete. Click OK to confirm.

Please Note:

Only an admin can delete users but he cannot delete an active user. An admin cannot delete his or her own account.

At any given point of time there has to be one admin.
---
Changing User's status
In circumstances where you don't want to permanently delete a user but would like to prevent or restrict a user from accessing Zoho Books, you can change the user's status to inactive. This ensures that the person is no longer able to use Zoho books but remains listed as a user. You can also reactivate a user if you want him to use Zoho Books again.
To change the user's status, follow these steps:
Go to Users under Settings. In the Users screen, hover over the row of the user you wish to reactivate or deactivate.

Click on the 'mark as inactive' or 'mark as active' button provided on the right side, in the desired user's row.

---
Adding Custom Roles
Users can access the modules based on their role. Predefined roles are:
Admin: has unrestricted access to all the modules. Usually this role is assigned to partners and accountants.
Staff: has access to all modules except reports, settings and accountant.
Staff-timesheet only: A user with this role can only log time spent on a particular project and has no access to any other modules.
You can create additional roles based on your needs. To create a custom role, follow these steps:
Go to Roles tab under Settings->Users
Create a role by clicking on the New Role button or click on the clone button to duplicate an existing role.
Configure permissions based on your needs
Click Save
Assign the newly created role to the users