VAT
Zoho Books is a completely VAT-compliant accounting application. We have tailor-made it to suit all your accounting needs for VAT in the UAE. With Zoho Books, you can:
Create & send VAT-compliant invoices.
View business reports.
Generate VAT returns (in the format specified by the FTA).
There's a lot more that you can do with Zoho Books. Let's start off with the basic configuration of VAT in Zoho Books.
Set Up Your Organization
When you are initially setting up your organization in Zoho Books, you will have to follow the steps below in order to configure your VAT settings:
Select the Business Location as United Arab Emirates.
Select the Emirate in which you are located.
If your business is set up in a designated zone, select Is your business located in a Designated Zone?.
Click Save & Continue.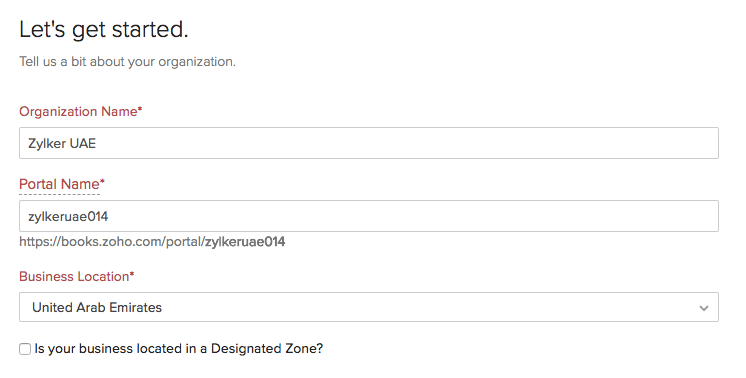 Note:
The Business Location can't be changed once you have entered it while setting up your organization.
Enter your Tax Information.
TRN - A unique 15-digit number provided to you by the FTA for tax purposes.
If you deal with businesses outside the UAE, mark the box Enable trade with contacts outside the United Arab Emirates.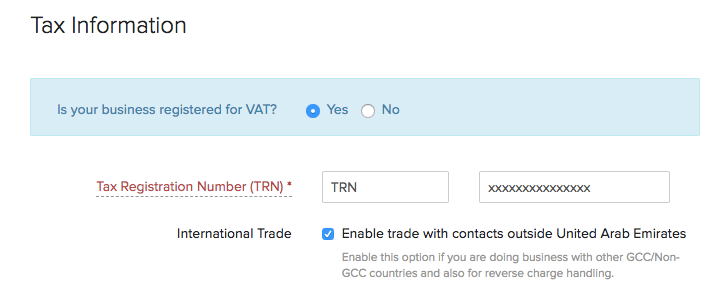 You have successfully entered the VAT details related to your organization.
---
Next:
Set Up Taxes >