Zoho Books - Zendesk Integration
Zendesk is a customer service software that facilitates quicker and easier interaction between businesses and their customers. It lets you prioritize, track, solve customer support queries, and collect customer data all from one place. Integrating Zoho Books with Zendesk will allow your customer support agent to access information of your Zoho Books customers. Information such as the customer's contact details, transactions, and invoice payments can be viewed inside Zendesk.
In this page…
Scenario: A customer has a query regarding their invoice and payment details. Your staff, i.e. customer support agent, views the query from your Zendesk account. When your account is integrated with Zoho Books, they will be able to pull all the data regarding the customer's invoice status and payment made, within Zendesk.
By integrating Zoho Books with Zendesk, you will be able to fetch:
Customer information - Customer name, billing and shipping address, email address, contact persons, currency, and phone numbers.
Invoice details - Invoice date, due date, and billed amount.
Payment details - Amount paid and amount due.
Set up Zendesk Integration
Setting up your Zoho Books - Zendesk integration is easy.
Prerequisites
Ensure that your customer support agent is a user in your Zoho Books organization.
Your customer support agent should have access to your Zendesk account which has Zoho Books integrated in it.
You can integrate Zoho Books with Zendesk in a few simple steps. Here's how:
Log in to your Zendesk account.
Click Settings in the sidebar of your Zendesk homepage and select Marketplace.
Type Zoho Books in the search bar and select Zoho Books.
Click Install to integrate Zoho Books to your Zendesk account.

In the page that follows, select the Zendesk account to which you would like to install Zoho Books, and click Install.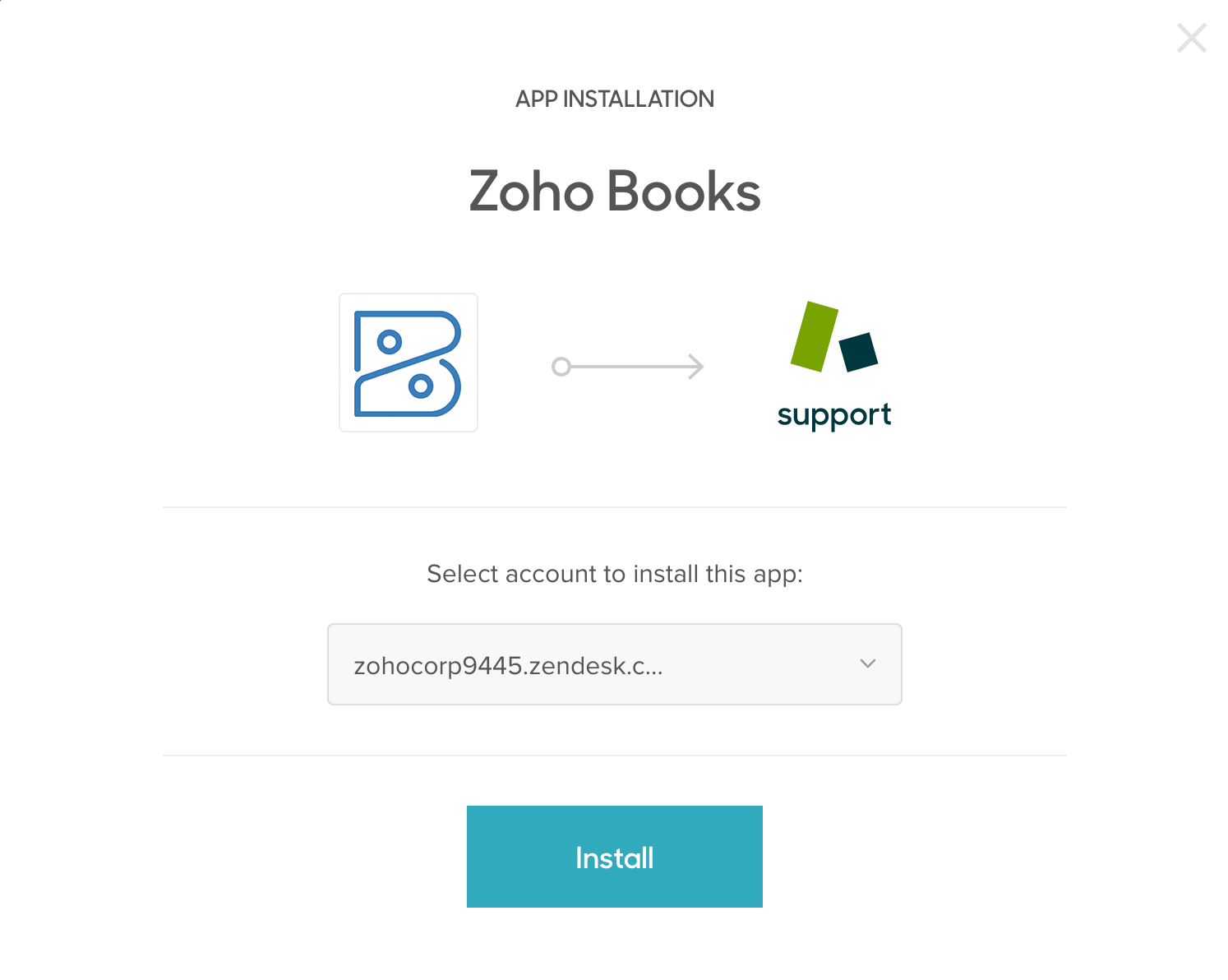 Now select the Zoho Books app and edit your General Settings.

Edit the Title of your application.
Enable the role restrictions option to restrict your customer support agent from accessing Zoho Books.
Enable the group restrictions option to select the group which should have access to this app.
Enable the Are you an European Union (EU) customer option to access the European edition of Zoho Books.

Click Install to complete the integration.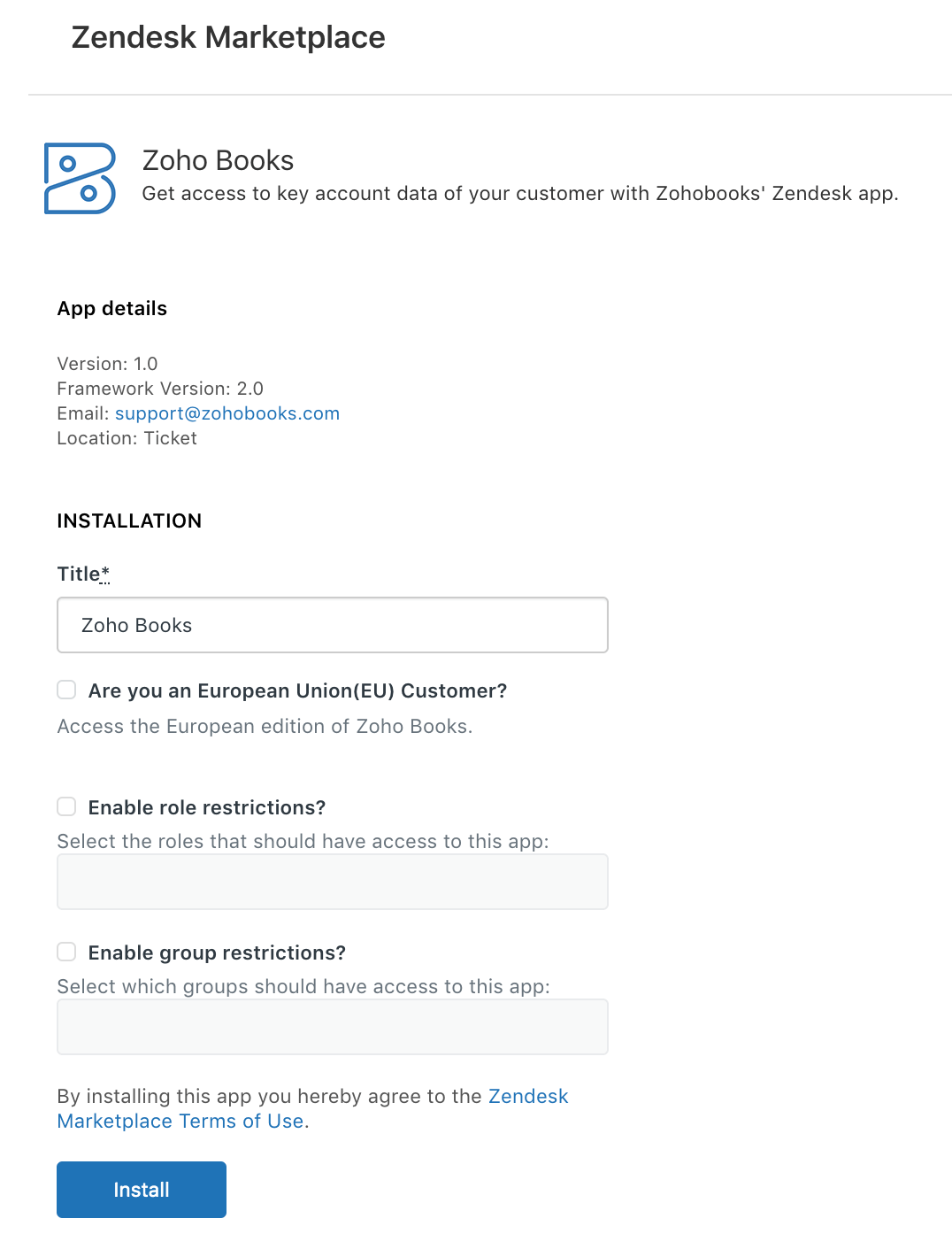 Access Zoho Books from Zendesk
Once the Zoho Books application is installed, the integration is ready to use. To access it from Zendesk:
Log in to your Zendesk account.
Click the Views tab from the Sidebar to see the support tickets.

Select a ticket that might require you to access Zoho Books.
Click Apps in the top right corner of the page.
Select Sign In to complete signing in to your Zoho Books account to fetch customer data. If you have already signed in, then select Zoho Books from your list of applications, and you will be able to view the data for that customer.

Once you have connected to Zoho Books, you should be able to see the following:
Overview - Gives details on customer contact information including customer addresses, phone numbers, contact persons, and currency.
Comments - Gives you the transaction history of the customer including payment details with date.
Sales - Lets you view the customers invoices and payment details.
Disable the Integration
The integration would be disabled when you uninstall the Zoho Books application. Once the app is disabled, you will no longer be able to lookup information from Zoho Books while resolving customer's issues. To disable the integration:
Click Settings in the sidebar from the Zendesk homepage.
Select Manage.
Under the Currently Installed tab, click the Gear icon near the Zoho Books logo.
Disable the Toggle switch to disable the integration.