Welcome to Zoho Books
Zoho Books is an easy-to-use, online accounting software designed for small businesses to manage their finances and stay on top of their cash flow.
This user guide is designed to help you understand how to use Zoho Books.
If you haven't signed up for Zoho Books already, click here for instructions.
If you've already signed up and wish to configure your account to suit your requirements, head over to the Settings section to know more.
Accessing Zoho Books
To access Zoho Books, all you need is a web browser and a working internet connection. If you're a mobile user, you can download the Zoho Books mobile application for iOS, Android or Windows.
Getting to Know Zoho Books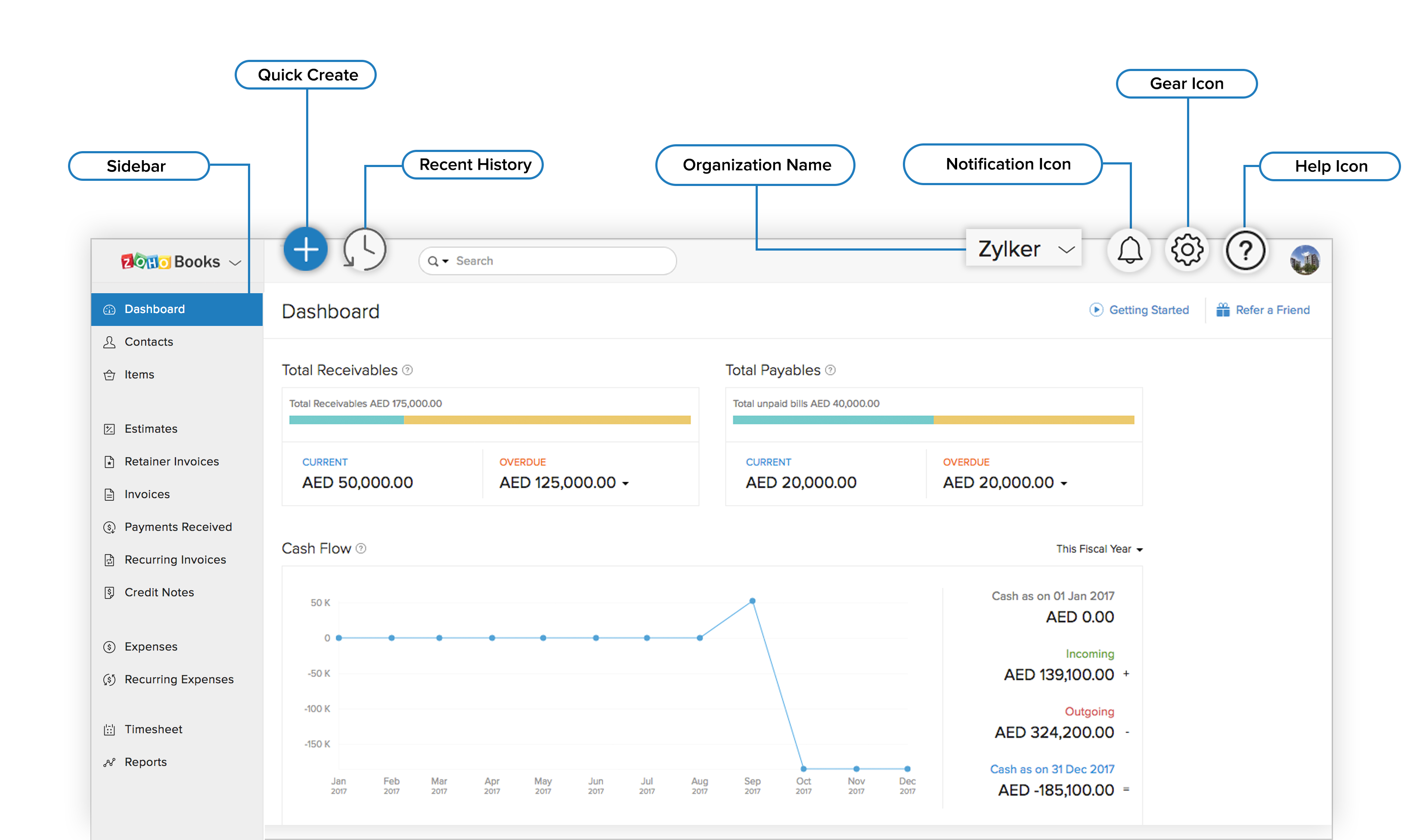 Dashboard - Gives an overview of your company's total receivables & payables, cash flow graph, income and expense, your top expenses, projects and you bank and credit cards. To know more about various sections of the dashboard, click here.

Sidebar - Allows you to switch between different modules of the product. You can access the sales module, purchases module, timesheets, account, reports, etc. from the sidebar

Quick Create - Instantly create transactions with a single click.

Recent History - View recently visited transactions.

Organization Name - Allows you to manage/switch between multiple organizations that you have created in your Zoho Books account.

Notification Icon - Notifies you on what's happening in your client portal and also updates you on the new features that have been added to the product.

Gear Icon - Lets you access the settings section, where you can configure and customize Zoho Books for your organization.

Help Icon - The help icon gives you quick access to the help documentation or helps you contact our Support team.