Transaction Locking
As soon as your business accounting period comes to a close, all your sales and purchase transactions must have been reconciled with your bank account statements. At this time it's quite common for business owners to ask for a feature to freeze the previous transactions from editing, deleting or adding any new transactions. Transaction Locking comes in handy for such instances.
To enable transaction locking:
Go to Accountant tab on the left navigation bar.
Click on Transaction Locking.
Select Enable Transaction Locking.
Enter the Lock Date, i.e. the date prior to which you want the transactions to be locked.
Enter a Reason for your reference.
Click Save.
Now transactions prior to the date will be locked.
Reports
To view the report of your transaction locking activities:
Go to Reports on the left navigation bar.
Under the Activity module select Exception Report and run the report with the appropriate date range criteria.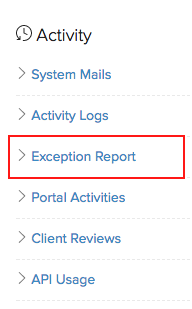 ---
Also Read: