Adding Transactions
Sometimes, you might want to record manual transactions for your bank or credit card accounts. This usually occurs when the transaction is not listed in the bank feeds but needs to be recorded for your business.
Creating manual transactions
Click Banking on the left navigation bar.

Select the bank account to record the manual transaction.

Click Add Transaction on the top right corner of the page.

Fill in expense details.

To add multiple expenses, click Itemize.

Click Save.
Note: Once the transaction has been recorded, it will be labelled as Manually Added.
Editing or deleting a manually added transaction
Once you add a manual transaction for a bank or credit card account, you can edit or delete it. Here's how:
Click Banking on the left navigation bar.

Select the bank account.

Select the transaction.

You can either:
Click the Edit icon to change the transaction details.
OR
Click the Delete icon to delete the manually recorded transaction.

Money Out
Here, a list of your purchase accounts are displayed. In a business you will have to pay for your vendors, transfer money, pay for your purchases and record expenses.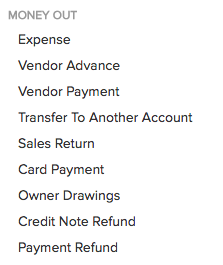 Money In
Here, a list of your sales accounts are displayed. These accounts are used for recording the money that your customers pay, interests generated, refunds on expenses, deposits and other sources of income for your business.

---
See Next:
Matching & Categorizing Transactions
Banking Overview