The Company
The quintessential cricketing advice, "Keep it Simple" is the core belief at Cricketer Shop.

Cricketer Shop has remained the leading online cricket shop and first choice of cricketers all over the world since October 2012 when Cricketershop.com went live. In India, Cricketer Shop is a reputable brand for sporting items with a focus on cricket. Their main goal has been to provide goods that support athletes achieve their maximum potential. High-performing athletes are always willing to take on new challenges in this fiercely competitive world, and they have been able to convey that energy in their work.

Over the course of these years, Cricketershop.com has shipped cricket equipment to 80 different countries. They were one of the first chains in the nation to focus solely on cricket. Presently employing about 15 people at their headquarters, and having franchises in Delhi, Zirkapur, Mohali, and Patna that are run by individual franchise owners.

The Cricketer Shop makes it a point to join and nurture young cricketing talent whenever they can by attending matches at clubs, schools and cricket academies.

Meet Mr. Nitish, co-founder of the Cricketer Shop:
" I enjoy experiencing all the different aspects of my career, and I am well-versed in accounting. My specialty is in sales and marketing. I am also versed in the manufacturing of bats. Additionally, I delve into the quality control division. Actually, I aim to take a 360-degree approach at this organization and do not have a single focused function. "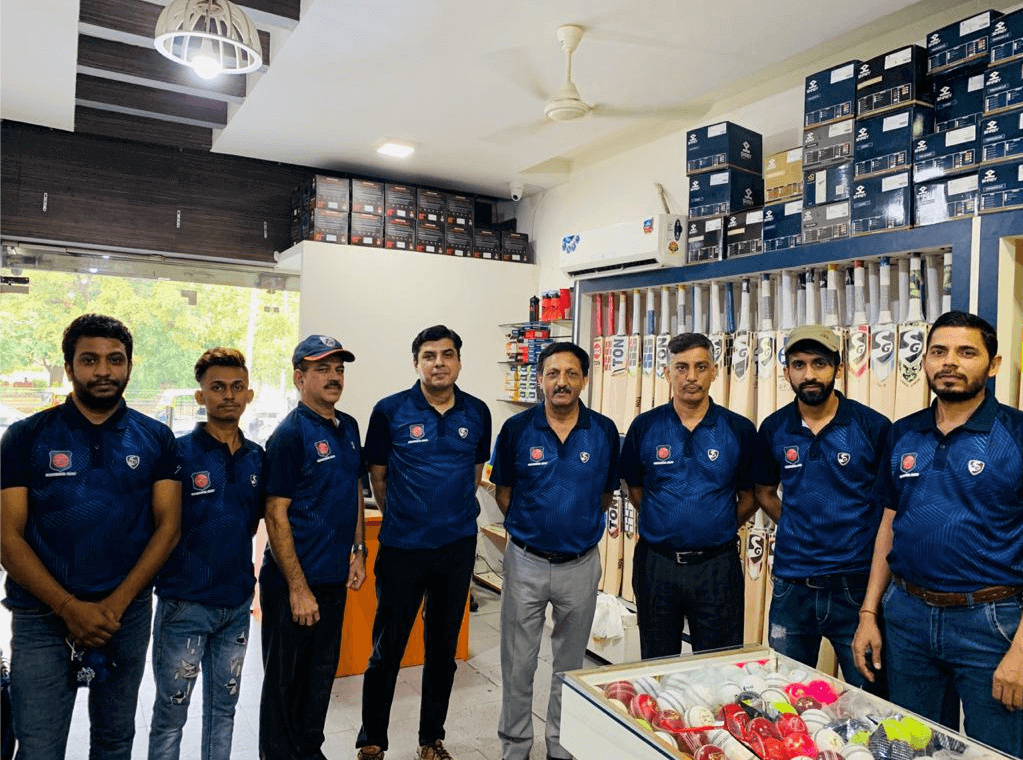 The Challenge
Cricketer Shop initially relied on Interspire to handle their e-commerce website and order management process. When Cricketer Shop wanted to enter the retail industry, they were aware that they needed reliable software to manage their inventory for both their ecommerce and retail stores. They then started using Interspire for online sales and Busy accounting software for their retail stores.

Mr. Nitish Bhagat says, " We had to work with two distinct pieces of software to handle the accounting and inventory parts. It was a laborious effort to manually push data. We were able to get by at that time because there wasn't as much business. As we grew and became more scalable, it was becoming a massive burden to duplicate entries. Big commerce data had to be manually entered into our main inventory managing application. We were paying for one employee to manually enter the data. Even then, it did not make any sense, but there were no other options available to us. "

The solution
Nitish first learned about Zoho while casually reading an article on Zoho's co-founder.

Mr. Nitish Bhagat says, " I read a piece about Zoho's co-founder in The Times of India. It was a small piece that mentioned his hometown and the business he founded. I learned about Zoho Corporation there. I continued reading the company's profile because that article was so inspiring . I chose to read more about the company and then I understood that we were working towards the same goals and they may support us in our efforts. After that, I wrote a letter to Zoho, and that is how everything began. "

This came as a pleasant surprise as they were already looking for an inventory and order management system. According to Nithish, Zoho's price is very adaptable to the Indian market. He added, "Overseas businesses like Shopify and Bigcommerce only make sense to overseas markets. Shopify is a terrific e-commerce website but it did not have any inventory management ability".

As the stars aligned, Nitish and his team at Cricketer Shop decided to give Zoho Inventory a shot. They tested the application over a few days. He noted that the best part of this testing phase was the ability of Zoho Inventory to customize the application for their needs.
" I must applaud the custom solutions team for stepping up to assist us with the customization—what's even better—for their generosity in not charging us even a single cent. They claimed the customization was part of the package even though we were prepared to pay for it. Therefore, that is something that truly motivated us to sign up for Zoho. " - says Mr. Nithish Bhagat.

Benefits and ROI
After the implementation of Zoho Inventory, Cricketer Shop saw significant improvement in their order and inventory management process.

Mr. Nitish Bhagat says, " We have been using Zoho Inventory for a year now, We can say that it has increased sales by at-least 15-20 % as of now by managing the stock in a better way. We now know what we currently have in stock, how the product is selling, and when we need to restock. It has helped show where we are standing and what needs to be done. We now have a better understanding of everything.
There was a person working eight hours a day just to manually enter the sales order from Big commerce to our old order management system. Since Zoho Inventory integrates with multiple online sales channels, he is absolutely free and he is doing other integral things and not just punching data. "

Nitish noted his team heavily utilizes the automation functionality which has significantly changed how they work. One such example is the markup feature "It is essentially a markup feature, so the price is not calculated as MRP minus a discount but instead they are computed based on the dealer pricing and a certain percentage is added to that," added Nitish.

Nitish commends the Zoho Inventory support staff for always being a click away for his team.

What's ahead for Cricketer Shop?
Since its launch in 2012, Cricketer Shop has expanded significantly. With the franchise concept, they intend to grow PAN India, assisting every cricket enthusiast in realizing their goals.

Being a cricket player himself, Nitish wishes to promote the game all over the world. We at Zoho are pleased that we can assist him in achieving this objective. They already use Zoho Inventory and Zoho Commerce, but they intend to switch to Zoho Books for their accounting in the upcoming fiscal year.

When asked whether he would refer Zoho Inventory to his friends who work in the industry, Nithish responded," I would 100% recommend Zoho Inventory to everyone who is on the verge of opting to shift towards cloud for their order and inventory management needs. "