How does the QuickBooks Online and Zoho Inventory integration save you time?
The best part of this integration is the concurrent data sync across the two platforms. Save time, avoid errors, and manage your business data more efficiently.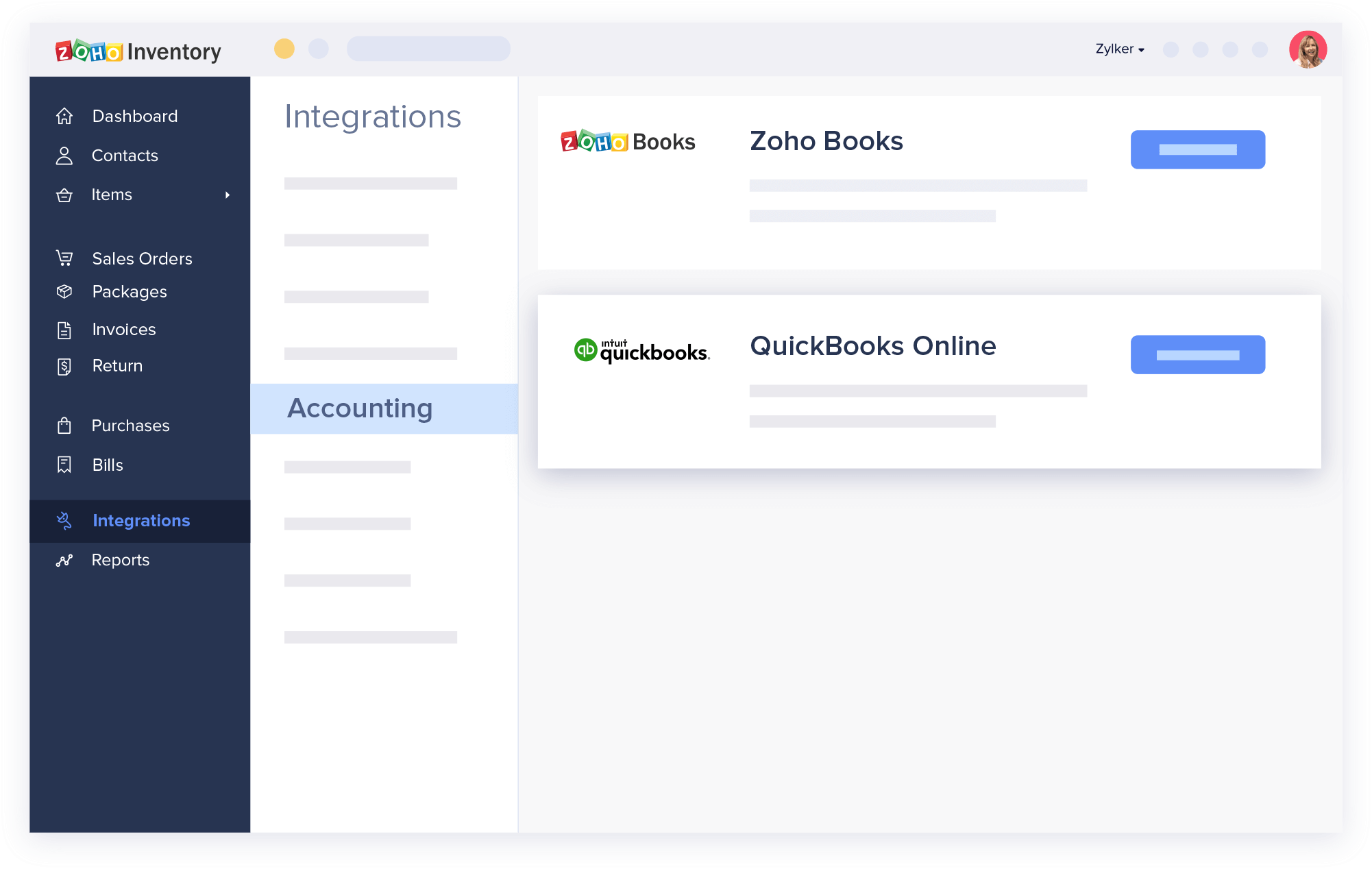 What are the different modules that sync between QuickBooks Online and Zoho Inventory?
Auto-update in payment status
Besides keeping records of your transactions, you also need to track their status. Every time you mark a bill or invoice as paid in Zoho Inventory, the payment status is also updated in QuickBooks Online.
Credit Notes
Credit notes created in Zoho Inventory, will also get added in your QuickBooks Online account. This ensures that your sales return records are at tandem in both the applications.
Vendors bills sync
Maintain good relationships with your vendors, and keep tabs on your payables regardless of which application you're using. Billing data gets transferred from Zoho Inventory to QuickBooks Online the moment it is created.
Integrate accounts during creation
Keep your financial statements accurate with detailed accounts. Your chart of accounts in QuickBooks Online gets mapped to Zoho Inventory, and vice-versa, only at the time of creation of the account. This way all the account names are visible in both the applications.
Automatic invoice mapping
Zoho Inventory keeps your invoicing stylish, precise, and current. Your invoices get added in QuickBooks Online the moment you create them in Zoho Inventory, so you always know which customers have yet to pay and which have already paid.
Collaborate vendor data
Sync your vendor data across both the applications. For instance, when you get a quote from a prospective supplier, you can add the details in QuickBooks Online and see them automatically reflected in Zoho Inventory as well.
Compile customer contacts
Don't spend time syncing contacts between two different applications. When you add a new contact in QuickBooks Online, it gets automatically added in Zoho Inventory, helping you save time while recording future transactions.
Inventory adjustments in stock journal
Inventory adjustments done in Zoho Inventory, gets updated in the stock journal in QuickBooks Online. Based on the positive or negative adjustment, the stock on hand and Cost Of Goods Sold (COGS) record gets recorded in QuickBooks Online. This way your stock journal is updated with all the transactions.
Our customers love using Zoho Inventory with QuickBooks Online
I have been using Zoho for a few months now and it is by far the best inventory software I have used yet. It integrates incredibly well with QuickBooks which is super important for me as I am in the CPG space. We have used a number of softwares and I believe this is scalable to a certain point along with very very easy to use. Putting orders in and fulfilling them is super simple. Allows for lot tracking. Reports are okay - not the best. However, if you are looking for a good app to integrate with quickbooks, I haven't found a better app.
I wanted to migrate from quickbooks desktop to online but needed a way to track building assemblies which could be done in desktop but not online. I chose Zoho inventory as a way to manage this and it worked out great. Migrating over took a lot of time to figure out but Zoho has a chat support option which was always willing to help. I probably chatted with them 200 times during my trial. Everything works great now and very happy to have made the switch! I basically do all my sales orders/invoicing/bills through Zoho which auto syncs with quickbooks. Thank you!
For those looking for a well integrated app with a simple and easy to use work flow, we have found ZOHO to be excellent. Their accounting side does not compare to QBO, but the inventory plus shipping capability all in one is very nice.
With our old inventory system and quickbooks desktop, getting everything to sync together was a nightmare. Not only does quickbooks autosync with Zoho Inventory, but so do our website, Etsy, Ebay, and Amazon stores! I haven't had to manually enter in orders since I got everything set up and running, and I save SO much time.
Zoho inventory was a must in order to keep track of our different phases of inventory creation. The ability to transfer that data to QBO seamlessly has made our Company run efficiently and allow users to stay informed with how we are doing at all levels of the company. I highly recommend using zoho inventory with connection with QBO in order to keep your sales and inventory organized.
5/5
Note: Reviews were taken from the Intuit QuickBooks app store.
How can the Zoho Inventory integration complete your inventory management process?
Zoho Inventory can boost your current inventory management process by synchronizing your daily activities and cutting down on manual work.
Marketplace integration
Zoho Inventory integrates with marketplaces like Amazon, eBay, Shopify, and Etsy. The items in your online store get automatically mapped to Zoho Inventory, and your sales orders and item levels get updated at custom intervals.
Multi-warehouse management
As your business expands, you need more space to store your items. Zoho Inventory keeps track of items in multiple warehouses, keeps your operations accurate and systematic.
Barcode scanning
Using a barcode scanner with Zoho Inventory is simple and convenient. Installation involves only a few steps, and a wide range of barcode scanners are supported.
Delivery tracking
Order fulfillment doesn't end with creating shipments! The Zoho Inventory and AfterShip integration allows you to notify your customers every time their packages are transferred.
Shipping label
Zoho Inventory is integrated with more than 40 shipping carriers around the world. You can integrate your existing shipping account with Zoho Inventory, and create shipping labels without needing to log in your shipping account separately.
Automation
Set reorder notifications to get automatic updates and create workflows to update a field or customize email message for your regular customer.