Meet Azole Rasayanas
Meet Azole Rasayanas, a growing fine chemicals dealership from the city of pearls, Hyderabad of India. This 4+ year old company is run by Mr.Venkateswara Rao, a veteran of fine chemicals & catalogue products with decades of industry experience under his belt, and a team comprised of like minded industry professionals. They outfit the chemical needs of several industries and institutions in and around Telangana and Andhra Pradesh. Their customers include pharmaceutical companies, agrochemical firms, academic groups, chemists and biotechnology companies. Their inventory extends beyond 900 industry specific and mission critical items. Backed by a network of suppliers as well as local and global manufacturers, Azole Rasayanas ensures shorter order turn around times and faster deliveries to their customers. We interviewed Mr. Venkateswara Rao and his team at Azole Rasayanas to understand what their industry is all about, and how Zoho Inventory and Books fit in with their operations.

Before Zoho
"Being a fine chemical dealer is tough. It's a business that's all about timing and accuracy. Customers need the right supplies on time, and it has to be in the right concentrations, at the right temperatures and in right quantities. We take this very seriously, since the success rate of their projects may very well depend on how well we do our jobs." says Mr. Rao.
Before they adopted cloud applications from Zoho, they were initially using Tally with only two of their team members taking care of the back end accounting processes. And, they had to rely on other stand alone tools for stock keeping. Their accounting and inventory did not talk to each other, and both of these elements were maintained in a dis-fragmented manner. Owing to this, they were unable to track their inventory levels, generate landed cost summaries, or monitor item reorder levels. All they had was a rough estimate of inventory and they had to take stock manually from time to time.
This meant, a substantial amount of manually coordinated efforts were needed between Azole's warehouse team and sales team when fulfilling an order. Also, they had to manually ensure the quality of every product sold and its validity since the old system had no means of tracking expiration dates or FIFO to understand what came when, and before what.
After Zoho
They were on the lookout for a suitable solution before they ran into Mr. Gopi Polasani of ZYENAC, a Zoho Partner in India who studied their workflows and suggested Zoho Inventory and Zoho Books. The Azole Rasayanas team gave it a shot and were quite impressed with how easily they were able to setup and apply these tools to compliment their workflows. And so, they migrated their inventory and accounting into Zoho in the month of February, 2019.


Upon implementing a combination of Zoho Inventory and Zoho Books, they have complete visibility of their stock flow and cash flow, right from when an item enters their warehouse to the final point of sale. Using Zoho Inventory they have organized all their products and variants under item groups and categories across all their business locations, while having Zoho Books account for their income and expenses, as well as their GST reporting and filing, whenever they buy or sell chemicals

They are now able to track chemical components and substances in batches and accurately monitor their expiration dates. According to the team, they were also able to combine different components in form of a simple formula or bundling blue-print that can represent finished products or reagents using composite items inside Zoho Inventory.

Being mounted on the cloud, more than 50% of their workforce now have ready access to product and client information, which in turn has brought down the amount of manual intervention required as well as their average order turnaround time by a significant margin. The inbuilt stock and payment reminders have helped them ensure that they are ahead of their customer and vendor balances while also avoiding stock out situations.
Final thoughts
Zoho Inventory and Zoho Books are excellent tools for SMBs who are fine chemical dealers like Azole Rasayanas. The seamless combination of online inventory management and GST compliant cloud accounting has made it easy for them to source, store, bundle and sell chemicals all over the country. The ability to quickly look up the status of items, orders and reorders, process deliveries, and handle customer grievances and refunds using Zoho Inventory has helped further strengthen their bonds with customers and vendors alike. And when it comes to filing GST returns or audits, Zoho Books compiles the necessary reports that can be filed directly into the GST portal after being reviewed by their accountant.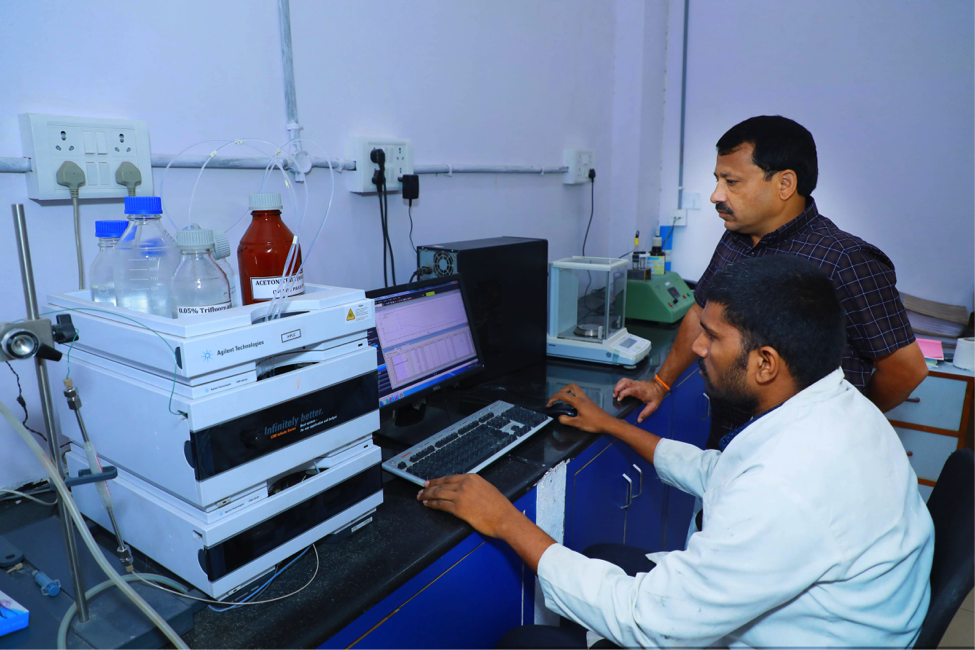 Mr.Rao and his team genuinely feel that migrating to Zoho has indeed given them a decisive edge over the competition, as their workflows are now more simple and streamlined than ever. Should they ever run into problems or have questions at any point, they know fully well that they can count on both the in-house support team, as well as the local Zoho partner on the field for immediate assistance. They are very much looking forward to scaling up and running their whole business on Zoho in the near future.