Expense reports that you will love.
Zoho Expense is a perk for employees, managers, and finance teams!
Automate expense recording

Turn receipts into expenses automatically. Group them together and click to submit an expense report. Easy peasy!

Import card transactions

Capture debit and credit card transactions and turn them into expenses in a click.

Expense reports on the go!

Record expenses on the go. Even better, submit a complete expense report with just your smartphone.

Control your expenditures

No more confusion about allowed expenses or spending limits. Ensure that your organization's expense policies are enforced.

Simplify approvals

Make life easy with instant approvals and reminders for pending expense reports. Simply approve reports or reject them with a reason.

Gain visibility into spending

Manage expenses to make your business more efficient. View reports on individual expenses, policy violations, and more.
Ensure all your expenses go directly into your books. Avoid double entry and spend more time on your business.
Zoho Expense
Zoho Books
Most expenses happen outside the office!
Zoho Expense mobile apps let you automatically track your miles traveled and calculate your mileage expense. Not only that, you can track any kind of expense on the go and even record expenses offline and sync them up later.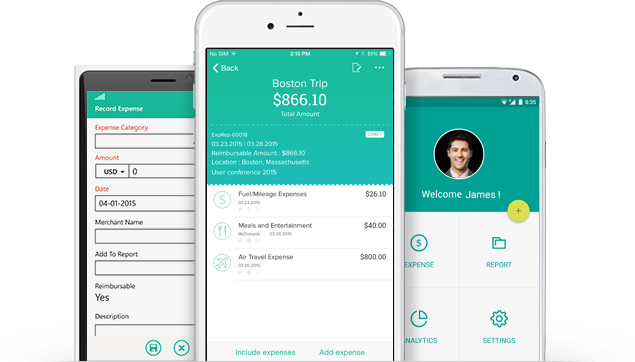 Why should you choose Zoho Expense?
For Employees
No more manual data entry
Zoho Expense includes OCR and credit card statement support, so you never have to re­-key receipts.
Faster approvals
With automated approval reminders for managers and one­click approvals, Zoho Expense makes sure you get reimbursed faster.
Never miss the last date
Automated, unreported expense reminders in Zoho Expense ensure your expense reports will always be on time.
For Managers
Enforce travel policies effectively
Set up travel rules in Zoho Expense and the system will notify you of any policy breaches by traveling employees.
Visibility over expenses
The Zoho Expense dashboard provides at-a-glance insight into your expenses, while the included reports let you slice and dice them.
No year-end audit surprises
With Zoho Expense, every expense report is automatically audited for compliance, so your year-end audit is smooth and hassle-free.
Zoho has been featured in