Complete self-employed expense tracking solution
When you're your own boss, a tussle between your work and its expenses can be hard to handle. Go all in on your work, and we'll handle your business expenses.
TRY ZOHO EXPENSE FOR FREE
REQUEST A DEMO
Avail the free plan specially made for self-employed expense tracking
Put your expense reporting in good hands with Zoho Expense
Receipt Scanning
Make your smartphone handle your self-employed business expense receipts. Taking a photo of a receipt adds an expense automatically, letting you go paperless. (Available in the paid plans of Zoho Expense)
Mileage Tracking
Meeting clients can induce travel expenses which need to be filed as business expenses. Configure your vehicle mileage information per km/mile and record mileage expenses through GPS in real-time with the Zoho Expense mobile app.
Policy Management
As the sole proprietor of your business, having a clearly defined budget plan is crucial. Keep tabs on how much money you can spend on each expense category, and get notified when you cross the threshold.
Card Feeds
Zoho Expense can automatically match credit card transactions to existing expense entries, saving you a lot of time from manual work. Enjoy an error-free expense reporting experience that saves you valuable time.
Tax Processing
Tax calculations are applied automatically when you record expenses. View tax reports for your taxable expenses, making for easy filing of your self-employed tax returns.
Customer Management
Storing and managing projects and customer data can aid you significantly as a self-employed businessperson. You'll also be able to track money you've spent on your customers, to be made billable if necessary.
Analytics
Take self-employed expense tracking to the next level with insightful analytics. With in-depth, customizable, and category-based expense tracking capabilities, you'll never need to worry about your spending patterns.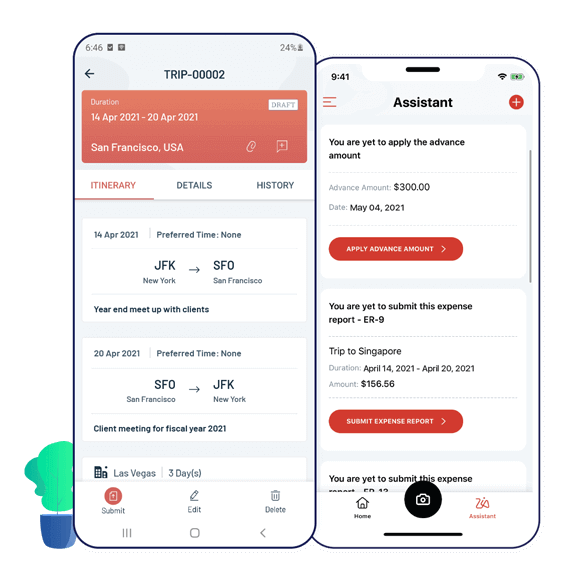 Travel anywhere, report anytime
With the mobile application available for Android and iOS, keep track of your expenses from anywhere and at anytime, with just an internet connection.