Unlock convenience with Zoho Expense's
self-booking tool (SBT)
Our intuitive self-booking tool enables employees to book flights, hotels, cabs, and trains at the convenience of their fingertips while adhering to the company's policies.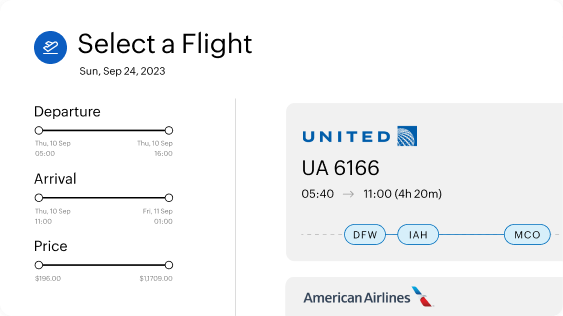 Supercharge

your employee's travel experience
Powerful SBT
Our technology, powered by Sabre GetThere, fetches the best prices and flight options from multiple GDS including LCC for your organization with an unbeatable user interface.
Track tickets and rebook at lower fares
Save costs with automatic price drop alerts and rebook flights at lower prices.
Stay ahead with flight alerts
Keep your travelers updated with real-time alerts and prompt notifications for delays, cancellations, or schedule changes.
Freeze fares, save more
Overcome airfare surges by locking in prices while awaiting approvals.
Automate visa requests
Streamline visa requests, documentation, and forms effortlessly with Zoho Expense.
Automate travel policy compliance
Set your travel policy to auto-pilot and let Zoho Expense manage compliance for you.
Manage your corporate travel operations with a robust travel desk solution
Zoho Expense comes with a comprehensive travel desk module that allows your travel team to manage business travel from start to finish. Here, you can set agent assignment to autopilot for all travel requests and track them on priority basis.
Request a demo
Give priority to employee safety
Put your employee's safety before everything else. Get crisis notifications and alert your employees about critical situations before and during their trip with our duty of care solutions.
Drive sustainable travel: Measure and minimize your carbon footprint
Help employees make sustainable business travel choices. Monitor and track carbon emissions to help management achieve the organization's overall sustainability goals.
Track, analyze, and optimize
with detailed travel insights
Get 360-degree visibility into your employee travel requests with real-time analytics and comprehensive dashboards to make strategic travel decisions.
Why customers
love Zoho Expense
We started using Zoho Expense across our whole IFFCO group for Travel and Expense Management as one of the key aspects to keep control on spends. The Trips module has allowed us to easily manage travel requests and costs associated. We were able to easily integrate Zoho Expense with the existing ERP system that we were using. This made the whole process of expense and reimbursement fully automated.
Jaroslaw Pietraszko
Director ERP & Digital Transformation, IFFCO Group
Puma has been using Zoho Expense in Oceania for over 3 years and our users have found the web interface and the phone apps to be feature rich and always improving. The look and feel is modern and pleasing to the eye. Puma has recently expanded the usage of Zoho Expense to multiple new regions around the globe, and throughout, the Zoho team has been extremely supportive to the unique requirements of each region and helped to make the onboarding experience painless.
Mark Hawkins,
Director, Operations PUMA SEA
In Zoho Expense, there are few features I really love. One of them is the Autoscan of invoices, which makes it very easy for me to file my expenses. The System automatically reads a lot of data points and enters them automatically. It takes a few seconds rather than minutes to submit my expenses
Ashish Shah,
Director - Finance, Zepto
We had the smoothest deployment with Zoho Expense because the product was quite easy to navigate. The Zoho Expense team has provided us with the best features—especially the receipt auto-scan, which eases our expense reporting journey with its mobile functionality. We have received quite a positive response from our employees since the time of implementation, and adoption rates are high.
Amit Rai
CHRO, Tata Play Fiber
Our app
perfectly fits
into your eco-system