We love that you love Zoho Payroll
Here are some of our satisfied customers sharing how Zoho Payroll worked out just right for them.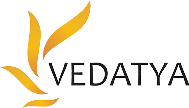 CASE STUDY
Amit Kapur,
Managing Promoter, Vedatya Institute
Our HR department now spends only 10% to 15% of their time on HR operations because of Zoho Payroll's tight integration with Zoho People. As a result, they get more time to do their core function of taking care of our employees and fostering relationships.

Zoho Payroll makes payroll processing painless, it's a simple product that handles complexity with ease. It also integrates seamlessly with Zoho Books, thus making both payroll and bookkeeping a breeze.
Bragadeesh Jegannathan,
Founder & CEO, Francium Tech

Zoho Payroll has numerous outstanding features and pronounced interface but the automated tax collection feature has to be my favourite. It's definitely a windfall.
Venkatesh Paruchuri,
CEO & CO-Founder, Mantra Mall
Zoho payroll has made a huge positive impact on our usual process. A very structured software makes the payroll process seamless for us by integrating with all the necessary stakeholders effortlessly.
Bharath Ram K,
Partner & Director, Mancini Enterprises

Zoho Payroll is a simple payroll system to use. The quick and easy customization options improve every individual's efficiency at work. I have been working on all the Zoho platforms, but Zoho Payroll is my favorite from the Zoho family.
Chinkal Kedia,
HR Manager, DevX

Our HR team loves using Zoho Payroll. We switched from Paybooks to Zoho Payroll due to its integration with Zoho Books. Also, the user experience is amazing and the automated salary and tax calculation makes the entire payroll process very smooth.
Neeraj Bansal,
Co-Founder & CEO, CredRight

Using Zoho Payroll has eliminated our requirement for a full-time accountant. The application is extremely intuitive. The help desk needs special mention for its professional and non-intrusive approach. I will happily give it a five-star rating and highly recommend it.
Venkat Ramana Vallabhajoysula,
Founder and CEO, True Blue Asset Services Pvt. Ltd

Zoho Payroll was a natural fit. With useful integrations and a swift support team, it has been able to resolve our biggest payroll issues on a single platform. It is very comprehensive and easy to use. Zoho Payroll has helped cut down our costs and TAT's making payrun completion a great experience for us!
Tabir Rakshinda,
Head of Internal Operations, Leegality

Zoho Payroll has impressed us by being the solution provider to manage our critical payroll requirements with the least effort, learning curve and the quickest turnaround time. Anywhere, anytime access that a cloud-based solution offers with the abstraction of a rather complex infrastructure and zero up-front investment is a major value addition for us.
Abdul Gafoor,
CEO, Mr. Care Group

We find Zoho Payroll to be quick, reliable and adaptable. We started using Zoho Payroll due to its integrations with accounting and HRMS platforms. What we love about using the product is that every time new tax reforms are announced, the changes happen immediately whereas our auditors take some time to apply them.
Priyanka G,
Director | HR, Beez Innovation Labs Pvt. Ltd.

The Zoho Payroll team always incorporates any compliance changes on time and the one-click PF/ESIC report helps us meet the deadlines. It's also quite comfortable for our employees to access without any training when it comes to submitting investment declarations and understanding the TDS computation. We can now focus on other HR functions thanks to Zoho Payroll!
Sapna Mehta,
People Manager, Zume Inc.

I have been a Zoho Payroll user since it was launched. The moment I got the feel of the product's UI, I had no second thoughts. It is a simple solution that can take care of itself and did not require our conscious effort. The attentive support team helped us get onboarded in just a week and then there was no turning back. It's been over a year now and we are happy to have chosen Zoho Payroll for our HR operations.
Sivaram Parameswaran,
Co-founder and Chief Creator, purpleslate

Without having any background in payroll, I tried Zoho Payroll and it worked wonders for me. I could onboard my employees easily and I love the direct deposit feature which makes employee payments effortless. If you're a startup, give Zoho Payroll a go.
Vicky Upadyay,
Director, Tyykem PVT Ltd, Pharmaceutical Startup
I have been a loyal customer of Zoho Payroll since its launch and it's grown into a fantastic product. The process is so smooth that I can work with my eyes closed. TDS, EPF calculation..it's all in here. To top it all, the customer support is just excellent. It's a complete package.
Gowtham Raj,
Director & CEO, Tart Labs
Payroll software that understands your business