Zoho Payroll and Zoho People
An easy way to streamline two complex business processes.
Escape the hassle of operating in silos. Integrate Zoho Payroll with Zoho People to make payroll processing and employee management effortless.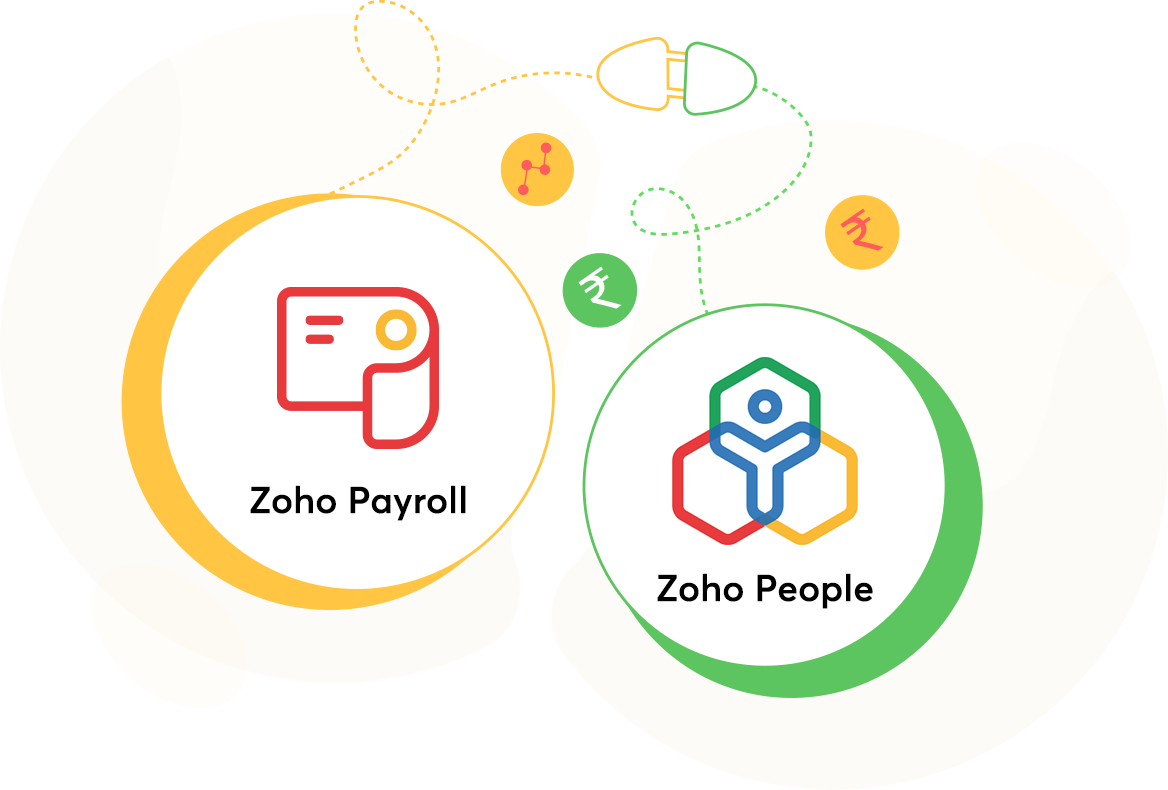 What is Zoho Payroll?
Zoho Payroll is cloud-based payroll management software that helps you offer a polished payroll process to employees and streamline your payroll operations.
What is Zoho People?
Zoho People is cloud-based HR management software that helps you manage your employees' onboarding, leave and attendance and documentation.
Why should you combine your Payroll and HRMS Software?
HR and payroll management departments share a lot in common, and when these two systems do not talk to one another, you end up spending your time populating the same information in multiple systems. Zoho brings you the power of a compelling payroll management system and an equally powerful HR management solution to simplify the payroll process for your organisation.
What to expect when you don't combine your HRMS and Payroll?
Non-integrated HR and Payroll Software
---
✓

Manual, error-prone process 

✓

Time-consuming and monotonous

✓

Disorganised, haphazard data collection methods

✓

Individual validation delays payroll processing

✓

Disjointed data and no cross-department analysis
Integrated HR and Payroll Software
---
✓

Transparent and accurate data transfer

✓

Efficient and self-sustaining

✓

Automated and contextual data collection

✓

Bulk validation for faster payroll calculation

✓

Effortless cross-functional reports and analysis
We work together to make your process better
Automatic employee profile synchronization

Free up your HR staff from repetitive work. Employee records captured in Zoho People reflect automatically in Zoho Payroll.

Contextual employee directory updates

Recorded department transfers, work location changes, and designation upgrades get updated in Zoho Payroll without any manual intervention.

Up-to-the-minute employee attendance

Integrate with biometric devices to capture the right clock-in and clock-out times for all your employees.

Integrated leave management

Factor in your employees' leave data based on the monthly cut-off date and calculate employees' pay by pulling the LOP report in a single click.
How Zoho Payroll makes your payroll processing hassle-free?
✓

Automatic payroll calculation

✓

Online salary payments through partner banks

✓

Automatic statutory calculation in compliance with Indian payroll laws

✓

Diverse compensation and benefit structures for employees across all levels

✓

Secured self-service portal to reduce queries to payroll staff

✓

User roles and role-based access for all your payroll staff

✓

Automatic accounting of payroll expenses with accounting integrations

✓

Detailed payroll reports for tax filing and understanding payroll expenses
The perfect combination for a perfect