Payslip templates that reflect your brand
Choose from our collection of payslip templates that show your employees' salary with a detailed breakdown of salary components, taxes, and deductions.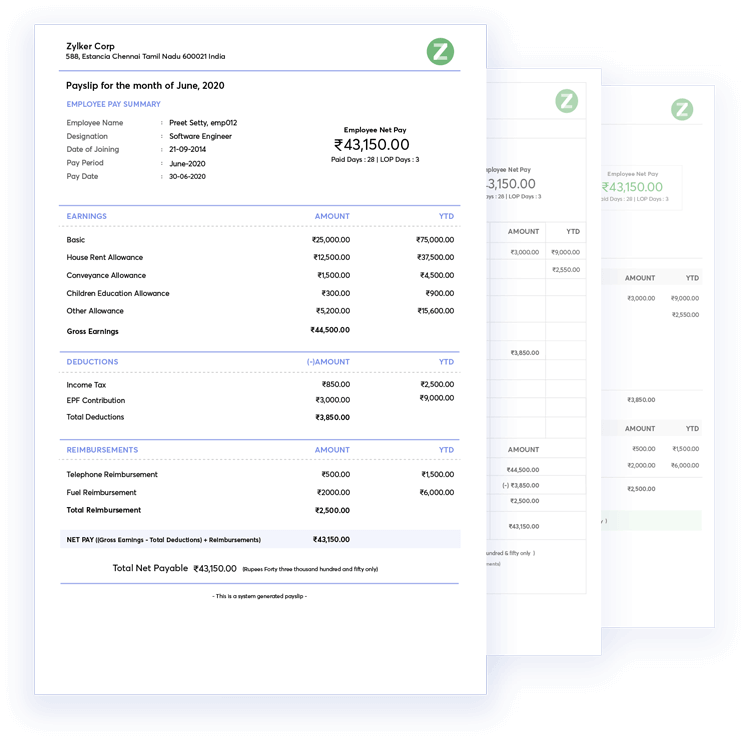 Personalise your payslips
Add a touch of your brand to your payslips. Zoho Payroll allows you to include your organisation's logo as part of your payslips to create recognition and trust.
Capture Salary breakdown
Share payslip PDFs to employees with a detailed breakdown of their earnings, taxes, deductions, and allowances.
Lend credibility to salary statements
Make your salary slips look professional by including crucial information like date of payment, pay period, and UAN number.
Payslips that can be customized
Establish your brand specifics with custom fields. You can add any relevant employee detail, like reporting manager, Aadhar, or marital status in your employee's payslips.
Benefits of employee payslips
Professional-looking salary slips are considered as a credible proof for future employment or for obtaining employee loans.
Detailed payslips showcase all your tax liabilities, helping you to make the right investment decisions and maximize your take-home purse.
A payslip helps you see what portion of your salary is contributed to savings, so you can plan your savings well in advance.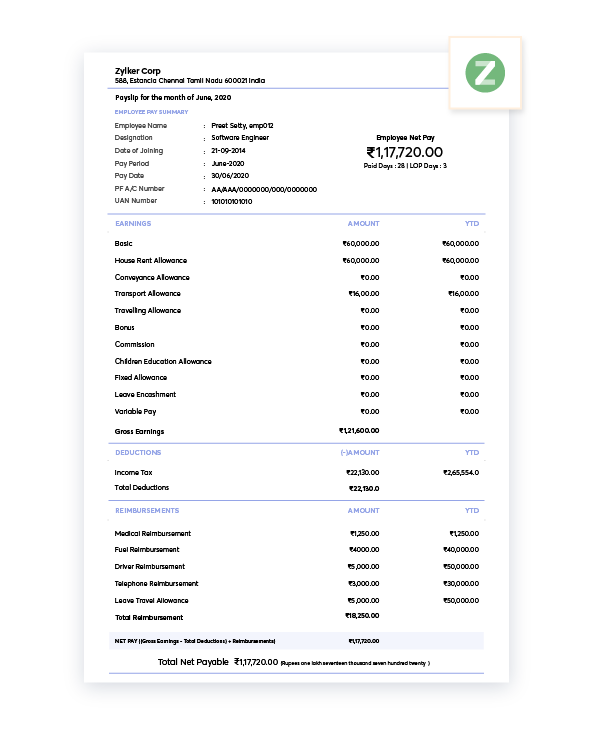 Components of a thorough payslip

1

Organisation Logo

2

Organisation Address

3

Employee name

4

Employee designation

5

Date of joining

6

Pay period

7

Pay date

8

Statutory component account details (PF, UAN)

9

Salary structure breakdown

10

Taxes and deductions

11

Gross to net calculation
Explore our collection of handpicked templates
Standard Template
Tailored to give the professional look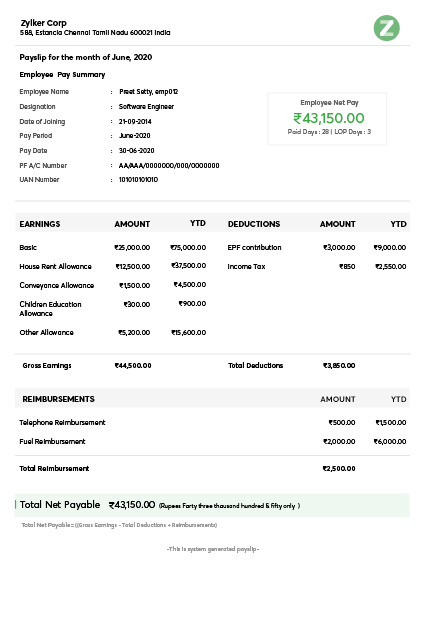 Mini Template
Preferred version for interns and trainees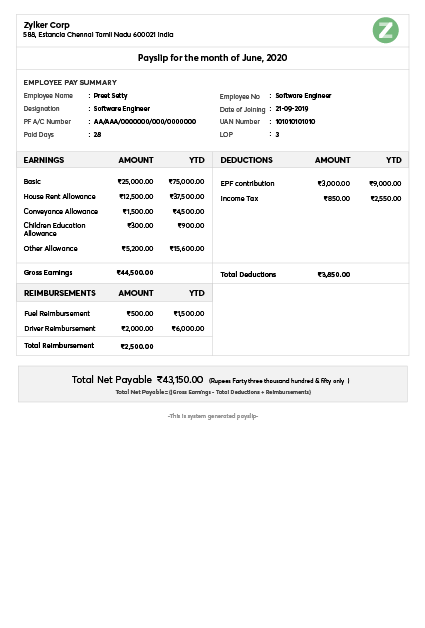 Simple Template
Simple, yet complete payslip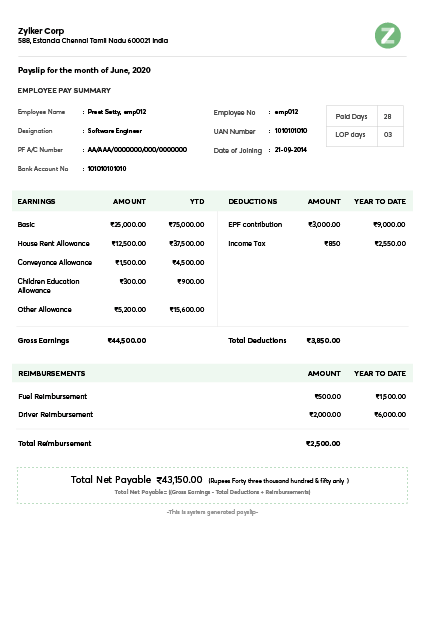 Lite Template
Perfect for small Indian businesses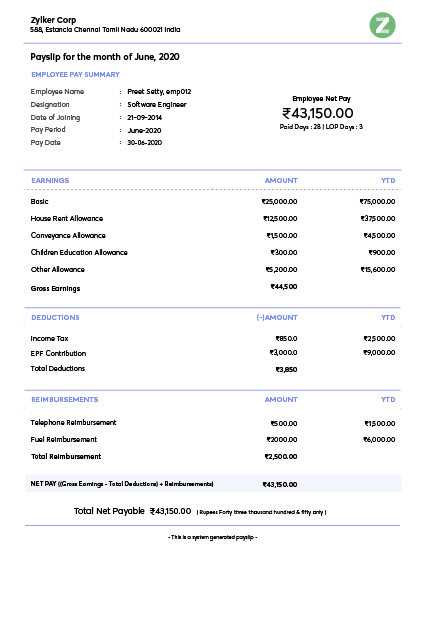 Simple Spreadsheet Template
Salary slip format perfect for Excel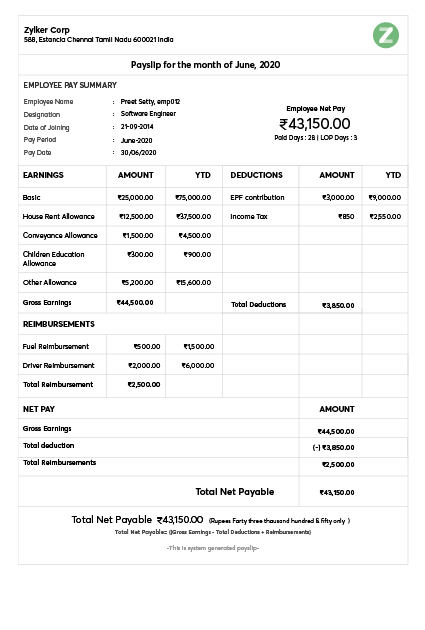 Professional Template
Ideal for all kinds of businesses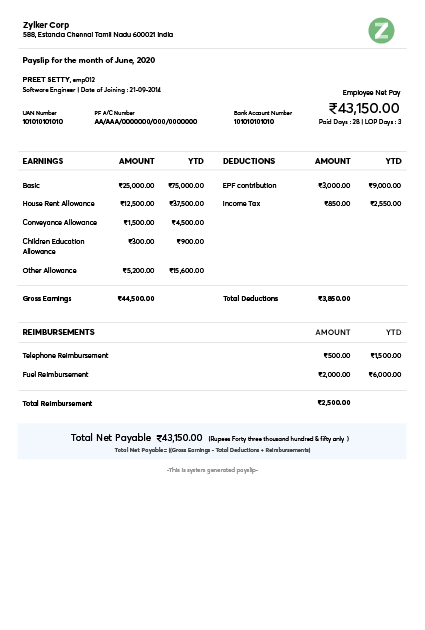 Payroll software tailor-made for Indian Businesses