VAT Returns
Zoho Books helps you in filing and recording your VAT returns for your business. VAT Return report is generated with respect to the boxes that are given in the HMRC VAT return filing form. Navigate to Reports > Taxes > Vat Returns to access the report. You can use the VAT return report from Zoho Books as a reference while filing your HMRC VAT returns.

The Status denotes whether the VAT return is filed or not. Only on filing the pending VAT return, you can generate a new VAT return report.
For ease of access to the settings page, click on VAT Settings present on top of the report table.
Only the recent VAT return entry can be deleted. As the VAT returns are generated on a quarterly basis, deleting or modifying previous returns are not possible.
This page will list every VAT return generated for your reference. You can click on any of the VAT returns to get a detailed box-by-box information. VAT payments and reclaims can be recorded directly from here by selecting Record Payment or Record Claim placed next to the VAT return which are marked as filed.
(i) VAT Return
Click Here to learn about filing your VAT returns box-by-box.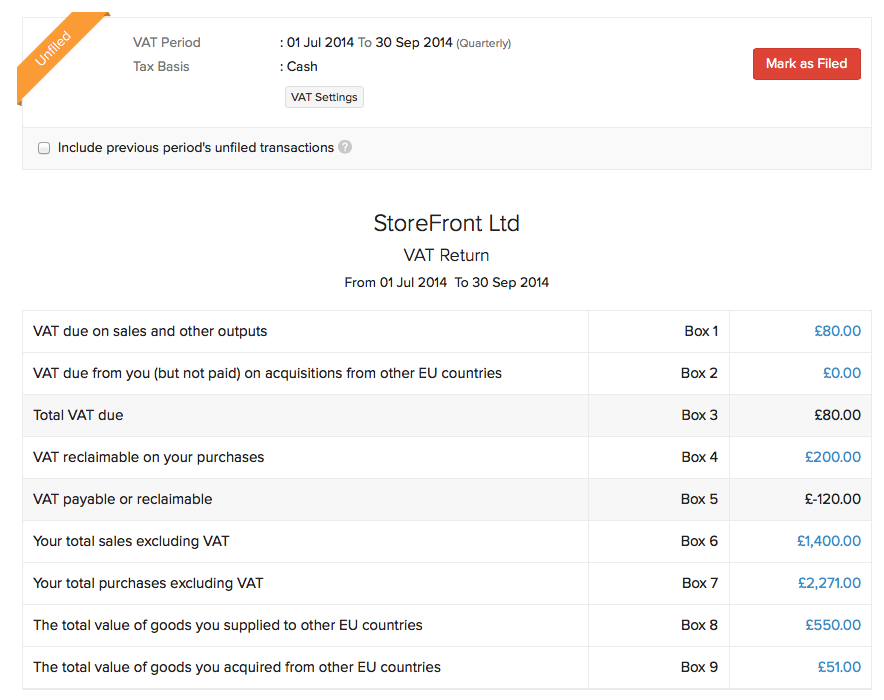 (ii) VAT Return for Flat Rate Scheme
Click Here to learn about filing your VAT returns box-by-box for flat rate scheme.
Note: Check the Include previous period's unfiled transactions box, if you wish to include transactions that were not filed in your previous VAT return filing.

There might be a case where a need to record a transaction in Zoho Books for the previous VAT return filing but the VAT return for that period has already been filed. This case, you can record the transaction for the previous date and file it with the current VAT return filing.
You can also make a deep dive into the numbers that show in the boxes. Just click on the amount shown in the box and you will be able to view the details related to the box.
Mark VAT Return as Filed
After filing your VAT returns with HMRC using the reference from the VAT Return reports in Zoho Books, mark your VAT return as filed. Currently we do not have the provision to file your VAT returns directly to HMRC, but you can always mark them with the date on which you filed them to HMRC.
Once you select the Mark as Filed option to record VAT return under filed status, you will be asked to select the date on which the VAT return was filed with HMRC.
P.S: VAT return cannot be recorded as filed before reporting period ends.

Once you mark your VAT return as files, you will not be allowed to edit any transactions that were recorded in that period.
---