Migrating to Zoho Books from your existing system
If you are migrating data from your existing accounting system to Zoho Books, this page will guide you on how to enter the opening balances into our accounting system. Before you actually start using Zoho Books, you will have to pull out the trial balance report from your existing system and enter the appropriate account balances into Zoho Books. Follow the steps mentioned below to get started with your migration.
In Zoho Books you have the option to import data from your computer to speed up the data collation process inside every module. You can also export data from Zoho Books for your reference or other purposes.
Navigate to the module you would like to import and export data.

For modules such as Items, Price Lists and Accountant, you can find the import and export option under the Settings icon drop down.


For the Contacts module and other modules under Sales & Purchases, you can find the import and export option under Menu icon in the list view.

---
Importing Data
Navigate to the module you would like to import data.
Click on the Import option from the drop down.

You will be directed to another page where the data you wish to be imported needs to be uploaded.
Data can be uploaded as a CSV (Comma Separated Value) or TSV (Tab Separated Value) file from your hard drive. Also select the character encoding based on your import file and click on Next.

Note:

You have the option to download a sample file to compare it to the file you are importing to ensure that the import is quick and efficient. Click on sample file to download it to your computer.
Now you will be asked to map the fields accordingly to properly import the data, map the fields mentioned in your import file with the fields of Zoho Books.

Assign the appropriate title to the fields of the import file.

In case you wish to save this preference for future imports, click on the check box.

Click Next to proceed further.


The Preview window which appears, will display a synopsis of information such as number of items that are ready to be imported, number of records skipped and unmapped fields.

Click on Import to finish importing the file.

---
Opening Balances
To enter the opening balance in Zoho Books,
Click the Settings icon on the top right corner.

Click on Opening Balances.

Select an Opening Balance Date by clicking on the date field.This is an important step in the migration process. This is the date in which you are migrating your accounts from your current accounting system to Zoho Books.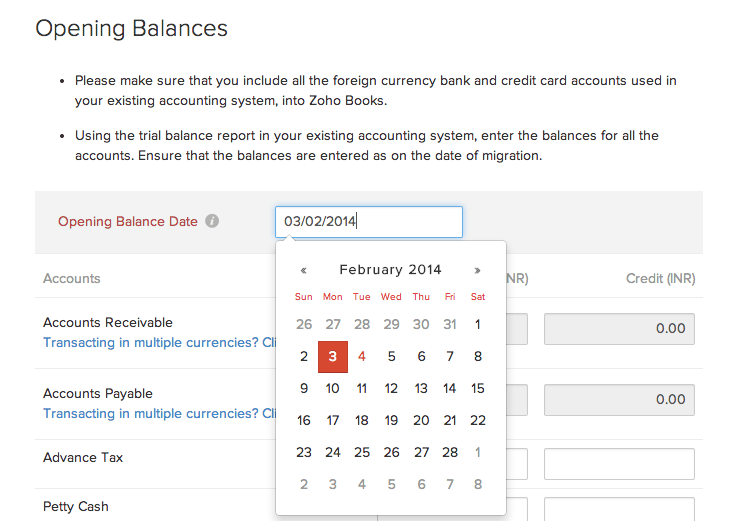 Using the current trial balance report from your existing system, enter appropriate balances for your accounts in Zoho Books and click on the Continue button. Please note you may have to make adjustments in your opening balances accordingly if you have already imported your invoices, bills, expenses, payments etc., into Zoho Books so that you could ensure all your accounts are balanced.

Technically debits and credits have to match and there should be zero balance. If there are differences between debits and credits, it will be held in the Opening Balance Adjustments account.

Click the Continue button.

Once again, you need to click the Confirm button so as to finish the opening balance set up process.
---
Points to remember during migration

We don't directly support importing your journals, deposits, fund transfers etc., from your existing accounting system. But you can enter or update the entries in Zoho Books accordingly so that all your accounts match.

Please ensure that you map the fields properly and also get rid of unnecessary commas, blank columns etc.,

If you have imported all your invoices or bills, ensure that appropriate statuses are maintained even after the migration.

Please note while you import your files into Zoho Books, the value in the field should match with the data type supported by Zoho Books. There will be unmapped fields in your import file that would not have been mapped to any Zoho Books field. Hence, if you want these fields to be imported, the column header(s) should be mapped properly.

If you need further support regarding entering any of your business transactions in Zoho Books, please contact us anytime, our support folks will touch base with you soon.