Using Zoho Sheet View.
As sales reps, you spend most of your day over the phone. Be it for follow-up calls or negotiations or closing deals, you spend a lot of time talking to prospects over the phone and updating the record information inside Zoho CRM.
While we know for a fact that you love doing the former, not everyone loves doing the latter. It could be frustrating to shuffle between multiple record details pages editing and saving them. If you are one of those people who finds it difficult to edit multiple records all through the day, the Zoho Sheet view is for you!
Say you come in for the day, log into Zoho CRM and go to Today's leads. You can simply switch to the Zoho Sheet view by clicking the More button.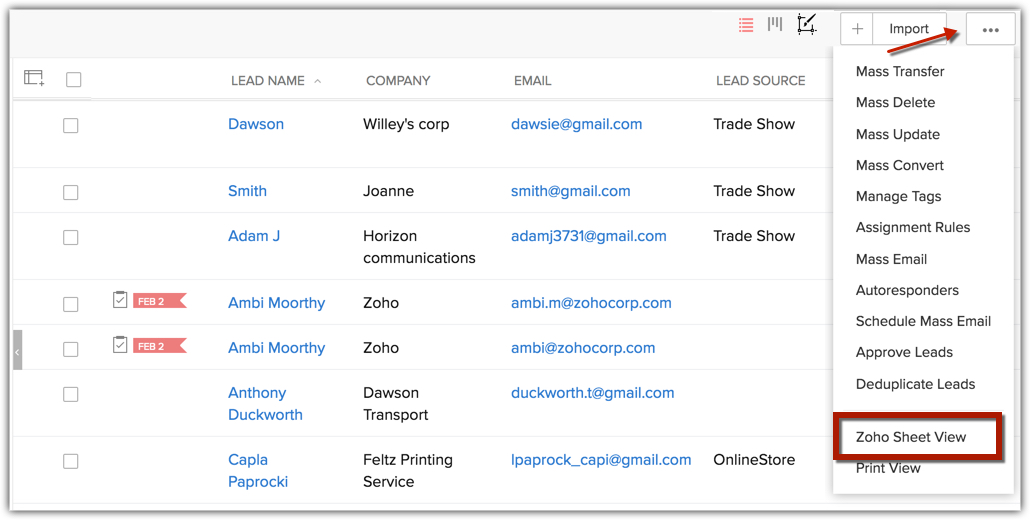 You will see all the records from the custom view in the Zoho Sheet format with the most important fields of the records as columns. Using Zoho Sheet view, you can
View/update select few fields for multiple records in the custom view

Add new records to the custom view

Avoid switching back and forth between multiple record pages

Save time and effort

Stay more focused and efficient