The Chat Window
Now that you have answered your test-incoming request, we want you to take this time to familiarize yourself with the Zoho SalesIQ chat window within the dashboard, and the powerful tools you can use during live chats with your customers.
At the top of the dashboard, you will see the visitor's name displayed if the visitor's name is not identified then the visitors random ID will be displayed. Chat window is designed to allow you to chat with multiple visitors at once, in one organized placed, with separate chats popping into tabs.
Below you will see the chat area, which displays the visitors question as the heading, with the time the chat started, the visitors' Name and E-mail displayed below. As the chat continues, the conversation between you and the visitor will be displayed in this window, alongside their display name.
To begin chatting or reply to your visitor, simply start typing. Navigate below the chat window to see your messages as you type in the editing box, where you can format your text. When you have readied your message to your visitor, hit enter, and the message will be sent directly to your customer and displayed above in the chat window.
The Visitor's Info opens on the right side of the tab.
If the visitor has a chat history, then the visitor's Recent Chats will be available under the Recent Chat tab.
You can view what the visitor is typing in the messaging window even before the visitor sends the message to you.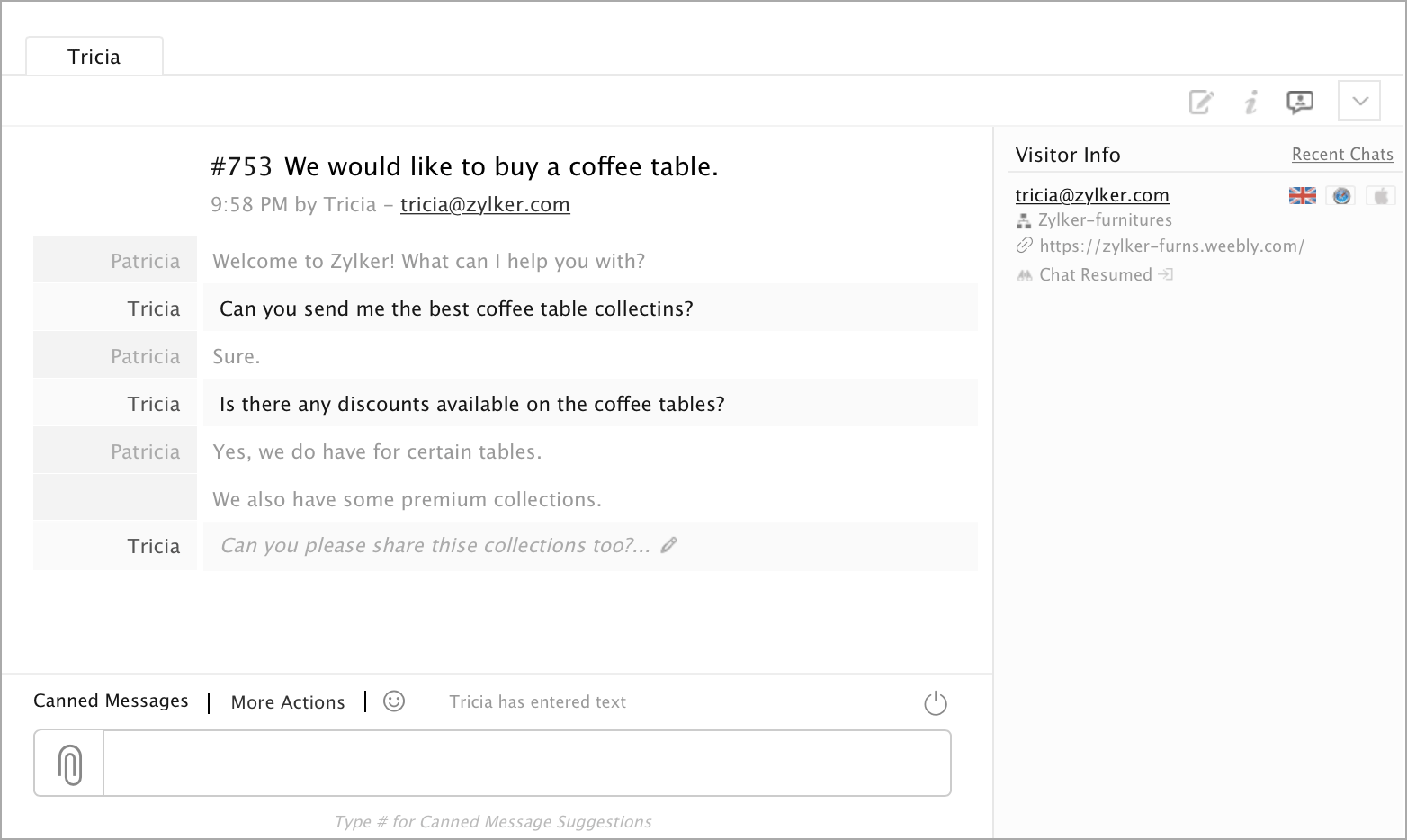 SalesIQ supports markdown which is used to format the text in the operator's chat window. These markdowns can be viewed by hovering on the (...) icon at the bottom right corner of the operator chat window. You can use typographical emphasis like bold, italics, increase font size, quote a text etc.

Bold:  Enclose desired portion of the text with asterisk (*) or (**) to bold a section of the text Example: *To bold the text* or **To bold the text**
Italics: Enclose desired portion of the text with underscore (_) to italicize a section of the text Example: _To italicize the text_
Strike: Enclose desired portion of the text with tilde symbol (~) to strike a section of the text Example: ~To strike the text~
Underline: Enclose desired portion of the text with two underscores (__) to underline a section of the text Example: __To underline the text__
Quote: Enclose desired portion of the text with back tick to quote a section of the text Example: `To quote the text!`
Blockquote: Use exclamatory (!) before the desired portion of the text to block quote a section of the text Note: This can be used only at the beginning of a sentence Example: !To block quote the text
Headers: Use hashtag (#) followed by space and then the header text Example: # Large Headings, ### Small Headings. Note: This can be used only at the beginning of a sentence The maximum number of headings is 6 and a space is must between the hashtag and header text
Links: Enclose desired portion of the text with the square bracket and the link with parentheses to insert a link into display text Example: [Text to be displayed as link](enter your link here)
Syntax Hightlighting:  Enclose desired portion of the text with 3 back ticks (```) to create a box that displays text inside Example: ```To create a box for the text```
Horizontal Rule: Use 3 hyphens (---) to insert a horizontal space Note: This cannot be used inbetween sentences. Tip: You could also press the enter key twice to insert a horizontal space
Lists: Use numerical character (1.) followed by space and then the header text to create a ordered list For Example:

1. one 2. two

Use asterisk (*) followed by space and then the header text to create a bullet list For Example: Note: A space is must between the numerical character and header text for ordered list and between asterisk and header text for bullet list  This can be used only at the beginning of a sentence