Trusted by over
465,000

businesses globally
Here's how Zoho SalesIQ provides a seamless live chat solution for the finance industry
Greater customer satisfaction
Provide your customers with immediate round-the-clock support. Leverage chatbots to address basic inquiries efficiently and forward more complex concerns to operators who can handle larger problems.
Better personalized experience
With co-browsing, see what your visitors are doing on your website and use your live chat to guide them on their banking journey by providing more personalized support.
Increase conversion
Streamline your sales process and focus on growing your business. You can send personalized loan offers and financial products to increase conversions.
Why is Zoho SalesIQ the best live chat solution for finance services?
‌Use AI chatbots to assist your team
Resolve frequently asked questions, facilitate document collection and sharing, gather feedback, book appointments, handle payments and transactions, and more with AI chatbots.
With Zobot, Zoho SalesIQ's chatbot software, you can effortlessly connect with other popular bot platforms such as IBM Watson, Dialogflow, Microsoft Azure, Haptik, and Zia Skills.
Handy, self-service options
Effortlessly provide finserv-related content like FAQs, articles, documents, and add engaging phrases to provide a more human kind of interaction.
Create a library of business terms used in financial services to make your bot more efficient in delivering relevant information to visitors.
Manage conversations from multiple channels with ease
Stop juggling between multiple instant messaging apps. From one convenient dashboard, our platform lets you connect with customers on popular channels such as WhatsApp, Instagram, Telegram, LINE and Facebook Messenger. No more waiting in queues creates happier customers since they can reach you directly through their preferred messaging app.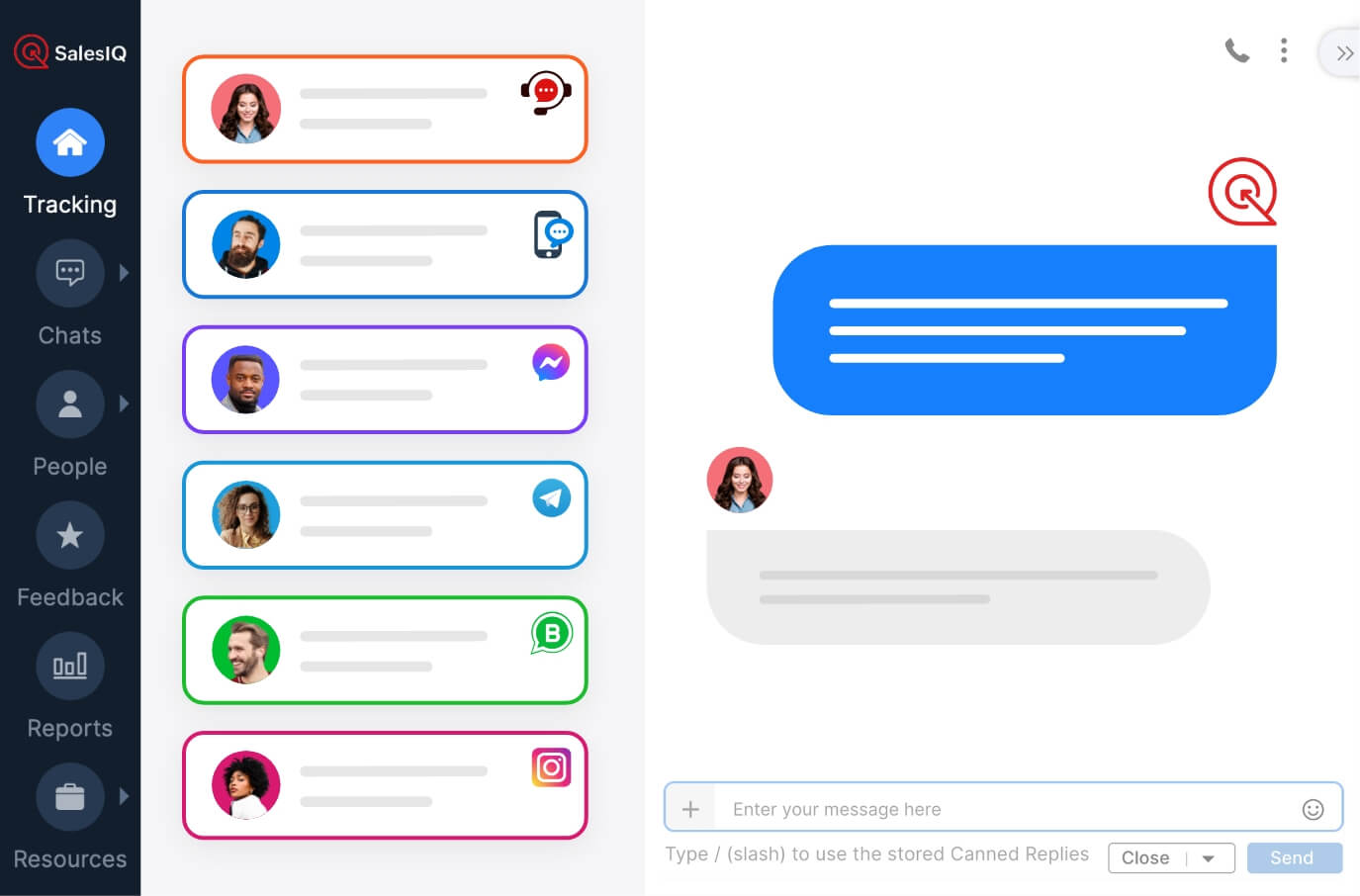 Converse in any language with our multilingual chat support
Say goodbye to language barriers and hello to global customer engagement. Engage with your customers in their preferred language with our multilingual chat support.
With Zoho SalesIQ, you can personalize chat conversations and create FAQ content in over 30 languages. Present the right information to your users based on their language preferences and export articles whenever needed.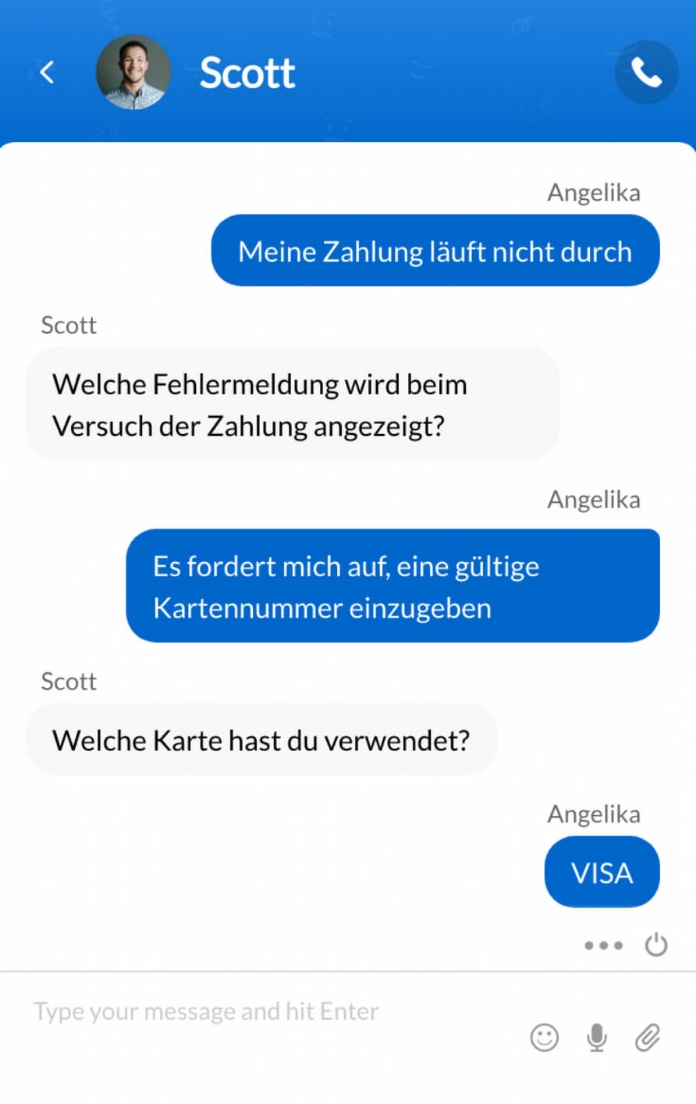 Enhance your customer experience with seamless integrations
Elevate the customer experience with Zoho SalesIQ's seamless integrations. Connect your live chat software with your CRM and other business tools for personalized updates that your customers will appreciate.
With 30+ integrations available, you can easily connect your live chat software with apps like help desks, email marketing software, billing software, and more.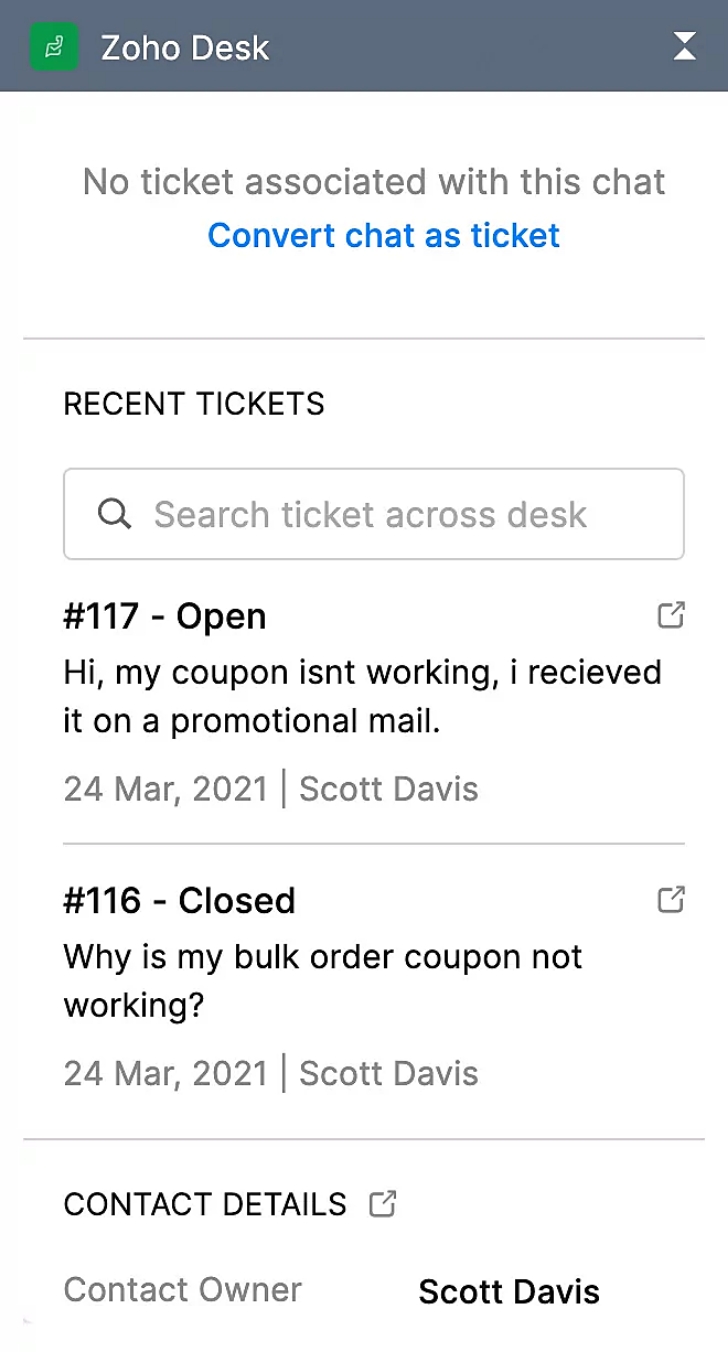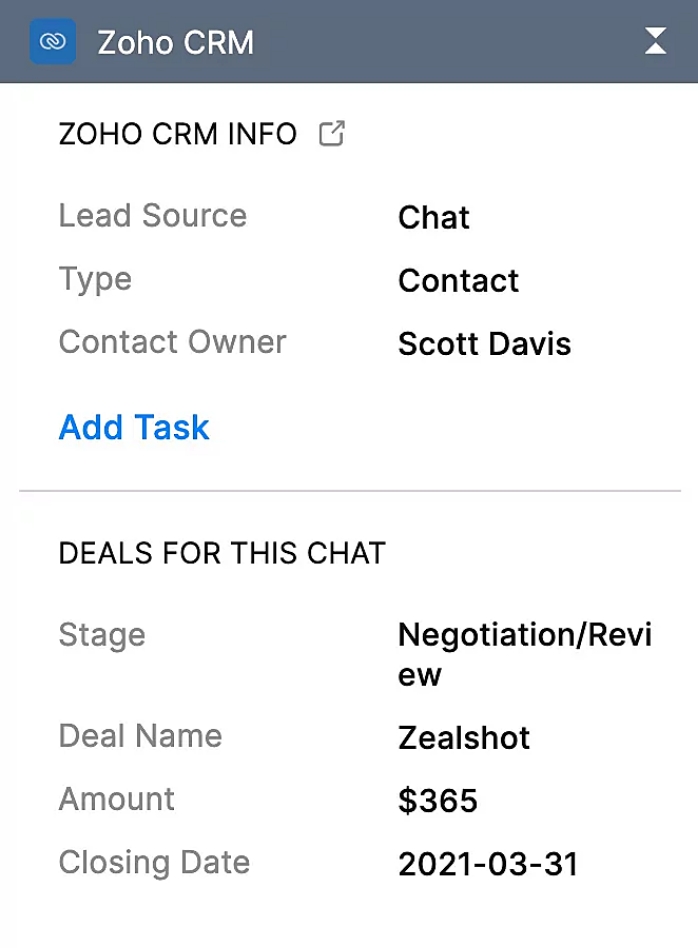 Discover the power of our forever-free live chat software for financial services
Take advantage of our free live chat plan and upgrade only if necessary. There are no hidden costs or credit card information requirement unless you decide to purchase a higher plan.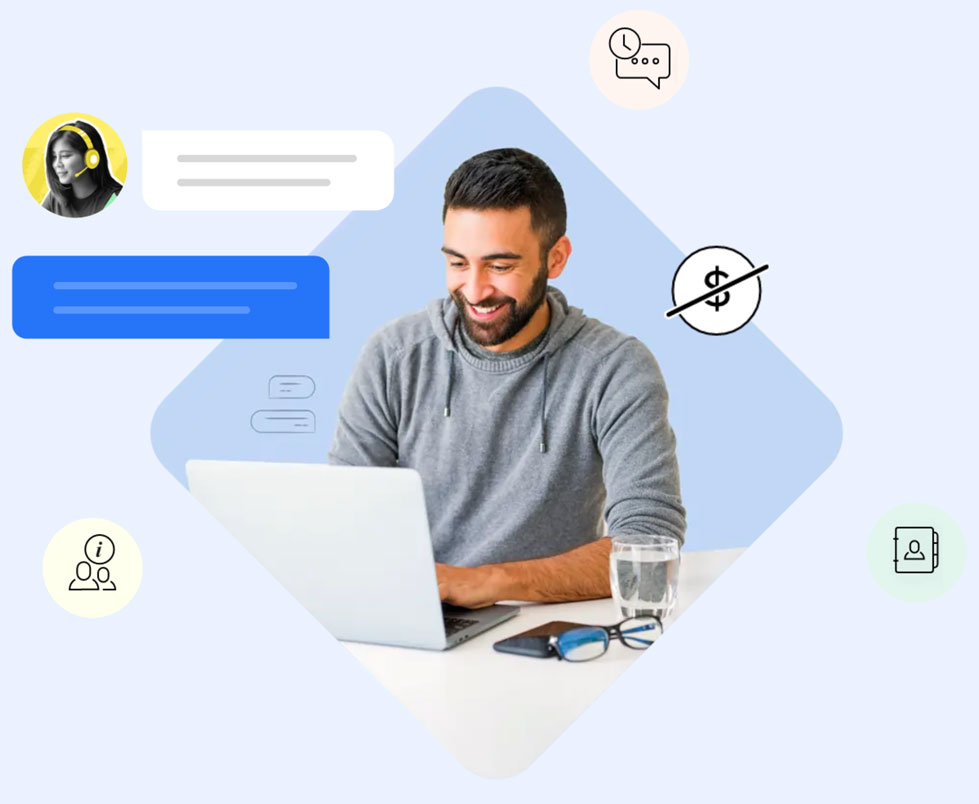 Frequently asked Questions
Importance of using live chat in financial services websites
Live chat for financial services websites enable real-time communication between customers and business. It allows customers to ask questions, get instant responses, and resolve issues quickly and conveniently at any time from anywhere to improve customer satisfaction and loyalty. Live chat can also increase customer engagement and conversions by providing a more personalized experience to customers.
How does live chat work in financial services?
Live chat in financial services works by providing a chat window on the website, where customers can initiate a conversation with a representative. The chat window can be accessed from any page on the website, and customers can start a conversation simply by clicking on the chat icon or button. Once the chat is initiated, the customer is connected with a representative who can answer their questions and provide assistance.
Live chat can also be accessed on the go using mobile apps, which helps financial service organizations stay connected with the customer anytime.
Benefits of live chat in the banking and financial services industry
Here are some of the benefits of using live chat in the banking and financial services industry:
Offers a more cost-effective customer service solution than traditional customer service channels like phone or email.
Helps improve customer service by providing timely responses without having to wait for a call or an email response.
Lets financial service organizations handle multiple customer conversations in real time.
Enables global support with real-time chat translation.
Helps increase sales by providing customers with personalized assistance and support leading to more conversions.
Provides real-time feedback on customer experiences to improve service.
Empowers customers with self-service options like a chatbot, FAQs, articles, and more.
Why is Zoho SalesIQ the best live chat for the financial services industry?
Zoho SalesIQ is a popular live chat software offering a range of features tailored to the financial services industry's needs. Here are a few reasons why it is considered the best live chat for financial services:
Offers a more cost-effective customer service solution than traditional customer service channels like phone or email.
Secure communication: Provides end-to-end encryption ensuring customer information is kept secure and confidential.
Customizable chat windows: Customized chat windows can be designed to match the branding of the financial services website.
AI-powered chatbots: AI-powered chatbots can handle routine inquiries, freeing up representatives to focus on more complex issues.
Real-time analytics: Provides real-time analytics that allow businesses to monitor customer behavior and identify opportunities for improvement.
Integration with third-party apps: Integrate with other apps, including CRM and Help Desk, to provide a seamless customer service experience.