Accelerate your sales with Zoho SalesIQ's live sales chat for websites
See your website visitors in real time
Zoho SalesIQ's website visitor tracking lets you see who's on your website in real time, along with details like the pages they're browsing and their referral source, location, time spent, actions on the website, and more. Visitors are organized in real time into four different sections based on the criteria you define.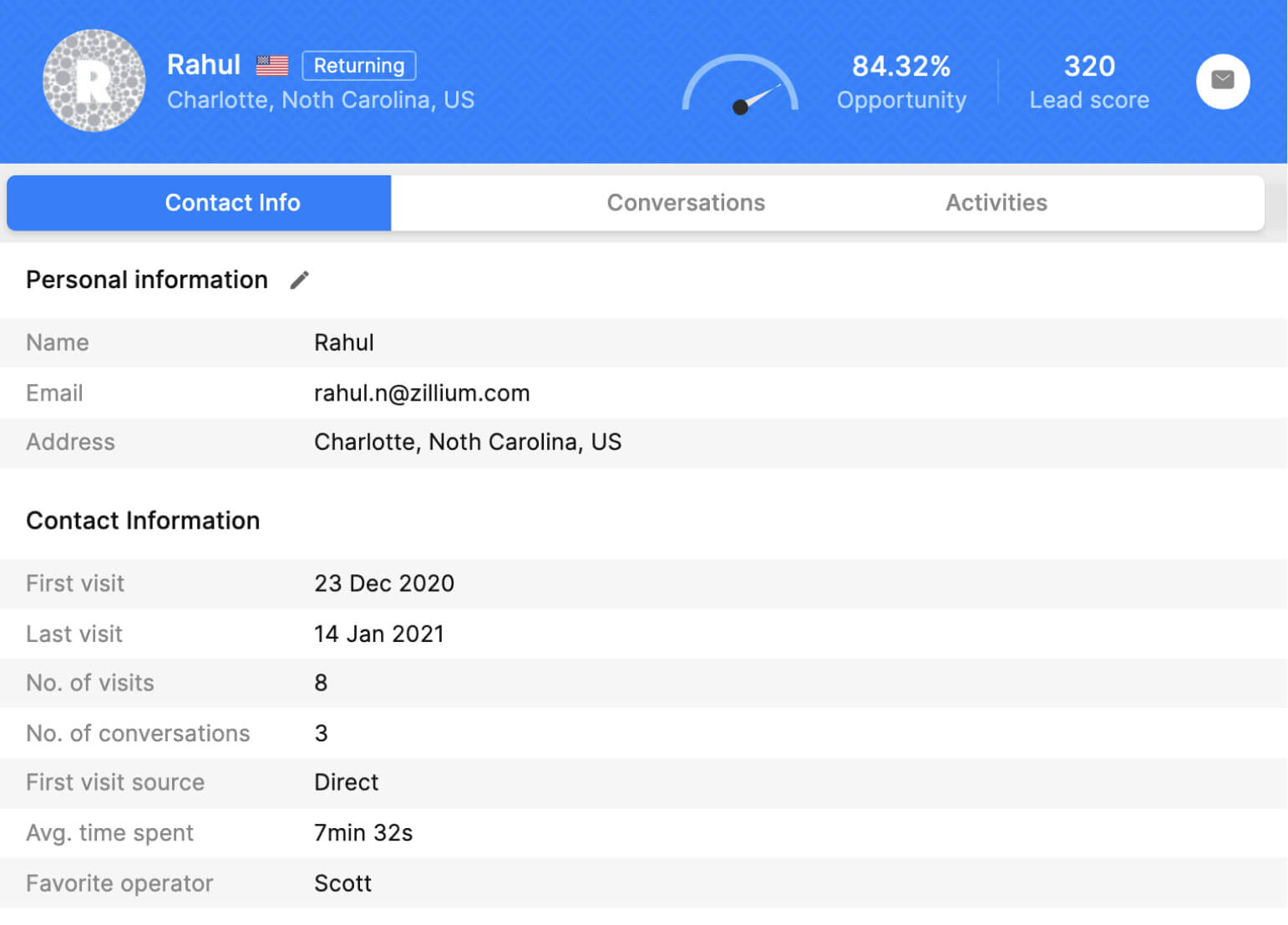 Target the right prospects
with lead scoring
Define rules to rate your prospects according to your business's ideal buyer behavior. SalesIQ then scores your website visitors based on these attributes the next time they visit your website, so you can focus your live chat sales efforts on ones with the highest chance of conversion.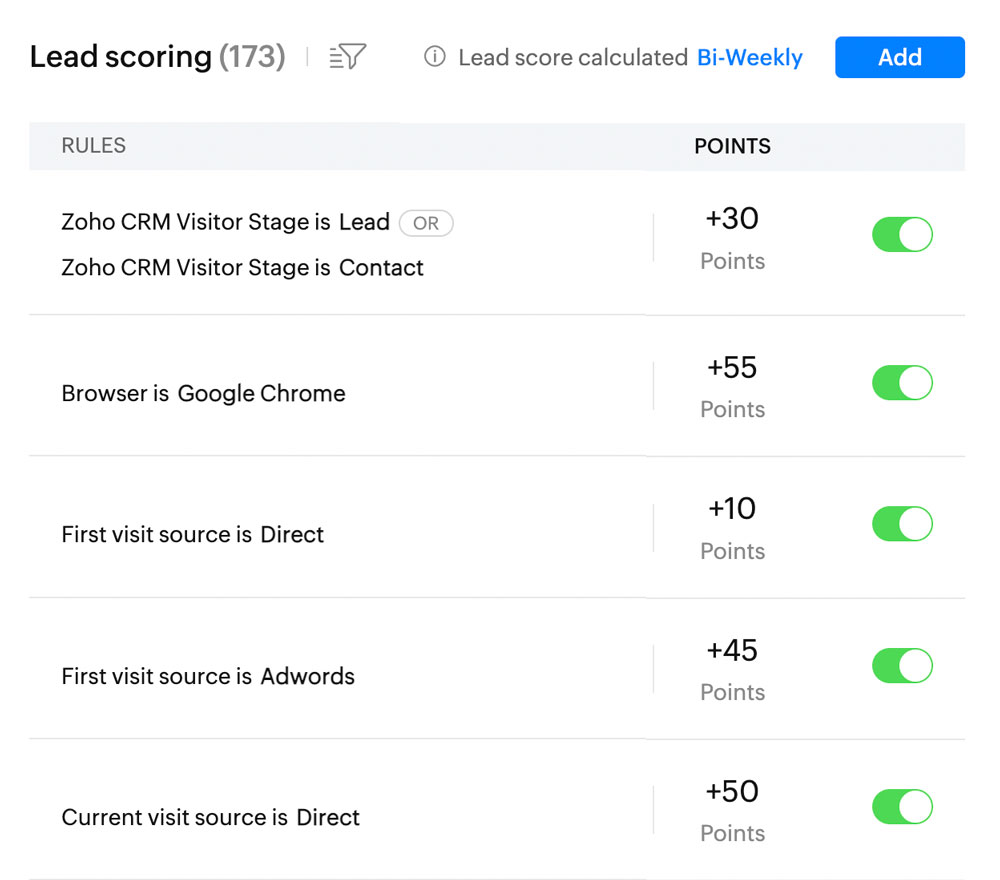 Automate lead capture
with bots
Zobot—our enterprise-ready bot builder—lets you create custom chatbots that ask initial questions to qualify leads and add them to your CRM. They can also transfer sales live chats to the right staff member for further engagement, along with the data collected from the prospect, so the salesperson has all the context needed.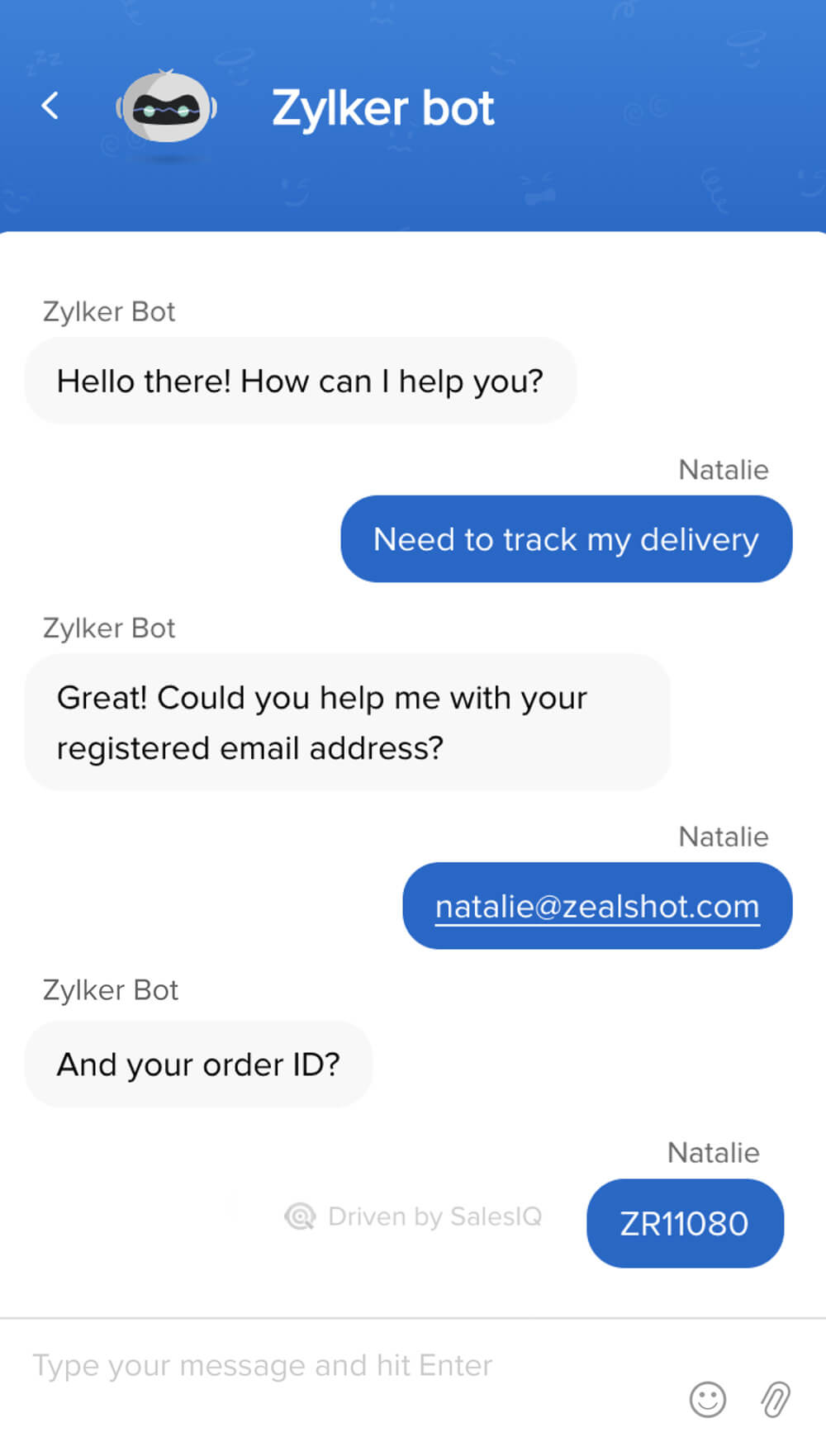 Nudge prospects to start
a conversation
Set rules to automatically start a conversation with high-value prospects on important pages, with proactive, personalized messages. You can also send discount offers to loyal and valuable customers through sales live chat to boost purchases.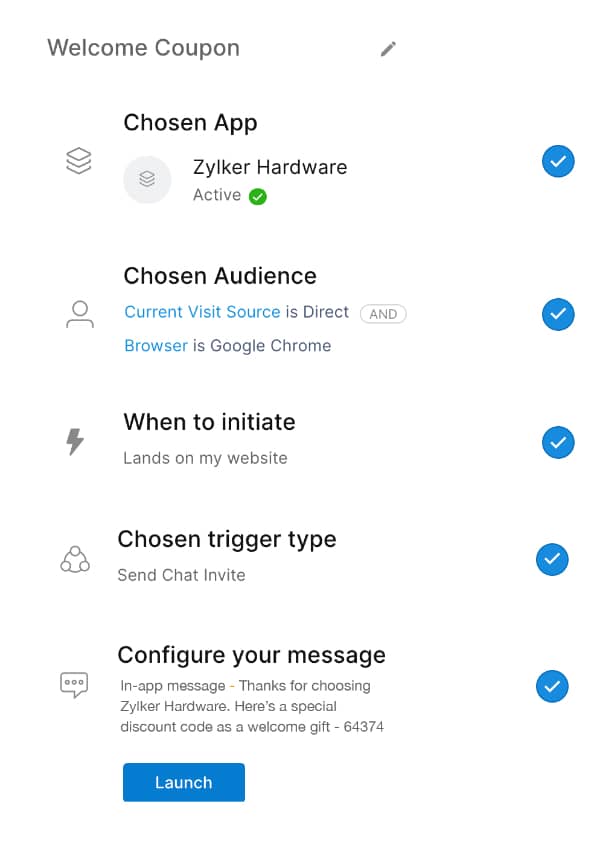 Tap into your social
media following
Grab every sales opportunity by enabling prospects and customers to chat with sales at any time, right from their preferred channels. Integrate your business's Facebook page, Instagram profile, and Telegram and Whatsapp accounts with your live chat sales tool, and respond to all incoming messages—regardless of the source—from a single dashboard.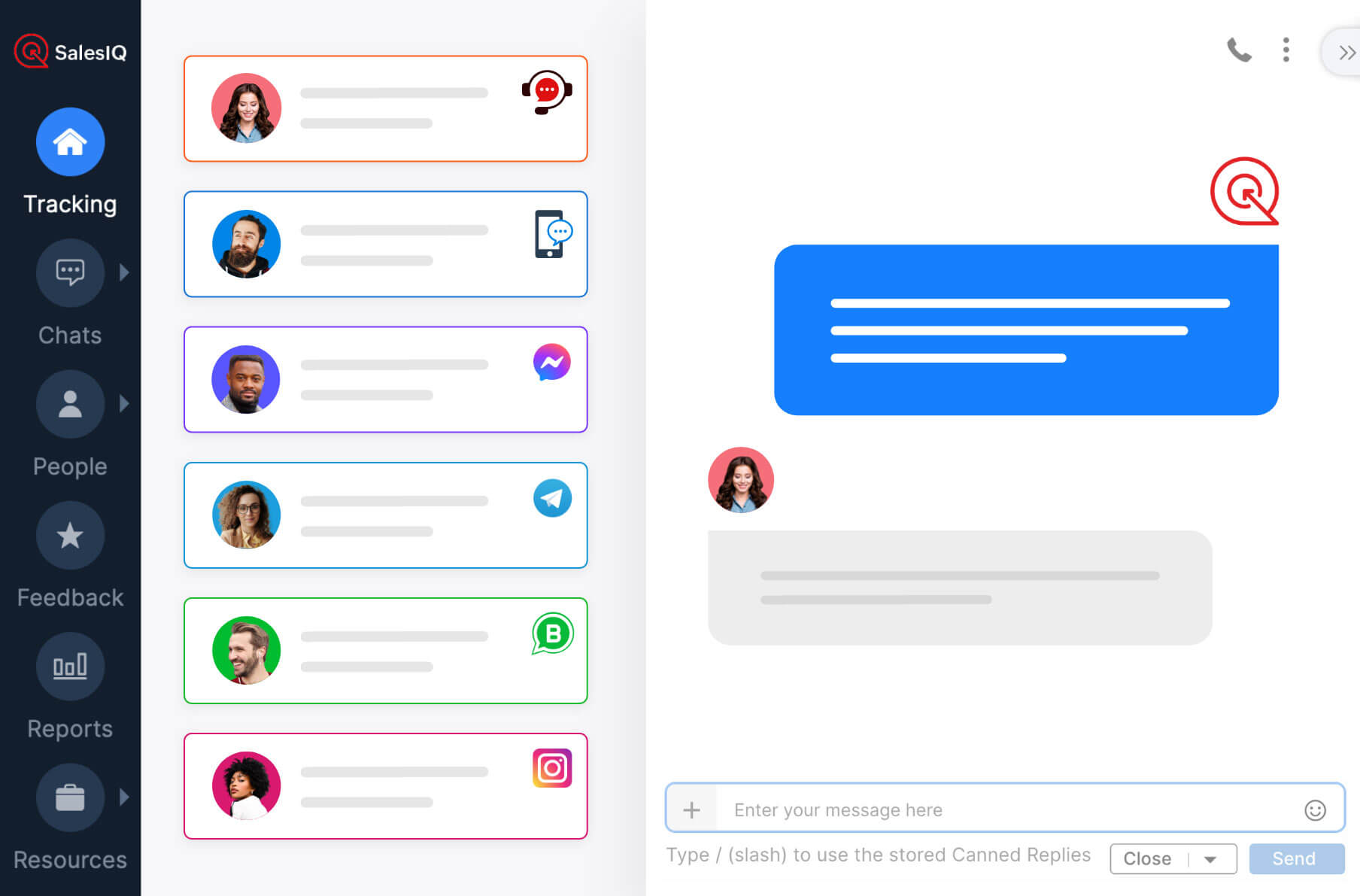 Learn more about
your prospects
Unmask more details about your B2B contacts with our built-in AI-powered profile enrichment tool, for more personalized engagement. This includes the company name, size, location, industry, and social media profiles—and the technology the company already uses. SalesIQ also supports integrations with third-party data provider and enrichment tools like Clearbit and Leadberry.
You can easily push these details from your sales chat software to their respective fields.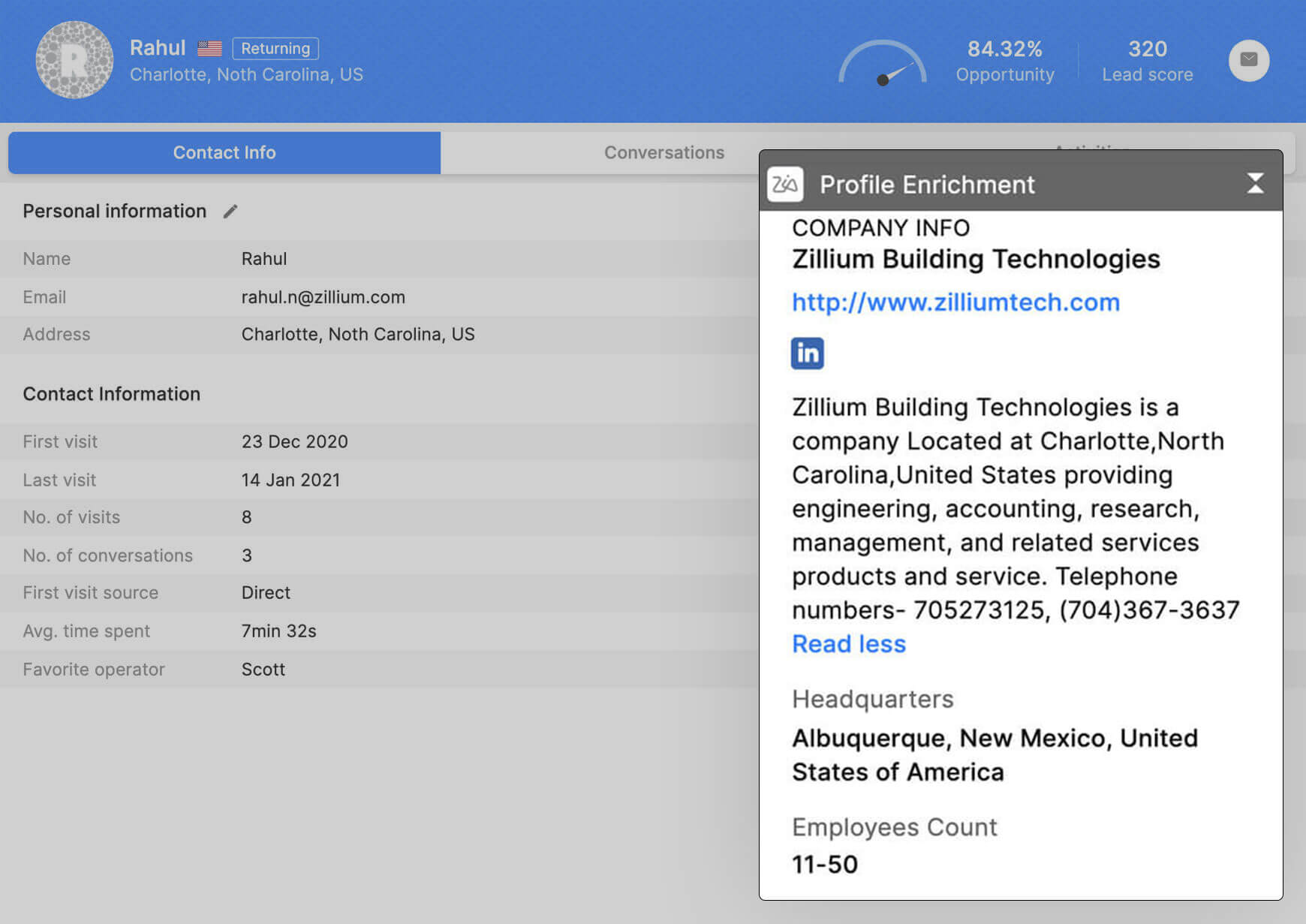 Route visitors to different
sales staff members
Set filters so each team member can only view website visitors belonging to their target group. You can route visitors based on parameters like traffic source, campaign, location, browser used, lead stage and score, visitor type, and more.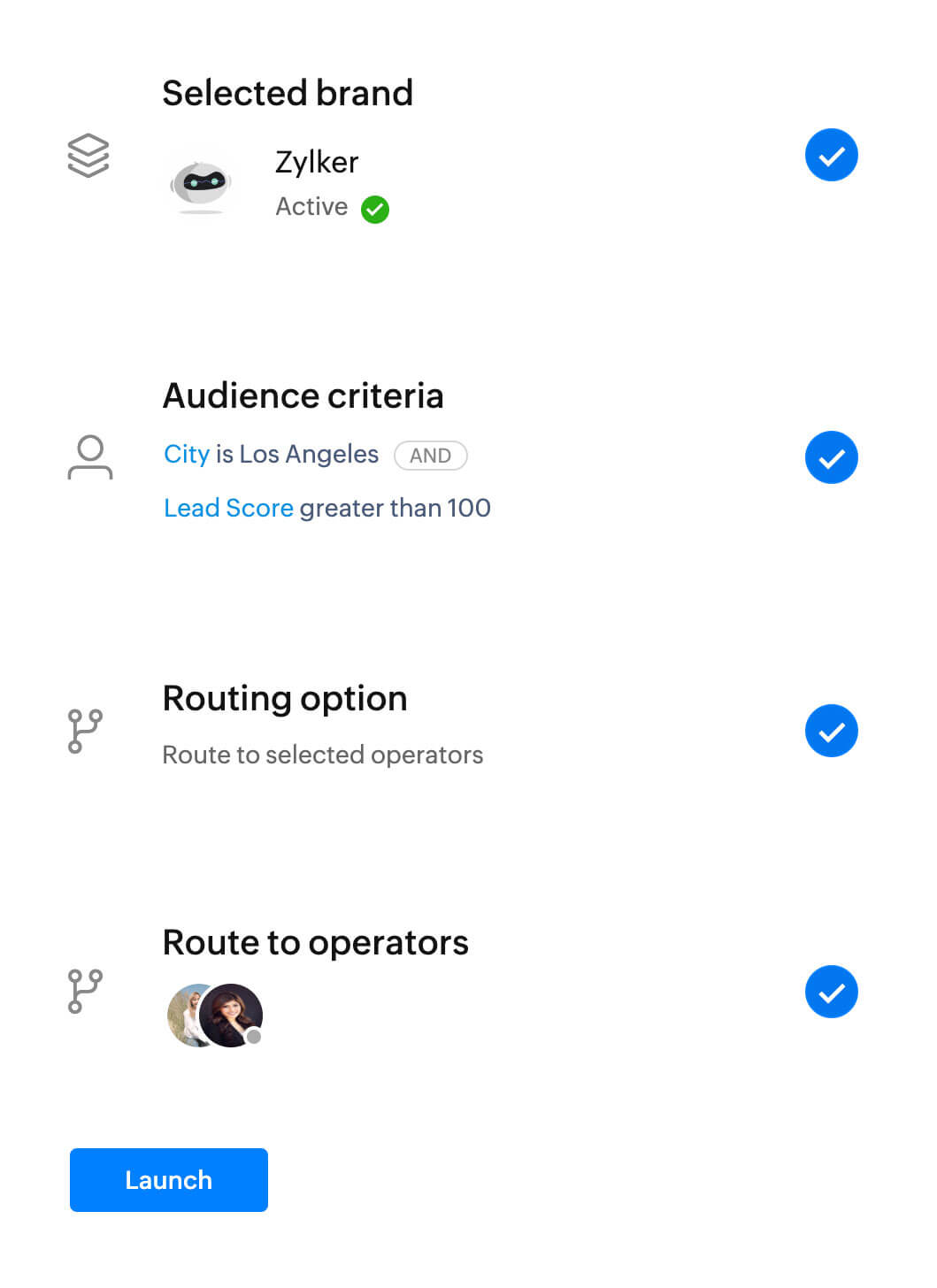 Enable self-service
with articles
Add answers to FAQs regarding purchase and product specifications as articles that visitors can access right from the in-app chat. This frees your team from answering repetitive questions, so they can focus on prospects that require more effort to convert.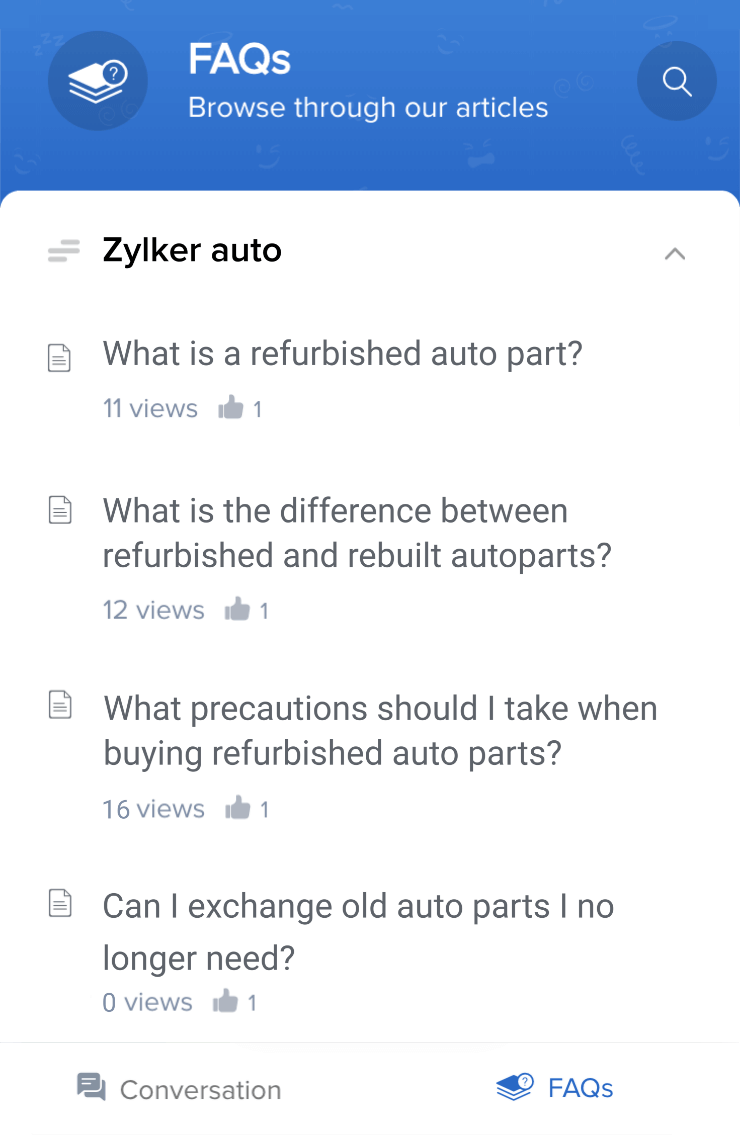 Add live chat to
multiple websites
If you have several websites dedicated to different products you provide, Zoho SalesIQ lets you add live chat to multiple websites and domains—and manage them all from a single, organized dashboard.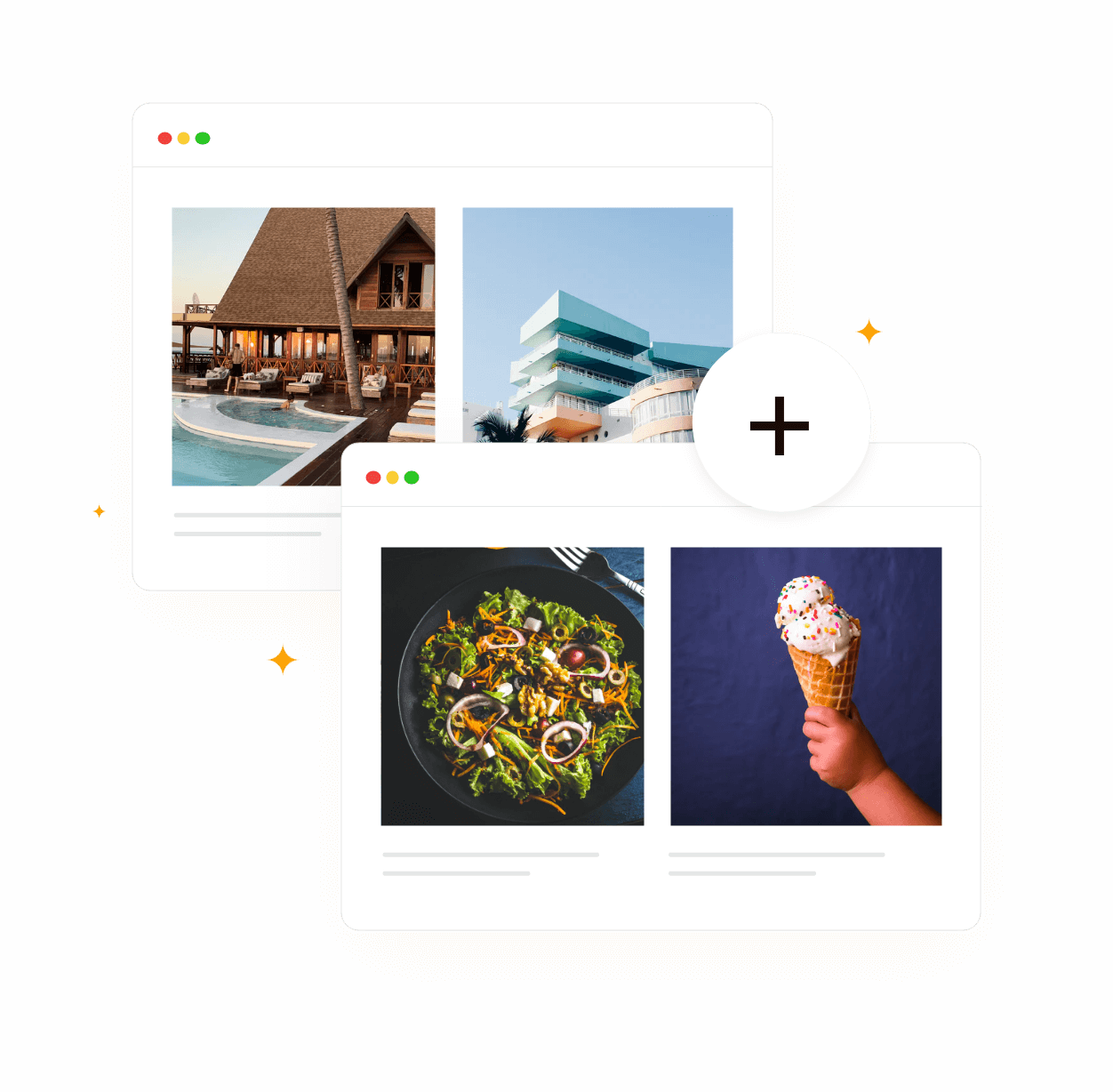 Plug SalesIQ into your WordPress blogs
When it comes to sales, leave no stone unturned. Nurture your readers and subscribers with our live chat plugin for WordPress.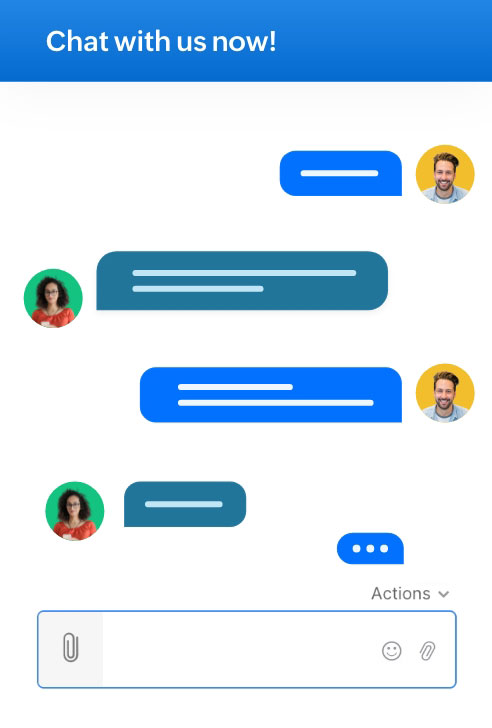 Prepare your team to sell
Zoho SalesIQ lets you monitor team member sales live chats to find their strong and weak points, and provide suggestions in real time with internal chat, helping them convert more prospects. You can also announce ongoing offers and changes in business policy to your team using the message board.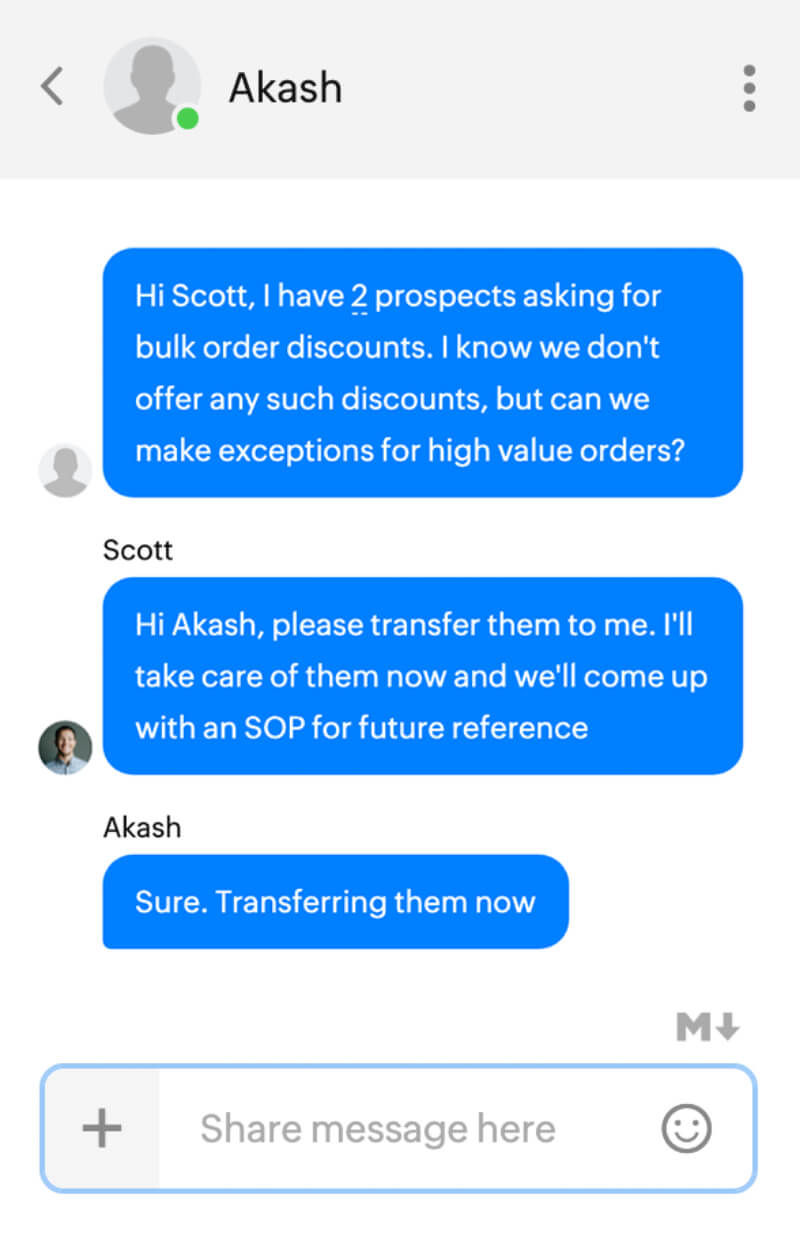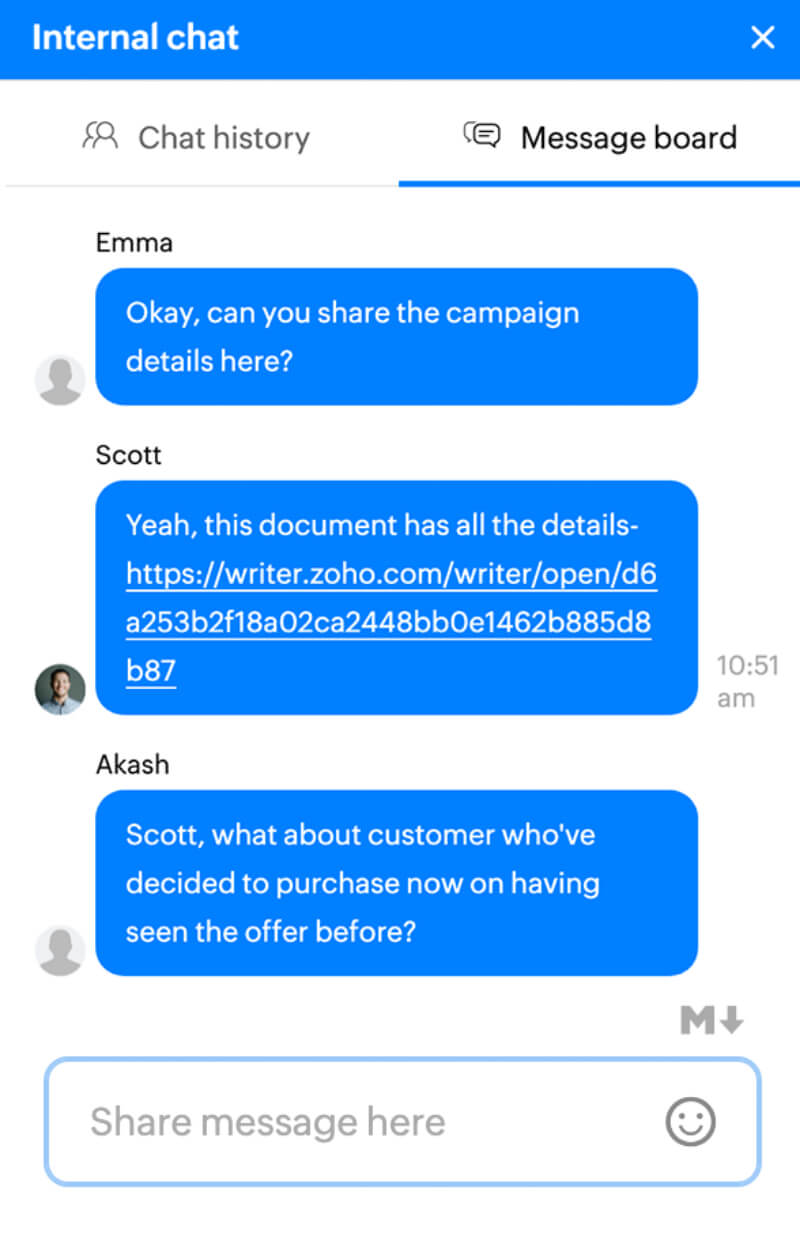 Add sales live chat to your
email signature
Live chat is a gateway for prospects to contact you. Add a "chat with sales" button to email signatures when you send out campaigns, so you don't miss out on even the most remote chances of achieving a sale.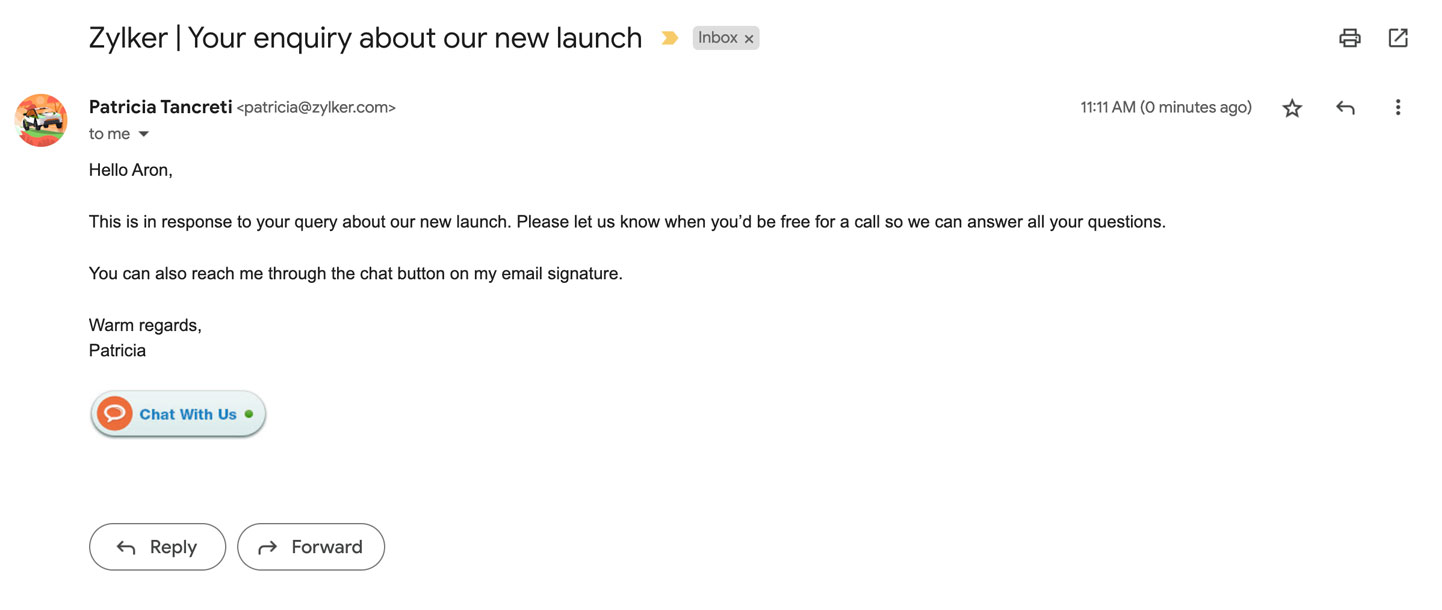 Tap into your mobile traffic
With mobile apps being our default search tool, sales professionals can't afford to neglect them. Extend all the benefits of Zoho SalesIQ to your mobile app with Mobilisten—our mobile SDK for iOS, Android, and React Native. It also lets you send push notifications or add in-app chat messages to nudge customers to complete a purchase or even send a voucher code to boost purchases.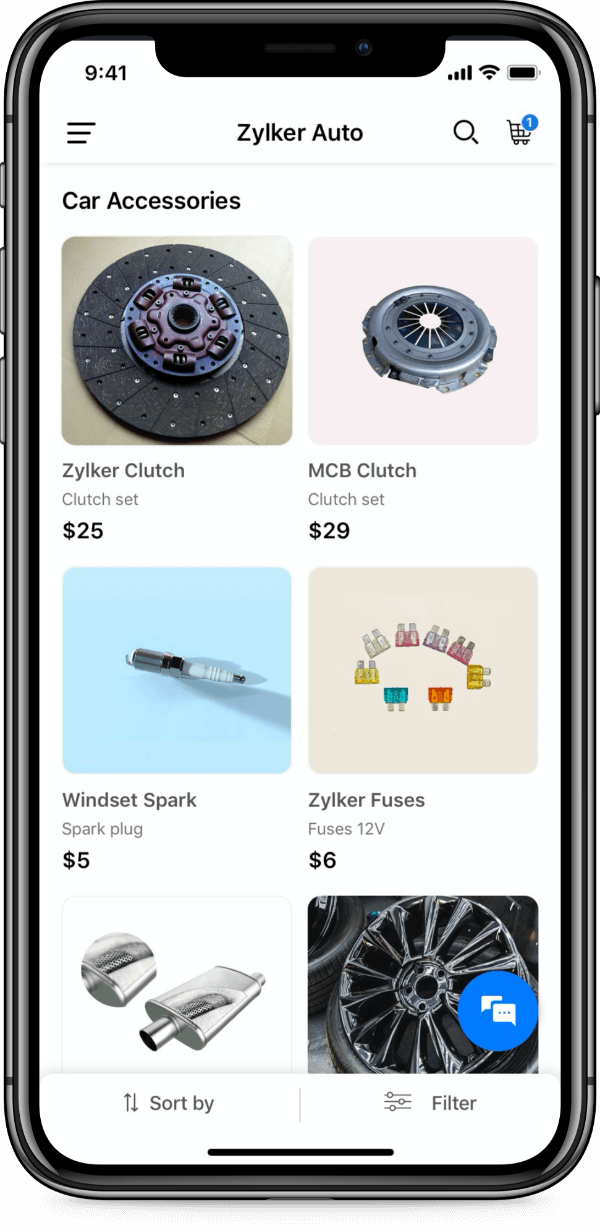 Integrate Zoho SalesIQ with your entire tech stack
Zoho SalesIQ has a wide array of integrations to let your apps exchange data seamlessly and work as one unified system, so you can focus on selling instead of wasting time collating data from different tools.
Never miss a sales opportunity
In sales, every deal signed is a step closer to meeting your targets. Zoho SalesIQ's live chat mobile app for iOS and Android gives you alerts based on your preferences, so you can stay connected without notification overload and even close deals while on the go.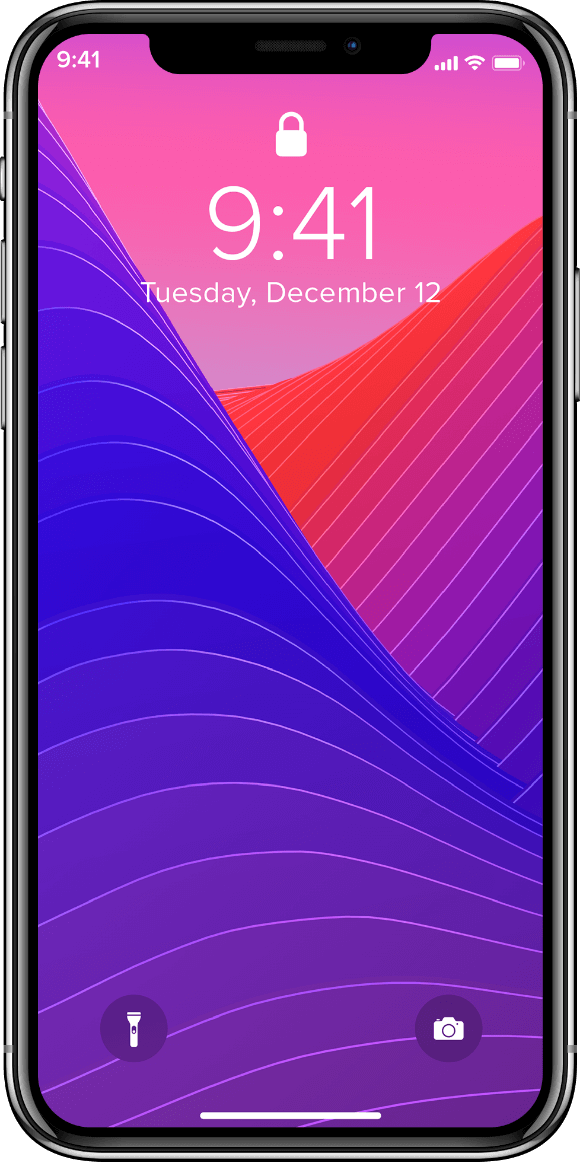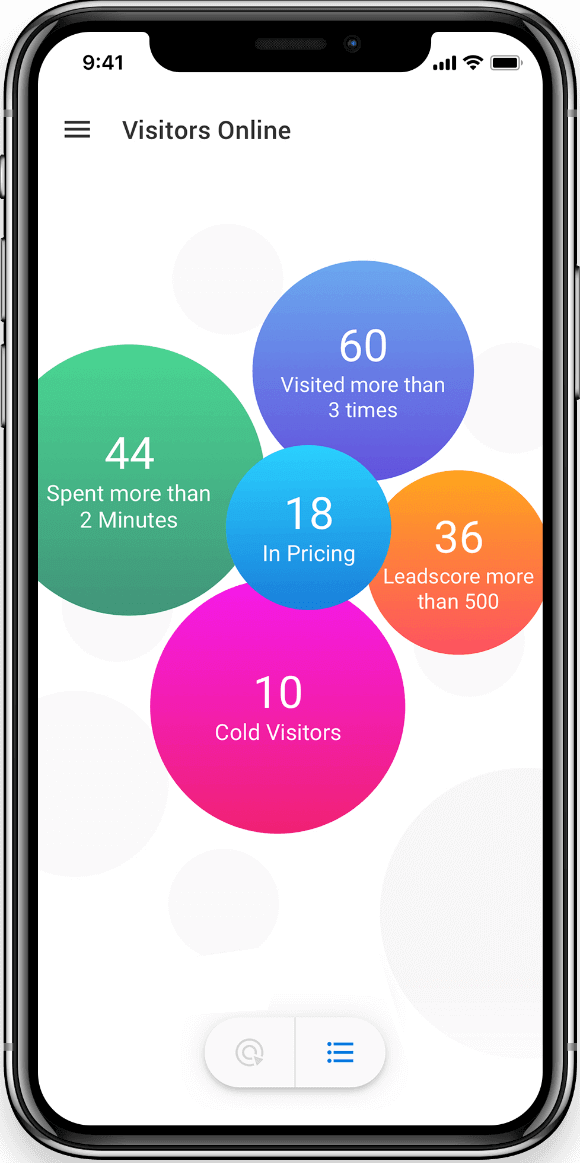 Give your team that
extra motivation
Get a live feed of your website's visitors, customer behavior, popular pages on your site, top-performing business departments, and more, as easy-to-read graphs, charts, and tables on your TV screen, with our Apple TV app.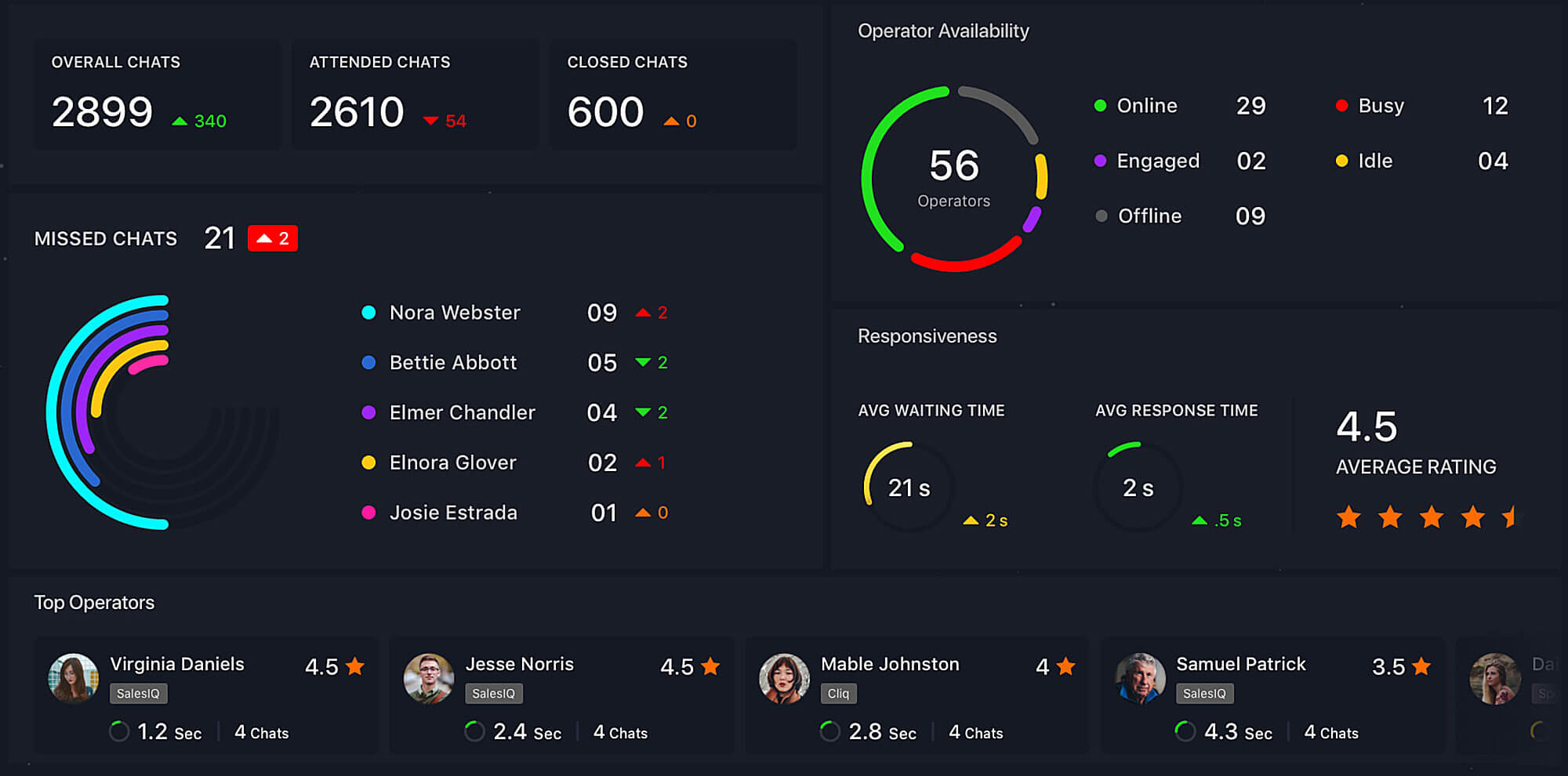 Build brand loyalty
for repeat sales
It's five times easier and more economical to sell to existing customers than acquiring new ones. Provide outstanding after-sales live chat customer service to build brand loyalty and get repeat customers.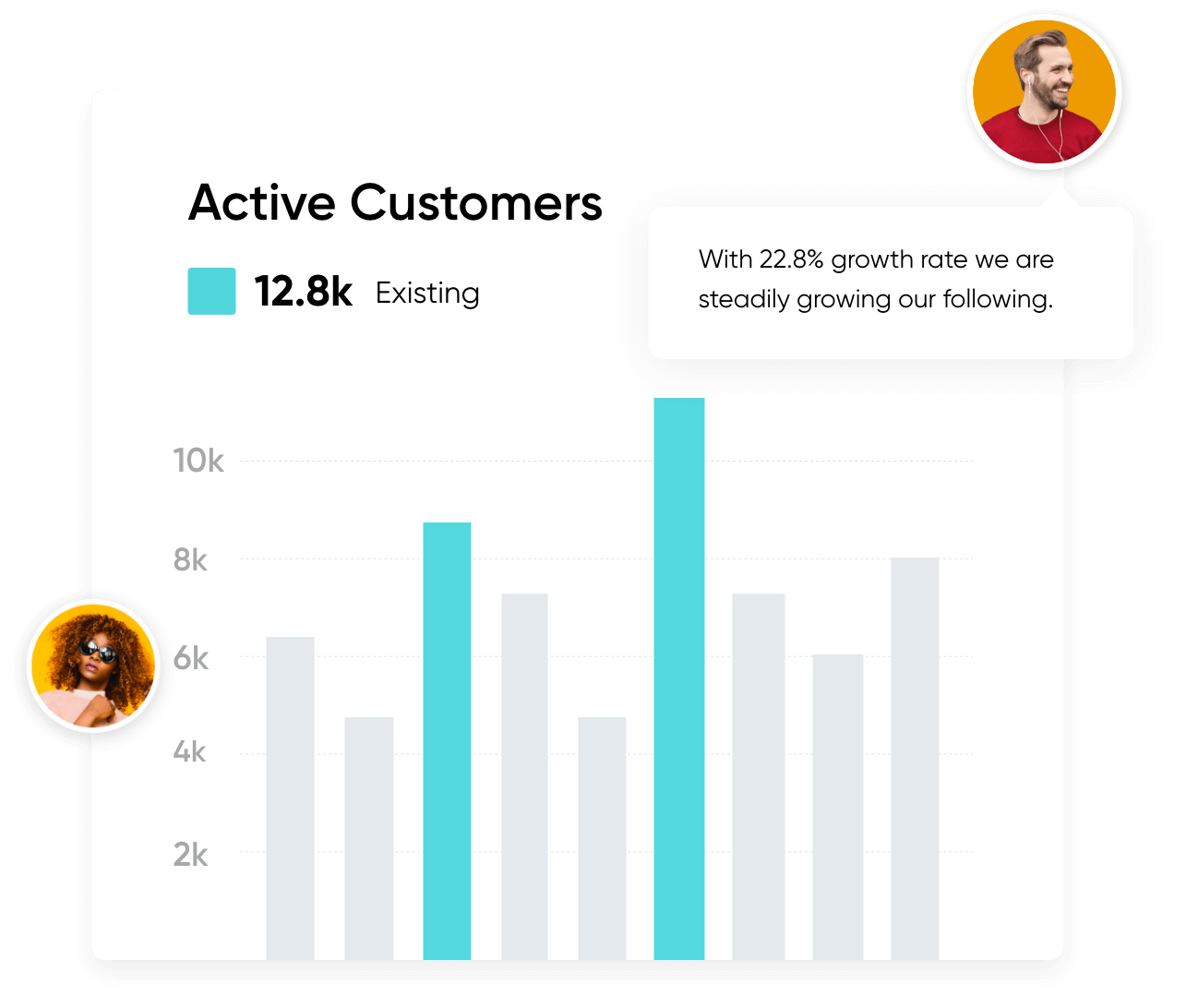 Start off with our free live chat
Give your sales a boost at no cost with our forever free live chat , covering all the basic features businesses look for like 100 chats/month, visitor tracking, mobile apps, plugins and extensions, in-app chat, and more. Absolutely no hidden charges and no credit card details needed.
Frequently asked questions?
What is live chat sales software?
Live chat sales software is a platform that lets businesses nurture prospects on their website or social media channels in real time, through every stage of the sales cycle, and convert them to paying customers.
Key features of live chat software for sales teams
Some of the key features to look for in sales chat software are:
Lead scoring
Proactive chat invite
Instant messaging channels
Real-time chat translation
Chat routing and queuing
AI and guided chatbots
In-chat knowledge base
Productivity enhancers, like canned responses and typing preview
Voice note and audio call
Integration with CRM, email campaign, and data provider and enrichment software
Live chat mobile app
Mobile SDK
Benefits of live chat sales software
Live chat sales software serves the following benefits:
Helps you identify bottlenecks on your website and discover customer pain points
Automates lead generation and qualification
Proactive chat invite on high-intent pages increases the chance of conversion
Reduces cart abandonment and helps increase average order value
Helps effective customer onboarding and upselling
Provides context (older conversations and prospect/customer details) for customer communication
Lets you build rapport with customers for customer advocacy
Lowers your customer acquisition costs
Gives you an edge over competitors
Provides a clear idea of customer expectations and the gaps in your offering
Enables global sales with real-time chat translation
How to choose the best live chat for sales
Here's a list of the major criteria you should consider when choosing a live chat for sales:
The size of your customer base, target, and your live chat team strength
Ease of use and learning time needed

- If you have a large team focusing on each location or product, make sure the live chat software lets you create departments and route incoming chats to the right agents.
- If your customer base is huge and you don't have the team strength, choose live chat software that has chatbot builders with AI functionality.
- If your customer base is spread across the globe, look for live chat software with real-time translation.
- If your target audience are heavy social media users, look for sales chat software that supports instant messaging and social media channels.

Customizability
Integrability with your CRM, campaign, and inventory software, and everything else in your tech stack
Availability of a mobile SDK and an agent mobile app
Budget